SAN FRANCISCO ART GALLERIES - OPENINGS
SUPERVISOR ROSS MIRKARIMI - ELEANOR HARWOOD GALLERY
THE LAB - ADOBE BOOKS - ARTROCK - FIRST STEP
301 BOCANA - DRUG STORE GALLERY - FEMINA POTENS
10.20.06
Supervisor Ross Mirkarimi: Photographs by Amy Auerbach and Ethel Mays.
Comment: Amy Auerbach photographs various portions of various landmarks in various places like Coney Island, Watts Towers, and Ocean Beach, except her finished images are strangely vaguely skewed and moody-- some verging on abstract. I ask how she gets her effects and she tells me that's exactly how she photographs them-- it's all in her camera-- no other manipulations of any kind. She goes on to say she's been perfecting her techniques and methods for quite a while-- and the results are impressive. Wonder what the images would look like larger? Could be good.
Photography (Amy Auerbach).


Photos (Ethel Mays).


Amy Auerbach - photo (weird angle... bad lighting... sorry).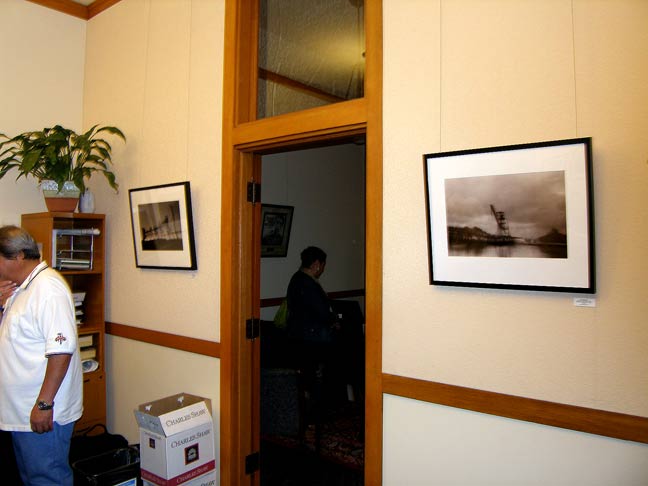 Photography (Amy Auerbach).


Photography (Amy Auerbach).


***
Eleanor Harwood Gallery: Paul Wackers - Another Side of This Life.
Comment: Modernist visionary imaginary landscapes by Paul Wackers. Acrylics on panel; all nicely painted; some perhaps a trifle derivative. But that's OK-- he's got plenty of time to chase down his ultimate identity.
Art.


Art.


Paul Wackers.


Art.


***
The LAB: Detourned Menu - Food in the Form of Activism; Amber Stucke - Epidemic.
Artists (Detourned Menu): Madeleine Bailey, BASEKAMP, The Center for Tactical Magic, Cori Crowley, DoEAT, The Free Fruit/Fruta Gratis Project, Bessma Khalaf, Amber Lauletta, Miss Snail Pail, Eva Strohmeier, Chris Sollars, Jerome Waag, Adam Zaretsky (in collaboration with Tanja Visosevic).
Comment: Detourned Menu, in the main gallery, looks like it's about food, but it's actually about food used as a means of making various points about class, scarcity, biotechnology, world hunger, poverty, and so on. Plenty of interractive opportunities include "The Hegemonic Bar" where you engage in a class-related process of exchanging play money for beverages (if only all bars offered this amenity), a voting booth where you cast your ballot for particular ingredients in meals, and an ersatz ice cream truck parked out front where you can request symbolic delectables such as your choice of stick-on mustache. Fun, thought, and perhaps even a call to action merge at this show.
In the front room is a series of so-called portrait paintings by Amber Stucke that, according to the communique, "investigate intangible ideologies, sociopsychological dialogues, and the idea of deconstruction," whatever that means. According to Amber, they're portraits of family and friends (now that I understand), variously humorously comprised of human organs, manmade objects, and sundry flourishes connected together in unexpected ways.
Enter here; receive play money to pay for beverages.


Vote for your favorite ingredients art.


Suck a lollipop for hunger art.


Time for a refreshing beverage art.


Ice cream meets politics out front.


Reviewing menu options.


Art.


Art.


Art (Amber Stucke).


Amber Stucke - art.


Art (Amber Stucke).


Art (Amber Stucke).


***
Adobe Books and the backroom gallery: Hug the Grey - New Works by Mat O'Brien; Brian Gaberman - Photographs.
Comment: Whimsical accurate illustrative works on paper (plus a curious white-painted textualized hanging double drum composite) by Mat O'Brien combine bits and pieces of this and that to yield reasonably resounding results. The centerpiece of the experience is a pen & ink pair of lace-up hip boots. Also in the backroom gallery are two rows of effective introspective atmospheric Brian Gaberman photographs, mostly of his family (and more photos in the main bookstore area). Worthy endeavor on both counts.
Art (Mat O'Brien - like it).


Photography (Brian Gaberman).


Brian Gaberman progeny - Brian Gaberman - Mat O'Brien.


Art (Mat O'Brien).


Art (Mat O'Brien).


***
ArtRock Gallery: The David Singer Project.
Artists: David Singer, Robert Williams, Mouse and Kelley, Emek, Mark Arminski, Martin Sharp, Tara McPherson, Alan Forbes, Lee Conklin, Randy Chavez, Bob Masse, Justin Hampton, Ward Sutton, Firehouse, Lindsey Kuhn, Gary Grimshaw, Mark Mothersbough, Glenn Barr, Mark Behrens, David Byrd, Art Chantry, Drowning Creek, Herb Greene, Derek Hess, Gary Houston, George Hunter, Allen Jaeger, Jagmo, Mike King, Jeff Kleinsmith, Lilš Tuffy, Dennis Loren, Carl Lundgren, Bonnie McLean, Jim Marshall, Mick Rock, Scrojo, John Seabury, John Van Hamersveld, Randy Tuten, Taz, Arnold Skolnick, more.
Comment: Release party for the "Singer Signature Card Deck," each playing card designed by a different artist. The card deck as well as vintage and contemporary Rock & Roll posters have been donated to raise funds for The David Singer Project-- an organization formed to help pay medical bills for reknowned poster artist David Singer. (Singer created more posters for Bill Graham and the Fillmore West than any other artist.) The card deck is produced in a signed and very limited edition of only 100 (debuted at $275 but expected to increase in price as the edition sells out). A number of the contributing artists are in attendance at the event.
Singer Signature Card Deck.


Poster art.


Poster art.


Poster art.


Poster art.


Poster art.


Poster art.


***
First Step: First Step - Grand Opening Party.
Artists: Romanowski, Mars-One, David Choong Lee, Brian Barneclo, more.
Comment: First Step opens their third store at the corner of Market and Mason, mainly shoes and clothing, especially a respectable selection of T-shirts and original art by local artists. Tonight, about a half dozen of those artists sign and sell their limited edition prints. Right across the street you'll find natty Farmer Brown-- superb dining, copious beverage selection & chop chop ambience. Check this corner out. Market Street inexorably slithers back to life after too many decades in the doldrums.
First Step store - looking toward the back.


First Step store - looking toward the front.


David Choong Lee - art.


Romanowski - fashion - art.


Brian Barneclo - fashion - art.


Shopping.


***
Addendum:
Natalie Zimmerman photography at 301 Bocana Gallery.


Natalie Zimmerman photos + writing at 301 Bocana Gallery.


One more Natalie Zimmerman at 301 Bocana Gallery.


Tim Gates paintings at Drug Store Gallery.


More Tim Gates art at Drug Store Gallery.


Final Tim Gates painting at Drug Store Gallery.


Kate Braverman words and images at Femina Potens.


One more Kate Braverman at Femina Potens Gallery.


***