SAN FRANCISCO ART GALLERIES - OPENINGS
CHRISSY BEE - GIANT ROBOT - STUDIO GALLERY
ODD FELLOWS HALL - LIVE WORMS
10.21.06
Studio Gallery: Brandon Smith.
Comment: One side of the gallery is mainly figure paintings; the other is mainly city scenes, mainly Oakland. All proficient. And that, as they say, is that.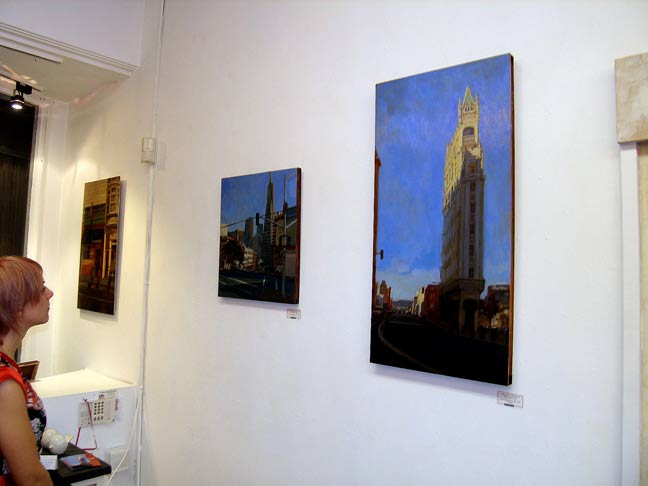 City scenes.


Figure paintings.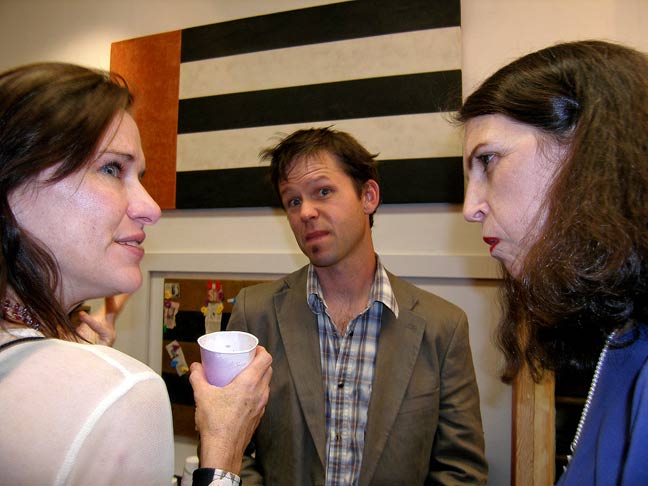 Brandon Smith (center).


City scenes - self-portrait (I think).


***
Chrissy Bee, 622 Shrader St., San Francisco, CA 94117; 415.221.3020: Junky Town - A Mixed Media Show by Honorable Mention Collective.
Artists: Andy Hawgood, Hans Hinrichs, Ando, Nate Hooper, Hannah Hooper, Fabrice Anneron, Lien Gray, Claire Cichy.
Comment: Kicky little scene. Someone at the front desk tells me all Honorable Mention Collective artists live in SF. The art's hung way up near the ceiling 'cuz Chrissy Bee is mainly a fashion boutique so the clothes have to be at eye-level, but some drawings are laid out in a line on the amply stocked refreshment table & they look OK to me. Proceeds from the opening will be donated to the Christine O. Genet Fund for Cancer Research at UCSF.
Art.


Art (kinda like those figure paintings).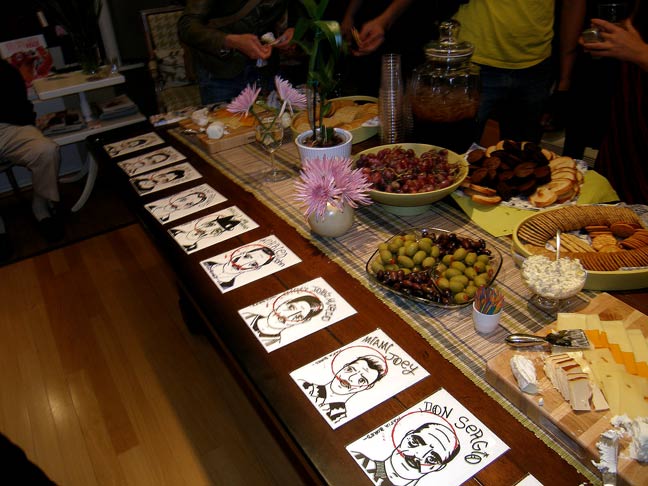 Art - edibles.


Art.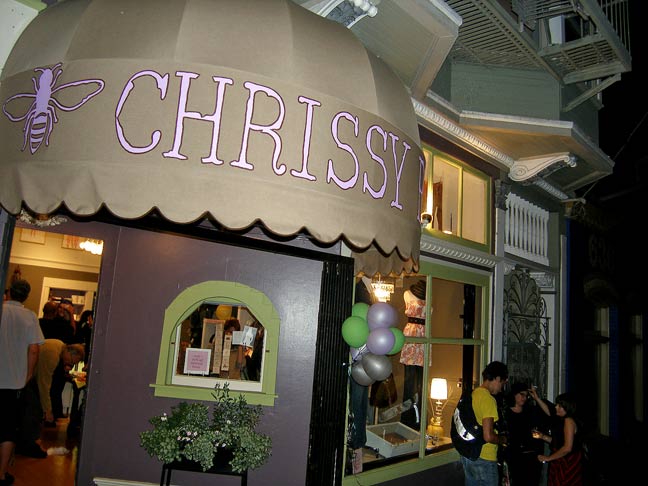 Frontage.


***
Giant Robot: Panelists 2.
Artists: Andrice Arp, Rina Ayuyang, Gabrielle Bell, Jeffrey Brown, Ivan Brunetti, Martin Cendreda, Vanessa Davis, Leif Goldberg, Sammy Harkham, James Jean, Hellen Jo, Aaron K, James Kochalka, James McShane, Anders Nilsen, John Pham, Lark Pien, John Porcellino, Kevin Scalzo, Bwana Spoons, Daria Tessler, Esther Pearl Watson, Steven Weissman, Megan Whitmarsh, Andrew Jeffrey Wright.
Comment: Giant Robot's second episode survey of indie-comics artists and creators from across the country features original illustrations, paintings, mixed-media work, and more. Small space, but plenty to see.
Comic art.


Comic art.


Comic art (kinda like that large one, center).


Comic art.


***
Odd Fellows Hall: Richard Perri - Artaganza - Up Against the Wall.
Comment: Richard Perri empties the arsenal and overwhelms the walls with four decades of paintings. Everlasting art; you gotta see it to believe it.
Art art art.


Art.


Art art art.


Art art art.


Art art art.


Moi - a skull - Supervisor Aaron Peskin.


Fashion.


***
Live Worms Gallery: Awards Tribute Exhibit - 2006 North Beach Festival Winners of the Arte di Gesso Chalk Art Competition.
Artists: Nataliya Tyalgo, Lisa Knowlton, Echo Wodarczyk, Karen Fourgo, Andamaya Arnold.
Comment: Wall art by chalk art award-winners plus a nice survey of vintage North Beach Festival posters at the rear of the gallery.
Scene.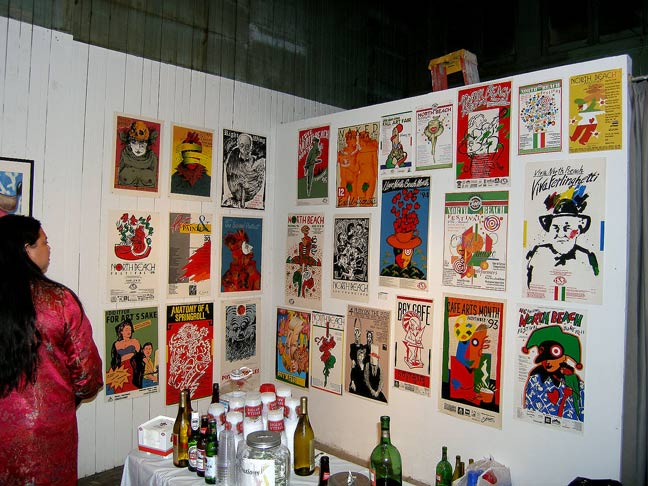 North Beach Festival poster retrospective.


***