SAN FRANCISCO ART GALLERIES - OPENINGS
GALLERY 16 - SUPERVISOR ROSS MIRKARIMI - NATIONAL PRODUCT
MISSION 17 - 66BALMY - NORCAL WASTE (ART AT THE DUMP)
STUSSY - HAYES VALLEY MARKET - LOW GALLERY
MOVE ON ART - SAN FRANCISCO ARTS COMMISSION
MISSION ARTS AND PERFORMANCE PROJECT
10.21-22.05
Supervisor Ross Mirkarimi: Recent Works by Tim Gaskin.
Comment: Pop image overlay art-- famous person in signature pose painted over a logo or trademark background, the two usually related-- like Schwarzenegger over Hummer, Raquel Welch over Welch's (grape juice), and so on.
Art.


Art.


Tim Gaskin - art.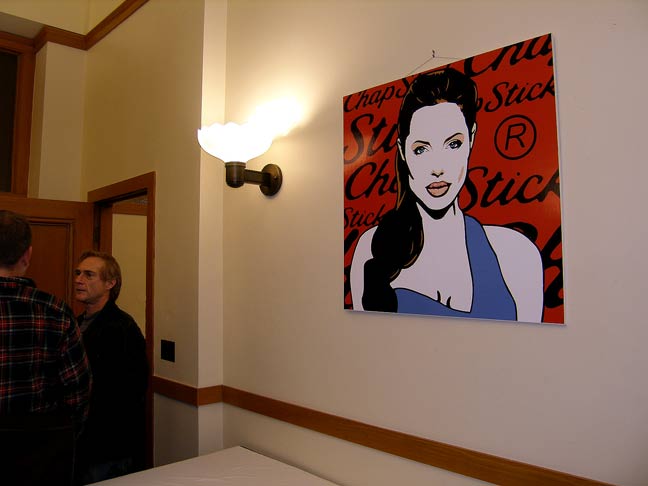 Art.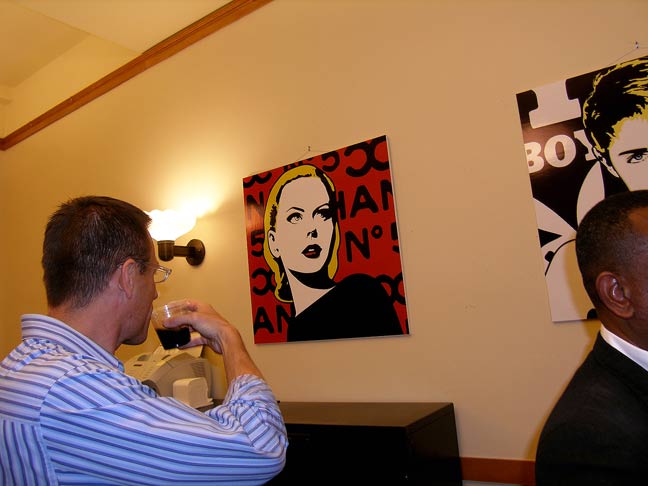 Art.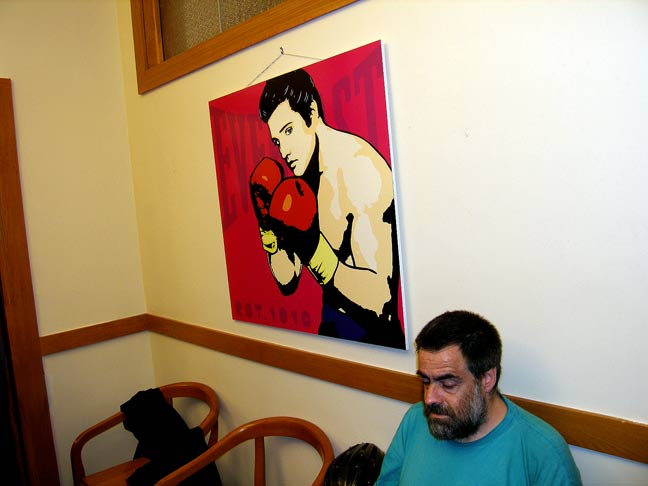 Art.


***
Gallery 16: Adriane Colburn.
Comment: Adriane Colburn cuts paper with intricate elaborate precision, then assembles it into artworks, either hung from walls, suspended from ceilings, anchored to floors, or all of the above. Here at Gallery 16 she excises some of the "agenda" evident in previous works, opting more for aesthetics-- and does so convincingly. Her art is more about creative process, seeing as you can't easily transport her labyrinthine predicaments (especially the bigguns) to hang in new venues. But rehangs aren't the point-- process is the point because we all use process to get where we want to go, and getting there is often more edifyingly memorable than being there. Artwise, the show's synapsian pulmonary centerpiece impresses.
Gallery 16 owner Griff Williams - pulmonary art (like it).


Adriane Colburn - art.


Griff Williams explains the small ones.


Art.


***
Mission 17 Gallery: Jonathon Tellier - E Pluribus Unam; Are You Red or Are You Blue?
Comment: It's one of these Red State / Blue State political kinda deals where Jonathon Tellier purportedly surveys people to assess their differences, however the survey questions look mighty Blue to me. No dues-paying NRA member is gonna use 'em for anything but target practice. The gallery's done up nice with big prints of eyes of the Founding Fathers on one wall, a video on the opposite wall, surveys displayed sparingly on the two side walls, and helium-filled red and blue balloons with attached toy machine guns floating on the ceiling.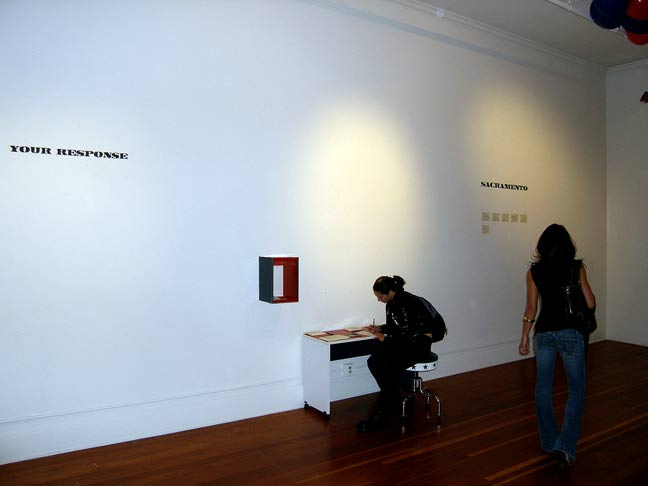 Art.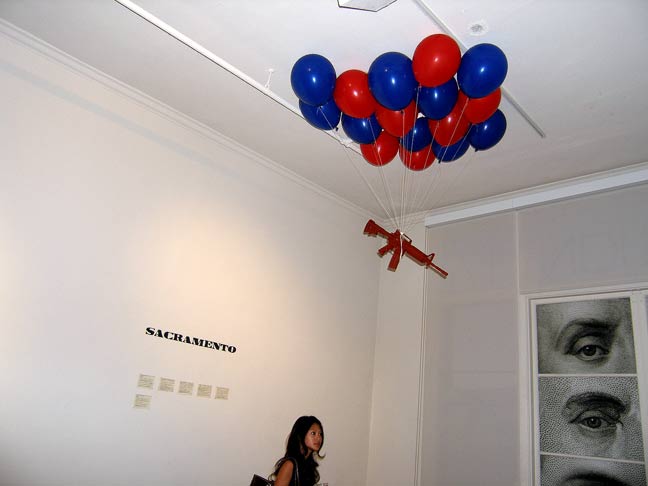 Art.


Art.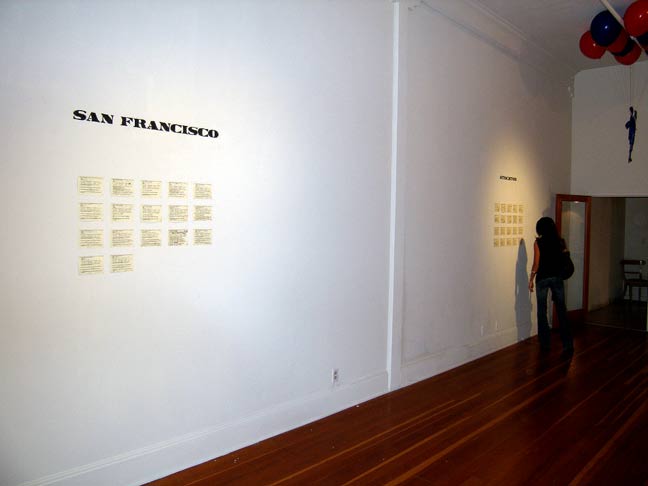 Art.


***
66balmy Gallery: Mission Gringo / Smurf Murder - A Solo Show of New Works by DAVe Warnke.
Comment: Classic upbeat DAVe art, minus the Smurf Murder part, of course. Believe-it-or-not buy of the show-- 1/2 slab DAVe paintings on cardboard for a buck a piece-- mix 'n' match. Everything else is way way affordable too. Incidentally, if you have kids (or even if you don't), kids LOVE DAVe and it's never too early to fire up the collector gene.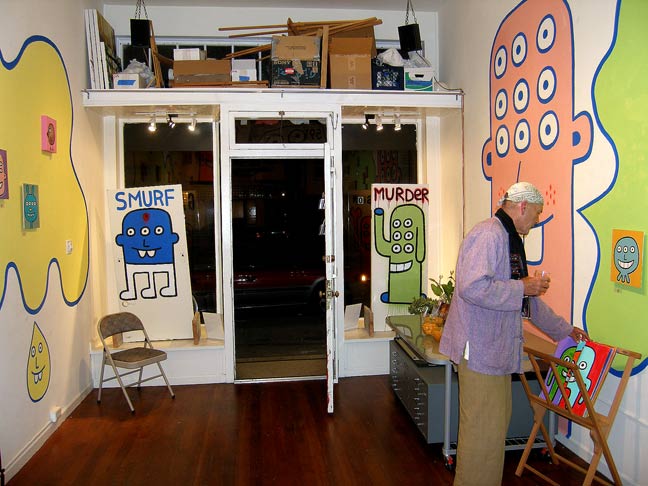 Art.


One buck art.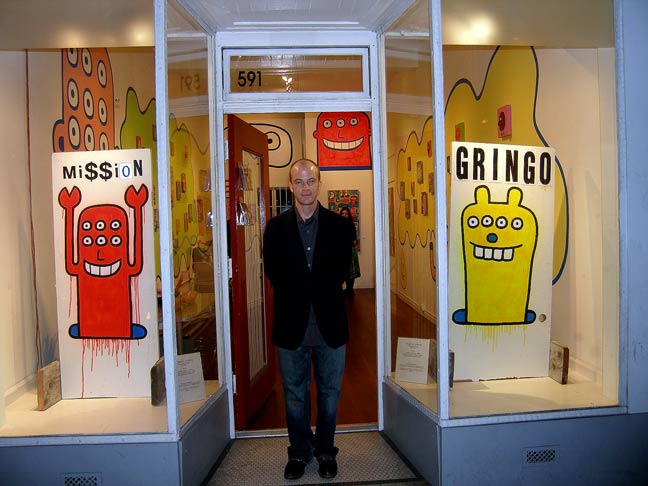 DAVe - art.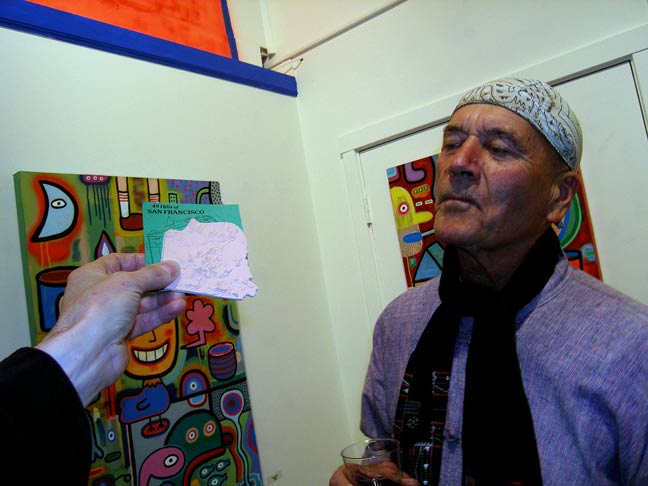 Creator of "The Smallest Topographical Map in the World" + map.
$20; Available from Nowaday's - San Francisco; 415.621.2126.
He tells me he's sold thousands since the early 70's.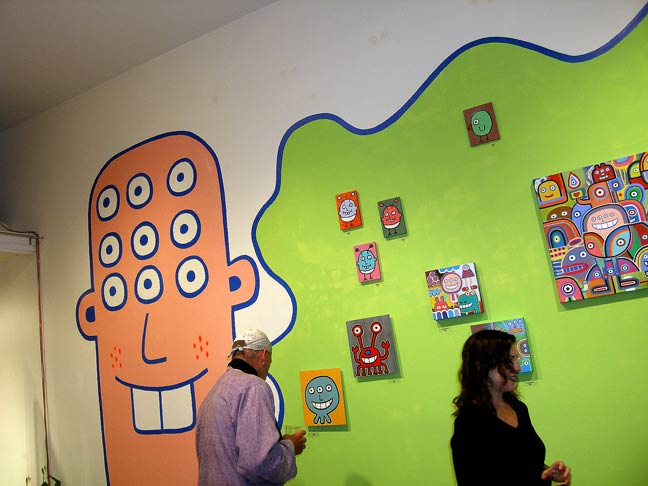 Art.


***
Art at the Dump Artist-in-Residence Program sponsored by SF Recycling & Disposal, Inc.: Sirron Norris - Branding; Nomi Talisman - Other People's Things.
Comment: Cartoon advocate Sirron Norris paints up found objects with animation-style imagery creating city scenes, a piggy bank caravan, revitalized squeaky toys, and more. Norris is blessed with steadiness of hand, perfect for the detail work which he does so well. (For you palindromaniacs out there, "Sirron" is "Norris" spelled backwards, he tells me, courtesy of his parents. I never would have gotten it without his assistance-- I always thought it was one of them urban dude names. Parents with foresight-- nice.)
Co-exhibitor Nomi Talisman arts up discarded vintage slides, photographs, and film strips, creating videos out of film strips and digital prints from 35mm slides.
Art (Sirron Norris).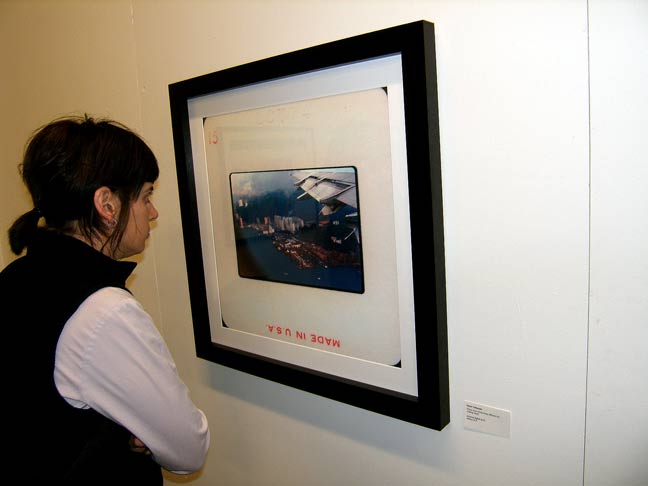 Art (Nomi Talisman).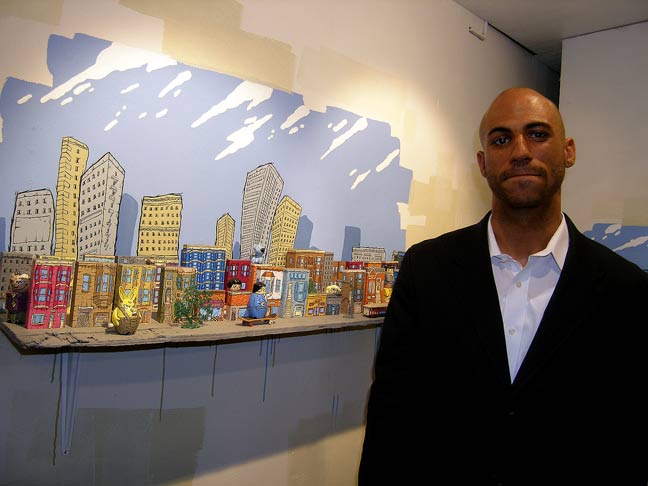 Sirron Norris - art.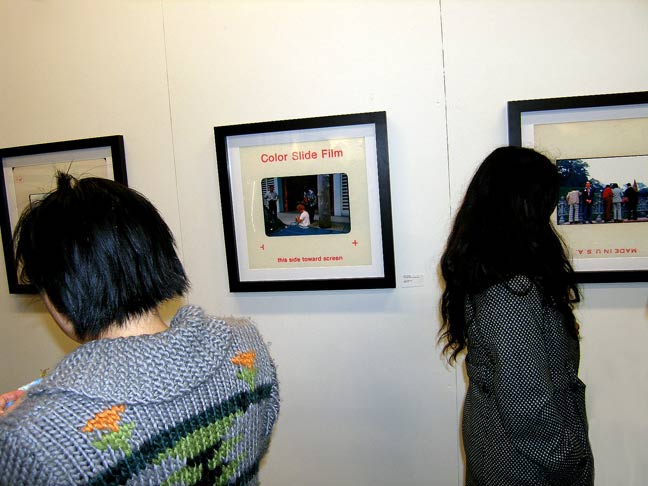 Art (Nomi Talisman).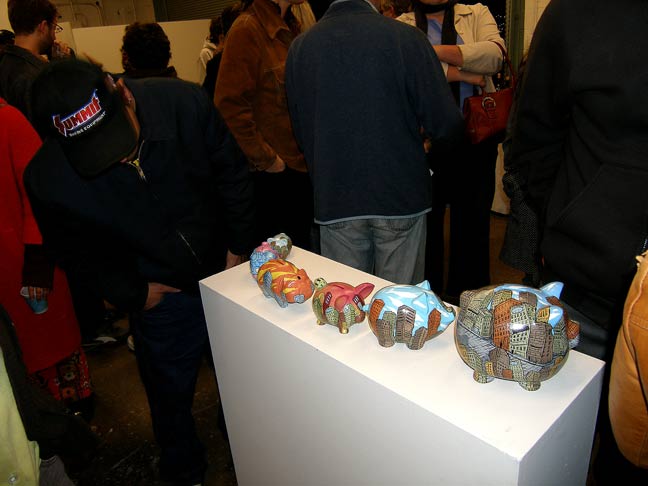 Painted ceramic piggy bank caravan art (Sirron Norris).


Art (Nomi Talisman).


Homespun tunes and tune machine - like it.


***
National Product: Creature Double Feature - Sculpture and Drawings by John Casey and Martha Sue Harris.
Comment: John Casey creates sharp strange accurate creature sculptures and line drawings, cheery optimistic strange, not weird creepy strange. Martha Sue Harris presents a group of small paintings on bark or wood sheets (I think), but the centerpiece for her is a formidable sewn, stuffed, darned, knitted, plant bird animal fantasy diorama. Most priced $45-$350.
Fabric extravaganza art (Martha Sue Harris - like it).


Art (John Casey).


Martha Sue Harris - John Casey.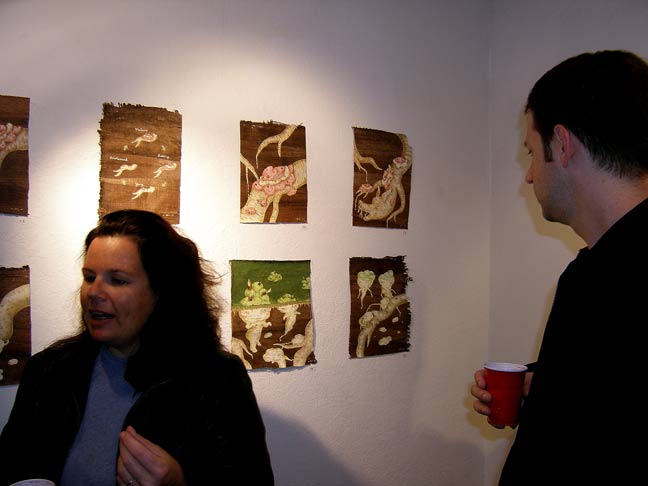 Art (Martha Sue Harris).


Art (John Casey).


***
San Francisco Arts Commission Gallery: Commission '05 - San Francisco Arts Commission Gallery Annual Benefit Party.
Artists: JD Beltran, Seong Chun, Linda Geary, Robert Gutierrez, Todd Hido, Eirik Johnson, Gay Outlaw, Richard Shaw, Leslie Shows, Enrique Chagoya & Kara Maria, Shaun O'Dell and Emily Prince, Rupert Jenkins, Joseph del Pesco.
Comment: Annual benefit fundraiser and auction. Packed. Good. Campari sponsored.
Art.


Art.


Art.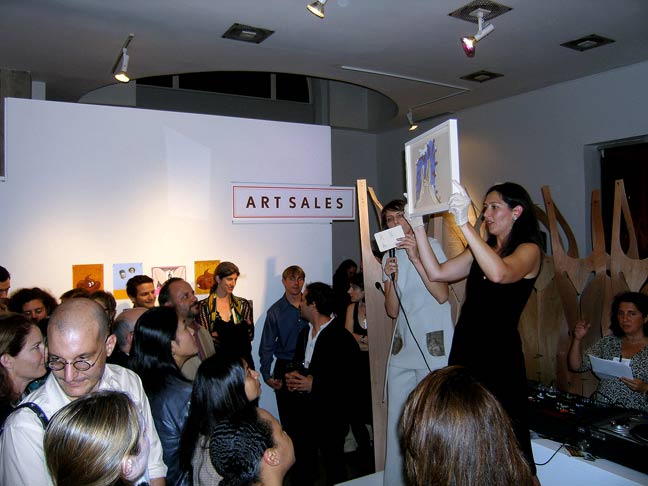 Auction sell side.


Auction buy side.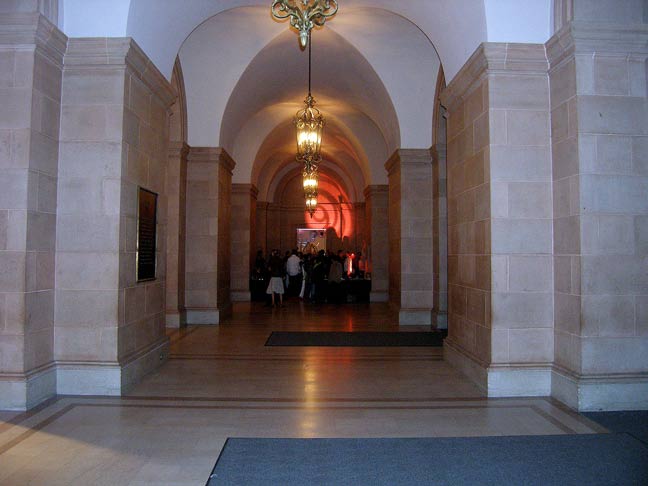 Site.


***
Hayes Valley Market, 580 Hayes St. @ Laguna: Group show.
Artists: More than a handful.
Comment: Another episode of benign artistic anarchy gently shepherded by co-directors Lisa Rybovich Cralle and Albert Herter. Herter also paints frenetic energized abstracts, his current series painted on defunct shelving from the defunct Hayes Valley Market. Kinda liked the torn paper otherworld collages by Rebecca Peters. She uses illustrations exclusively from National Geographic Magazine, preferring them for color, image quality, and paper stock.
Art.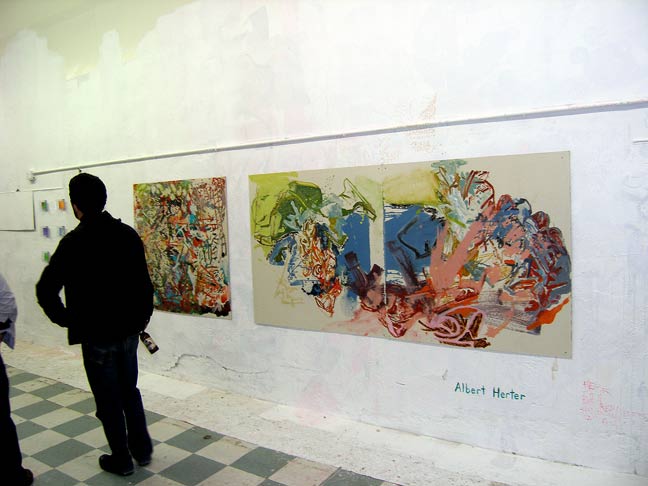 Art (Albert Herter).


Rebecca Peters - torn paper collage art.


Lisa Rybovich Cralle - Albert Herter - Co-directors.


***
Stussy S.F., 1409 Haight Street, San Francisco, CA 94117; 415.701.7474: Yoshi47 - For the World (Yoshifumi Nomura).
Comment: Small abstracts under $100. Most of the rest under $300. All competent, clean. Affordable art starts with the artists.
Art.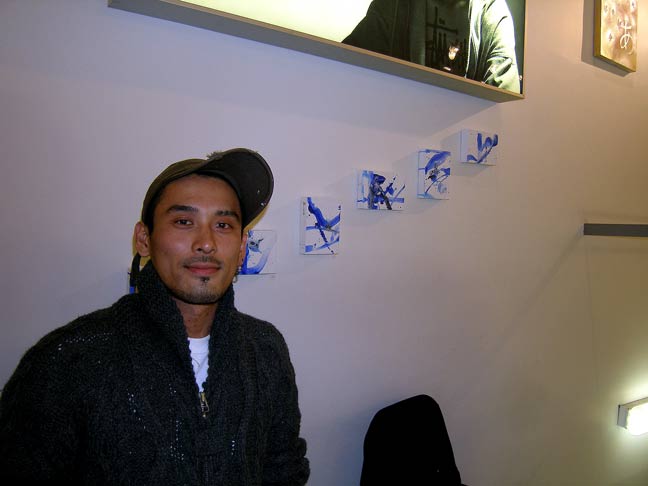 Yoshi47 - art.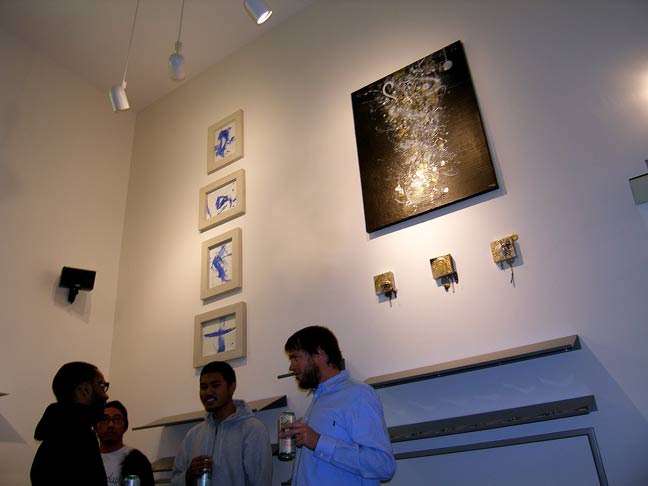 Art.


Art.


***
Low Gallery: Contrast - Tiffany Bozic, Jeremy Fish, Mike Giant, Mat O'Brien.
Comment: I like this Mat O'Brien, especially his pristine orderly eyeball pin-back button pyramid. It's a Dime, but sometimes you gotta reach a little deep for the good stuff, plus it's got my precognitive prognosticatorial chakra bunion in a tizzy. In other news, Tiffany Bozic draws real soft real smooth, Jeremy Fish goes spooky and then to the frame shop, and Mike Giant articulates the urban mantra. Plenty of fresh cuts for under $500.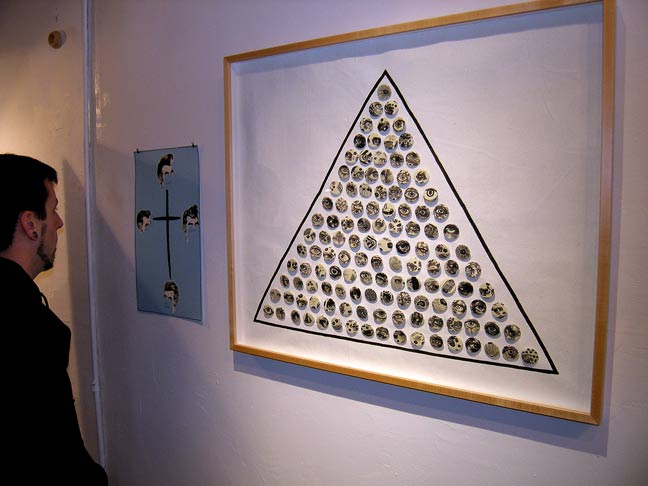 Pin-back pyramid art (Mat O'Brien - pick).


Tastefully framed seasonal art (Jeremy Fish).


Art (Mike Giant).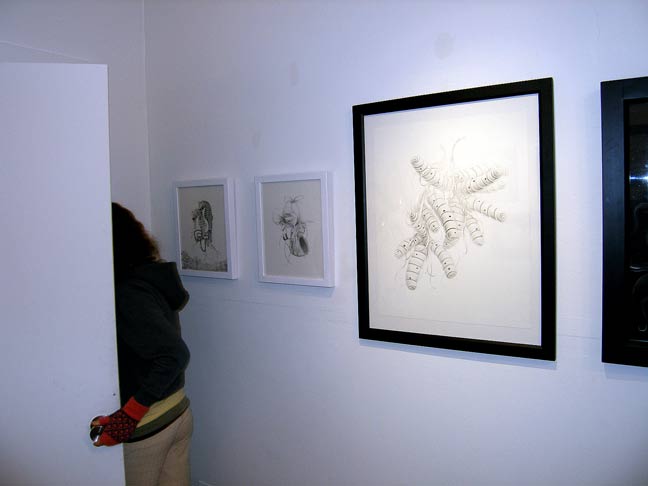 Art (Tiffany Bozic).


Art (Mat O'Brien).


Art (Tiffany Bozic, left - Mike Giant, right).


Art (Mat O'Brien - like it).


Art (Jeremy Fish).


Arena.


Andrew McKinley (Adobe Domo) presents Tiffany Bozic with a
used book about the Palace Hotel (reason unclear).


***
MAPP (Mission Arts and Performance Project): Art in Eleven Different Locations.
Comment: Garages, shops, collectives, and other venues in the vicinity of 23d, 24th, Folsom, and Bryant open late and show visual and performance arts. You walk around; each place is different. It's like aesthete trick-or-treat.
Kevin Clark - charcoal drawing (Million Fishes Art Collective - like it).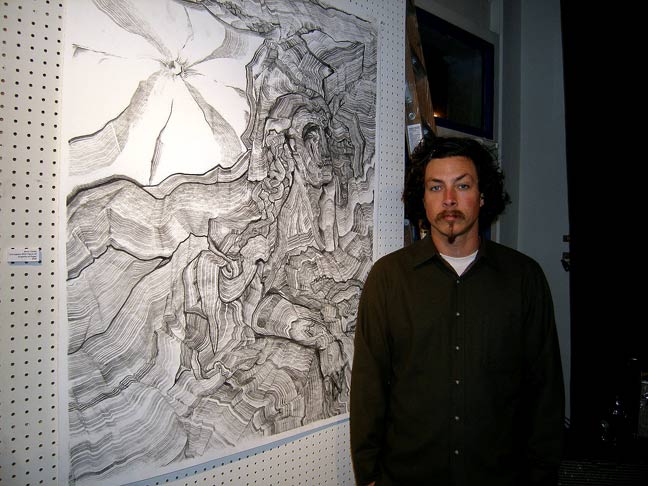 Kevin Clark - charcoal drawing (Million Fishes Art Collective - like it).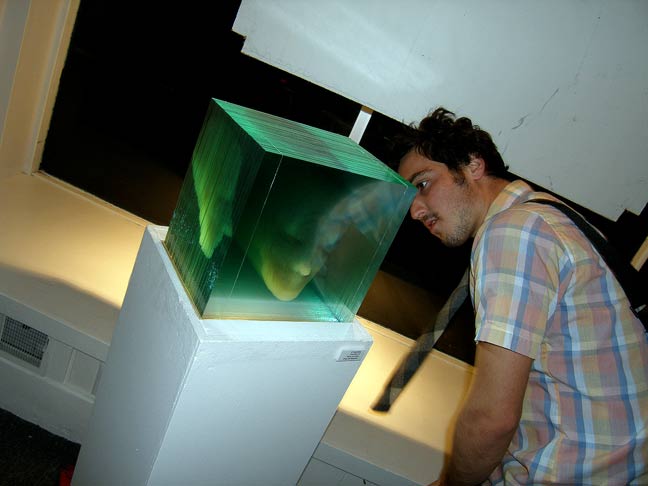 Sculptural Glass Painting (kT Andresky at Million Fishes).


kT Andresky - sculptural glass painting- like it.
Numerous hand painted glass panels "tied" together.


Red Poppy Art House.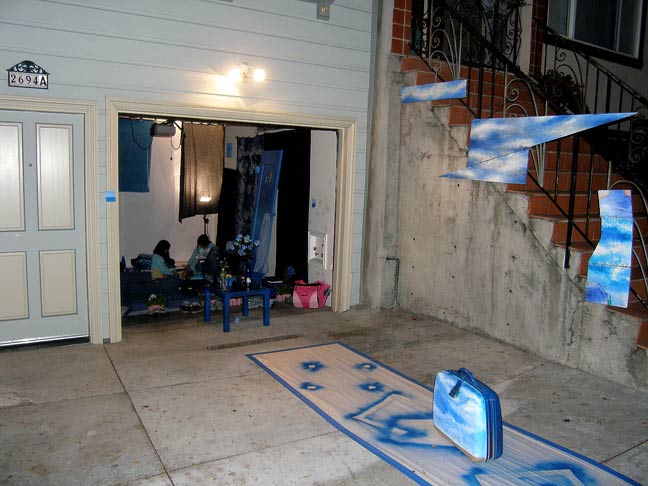 The Blue Cavern.


***
Move On Art: Light Ball.
Comment: Move On Art is one of the quirkier local arts organizations I've come across-- and that's why I like it-- 'cause I'm a quirky kinda guy. They show in a building that appears to be on the retrofit-- dangling wires, holes in the walls, holes in the ceilings, exposed girders, and watch your step. The art's a mixed bag, pick your fave. The show's motto is "Be a Light, Make Art, Not War." Can't argue with that. Good music, nice people, good party-- I'm in. If you make art and you want to participate in Move On Art, consider yourself a participant.
Here we are.


Art (Ellen Van den Bergh).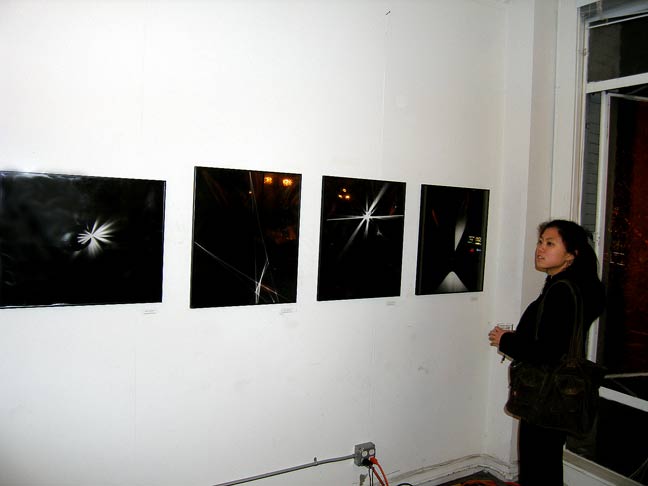 Photography art - interesting.


Phillip Hua - art.


Art.


Ellen Van den Bergh - art.


Art.


Construction zone.