<< Back to San Francisco Gallery Openings Reviews
Upcoming San Francisco Gallery Openings Calendar >>
***

Get your art fix fast: Instagram @alanbamberger
***
Modernism Gallery: Jonathon Keats - Pangaea Optima
Comment by AB: Conceptual artist and experimental philosopher Jonathon Keats suggests that if we can eliminate geographical boundaries and merge all continents into a single supercontinent, we'll increase the chances of coming together with solutions to counter and reverse climate change. Right here, right now, he's got all the ingredients assembled necessary to pull this miracle off.

Jonathon Keats explains how this whole Pangaea deal works at Modernism Gallery.


Limited edition prints by Jonathon Keats illustrate continental drift.


We'll need some magnetism to pull this off - art by Jonathon Keats.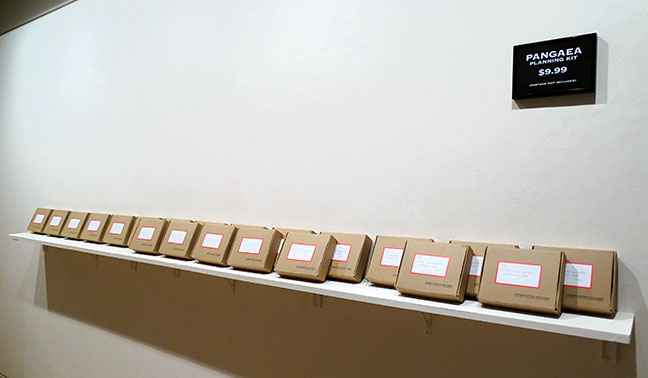 Pangaea Planning Kits by Jonathon Keats - only $9.99 each. Stock up!


Assemblage art in above image closer.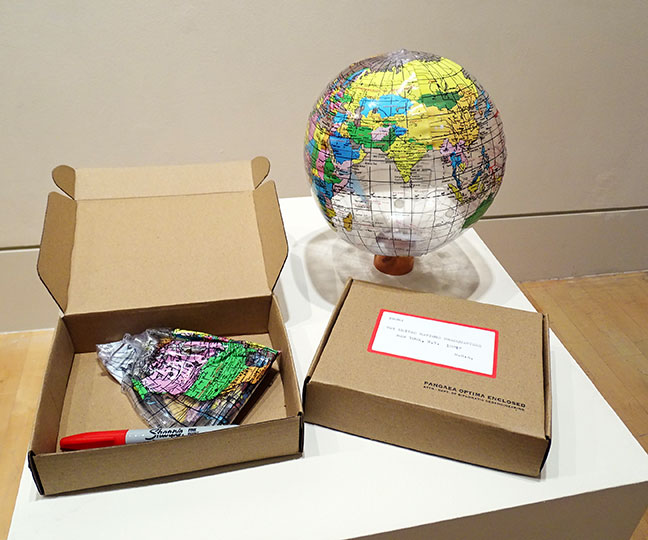 Pangaea kit contents - Jonathon Keats is SFs most affordable artist. Buy now.


***
Heritage Auctions at 478 Jackson Street, San Francisco, CA 94111: American Art Auction Preview for November 16, 2015 Sale

Art by Clark Hulings (right) sold for $161,000 at Heritage Auctions.


Maxfield Parrish art (left) sold for $1,025,000.


Nice little Nocolai Fechin painting sold for $109,375.


Eanger Irving Couse painting (right) sold for $341,000.


Alissa Ford, Director, CA & Western Art & Ed Beardsley, VP, Heritage Auctions.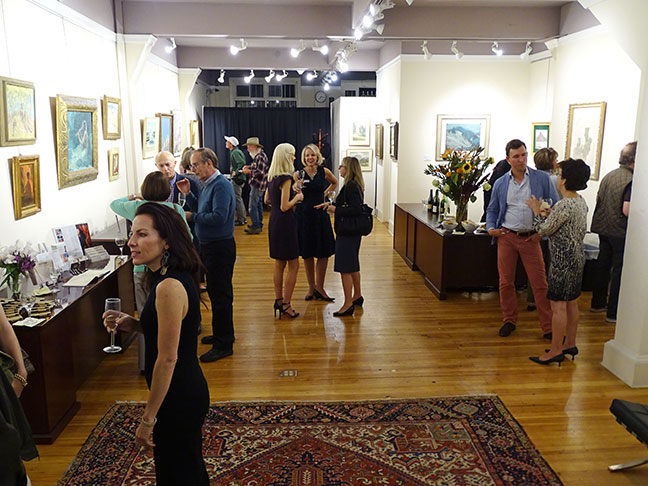 Ambiance - American Art auction preview at Heritage Auctions.


***
Driftwood Salon: States Of Matter
Artists: Bill Abright, Don Santos, Oliverio Quezada, Wesley T Wright, Hannah Pierce, Soojin Choi, Steen Kjorlie, Gabrielle Curry, Joe Spears, Greg Yates.
Comment by AB: Group sculpture show.

Quality Gabrielle Curry bronze dinosaur sculpture at Driftwood Salon.


Don Santos ceramic art in above image closer.


Wild ceramic portrait by Bill Abright.


Ceramic bird art by Bill Abright.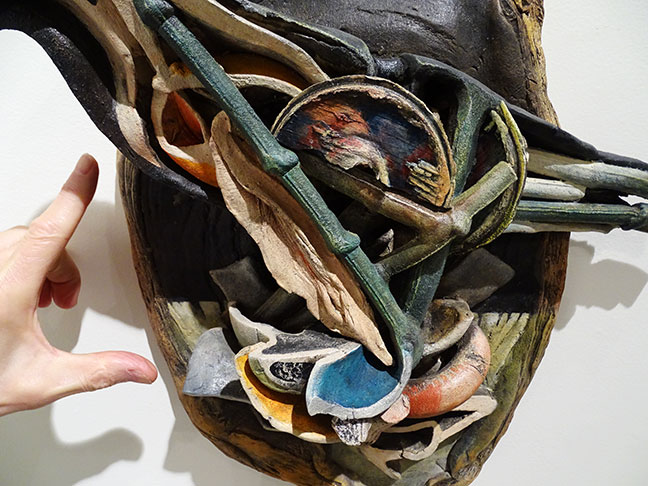 Detail of art in above image (nicely done).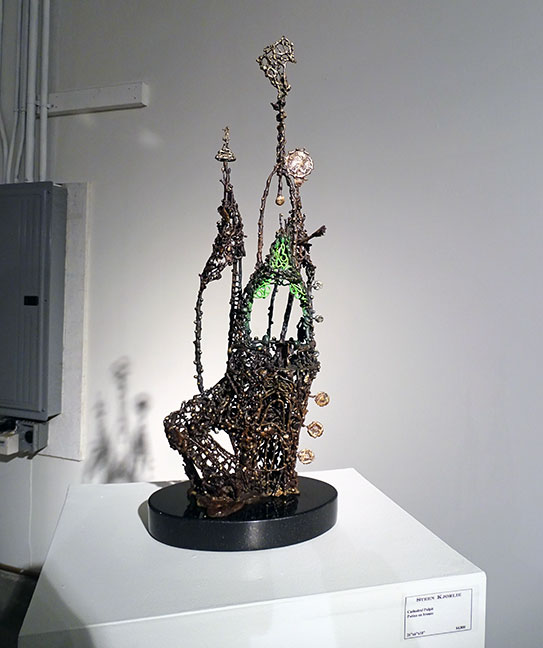 Metal sculpture by Steen Kjorlie.


***
Art Night SF at UN Plaza, San Francisco
Artists & Organizations: Yerba Buena Center for the Arts, Asian Art Museum, SF Arts Commission, San Francisco Ballet,Exploratorium, Et Al Gallery, Youth Art Exchange,Living Innovation Zone (LIZ) Program, SF Planning Department, The Thing Quarterly, Incline Gallery,Root Division, The Lab, Alter Space Gallery, The Luggage Store Gallery, San Francisco Public Library, People I've Loved, Strange Cessation Editions, N.I.A.D., Eggy Press, Bonanza, The Sunshine Alliance, The Rabbit Hole Theater Company, For Your Love and/or Money, Joseph Ferriso, Annie Vought, Mitsu Okubo, Apex, Barbara Obata, Christopher Renfro, Lexi Visco, Youngmin Lee, Mary Durell, Koak, Jovi Schnell, Chris Treggiari, Brooke Westfall, Ramekon O'Arwisters' Crochet Jam, Lisa Blatt, Charlie Leese & Hunt Projects, Gregory Smith, Robert Minervini, Yarrow Slaps, Kelly Ording, Reenie Charriere, AOK, Brett Walker, Rachel Dawson, Ethan Rafal, Kindah Khalidy, Alexis Arnold, Holy Stich, Kim Ip, Holly Coley, The Big Conversation Space by Niki Korth and Clémence de Montgolfier, Chelsea Pegram, Savannah Rusher, Jennie Lennick, Sarah Thibault, Cate White, Dave Kim, DC Spensley, Palms: Marie-Louise O'Rourke & Robin van Wijk, Kat Geng, Ryan De La Hoz's Cool Try, Facial Media Network: Laura Hyunjhee Kim & Chris Corrente, Jonathan Matas, James Chronister, Justin Mata, Lindsey Lyons, weARThard: Jes Espinoza & Ian Fabre, Tim Sullivan and his SFAI class, Lana Licata, Jon Levy-Warren, Christie Noh, t.w.five, William Emmert,Victoria Heilweil, Kristian Kabuay, Michelle Guintu, Rye Purvis, Ari Bird, Ben Marlowe, DC Spensley, Primo Pitino, Glen Helfand & his Mills College MFA Class, more.
Comment by AB: The second installment of this most entertaining evening Mid-Market Street art event. Worth going.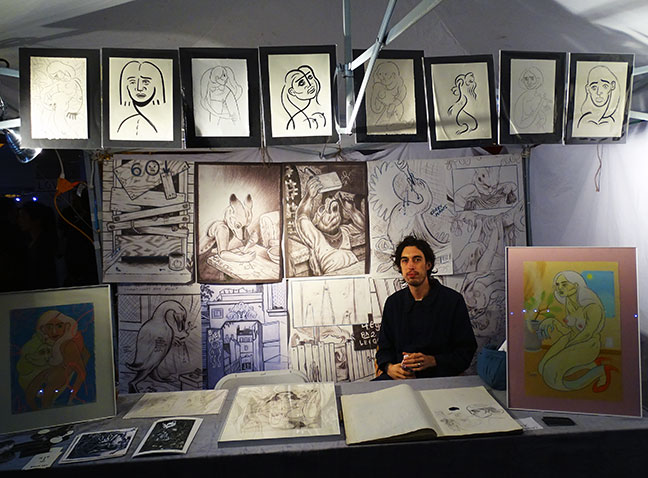 Alter Space art offerings hosted by gallery director Kevin Krueger.


Sculpture in the back of a truck by Charlie Leese.


Charlie Leese and his sculpture in above image at Art Night SF.


Mitsu Okubo offers limited edition books of his drawings.


Nicely done digital fantasy video by D C Spensley.


Ramekon O'Arwisters discusses his participatory rag-rug making project.


The midway at Art Night SF.


***