SAN FRANCISCO ART GALLERIES - OPENINGS
SERGE SOROKKO GALLERY - PASQUALE IANNETTI ART GALLERIES
RX GALLERY - PLAYSPACE AT CCA
10.26.06
Serge Sorokko Gallery: Stephen Sumner - Late, After.
Comment: First, the gallery. It's three floors, acutely swank, a little like how art galleries look in the movies. First floor fare is mainly modern master prints by Warhol, Lewitt, Chagall, and the like. Currently on the second floor is a show of photographs by fashion designer turned photographer, James Galanos, eminently crafted not only from compositional standpoints, but perhaps even more so, with respect to palette. His design expertise is undeniably evident.
Tonight's opening on the third floor is for Stephen Sumner. His misty, atmospheric, predominantly monotone land, water, river, mountain, and skyscapes line the walls. He's flocked by adulatory admirers, a book about his art sits on an end table, photographers scurry about snapping away, a smattering of luminary-esque personalities banter among themselves, and it's all very momentous & tony. But I totally don't get it. Sumner's paintings are appealing enough, and on the surface, the mystique would appear to be that he does so much with so little but I'm sorta thinkin' the oppositie-- like he does hardly anything with so little. (To tell the truth, they remind me of backgrounds of Bob Ross paintings.) Wracked with the incongruity of it all, I wonder whether I might have missed an emperor's-new-clothes alert. Or have I lost my curve ball and officially taken up residence in left field?
I gotta get to the bottom of this, so back at the rancho, I fire up the trusty computer, URL myself over to Sumner's bio page on the Serge Sorokko Gallery website, and read, among other things, that a show of his paintings opened at the Moscow Museum of Modern Art on May 18, 2006. But I can't seem to corroborate that information anywhere else online. Can someone help me here please? I do discover a group of Sumner's paintings from a 2004 show "upstairs" at Kenny Schachter Rove Gallery in London, England, priced mainly $1000-$3000 (with one at $10K). No prices visible tonight so I can't compare and contrast.
But then JACKPOT! I stumble across a couple of articles referring to Sumner as the boyfriend of Harper's Bazaar Editor-in-Chief Glenda Bailey (at least as of 2005). OK. This is good. I search Google Images to see what Glenda Bailey looks like, review my show photos for a match and sure enough, there she is. I also recall overhearing a woman introduced as the SF Chronicle fashion editor, so I visit the Chronicle's website, learn her name is Sylvia Rubin, revisit Google Images, flip back to my photos, and she's right there talking to Glenda Bailey. And we all lived happily ever after.
First floor art (Sol Lewitt).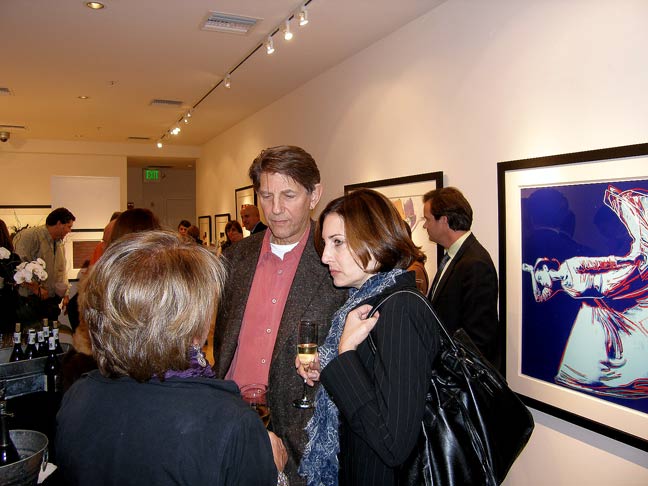 First floor art (Andy Warhol) + Peter Coyote (center).


First floor art (Andy Warhol).


Second floor photography (James Galanos - like 'em).


Second floor photography (James Galanos).


Second floor photography (James Galanos).


Third floor art (Stephen Sumner).


Third floor art (Stephen Sumner).


Stephen Sumner (center), Harper's Head-Ed Glenda Bailey (right)
Chron fashionella Sylvia Rubin (over Sumner's right shoulder) .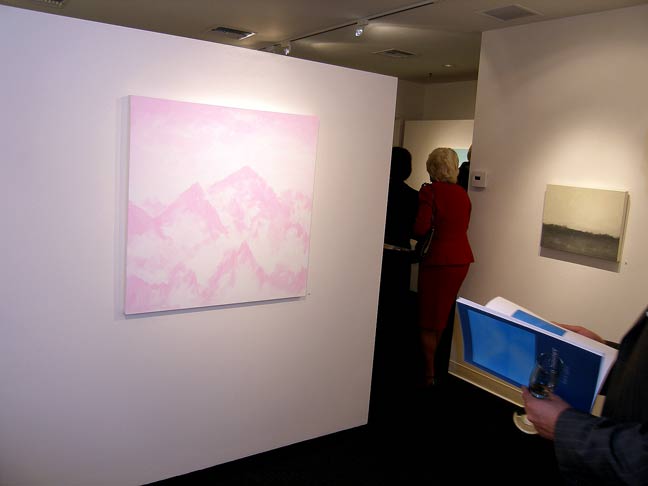 Third floor art (Stephen Sumner).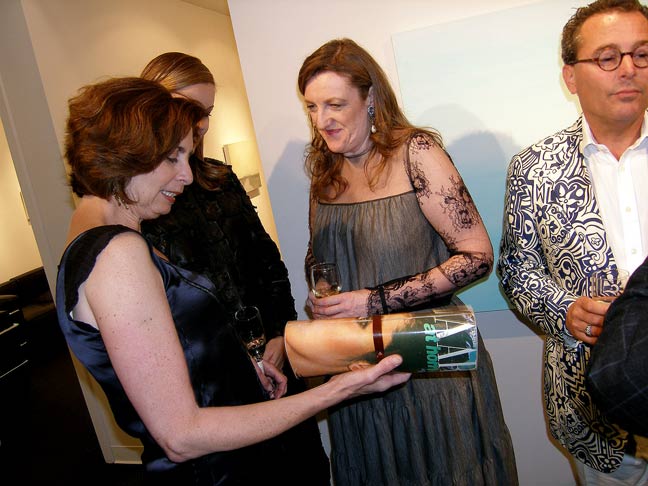 Sylvia Rubin touts kicky vintage clutch to Glenda Bailey.


View from the chaise.


***
Pasquale Iannetti Art Galleries, Inc.: Gino Severini - Form and Color: The Graphic Works 1909-1965.
Comment: Gino Severini was an important Italian Futurist, the forty graphic works here representing the artist's entire career. The later works, compositionally after the fact, are certainly the most decorative and colorful, and exemplify Severini's mastery of modernist methodologies. The best part of the show is a glass case containing rare original Futurist documents, magazines, and catalogues-- "primary source materials" as they're referred to in the trade. Nice.
Art.


Art.


Art.


Gino Severini early works.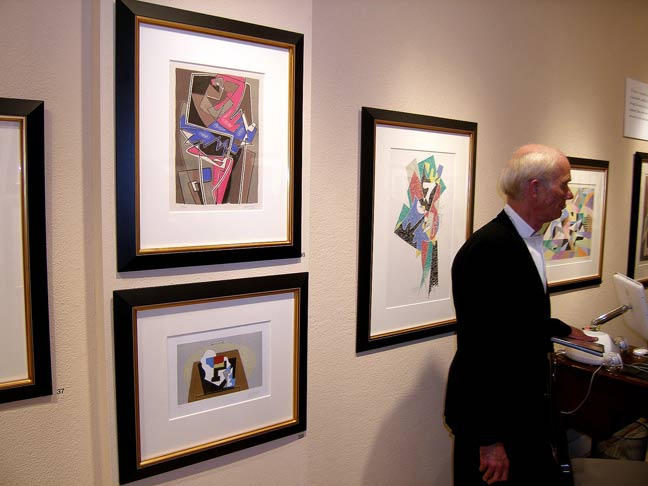 Art.


Glass case Italian Futurism rarities.


Art.


***
RX Gallery: Michelle Blade & Zane Peach - Recent Work.
Comment: Complicated "story pictures" by Zane Peach incorporate varying percentages of paint, collage and text. Michelle Blade paints and draws on translucent mylar (I think), her largest composition being a Where's Waldo-esque mound of people.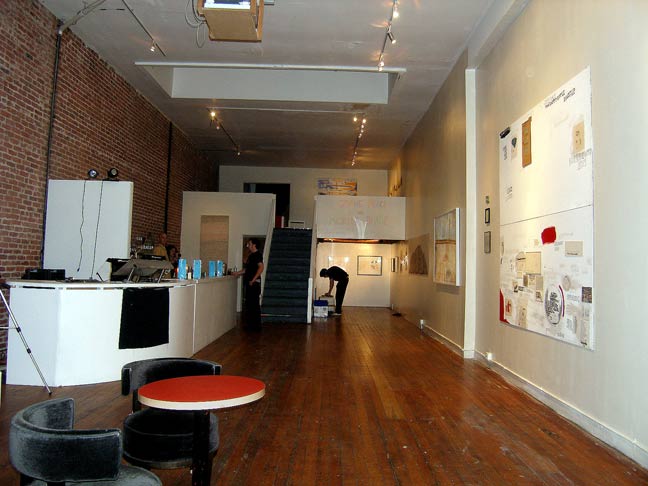 Uh-oh; too early. They're still setting up.


A little last minute arting for Zane Peach.


People pile art (Michelle Blade).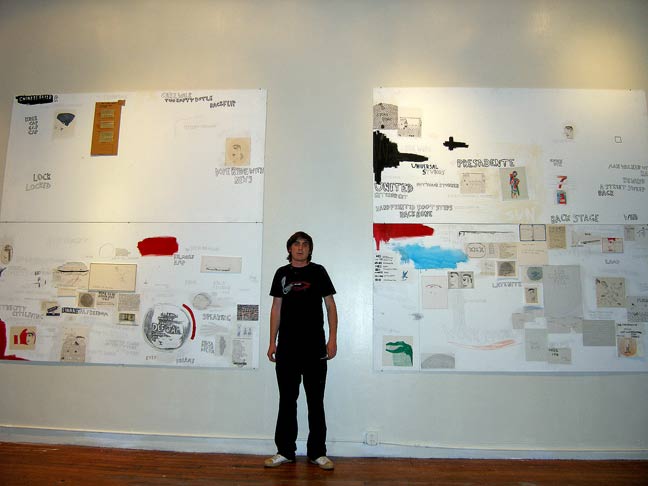 Zane Peach - art.


Art (Zane Peach).


***
PLAySPACE Gallery at California College of the Arts: What's the Story.
Artists: Ibrahim Abdul-Matin, John Bechtold, Frank Ebert, Patricia Esquivias, Heather Fenney, Ali Nasche-Messing, Chadwick Rantanen, Rebecca Rubin, David Sanchez, Casey Jex Smith, Patricia Stone, Gabrielle Teschner, Tatyana Tetenbaum, Christine Wong Yap.
Comment: Painting, writing, photography, sculpture, and performance explores relationships between words and pictures in the course of examining existing social structures. For instance, Christine Wong Yap tells me her series of photographs document minor irritations and inconveniences she encounters during the course of her day-to-day activities, such as having to pay a parking ticket or eating bad food. Turning these "incidents" into art by photographing them allows her to experience and reflect on their problematic nature from refreshingly different perspectives.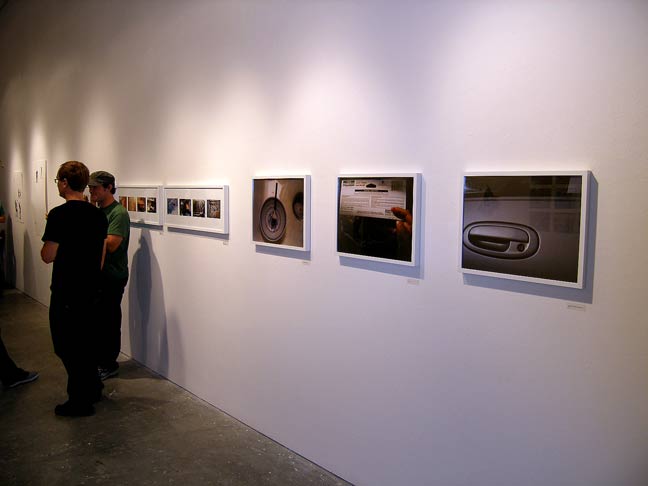 Art (Christine Wong Yap).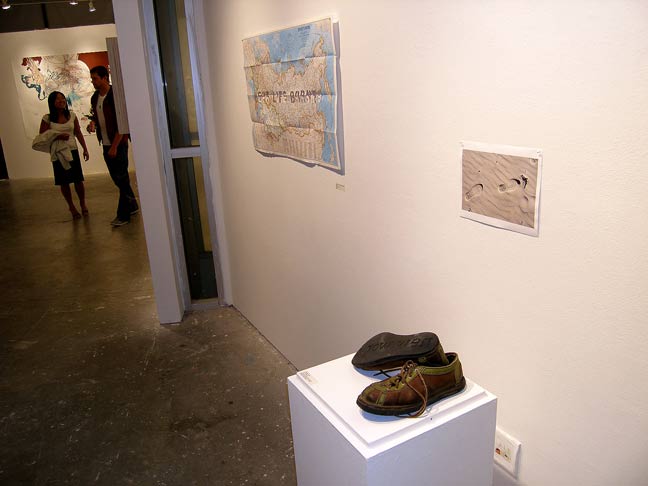 Art.


Art.


Art.


Art (strange, but I kinda like it).


Performance art.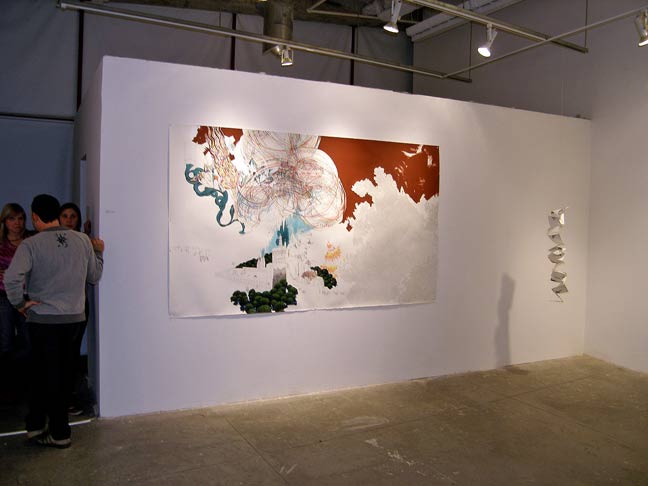 Art.


***