SAN FRANCISCO ART GALLERIES - OPENINGS
ARTHAUS - GARAGE GALLERY - SOMA ARTISTS STUDIOS
M1 GALLERY - ISLAIS CREEK STUDIOS
10.26.07
ArtHaus Gallery: Carol Massa - Cocktails and Conversations.
Comment: Not quite nonrepresentational paintings by Carol Massa, because if you give 'em a good look, you see the cocktails and conversations the show's title alludes to. How many cocktails and conversations you see may well depend on how much you've had to drink.
Art.


Art.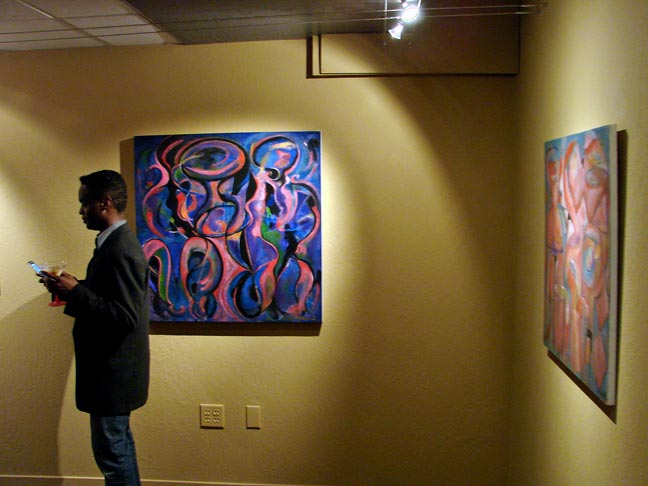 Art.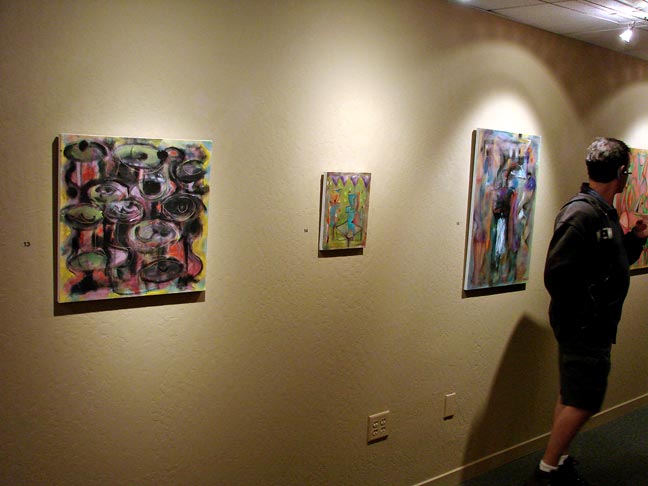 Art.


Art.


***
Garage Gallery at Embarcadero Auto: Open Studios.
Comment: Painting, sculpture, assemblage, photography, jewelry, and more by Stephen Albair, Alan Mazzetti, and Susan Tuttle.
Art.


Art.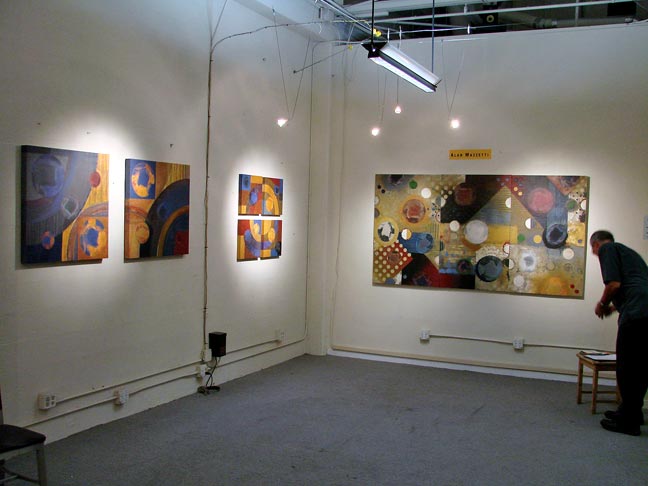 Art.


Photographer explains photography.


***
Soma Artists Studios: Open Studios.
Comment: Over 40 artists open their doors for an enjoyable show and sale.
Art (Mike Kimball - kinda like 'em).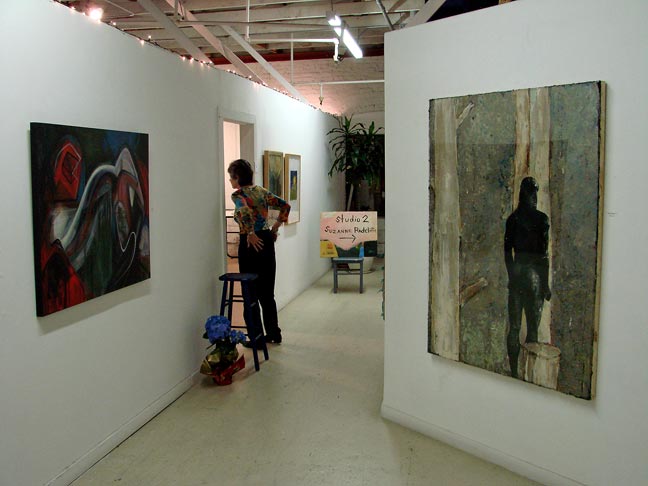 Art.


Art.


***
M1 Gallery, 208 Utah St., San Francisco, CA 94103: LTC Plus One.
Artists: Amanda Curreri, Bessma Khalaf, Frank Ebert, Luke Butler, N. Sean Glover, Pablo Guardiola, Jessalyn Haggenjos, Linda Geary, Alexis Lopez, Jason McAfee, Elizabeth Mooney, Sally Elesby, Karen Olsen-Dunn, Erik Scollon, Marsha Shaw, Jennifer Brandon, Shawn Sloan, David Huffman, Liz Wing, Sandro Tchikovani.
Comment: Inaugural group show for an entity billing itself as Long Time Collective sports fresh energy and some pretty peppy product. There's basically something for everyone including urban, kinetic, digital, paint, photography, and more. Worth a visit. Not sure what the specs are on M1 Gallery, but it's a cherry space (if anybody knows anything, like maybe who runs it or whether they have a website, or if you wanna help caption the art, kindly drop me an email at artbusiness@artbusiness.com).
Art.


Art.


Art.


Art.


Art.


Art.


Not sure.


Art (nicely executed).


Pile o' tunes art.


Photo in a bucket of water art.


Art.


Art.


Art.


Basic layout.


***
Islais Creek Studios, 1 Rankin Street, San Francisco, CA 94124: Open Studios.
Artists: Rebecca Fox, Yong Han, Béla Harcos, Christine Kendrick, Alex MacLeitch, Min Hwan Park, Kelsey Robinson, Wolf Thurmeier, Jhaya E. Warmington, Jason Webster.
Comment: Haven't heard of this place before, so I take up the challenge and trek deep into the Bayview boonies. The building rennovation is in progress, individual studio spaces are currently under construction, the facility being designed with an emphasis on metal sculpture, but there are paintings and other types of art as well.
Art.


Art.


Art.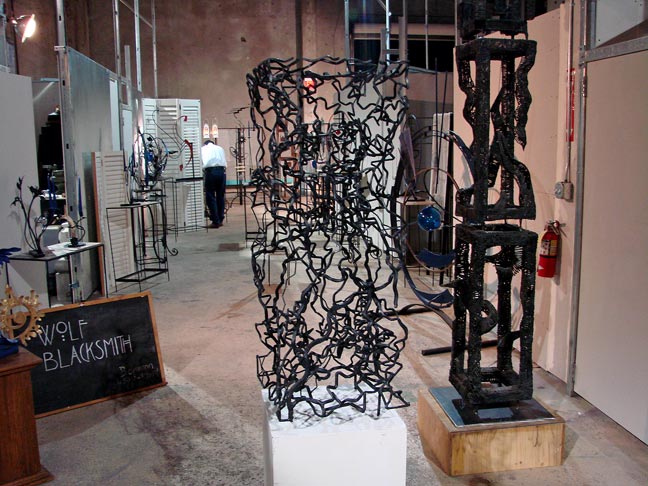 Art.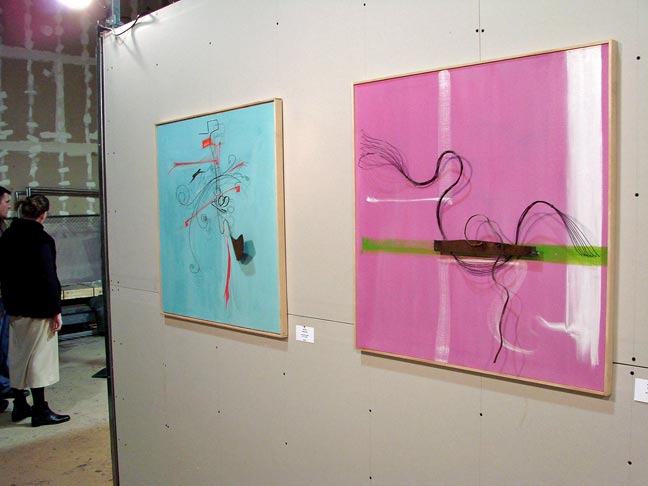 Art.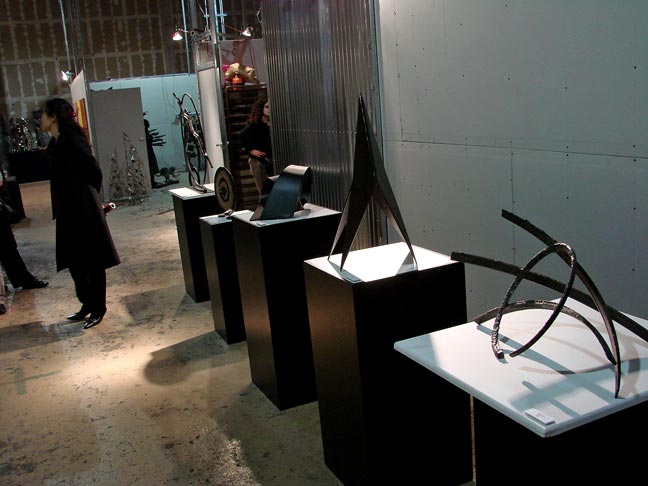 Art.


Art.


***