***

Get your art fix fast: Instagram @alanbamberger
***
San Francisco Fall Art & Antiques Show at Festival Pavilion, Fort Mason: Preview Gala
Exhibitors: Aedicule, Almond + Company, American Garage, Antonio's Bella Casa, Arader Galleries, Carlton Hobbs, LLC, Charles Plante Fine Arts, Clinton Howell Antiques, Daniel Stein Antiques, Inc., David Brooker Fine Art, Earle D. Vandekar of Knightsbridge Inc., epoca, Finnegan Gallery, Foster Gwin Gallery, Galen Lowe Art & Antiques, Gallery 925, Hackettt | Mill, Hayden & Fandetta Books, Henry Saywell, J.R. Richards Gallery, Janice Paull, Jayne Thompson Antiques, Jeff R. Bridgman American Antiques, Jesse Davis Antiques, Joel B. Garzoli Fine Art, Joel Cooner Gallery, Lang Antique & Estate Jewelry, Lawrence Jeffrey, Lebreton Gallery, Ledor Fine Art, Los Angeles Fine Art Gallery, Lotus Gallery, Mallett Antiques, Meyerovich Gallery, Michael Pashby Antiques, Montgomery Gallery, The Orange Chicken, Patrick & Ondine Mestdagh, Peter Fetterman Gallery, Peter Finer, Peter Pap Oriental Rugs, Inc., Rainforest Baskets, Roberto Freitas American Antiques & Decorative Arts, Schillay Fine Art, Inc., Il Segno del Tempo, Steinitz, Trotta-Bono Contemporary, Twiga Gallery, Witherell's, Yew Tree House Antiques, Inc., 66mint Fine Estate Jewelry.
Comment by AB: Time once again for the glorious San Francisco Fall Art & Antiques Show. It used to be just the Fall Antiques Show, but in recent years they've been adding more and more art to complement the fine selection of antiques (from ancient to modern) courtesy of top galleries and dealers from around the world. Tonight's Preview Gala is a favorite of the social set with the people watching almost as good as the treasures on display. From heirloom jewelry to Greek busts, suits of armor and abstract expressionism, you'll find it all here. The show's on through October 30. If you like the finest of pretty much everything, don't miss it. No other fine or decorative arts show or event in Ess Eff even comes close.
And now for a tantalizing taste of the magnificence on display. Stop on by!!

Rare 3-piece set of Palissy ware at Jesse Davis ($11,950).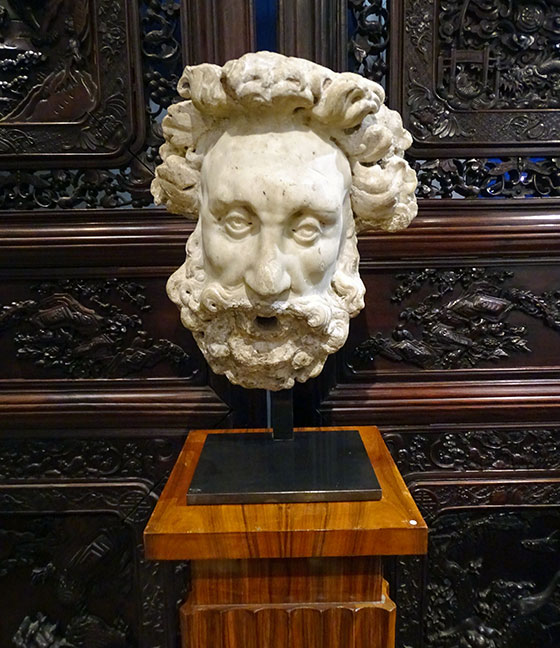 No label, but for sale at Steinitz - SF Fall Art & Antiques Show.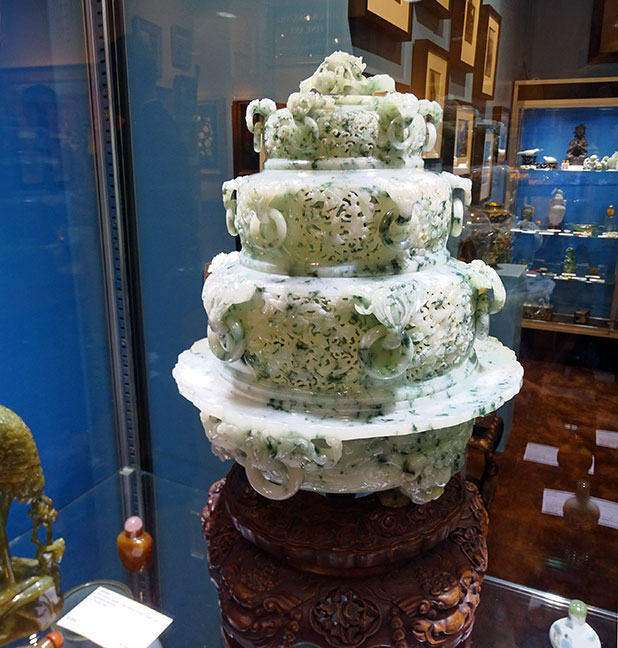 Fine carved jade at The Orange Chicken (about $250,000).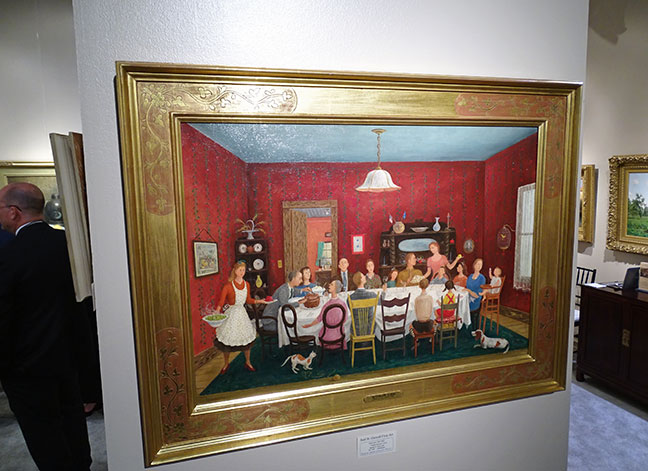 Quality Regionalist painting by Doris Lee at Joel B. Garzoli Fine Art.


Joel Garzoli & associate at Joel B. Garzoli Fine Art.


19th century tin weather vane at Animalia (my favorite piece in the show).


Stunning heirloom accessories at Lang Antique & Estate jewelry.


David Hare sculpture & Jules Olitski painting at Hackett Mill.


English & Continental antiques at Jesse Davis.


Antiques Roadshow expert Brian Witherell at Witherell's.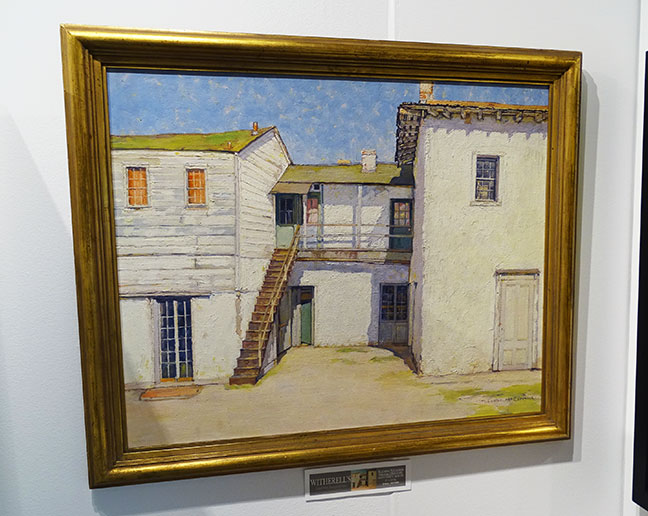 Top shelf M Evelyn McCormick Early California art at Witherell's ($62,500).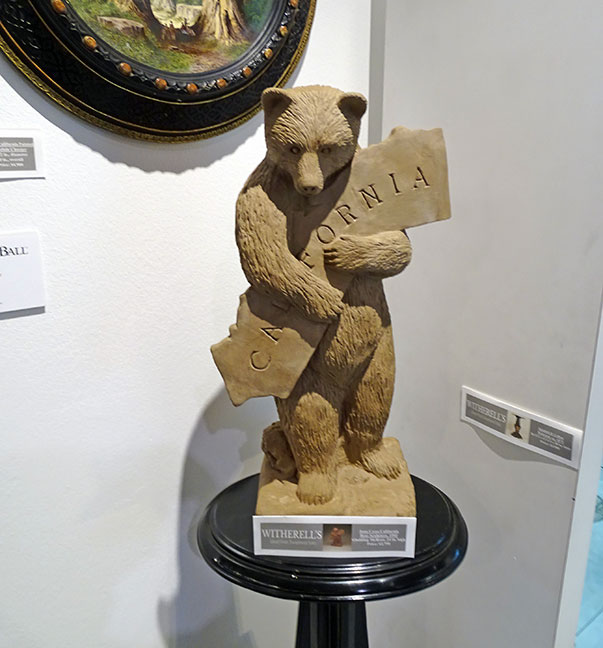 Gladding McBean Golden Bear with play toy at Witherell's ($2750).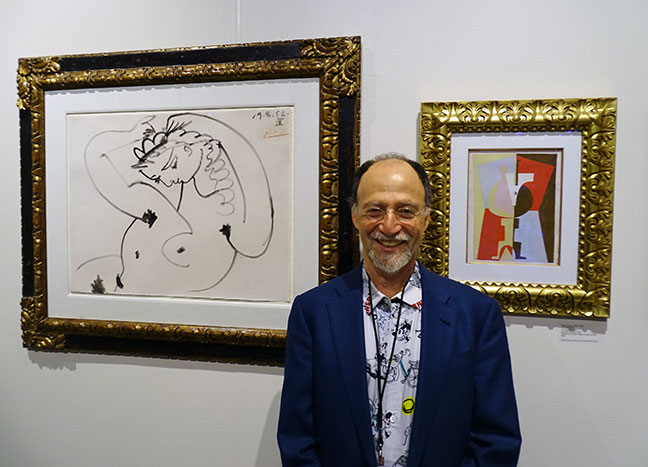 Picasso expert Kobi Ledor & original Picassos at Ledor Fine Art.


Lifesize antique buck sculpture & Frank Sinatra in a mask at Mallet.


Fine Americana at Roberto Freitas - SF Fall Art & Antiques Show.


Impressive African artifacts at Twiga.


Postwar Modern decoration at Libreton Gallery.


Full suit of armor at Peter Finer. Got protection?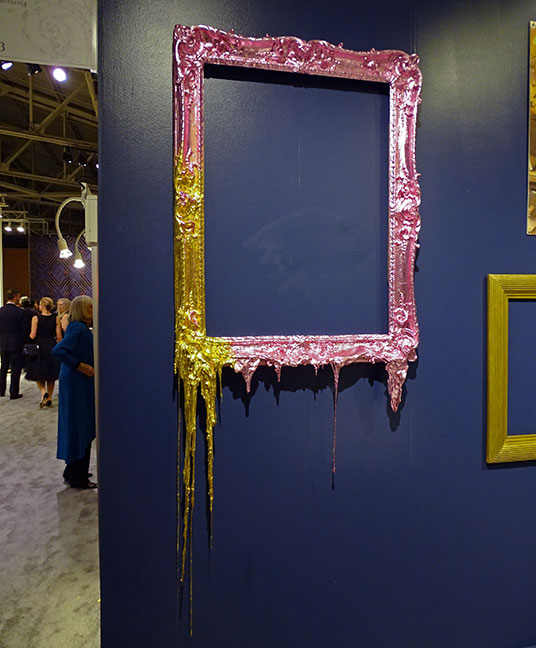 Fresh framing idea at Aedicule.


Wildlife on parade at Patrick & Ondine Mestdagh.


***