SAN FRANCISCO ART GALLERIES - OPENINGS
BRIAN GROSS GALLERY - MODERNISM INC. - CARTOON ART MUSEUM
NEWMARK GALLERY - FRASER FINE ART - MIGHTY
THE CANVAS GALLERY - HOTEL DES ARTS
10.26-27.05
Hotel Des Arts in cooperaton with START SOMA: Group show featuring a new painted room by Chris Pastras and skateboards designed by Jason Lee, Chris Pastras, and Clint Peterson.
Artists: Kinsey, Miya Ando Stanoff, Dee Adams, Sylvia Ji, Ponti, Brian Ermanski, Eric Orr, NoMe, Vulcan, Tes One, Bask, Casey O'Connell, Tim Gaskin, Buffmonster, Amandalynn, Sever, Aidan Hughes, Saber, Alayna Magnan, Yoffy, Christian Wiseman, Hannah Stouffer, Norm, Sam Flores, Sandro Tchikovani, Scatha G. Allison, Ricardo Richey, Bigfoot, Jonathon Keats, Thomas Wolf, Jeremy Sutton, Tricia Choi, Kelly Tunstall, Plasticgod, Bryan Dawson, Zoltron.
Comment: Another urban artfest up and down the hallways of Hotel Des Arts including dark downtown atmospherics by Norm, trademark Amandalynn sirens, the smooth calligraphics of Sever and Saber, Bigfoot bigfeet, Casey O'Connell flippy koolgirls, plus much much more-- and to make it official, two braille color wheels by conceptual artist Jonathan Keats. But Jonathon-- they're under glass! Anyway, four floors of halls are decked with at least several hundred works of art-- and it ain't even Xmas yet. So come on down, scope the visuals, and disturb the guests. Pretty soon you hotel dudes are gonna hafta get yourselves a gallery.
Art (Amandalynn).


Art (Norm).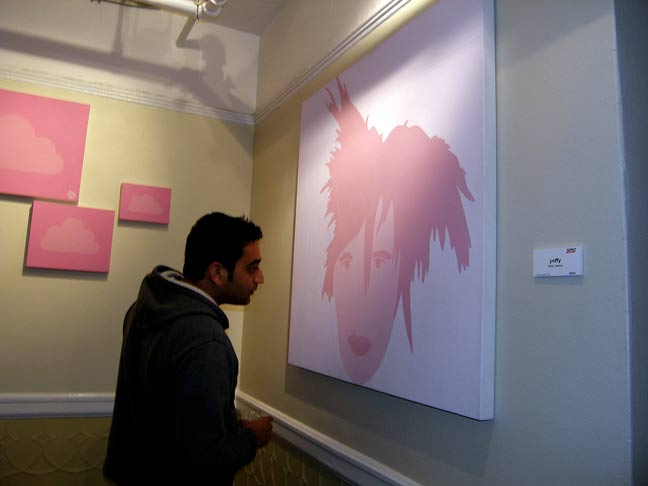 Art (Yoffy) after guess who?


Art.


Art (Sever).


Art.


Art.


Art (like it).


Art.


Deck retrospective.


***
Newmark Gallery: Memory Filter - Jerzy Kolacz.
Comment: Mature accomplished smooth soft deep rich unified textural abstracts by elected Royal Canadian Academy of Arts member Jerzy Kolacz. (Royal Canadian Academicians get to put the letters RCA after their names. The American equivalent is the National Academy and if you get elected to that, you get to put the letters NA after your name. Having letters after your name comes in handy from time to time.) Anyway, Polish-born Kolacz has a long and impressive rap sheet including numerous international credits.
Art.


Jerzy Kolacz - Mark Wladika (Newmark Gallery Director).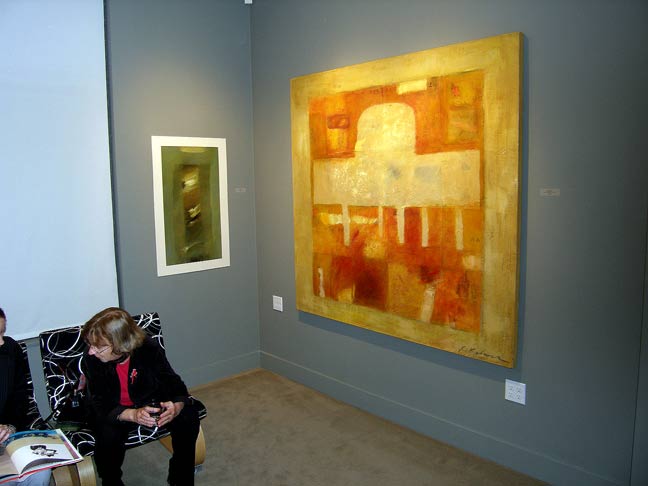 Art.


***
Brian Gross Fine Art: Nellie King Solomon - Superball, Recent Paintings.
Comment: According to the press briefing, Nellie King Solomon "applies acrylic to catamate, a heavy-duty mylar, in her large-scale diptychs" in spontaneous random improvisational manners including with a SuperBall. (My SuperBall story is that the first time I ever got drunk, the last thing I remember is "my friend" Mitch Cohen bouncing one off of my forehead.)
OK. Back to the show. Here's what I think-- Brian Gross goes to Nellie King Solomon's studio and either watches her make art, watches her demonstrate how she makes art, or is otherwise electrified by her process. So he agrees to do a show. So then he hangs the art, but short-sells her methods which are in large part responsible for how she got the show in the first place. But he expects us all to be as impacted as he is. But we're at a disadvantage because we have to fill in process blanks that he's already filled in because he's "been there" and we haven't. And us ordinary folk need our blanks filled in by qualified outside contractors (aka Brian Gross) in order to get with the program. That way, we don't have to guess why we're looking at what we're looking at (like I'm doing now). Possible solution: A TV monitor plays an endless-loop CD or DVD of Nellie King Solomon gettin' jiggy in the studio.
Artists take note-- if your art is about process, you gotta show the process when you show the art. People prefer knowing over guessing. That simple and no more complicated.
Art.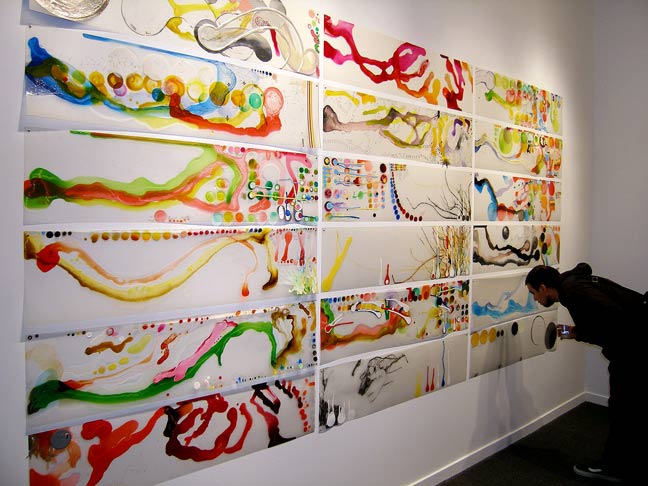 Art.


Art.


Circumstance.


Esplanade.


***
Modernism Inc.: Bureau of Standards - An Art Project by Jonathon Keats.
Comment: Jonathon Keats creates your own personal meter stick, engraved in brass and signed by Keats, including stand and personal conversion table, based on and calculated from your heart rate (beats per minute), all for only $1200 (plus shipping and handling). For the show opening, Keats is seated at a modest white formica-topped drawerless desk, calculator at the ready, stethoscope coiled, taking pulses, personal checks, and all major credit cards. The gallery is gussied up with framed conversion tables, several personal meter sticks, a video cameraman, and affiliated ceremonial parapheralia and appurtenances to convey the gravity of the event. If you can't make it to the show, take your pulse (or have someone take it for you), send it to Keats (courtesy of Modernism Inc.), and he'll calculate you up a meter stick.
As an aside, Keats is a perfect example of what I was just talking about at Brian Gross-- Keats' show is about process, and he's right there processing...
Accoutrements.


The Doctor is in (Jonathon Keats taking pulse).


Still taking pulse.


Calculation of personal meter length based on pulse.


Next.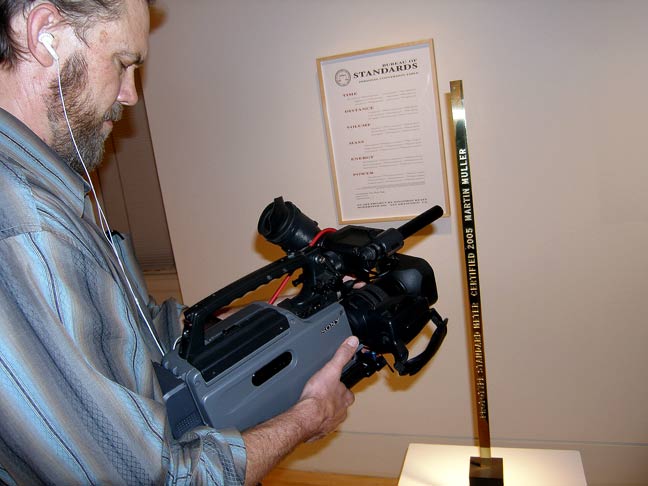 Documentator.


Obligatory baby shot - art.


***
Cartoon Art Museum: Gross, Gruesome and Gothic.
Comment: A "horrifying display" of over 50 cartoons from a variety of artists including Gahan Wilson, Edward Gorey, Charles Addams, and Basil Wolverton.
So I'm there snapping away when this badged-up woman approaches and asks me not to take pictures. I tell her I've covered previous shows and always taken pictures. She tells me not to take pictures. I tell her I believe I photographed the Cartoon Museum's Curator at a previous show. She tells me not to take pictures. Well, I checked my files and it wasn't the Curator-- it was Executive Director Rod Gilchrist.
Cartoon art.


***
Fraser Fine Art: Christian Eugene "Gene" Costanza.
Comment: Christian Eugene Costanza is from Eugene, Oregon. Isn't that weird? It would be like if I was from Stuart, California. Anyway, Gene Costanza paints traditional plein air landscapes, favoring gentle panoramic expanse as subject matter-- and he paints them very well. Prices are reasonable, low thousands for good-sized works. Fraser Fine Art has been open for about a year, a well-appointed bricked glassed space located in the tony Jackson Square antiques district. Stop by and take a look.
In other news, Costanza begins his artist statement with the words "I have been married 27 years..." Apologies in advance for my temerity in discussing compositional aspects of an artist's statement, but sentences like that belong closer to the end than to the beginning. An artist's statement is about art; an artist's autobiography is about life. Keeping the two separate is generally a good idea.
Here we are.


Art.


Ian Fraser - owner.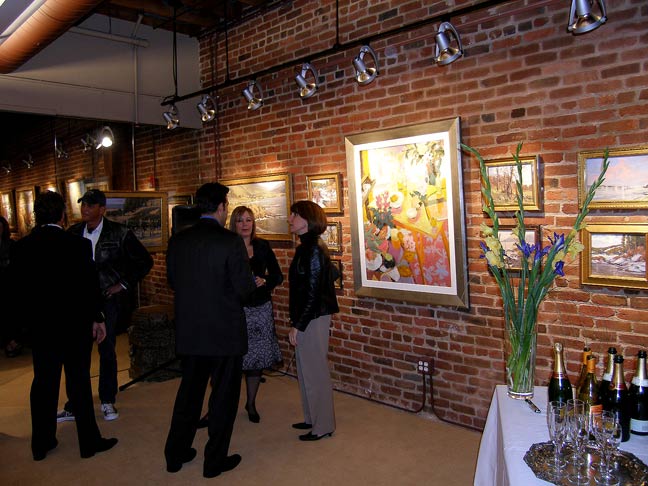 Art.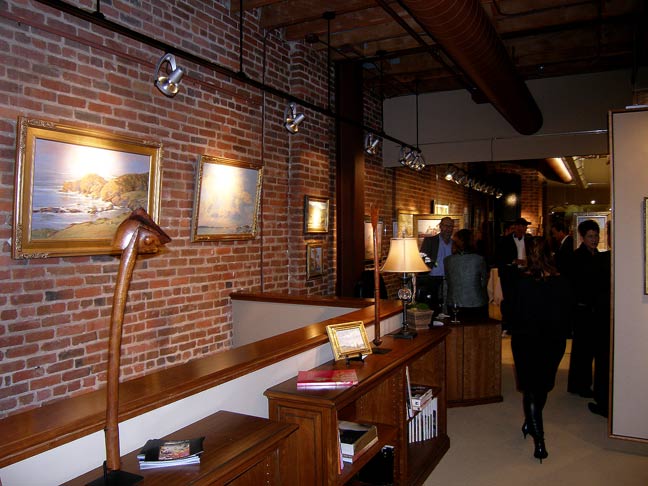 Art.


***
Mighty: Mighty Gallery Debut.
Artists: Aaron Curry, Bobby Chu, Catherine Kaleel, Coro, Dave Schubert, Emi Muriyama, Ferris Plock, Gonzo, Hana Hillerova, John Swanson, Karen Stafko, Leslie Kulesh, Merkley???, n8, Noah Cunningham, Romanowski, Sylvia Ji, Tiger, Zenaida.
Comment: Urban mix including seasonal scare like two neat rows of mini-pumpkins on brushed aluminum by Ferris Plock.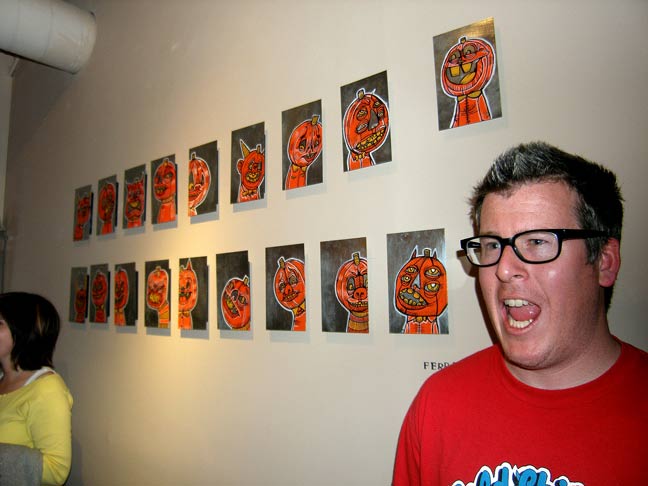 Ferris Plock - progeny.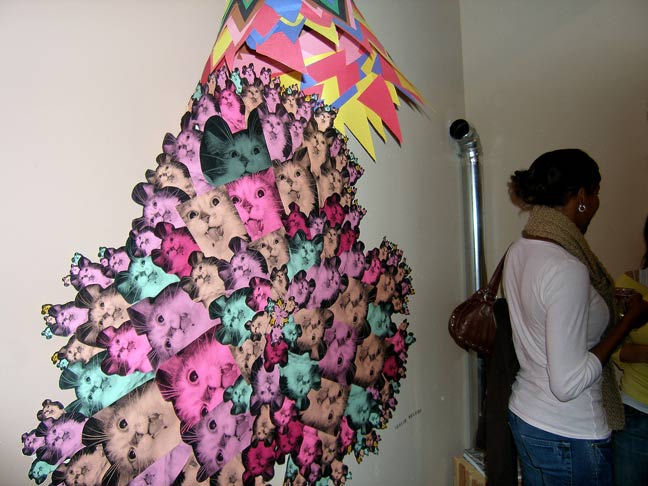 Canopied cat collage art (like it).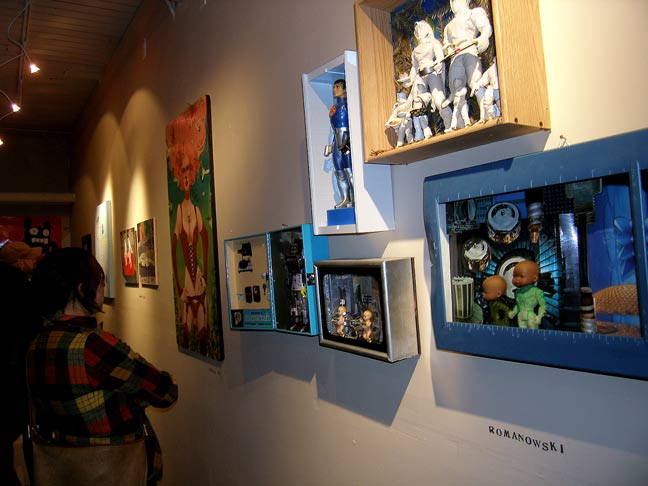 Art (Romanowski).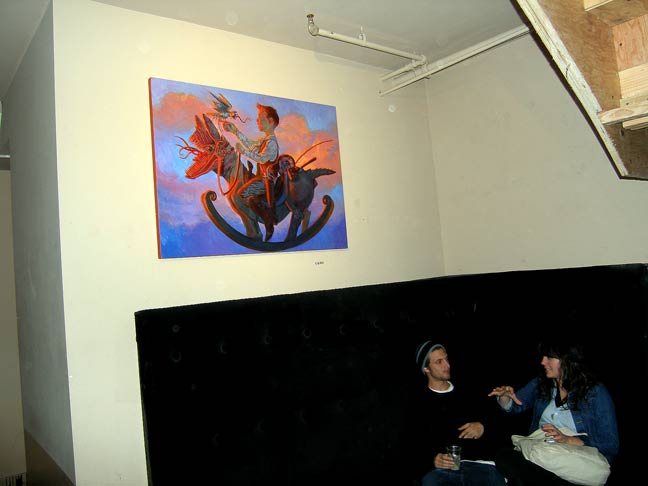 Art (Coro).


Photography (Dave Schubert).


Art.


Art.


***
The Canvas Gallery: Wicked Wonderland.
Artists: Michael Page, Belinda Chlouber, Jenny Bird, Erin Wells, Odessa Chen, Mark Slovens, Damien, Joshua Hagler, Janet Lucroy, Eric A. Helsley, Terra Reneau, Norm Quiros, Tim Gates, Pete Doolittle, Liz Amini-Holmes, Will Russell, more.
Comment: Your basic Halloween aggregation. BOO!! Did I scare you?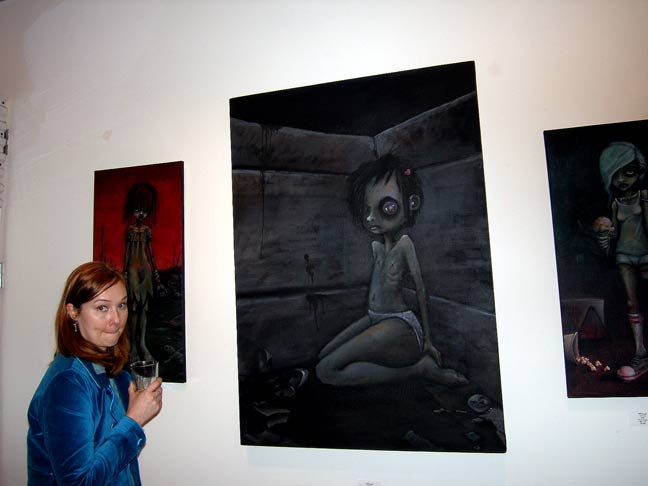 BOO! Did I scare you?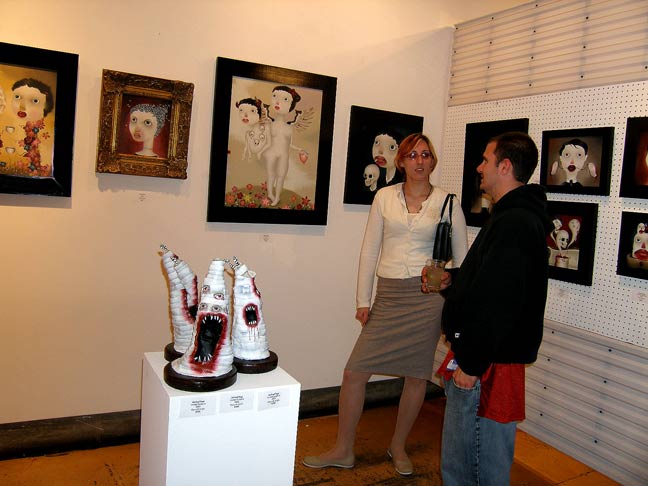 Scary art (like it).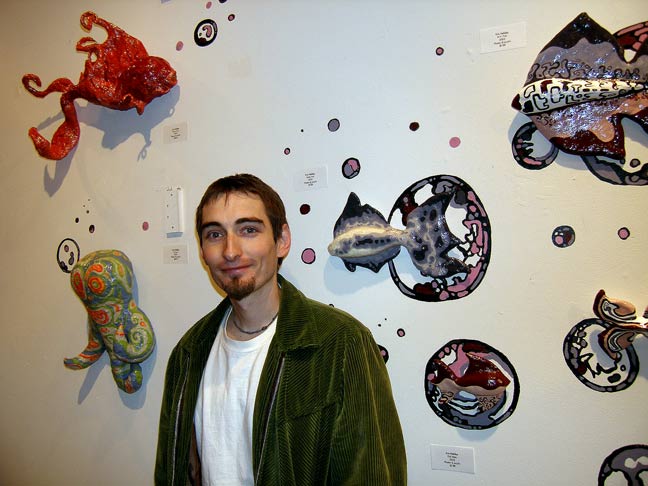 Eric A. Helsley - art.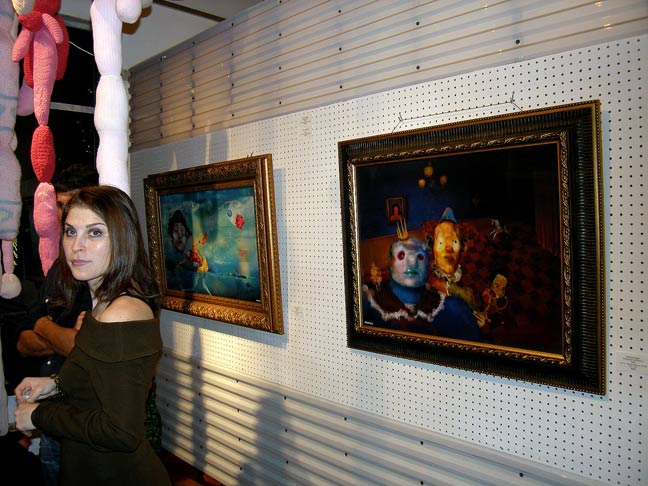 Art.


Art.


Art.


Art.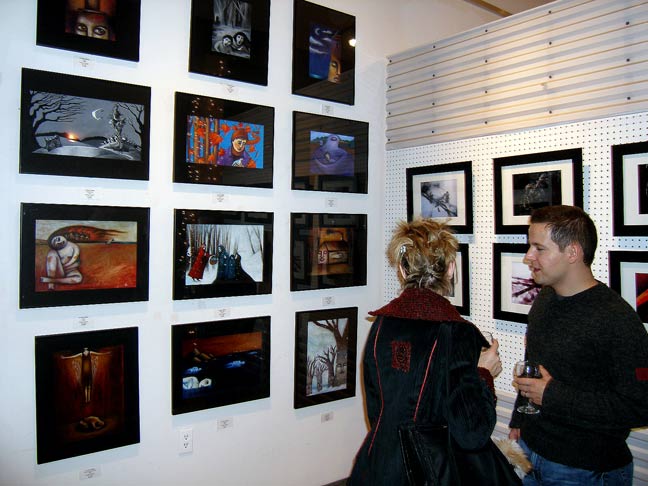 Art.


Acreage.