SAN FRANCISCO ART GALLERIES - OPENINGS
NORDSTROM - GALLERY 16 - OBJSDART
SAN FRANCISCO CENTER FOR THE BOOK
SILVERMAN GALLERY - MILLION FISHES
10.27.06
Nordstrom San Francisco Center, Couture and Collectors on Level 2: Martini Splash Presents Jeremy Sutton - San Francisco Bay Area Women of Style.
Comment: Jeremy Sutton shows hand-embellished giclee portraits of notable Bay Area women including Jan Di Nuoscio (publisher of Cafe and Gentry magazines), Carla Falaschi, Anna Mazzucci Freiman, Denise Bradley, Diane Wagner, Jan Wahl (movie critic, KRON TV), Janelle Wang ("The View from the Bay" co-host, ABC KGO TV), Jessica Aguirre (news anchor, ABC KGO TV ), and more. Tres chic.
Art.


Art.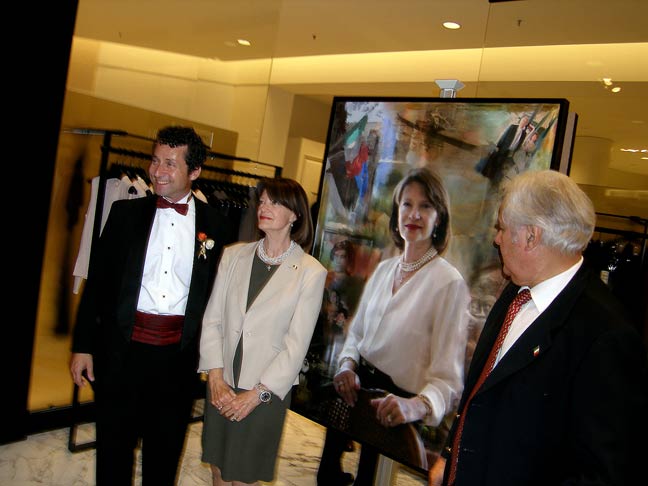 Jeremy Sutton - Carla Falaschi - Carla Falaschi likeness - some dude.


Jan Wahl portrait art.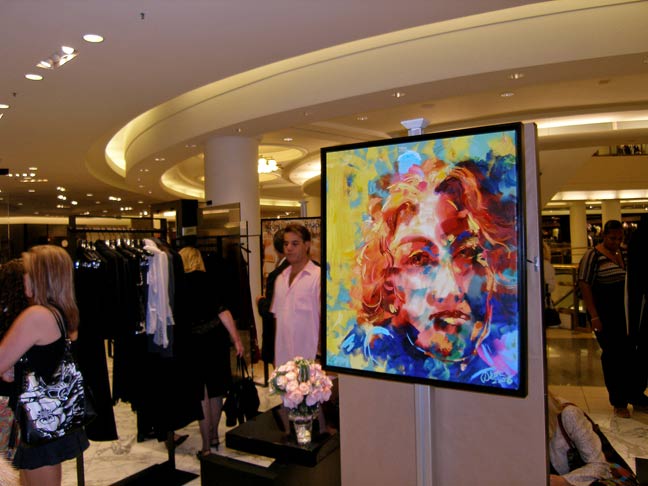 Art.


***
Gallery 16: Tucker Nichols - New Work.
Comment: Tucker Nichols makes exceptionally intelligent art, ranging from wry to poignant to topical to absurd, its apparent simplicity often belying a not inconsiderable cognitive component. At his best, he lays out inspiringly complex diagrammatic situational analyses, however here, he shows mainly stand-alone works, elemental in nature. And therein lies the risk of reductive expository-- abridgements tend to teeter on the brink of dismissal.
In addition to the art, Nichols signs copies of his newly released book, Postcards From Vermont (Gallery 16, San Francisco, 2006), limited to 1000 copies. Get 'em before they're gone.
Art.


Art.


Tucker Nichols - Griff Williams (Gallery 16 owner).


Art.


Art.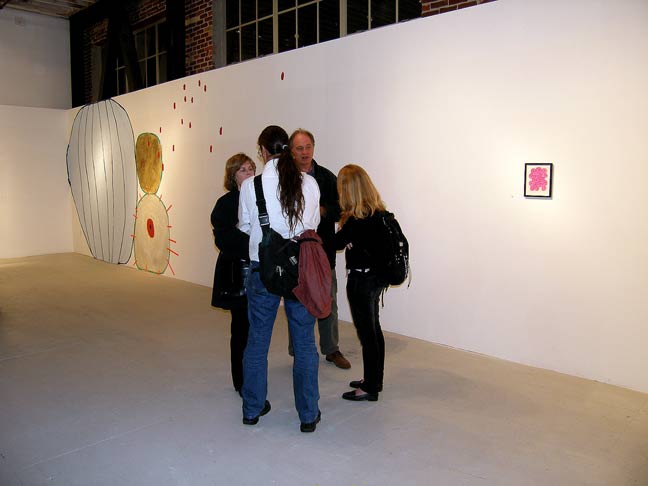 Setting.


***
San Francisco Center for the Book: AIGA (American Institute for Graphic Design) - 50 Books / 50 Covers - 2005 Competition Selections.
Comment: Fifty books and fifty book covers (100 examples in all) produced between January 1 and December 31, 2005 are here recognized for excellence in design and production. I cast my two votes for Tsunami, A Document of Devastation-- an intense newspaper-sized photographic record of the Southeast Asian disaster aftermath; and Then and Now, Ed Ruscha in which Ruscha updates his own vintage 1973 Hollywood Boulevard views by re-shooting them in total in 2004, and then publishling the two series side by side. The rest of the show is excellent too. Go see. Can books be art? Absolutely.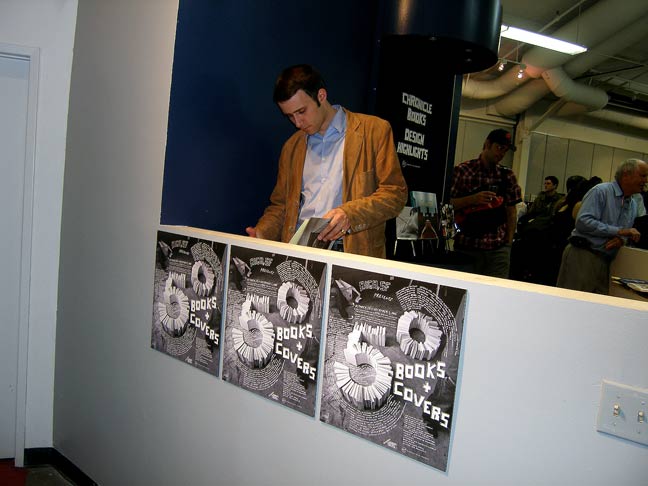 What it is.


Book art.


Book art.


Pick - Then and Now, Ed Ruscha.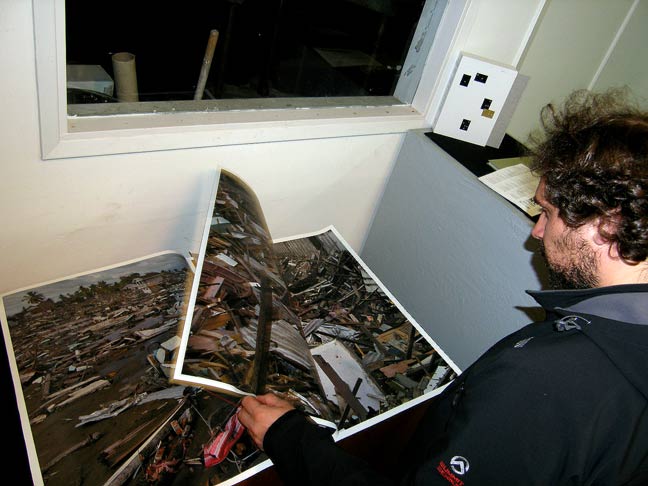 Pick - Tsunami, A Document of Devastation.


One more time - Tsunami, A Document of Devastation.


Book art.


Book art.


Book art.


Literarians.


***
Silverman Gallery: Grand Opening - Me and My Rhythm Box.
Artists: David Catherall, Domingo Molina Cortés, Martin Ebner, Lasse Schmidt Hansen, Tamara Henderson, Martin Hoener, Claire Hooper, Tom Humphreys, Peter Lütje, Michele Di Menna, Tris Vonna-Michell, Ariane Muller, Karl Orton, Anna Ostoya, Claus Richter, Lucie Stahl, Pernille Kapper Williams, Adrian Williams, Hendrik Zimmer.
Comment: Ambitious grand opening group show of art by young avant-garde artists, mainly from Europe, includes performance, video, photography, installation, collage, drawing, and the like. Owner Jessica Silverman tells me she met most of the artists in Europe. Prices are generally reasonable, most under $1000, many under $500. Silverman Gallery also has a boutique section with an art-related inventory ranging from $1-$65. The gallery's a bit of a hike down Third St. (the address is on Third; the entrance is around the corner on 20th Street), but nicely put together and worth a visit if you like your art fresh and experimental.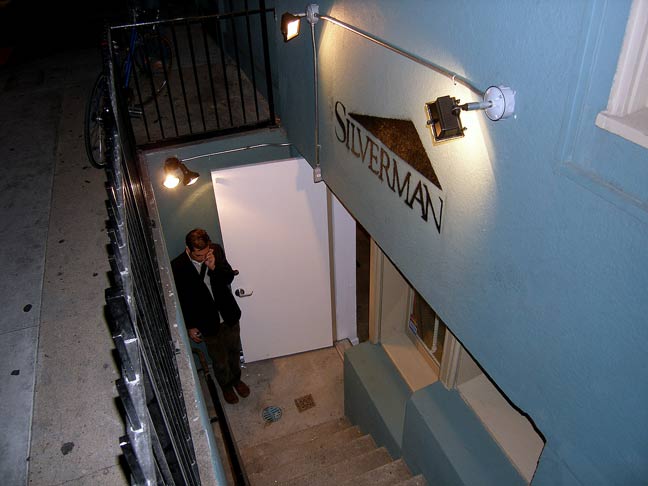 Here it is. Let's have a look...


Art.


Art.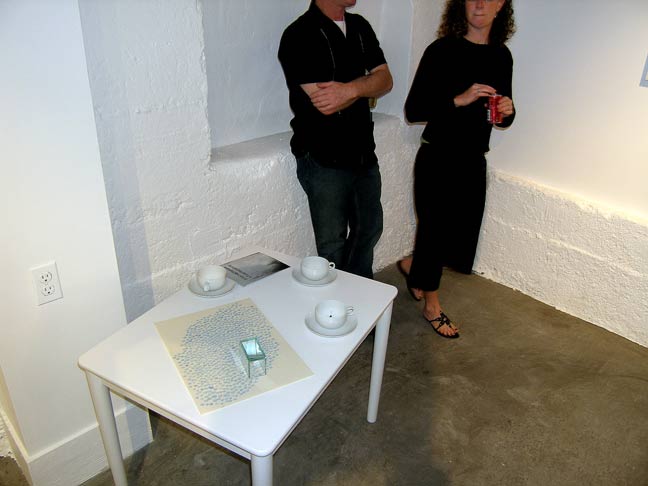 Art.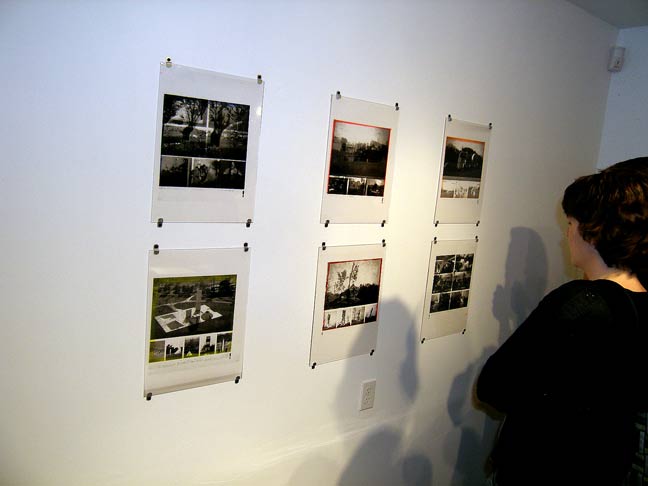 Art.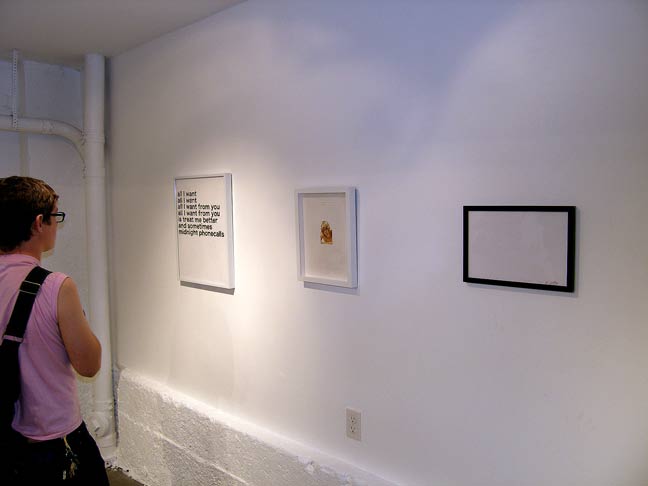 Art.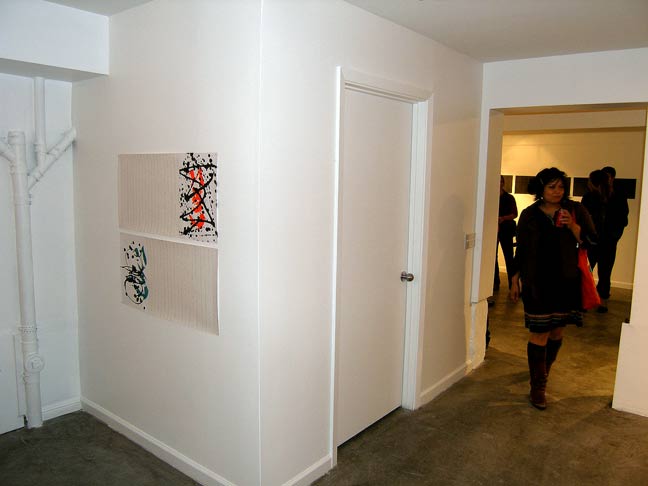 Art.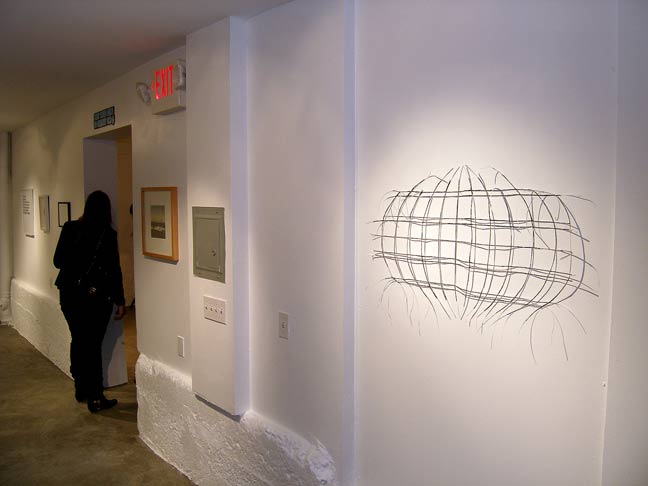 Art.


Art.


***
Million Fishes Arts Collective: Visions of a New State - Recent Pictures of California - Medium Format Photos by Matthew Savage.
Comment: Atmospheric California imagery, most from the southern part of the state. Some out in the wilderness, others in the heart of town. Some show it like it is, others wax abstract. Several night shots have a particular eerie feel to them, likely resulting from time exposure. Competent work overall. Images are in editions of only three and cost only $150 each-- bargain.
Photography.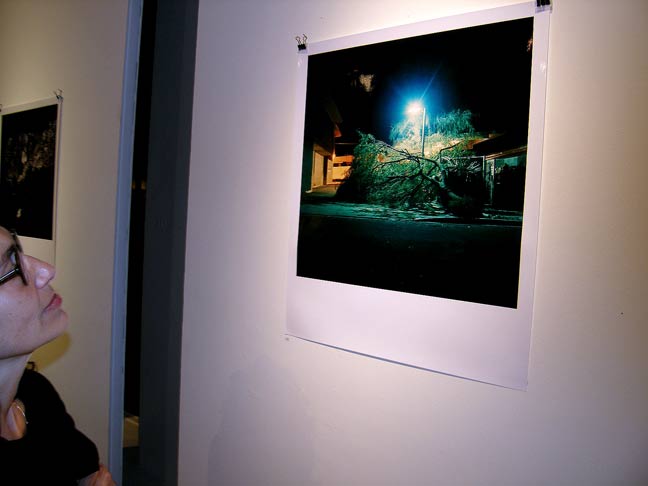 Photos.


Images.


Floor plan.


***
Objsdart at Linc Gallery at 1632 Market: Ice & Glass - Photography and Design Informed by Mother's Colder Nature.
Comment: Objsdart presents a three-day show combining mid-century modern design (furniture, glass, and lighting by Tapio Wirkkala, Timo Sarpaneva, Carlo Nason, and others) complemented by Arctic Circle ice-scape photographs by Peikwen Cheng from the series "Less Than Zero." One of the Objsdart owners tells me they plan to use temporary venues in the area for periodic several-day exhibitions of art, and modern design and furnishings. Photographs run $1400-$1800; objects priced from about $200-$3000.
Art.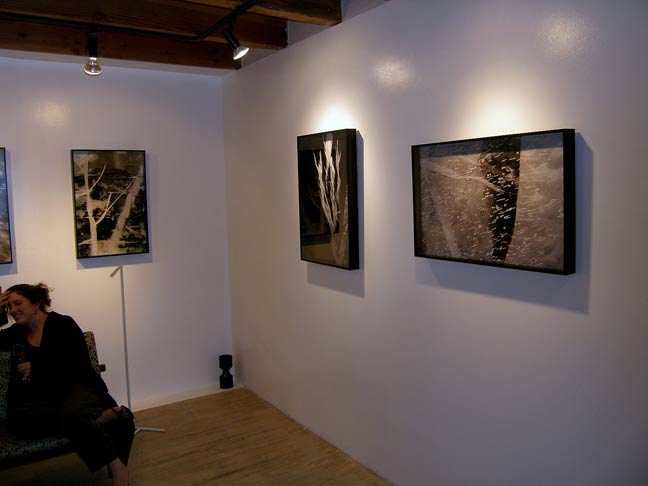 Art.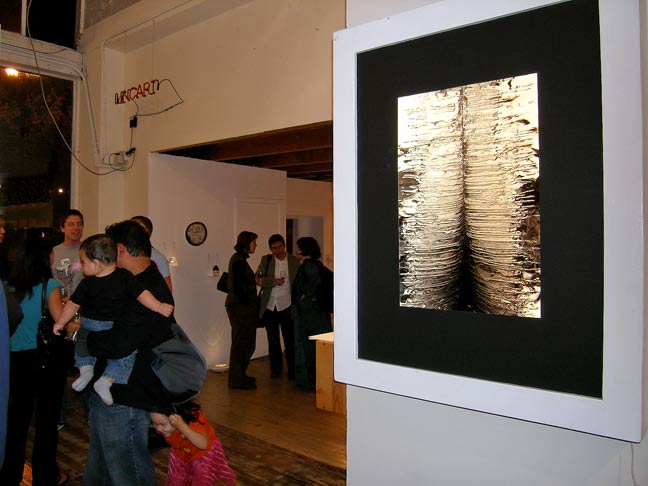 Backlit art.


Art - modern decorative arts.


Art.


Ambience.


"Let's take each other's pictures." OK.


OK.


***