SAN FRANCISCO ART GALLERIES - OPENINGS
CATHARINE CLARK - BROWN BEAR - GARAGE BIENNALE
20 GOTO 10 - CANVASATIONS
(With Assistance from Caroline Andreolle)
10.27.07
Catharine Clark Gallery: Ellen Kooi; Lincoln Schatz - Cube.
Review by Caroline Andreolle: Lincoln Schatz creates a multi-disciplinary work, "Cube", a 10 x 10 x 10 foot architectural structure that combines architecture, sculpture, video, new media, relational aesthetics, and portraiture. The concept of the "Cube" is innovative and its presence intriguing at the entrance of the gallery. A cross section of personalities have agreed to participate and have their portraits featured in the exhibition, such as Craigslist founder Craig Newmark, but don't worry, portraits may be personally commissioned by anyone upon request.
Ellen Kooi's exhibit is a MUST SEE, her colossal prints reminiscent of children's fairy tales, creating surreal yet seamless landscapes, immersing the viewer in impossible actions. Intriguing lighting captures enigmatic instants while unusual perspectives render these dreamscapes familiar, accessible, almost palpable.
Comment by AB: First off, an excellent show on both counts; go see. Now for the rundown. The official party line on the Lincoln Schatz "Cube" is a tad turgid for my tastes, so I'm gonna distill it. Why? Cuz (1) we're talkin' about portraiture and (2) pretty much everybody likes being photographed or filmed or having their picture painted.
Lincoln Schatz constructs a metamodern translucent plexi-walled 10 x 10 x 10 foot walk-in cube in Catharine Clark's Minna gallery space. It's got 24 video cameras variously attached, positioned, and focused on the cube's interior through openings in the walls. The basic idea is you (or whomever) sit in the cube for an hour and do what you want while the 24 cameras roll. Computers then take the 24 one-hour videos the cameras shoot, and mesh select snippets into your personal "video portrait" according to software specially nuanced by Schatz-- the modus unquestionably consituting an evolutionary push on the discipline. It's that simple and no more complicated.
In Clark's Mission gallery space, Ellen Kooi's remarkable freeze-frame photographs excerpt micro-moments from strange tales. What makes 'em remarkable? Composition, lighting, action, balance, tension, flawlessness, and none of that pesky digital manipulation. She does it the old fashioned way.
So OK. I occasionally grouse about irksome artspeak blither blather, but for a reason, the reason in this particular instance being that Catharine Clark is unquestionably an art world notable, and an increasingly influential one at that. (You other art world notables might also take note.) You see, influential notables can influence people-- all kinds of people-- but only if they choose to. Yes it's dirty work, gettng down there in the hog trough (when hovering above the fray is so appealingly insular and genteel), but the way the world is fragmenting these days, attempting to unfragment it becomes increasingly urgent. Confounding people is easy; enlightening them is difficult; inciting them to action is brilliant; unifying them is utopia. Art can impact humanity in wondrous ways. All we have to do is facilitate it. (Hey-- I can dream, can't I?)
Cube exterior (Lincoln Schatz).


Cube interior (Lincoln Schatz).


Cube posterior (Lincoln Schatz - could be neater).


Cube-borne portraiture (Lincoln Schatz).


Cube-borne portraiture (Lincoln Schatz).


Photography (Ellen Kooi).


Photograph (Ellen Kooi).


Photo (Ellen Kooi).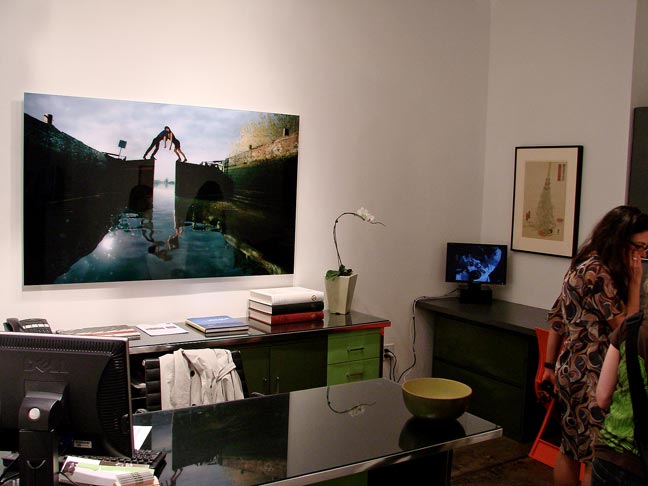 Photography (Ellen Kooi).


Photograph (Ellen Kooi).


***
Brown Bear: D. Alexander Holmes - The End.
Comment: D. Alexander Holmes conjures intense apocalyptic visions of the end of the world. The kicky part? He does it with a way outdated version of MS Paint, imparting a primitive pixilated twist to his imaginative imagery. He's also adept at ink drawings and collage, several of which he's got on display. Another Brown Bear talent nab. Worth a look.
Art.


Art.


D. Alexander Holmes (Halloweened up for the occasion) - art.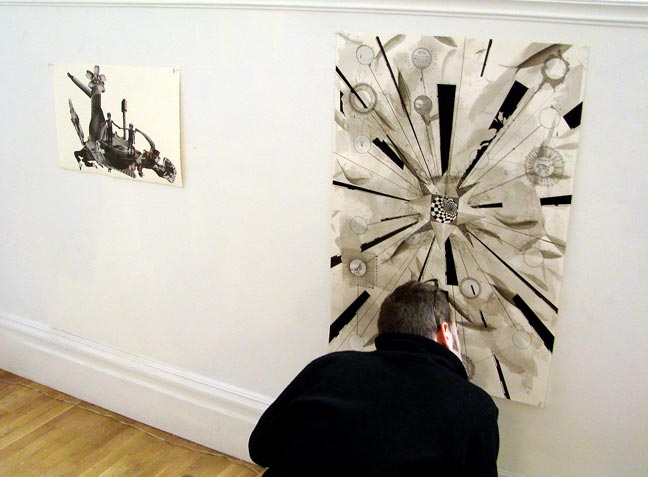 Art.


Art.


***
The Garage Biennale: Plant Lives.
Artists: Isaac Amala and Liz Simpson, Erika Barcott, Amy Berk, Alex and Jenn Bottmeyer, Elizabeth Demaray, Anne-Marie Geniusz, Till Nowak, 1st Avenue Machine, J.D. Beltran, Brian Hewitt, Vita Hewitt, Emmanuelle Namont Kouznetsov, Scott Minneman.
Comment: Pavilion 6 (of 6) and a wrap for the 2007 Garage Biennale, the finale of an edifyingly agreeable run. This time around, artists investigate whether plants just sit there and grow or whether they're up to shenanigans we can't yet comprehend (I think the latter).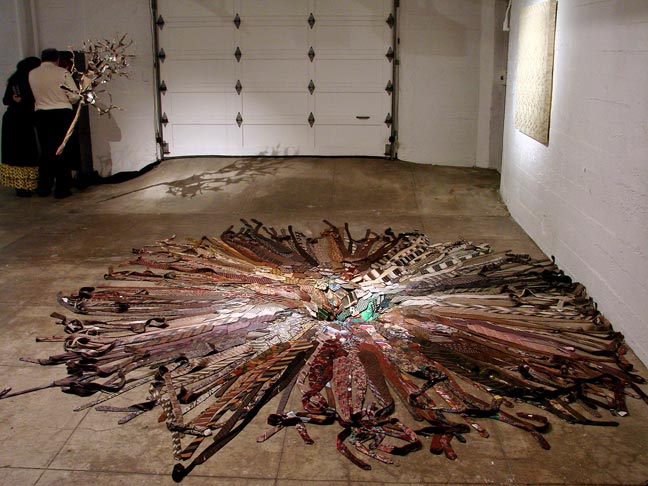 Necktie blossom art.


Sweater on a tree documentary art.


Lewd fruit video art.


Art.


Anthropomorphized plant life art.


Art.


***
20 GOTO 10: Joe Grand - When Electronics Become Art.
Comment: Joe Grand knows electronics, computers, engineering, and how sophisticated circuitry ticks-- and that's how he makes his living. Here he applies his considerable technological talents to art, presenting a series of digitalized battery powered badges, an art card recognition system, a framed variably lit slice of plastic that had a previous encounter with electron bombardment, and more. The event is also a retrospective of sorts as Grand's fired up an Atari 400 to play his first ever video-- created at age 8.
Art.


Functional ID badge art.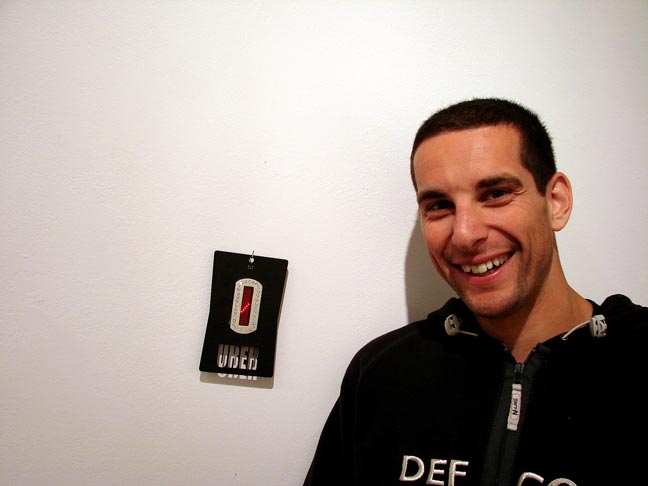 Joe Grand - art.


Atari art.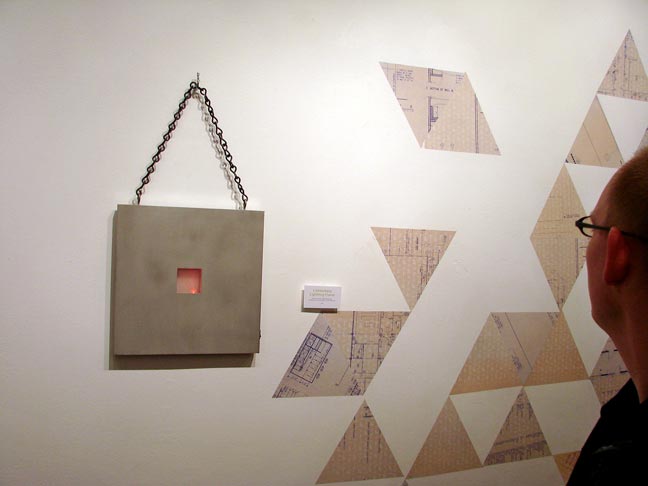 Art.


Christopher Abad, 20 GOTO 10 proprietor.


***
Canvasations Gallery: Russian and Eastern European Art Exhibit.
Comment: Closing night of month-long group show, most of the artists living and working in Russia and Eastern Europe, plus several local practitioners. The gallery space is temporary, but the website continues in full operation.
Art.


Art.


Art.


***