SAN FRANCISCO ART GALLERIES - OPENINGS
SCULPTURESITE - BUCHEON GALLERY
TRACE STUDIO - GALERIA DE LA RAZA
10.28.06
Sculpturesite Gallery: Pilar Ovalle - Roots to Heaven.
Comment: Another winner for Sculpturesite. Chilean sculptor Pilar Ovalle collects languishing pieces of wood from natural settings as well as cut sawn construction discards, buffs 'em up, maxes out their plus points, and connects 'em together with remarkable complexity, craftsmanship, vision, and precision. And she doesn't always use easy wood either-- sometimes she gets down with the ugly shit like roots and trunks that your average ordinary wood sculptor would pass on in an instant-- too much work. (Right, artists? You know what I'm talkin' about.) But nothing's too intimidating, challenging, or labor intensive for Ovalle. She saws, slices, glues, layers, laminates, miters, mortises, pins, planes, sands, shapes, tenons, dowels, dovetails, and even weaves wood together. No matter what it starts out looking like, it ends up clean, breathtaking, and beautiful. I'm giving this one three thumbs up. Anybody have a thumb I can borrow?
Sculpture.


Sculpture.


Pilar Ovalle - sculpture.


Sculpture.


Sculpture.


Sculpture.


Sculpture.


***
Bucheon Gallery: Ethan Murrow - Cloud Collecting With the Pinto Brothers .
Comment: Ethan Murrow presents a video and a series of prodigious pencil drawings to go with it, some approaching majestic, that freeze-frame critical moments in the video's story line. And the story line is, according to Murrow, that these two dudes, both played by himself, hatch a plan to catch clouds and then get famous. Except the plan is harebrained 'cuz they're more focused on the aftermath-- getting famous-- than on the grunt work-- what you have to do to successfully catch clouds. Of course, they fail miserably. And of course, they don't get famous. I don't often see a show that's so airtightly conceived, advanced, and executed, no matter how you look at it. If only all art could be so gratifyingly purposeful.
Art.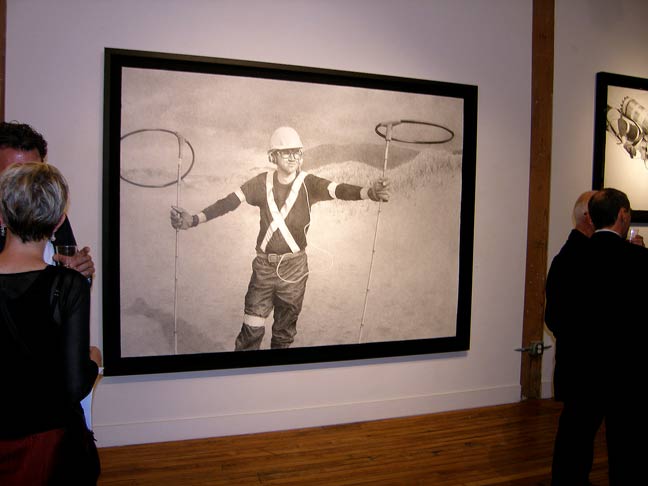 Art.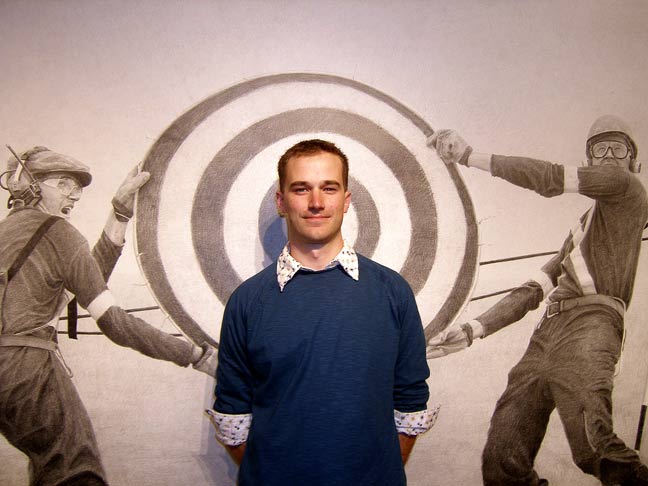 Ethan Murrow - art.


Video that tells the story.


Art.


Ethan Murrow fields feedback.


Art.


Art.


***
Trace Studio and Gallery, 312 Valencia St., San Francisco, CA 94103; 415.863.8312: Deluge & Deliverance.
Artists: Josh Carrins, Serena Cole, Shaun Cvar, John Dwyer, Chris Fitzpatrick, Spencer Horne, Indira, Billy Kroft, Randy Mordecai, Michael Page, Kottie Paloma, Hilary Pecis, Ryan Pilstil, Sham Saenz, Tommy Scherer, Zefrey Throwell, Tracy Timmins.
Comment: Group show includes a number of local up-and-comers. I'm relatively sure we'll be seeing solo shows from some of these talents in the not-too-distant future. Looking for promise, gallery owners? You might find it here. Looking to buy ahead of the market, cagey collectors? You might buy it here-- before the rush. Just about everything's under $1000; most under $500; even some under $100. Don't say I didn't tip you.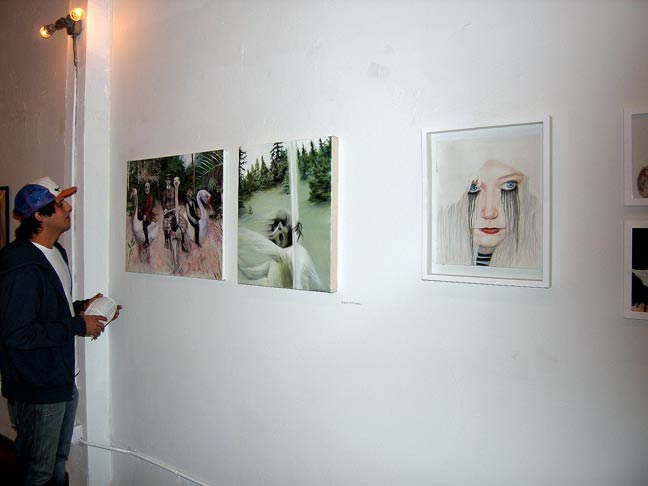 Art (Tracy Timmins).


Art (Sham Saenz).


Art.


Art (John Dwyer).


Art (Serena Cole - like it).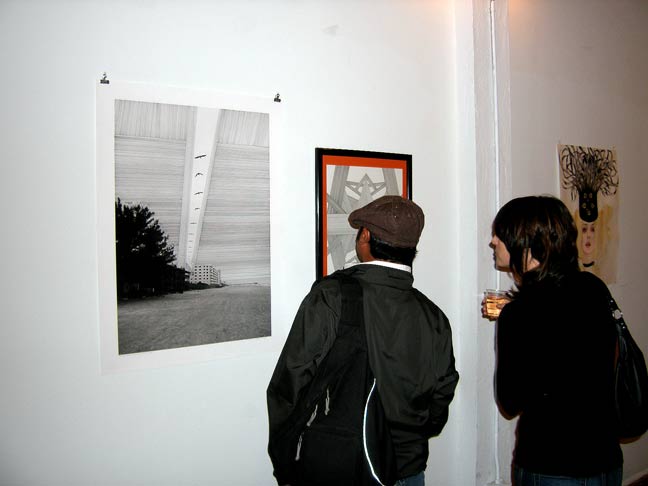 Art (Zefrey Throwell).


Art.


Art.


Art (Kottie Paloma).


Art (Chris Fitzpatrick).


Long view.


***
Galeria de la Raza: Graphic Witness - Works by Jesus Barraza and Juan R. Fuentes.
Comment: Socio-political printmaking at its finest includes screenprints by Jesus Barraza, and linoleum cuts and drawings (I think-- or maybe lithographs) by Juan R. Fuentes. Copious and outstanding display of printmaking, not only technically, and also with respect to content and composition. No issue left uncommented upon; some of those comments verge inflammatory. Two exceptionally talented artists boldly state their views through art. Go see.
Art.


Art.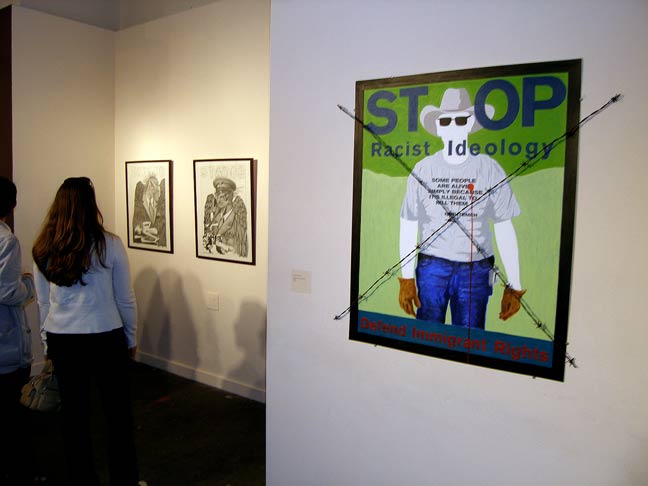 Art.


Art.


Art.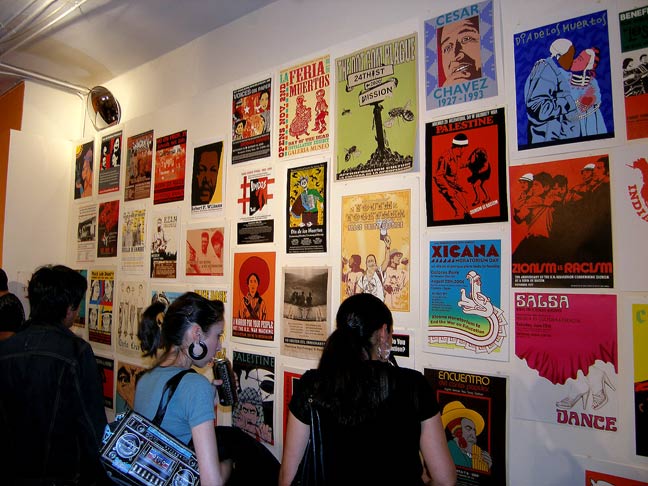 Art.


Art.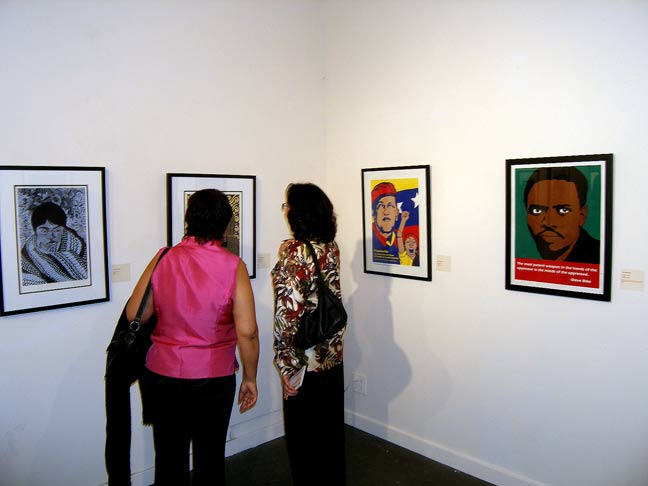 Art.


Head count.


***