SAN FRANCISCO ART GALLERIES - OPENINGS
ARTROCK - LO-FI CUSTOMS - PAGEONEPROJECT
PLAYSPACE - DRUG STORE - BLUE CUBE
ARTSF - ROCKET WORLD - CACHI ART STUDIO
10.28-29.05
Page One Project: Jeff Page - Paintings and Collages.
Comment: Pageoneproject (I'm not sure whether it's one word or three) is the live-work studio-gallery of artist Jeff Page. So far, he's been showing other artists in the smallish gallery area, but tonight he's showing his paint-collage mixed media works. He collages with illustrations from National Geographic magazine (apparently, a preferred image resource for collage artists), and found photographs. A number of the nicely crafted compositions combine figural with abstract; he's also partial to circuitous meandering map-like imagery. Time now to experiment with frames.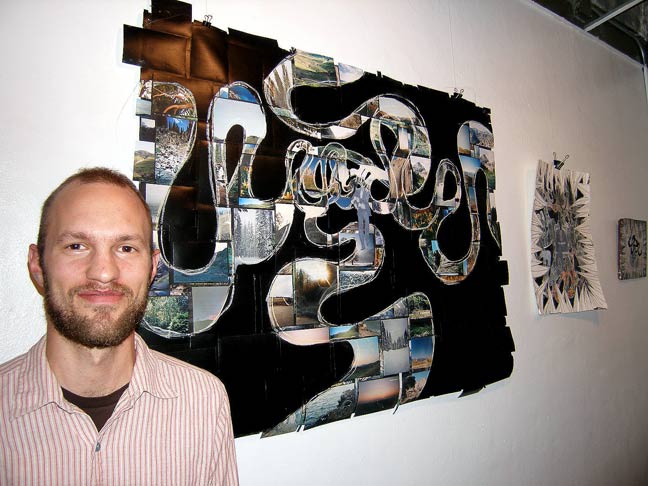 Jeff Page - art.


Art.


Art.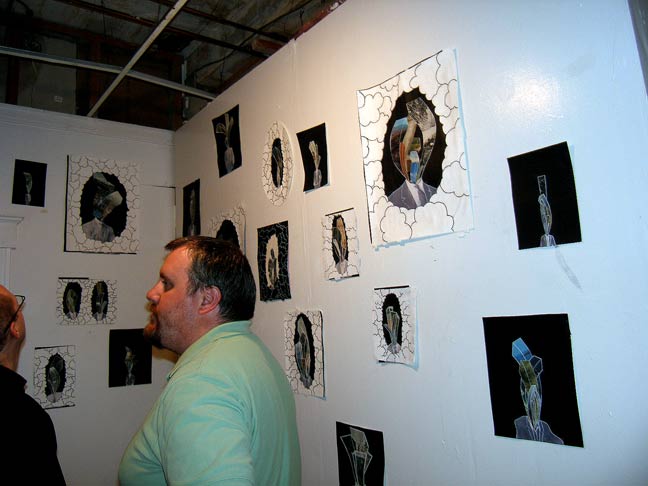 Art.


***
Cachi Art Studio, 312 Valencia Street, San Francisco, CA 94103; 415.863.8312 or 415.756.2564: Cuando la Muerte Toca a la Puerta.
Artists: Brent Bushnell, Sophia Carmi, Antonio Linares, Nina Cartagena, Ricardo "Cachi" Cartagena, Ganzalo Moreira, Craig millman, Aristides Cisneros.
Comment: Cachi Art Studio is the live-work studio-gallery of artist Ricardo "Cachi" Cartagena. Cartagena tells me that the large gallery area doubles as a community exhibition space, and he allows outside artists to show there at no charge. I'm not sure what the requirements are to use the space, but it's an option well worth considering-- a large long clean high-ceilinged room with tons of wall space, very conducive to showing art. This current "Day of the Dead" group show honors those who have gone before us-- and who we'll all be joining soon.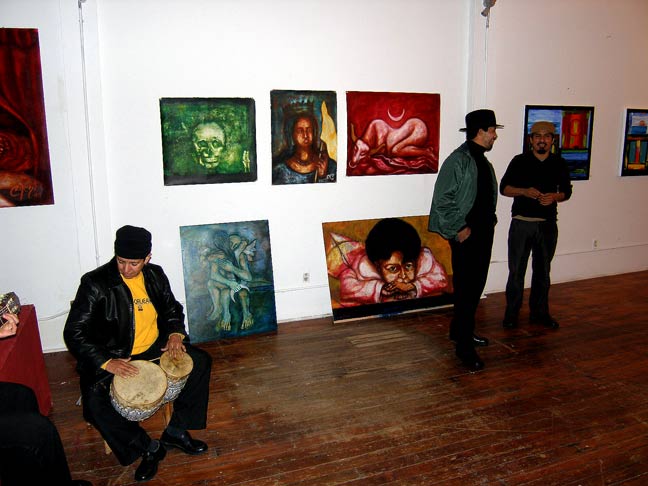 Art.


Ricardo Cartagena - art.


Space.


Art.


Art.


***
Lo-Fi Customs: San Francisco Illegal Soapbox Society - Poster Retrospective.
Comment: The San Francisco Illegal Soapbox Society celebrates its tenth anniversary at the rate of one poster per year which means the show's got ten posters. Lo-Fi owner Mike Ritchey and hot rod photographer Brian Pritchard (and rookie racer) explain the SFISS rules and regulations to me, all of which seem pretty vague and morphy, but I think the main rule is not to get caught. The race itself is sort of a customized anything-goes version of the traditional Soapbox Derby, warped San Francisco-style. The next race is Sunday somewhere in Bernal Heights, but by the time you read this, it'll be over. Oh well. All ten posters are designed and printed by Courtney Callahan of Lucky Mule.
Lo-Fi owner Mike Ritchey and most of the show.


***
PlaySpace Graduate Gallery at CCA: Room Temp - Art by Five "Hot and Cold" Art Zine Contributors.
Artists: Alena (Scooter) Rudolph, Brion Nuda Rosch, Will Yackulic, Amanda Eicher, Jeremy Fish and a zine library courtesy of Pond.
Comment: Zine art and zine selection in conjunction with the Yerba Buena Center for the Arts exhibition "The Zine Unbound: Kults, Werewolves, and Sarcastic Hippies." My favorite part of the show-- a substantive collection of zines, courtesy of Pond Gallery, on display and ready for reading in a painted, furnished, and otherwise artified mini-library setting.
Zine library interior.


Zine library interior. Shhhh-- no cell phones.


Art (Will Yackulic, foreground - Brion Nuda Rosch, background).


Art.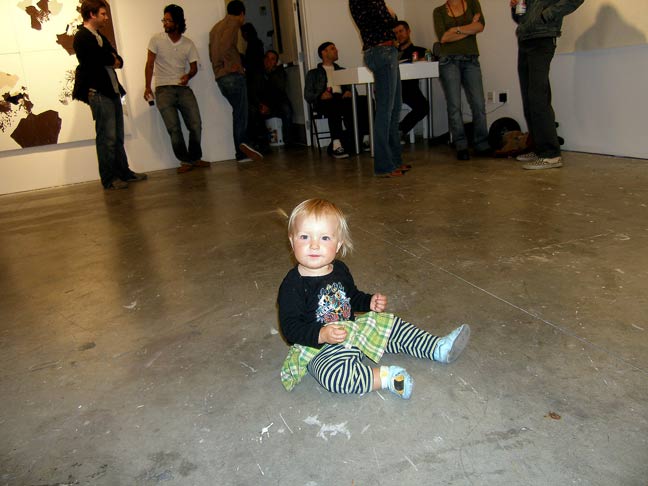 Obligatory baby shot.


Zinebrary exterior.


Art (Will Yackulic).


Art (Brion Nuda Rosch).


***
The Drug Store Gallery, 3149 Mission St., San Francisco, CA 94110; 415.282.0544: A Visit From the Dell, Obscure Objets d'Art by ght - Suzanne Day.
Comment: A notably aesthetically satisfying assortment of weird and/or gruesome curios including paintings in antique frames, and assemblages incorporating items like mouse jaws, barnacles, pyrite, hair, beads, bottles, chemicals, and other oddities. Of note among the notables is a wrapped decomposed orange injected with Demerol and Campho-phenique in 2002 ($350)-- predominantly black, oozy, and unrecognizeable. I zoomed in for a whiff, being the intrepid artster that I am, and couldn't smell anything so I guess it's stable, but I can't vouch for the long term environmental implications of this rare delicacy. Snack time!
Art.


Art.


Suzanne Day.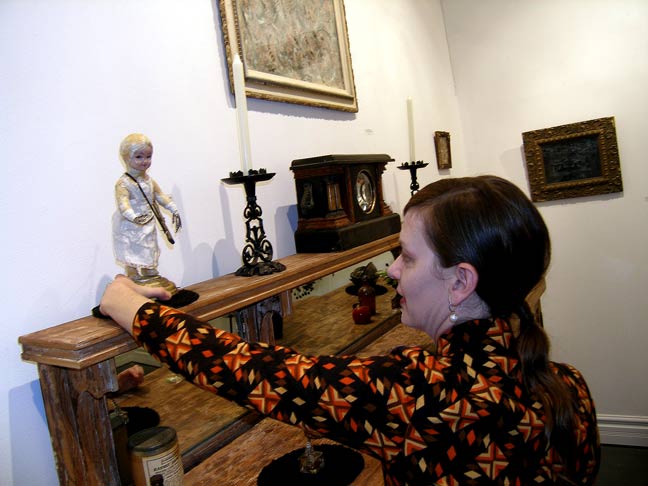 Owner nuances oeuvre.


Tunes.


Art.


Art.


***
The Blue Cube in affiliation with START SOMA: Propaganda 2.0.
Artists: Many
Comment: A respectable array of agenda art, much of it agendized towards replacing the current Administration with people who have better things to do than forcibly reconfigure the planet as one great big happy American-style Democracy. All propaganda art was allowed, however, regardless of agenda, which is the way any credible propaganda art show should be. My favorites are three incindiary Clinton Fein World Trade Center images, and a poster of Jesus Christ, arms outstretched and beckoning, the question "Who Would Jesus Bomb?" emblazoned above. I personally don't think he would bomb anyone, but a number of his current operatives apparently think different.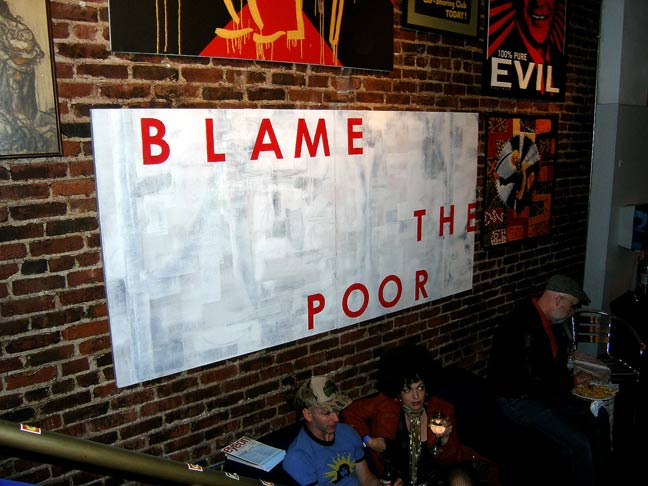 Art.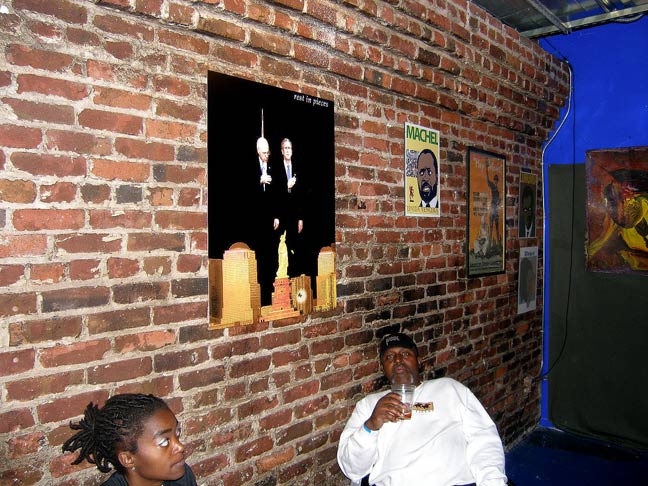 Art (Clinton Fein).


Art.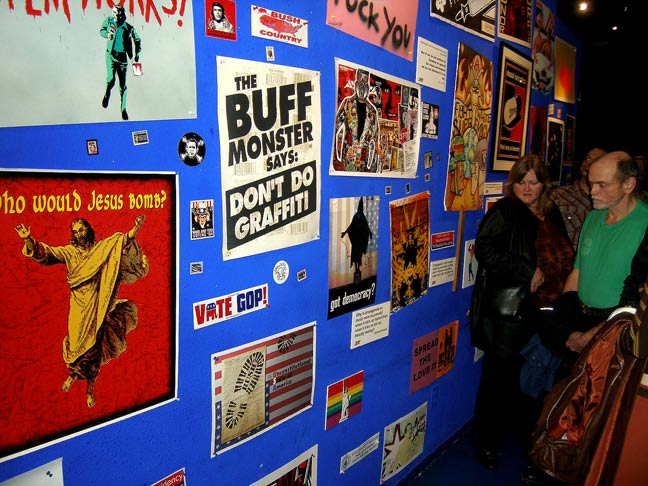 Art.


Art.


Art (Clinton Fein).


Art.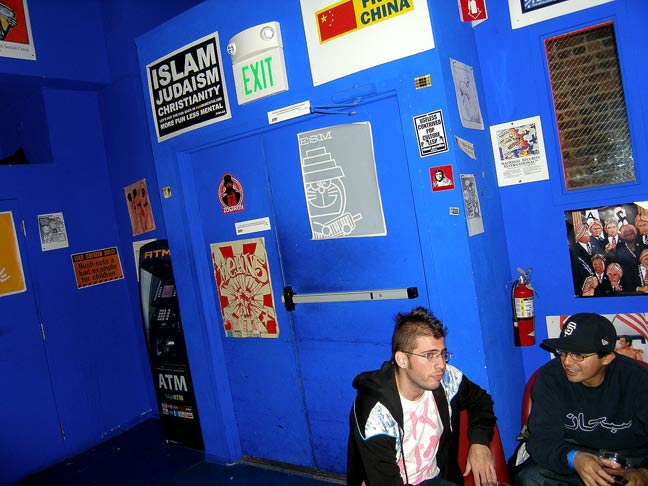 Art.


***
Franklin Bowles Gallery: Eduardo Arranz-Bravo - New Works.
Comment: If any of you artists out there are curious to see what it takes to become a commercial success, then check out this show. Basically, you have to be capable of filling a really big gallery with tons and tons of salable art. But in advance of that, you have to be a relatively established name somewhere. Spanish artist Eduardo Arranz-Bravo satisfies all the necessary criteria. So he gets to have a show and supply the art; Franklin Bowles does the rest. Translation: Plenty O' Sales.
Art.


Art.


Art.


Eduardo Arranz-Bravo.


Art.


Art.


Portico.


***
ArtRock Gallery: Chet Helms Family Dog Poster Retrospective.
Artists: Rick Griffin, Stanley Mouse, Victor Moscoso, more.
Comment: ArtRock Gallery bills itself as the world's largest dealer in rock and roll collectibles and if this show is any indication, that's no bullshit. The current retrospective exhibition features posters and poster art commissioned by the late Chester Helms for his Family Dog Productions, and is so packed with rarities, the likes of which I've never seen, I don't even know what to call them (officially terminologically speaking, that is). There are poster drawings, uncut sheets with single posters and sets of matching announcements, proof sheets, signed numbered limited items, exceptional rarities in glass cases, and much much more of what the scholars, historians, and connoisseurs generally refer to as "primary source materials" or what I call "the good stuff." If you like classic rock and roll art and you like it rare, don't miss this show. RIP Chet-- and thanks for the memories.
The good stuff.


The really good stuff.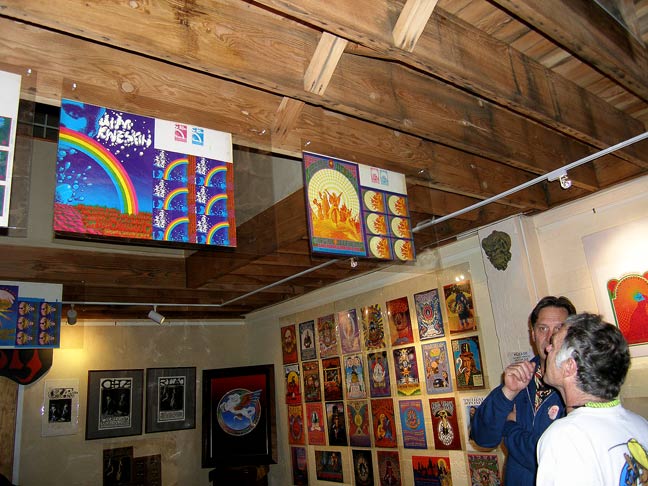 Hippie rock and roll poster art.


Robert Altman - photography.


Psychedelic rock poster art.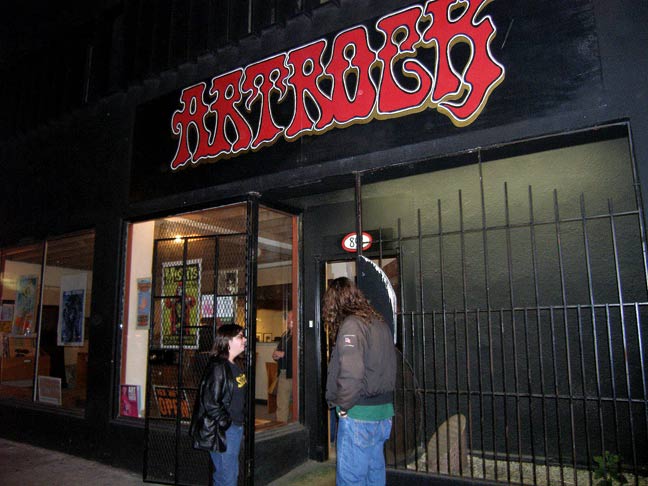 Frontage.


***
Rocket World: Monsters That Scare Me, Exhibit of New Work - Richard Mirando aka SEEN - Paintings, Sculpture, Drawings.
Comment: Outdoor art legend SEEN refers to himself as "The Godfather of Graffiti" on his website SEENWORLD and proceeds to make a pretty convincing case for the monicker. Here at Rocket World, SEEN shows a variety of work including slick polished serigraphs. Not only is SEEN a good artist, but he operates several professional-grade websites and appears to have mastered the art of marketing as well. (If you're a talented artist who masters the art of marketing, you get to do cool stuff like keep more money for yourself.) By the way, SEEN is one of the artists who stars in the 1983 graffiti documentary classic, Style Wars. If you've never seen it, see it. I believe it originally aired on PBS.
Art.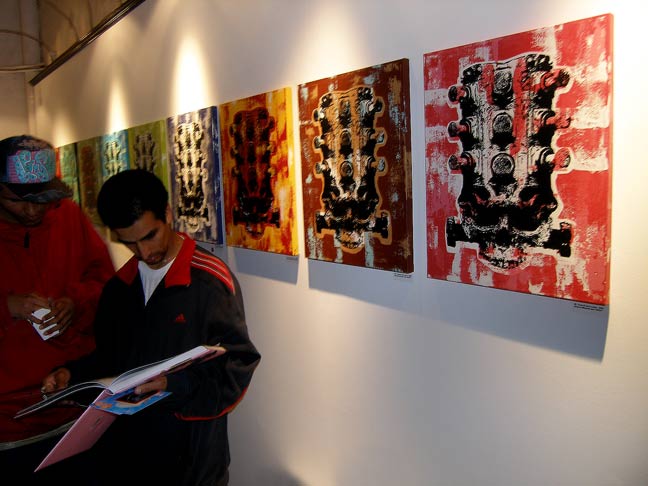 Art.


SEEN (center) signs.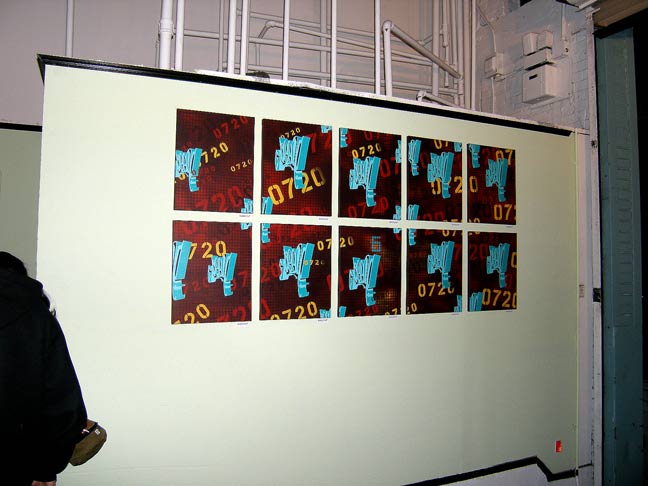 Art.


Overview.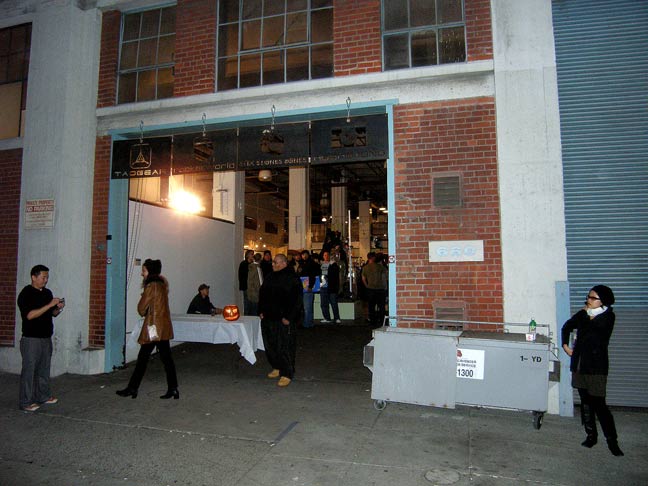 Porch.


***
ArtSF: Hell Iz Other People.
Artists: Anabella Pinion, Chris Trian, Cuba, Dara Santai, Doug Rhodes, Eirik, Jerry Sutherland, Jonneric Lawson, K2, Kasper, Kevin Evans, Kittymac, Leslie Leyba, Michael Ruscemi, Nate Orman, Smurf Suicide, Stephen Kasner, Steve Leyba, Tim Cottongim, Tom Curtis, Troy Ryker, Twice, others.
Comment: Art, music, and performance event. An artist whose work I respect, Steven Leyba (also a writer and performer), has several pieces in the show. His art's not for everybody, believe me (adults only, and only select adults at that), but he's very good at what he does, his work is undeniably compelling, and that's kind of what this "I'm an artist" lifestyle all about. You step up, state your case, and let the shit fly where it may. Wishy-washy is for wannabes. Leyba's current book, Coyote Satan Amerika, and CD, United Satanic Apache Front, are published by and available from Last Gasp Press.
For those of you inclined to judge or otherwise editorialize, remember that San Francisco Art Openings is about art, artists, and artistic commitment-- not personal beliefs.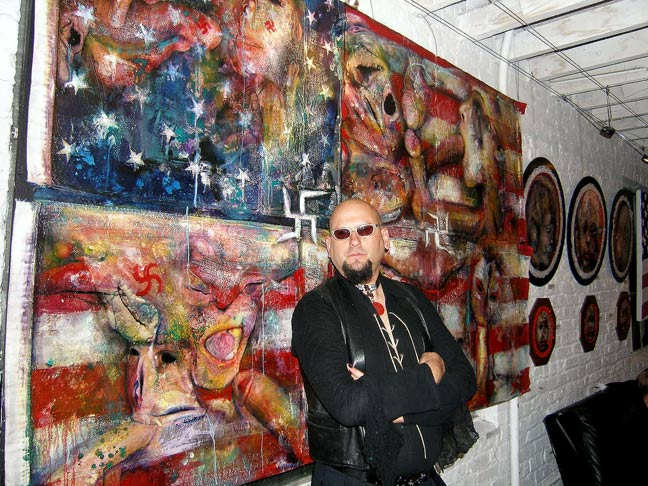 Steven Leyba - art (Death By A Thousand Cuts).


Kasper - art.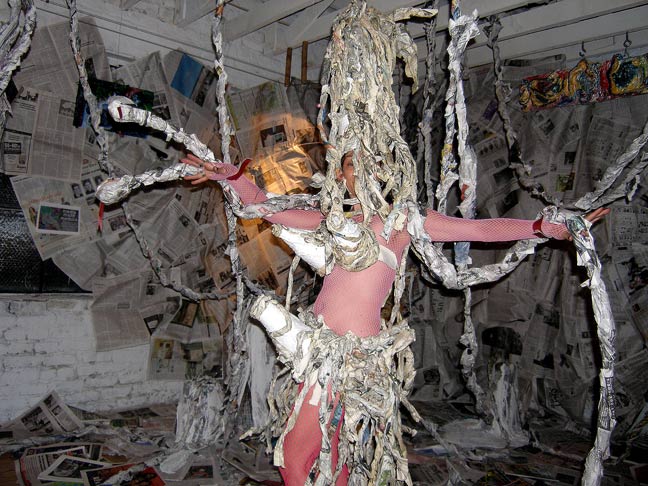 Coyote Moderna performs Media Maze Medusa.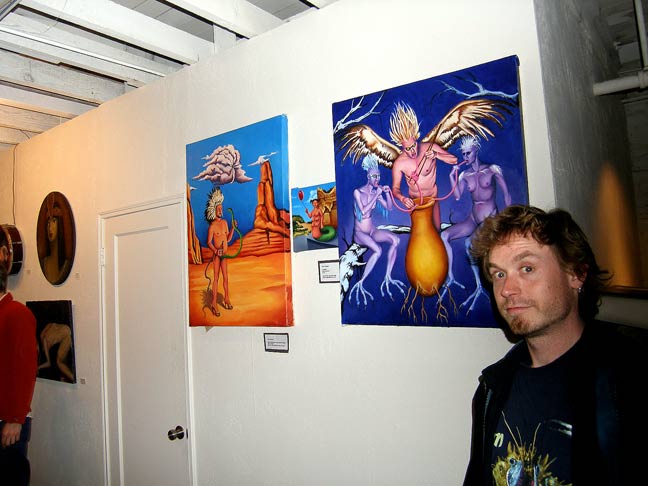 Art - CELLspace director (not the artist).


Art (Steve Leyba).