SAN FRANCISCO ART GALLERIES - OPENINGS
HACKETT FREEDMAN GALLERY - RATIO 3
QUEEN'S NAILS ANNEX - OMNICIRCUS
TOOTHLESS CHANDELIER - WAREHOUSE 1310
11.03.06
Hackett Freedman Gallery David Park - The 1930's and 40's.
Comment: Before David Park shifted artistic direction to become arguably the most prominent proponent of the Bay Area Figurative school of painting, he was already an accomplished abstractionist. Here we see an impressive display of Park's earlier work-- almost none of it for sale, seeing as he's one of the most avidly collected mid-century California artists, but on loan mainly from private collections. A 36-page color catalogue with essay by Bill Berkson accompanies the show and is available at the gallery for $25.00.
What it is.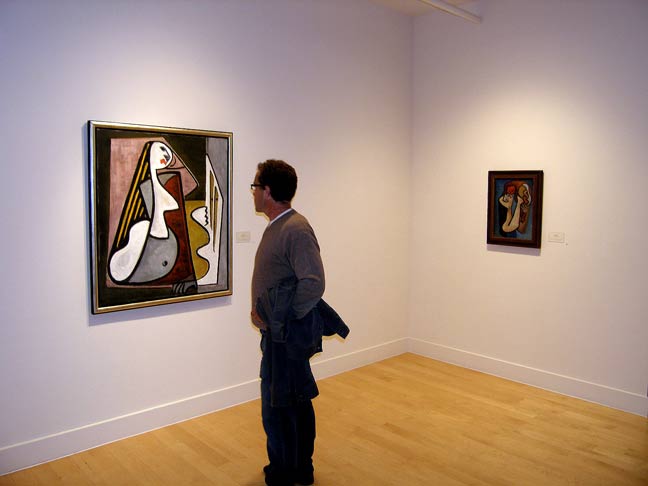 Art.


Art.


Art.


Art ("Bay Area Figurative" David Park).


Art (Roland Petersen et al in the side gallery).


***
Ratio 3: Jonathan Runcio - Loco Serenity.
Comment: Jonathan Runcio silkscreens abstract colored forms onto flat abstract colored acrylic panels, then ups the result from two to three dimensions by bending the panels into sculpture. The majority of these hypermodern configurations are designed to hang on walls, however he installs one room of Ratio 3 with a "four-dimensional sculpture" consisting of a serigraphed bent acrylic pyramid pedestalled at the center of the floor, black shapes painted on the white walls and continuing onto the drawn window shades, the whole enchilada topped off with a soundtrack. Impressed with Runcio's technical abilities, I ask whether the bending process ever stresses the silkscreened areas of the acrylic panels and he tells me that he's never encountered that problem. It's that simple and no more complicated.
Art.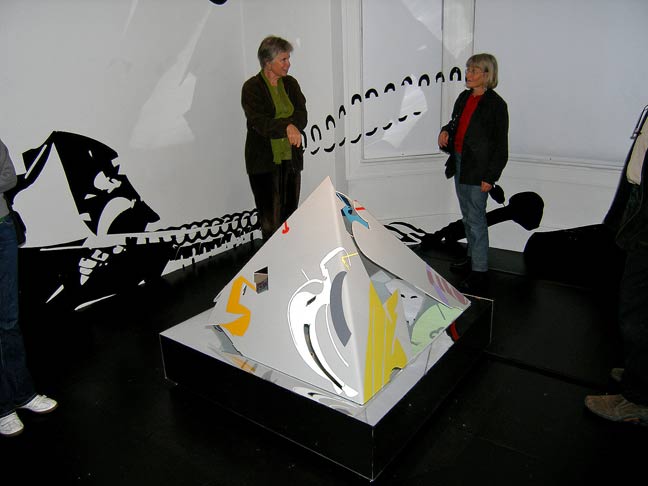 Installation art.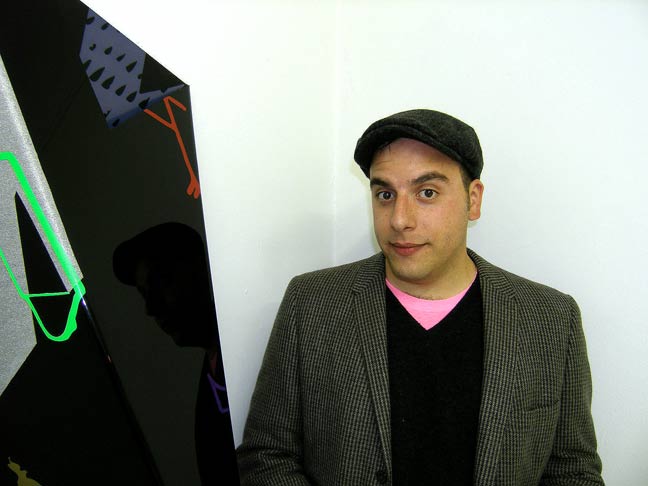 Jonathan Runcio - art.


Art.


***
Queen's Nails Annex: Mary George - Life Altering Head Space Designs; Reuben Lorch-Miller - The Power of Darkness and Light.
Comment: One of the wiggiest shows (no pun intended) I've ever had the opportunity to experience. Mary George hangs preposterous coiffs from the gallery ceiling that you're supposed to stand under, that may or may not have sound emanating from embedded speakers. I think the deal is to change your reality or something. And there's reflective mylar all over the place and tiny disco balls hanging from the ceiling and a video monitor in the front window and a shelf of rudimentary wood and plastic "sculptures" and God only knows what else. Chaos. Ping me.
In the back room, Reuben Lorch-Miller's video ostensibly consists of the screen randomly blinking white and going dark. I ask Lorch-Miller what it's about and he tells me he has this stroboscopic contraption that pulsates to music. So he put on a seminal Slayer album, cranked up the strobalizer, flipped on the video camera, and the rest, as they say, is history. The premise, Lorch-Miller continues, is to fractionate the album by separating out the sound, essentially reducing it to a "light track," and then to assess the results. I ask what he's concluded from the empirical adventure and he tells me he doesn't know yet. Erk.
Hairpiece art.


Hmmm. Looks like it's my size.


What do you think? Is it me?


Still good?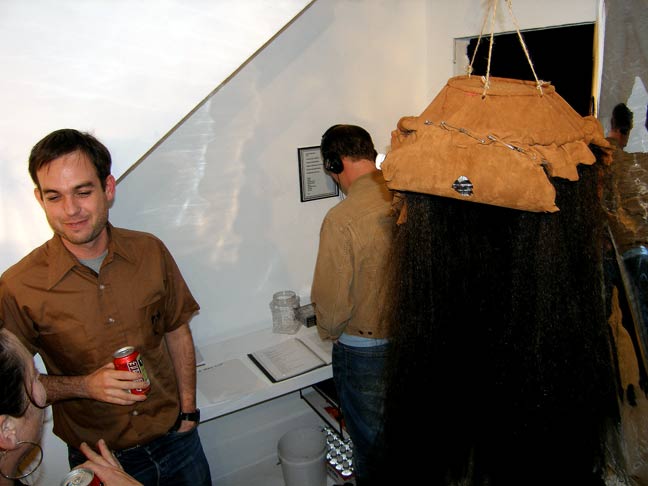 Ruben Lorch-Miller, left.


Sculpture dept.


Street side.


***
Omnicircus: Guy Colwell - Recent Works.
Comment: Veteran aesthetic practitioner Guy Colwell debuts new paintings, the major works priced from $1500-$4500, plus a shoebox full of delightfully detailed miniatures, most of animals in landscapes, priced from $50-$450. Nice stuff. Omnicircus, by the way, is the world headquarters of artist, musician, and congenital creative, Frank Garvey, and a place where you can go to experience some of the more uncommon shows and performances you'll ever see anywhere.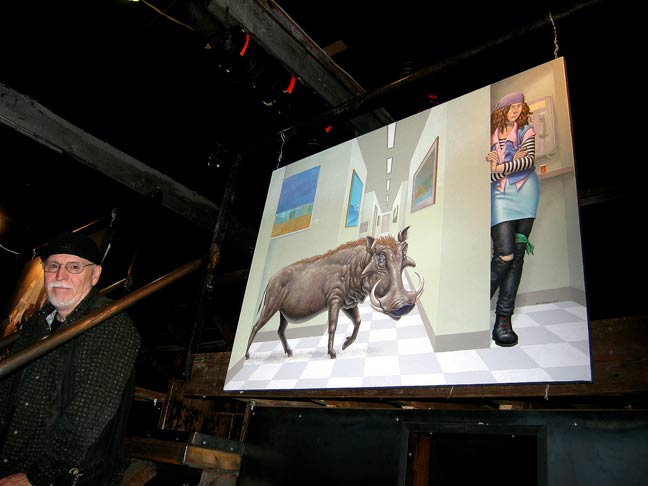 Guy Colwell - art.


Balcony panning left.


Balcony panning center.


Balcony panning right.


Guy Colwell - art.


***
Toothless Chandelier at Mighty: Multiple Personalities - Original Plush Toys, Paintings and Installation by Manuel Gonz One Gonzalez.
Comment: Manuel Gonz One Gonzalez delivers a diverse line of slick distinct handmade plush toys with embedded speakers. Gonzalez tells me the toys represent the past, or memories of the past, while the speakers play mainly to the now. Prices range $50-$200. Good value. He also offers up paintings, drawings, and an installation. The dude's got talent and an imagination to go with it, particularly with respect to design.
Manuel GonzOne Gonzalez - plush toy art.


Manuel GonzOne Gonzalez - plush toy art.


Plush toy art.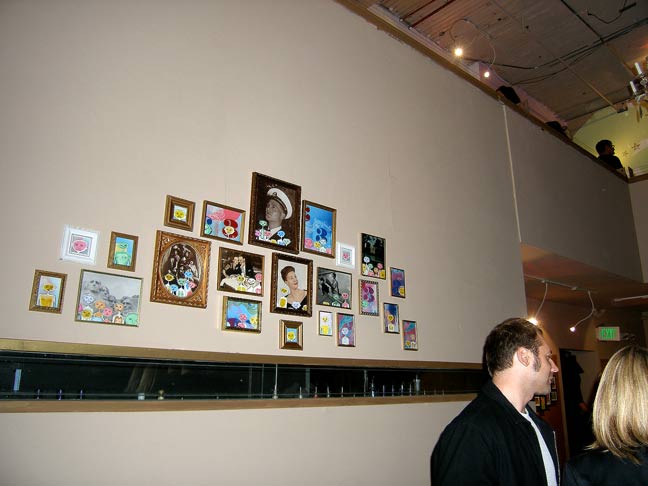 Art.


Art.


***
Addendum: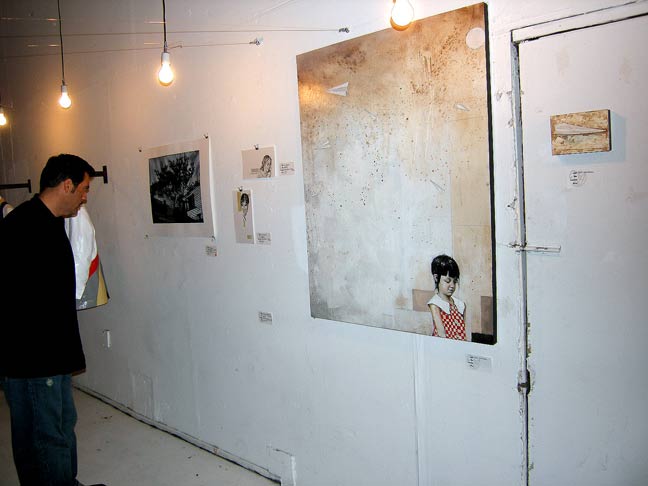 Distilled Spirit Gallery at Warehouse 1310.


Art meets alcohol at Warehouse 1310.


Last Distilled Spirit Gallery at Warehouse 1310.


***