SAN FRANCISCO ART GALLERIES - OPENINGS
608 C HAIGHT - LITTLE TREE - RECEIVER
GALLERY THREE - HAYES VALLEY MARKET - RITUAL ROASTERS
(with assistance from Anne Faith Nicholls and Jessica Whiteside)
11.03.07
608 C Haight Street: Big Old Art Show/Sale + BBQ.
Artists: Chris Johanson, Shaun O'Dell, Keegan McHargue, Zeffrey Throwell, Chris Sollars, Kottie Paloma, Chris Corales, John Dwyer, Kyle Ranson, Brigid Dawson, Archie Mckay, Randy Colosky, Brian Nuda Rosch, Andrew Junge, Jarett Mitchell, Lettie Jane Rennecamp, Paul Wackers, Barry McGee, Sham Saenz, Brian Storts, Chris Duncan, Mary Elizabeth Yarbrough, Andrew Shoultz, Zara Thustra, Jovi Schnell, Heather Russ, Joe Roberts, more.
Comment: Artists and those who love them gather for an art show, sale, fundraiser, and BBQ to benefit the eviction defense fund of the residents of 608 C Haight Street. Those residents include John Dwyer and Kyle Ranson. Anyway, the food's tasty and the art's selling well. Wanna help? Drop a little something through the mail slot.
John Dwyer.


Kyle Ranson.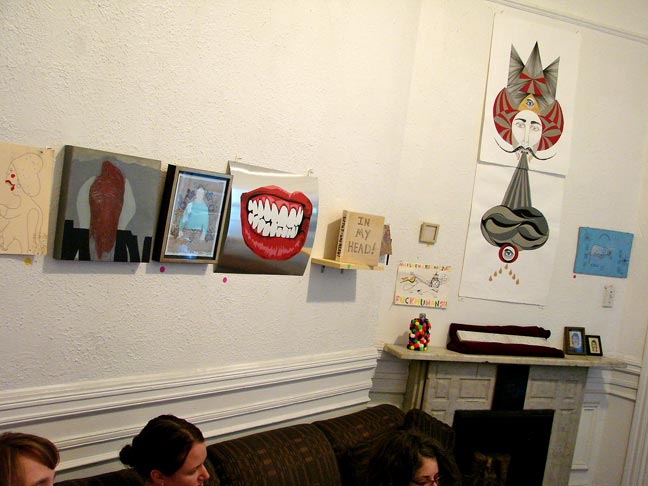 Art.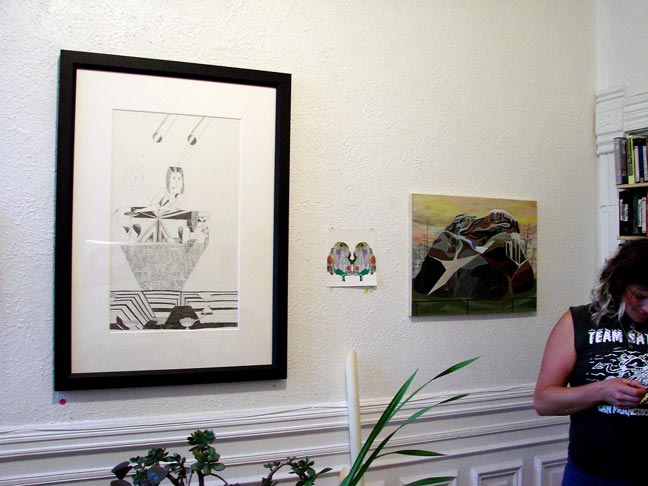 Art.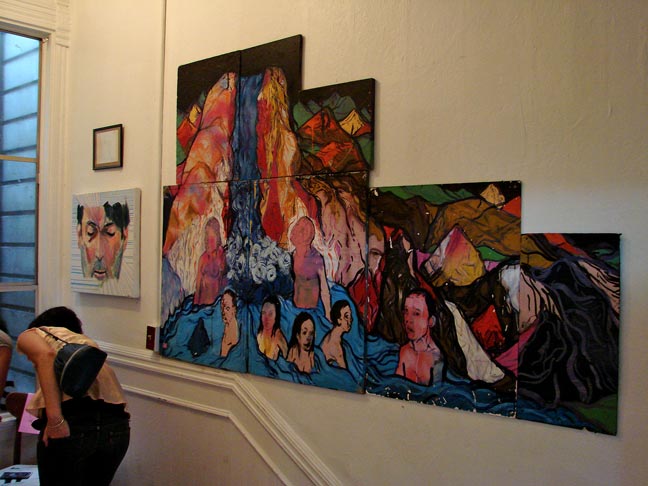 Art.


Out front.


***
Little Tree Gallery: Haden Nicholl - The Feel Good Movie of the Year.
Comment: Copious profusion of drawings lines the gallery walls, mainly smalls, intended, according to the deposition, "to illuminate the tension, mystery, and fragility of self reflection and human relations." Not an inconsequential task. The verdict? Maybe they do; maybe they don't.
Art.


Art.


Art.


***
Receiver Gallery: Strange Fruit - Bad Seeds.
Artists: John Casey, Martha Sue Harris.
Comment: It's kind of an imaginary reality kinda deal where John Casey concocts the inhabitants and Martha Sue Harris lays in the environment (plus some inhabitants). Casey continues to refine his amiably aberrant personalities in both two and three dimensions while Harris approaches the idiom from a natural science perspective, distilling the didactic into confabulatory curios. (Apologies for that. Occasionally the writer must whack off with words. Don't worry; it's not terminal.)
Art (Martha Sue Harris).


Martha Sue Harris - art.


Art (Martha Sue Harris).


Art (John Casey).


Art (John Casey).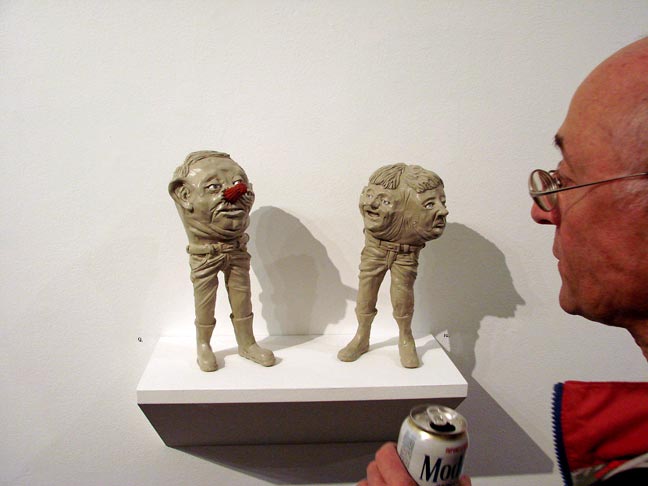 Art (John Casey).


***
Gallery Three: Patrick Segui - Tales From The Deep.
Review by Anne Faith Nicholls: Parisian-born San Francisco artist Patrick Segui transforms the intimate gallery into a Jules Verne inspired submarine with hand-patinated and washed walls, bedecked with "submersing" artworks. The show features impressively detailed dioramas, hand crafted out of paper and vintage materials, with nautically inspired themes and whimsical narratives.
The artist's appreciation of antiques and European aesthetics is noticeably evident, and even though Sixth Street might not be your first choice to chance upon creative inspiration, it's worth dodging the crack heads to check out this show. Patrick Segui is a unique artist whose imagination, vision, and craftsmanship set him apart from his peers. "Tales From the Deep" runs through December 7th.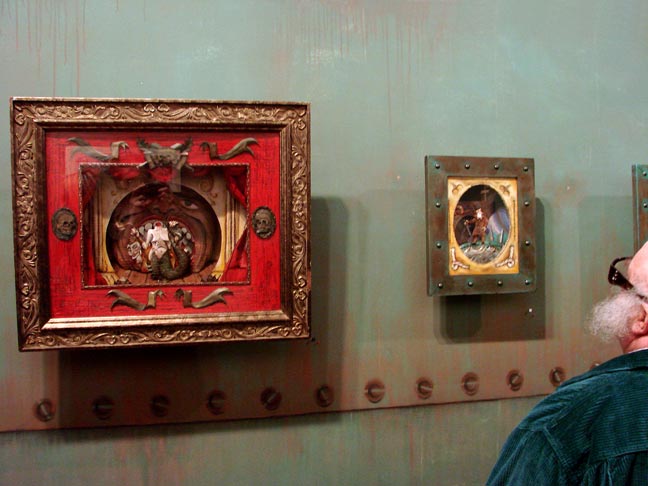 Art.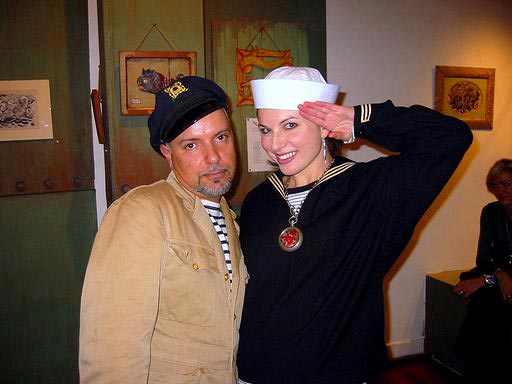 Patrick Segui - Anne Faith Nicholls (photo by Jessica Whiteside).


Art.


Art.


***
Hayes Valley Market (AgeSong Gallery), 580 Hayes St., San Francisco, CA 94102: Heavy Hitterz.
Artists: Josh Taylor, Angrywoebots, SPIE, Jophen Stein, Soopajdelux, Yoskay, Dubelyoo, MUNKONE, Showchicken, and Stuter. Local talent includes Reuben Rude, Ursula Young, Romanowski, Jenn Porreca, Mildred, more, more, more.
Comment: International urban mix represents artists from the San Francisco Bay Area, Los Angeles, San Diego, Seattle, New York, Chicago, Honolulu, Hong Kong, Japan, France, Australia, New Zealand, and the UK. Global, baby, global.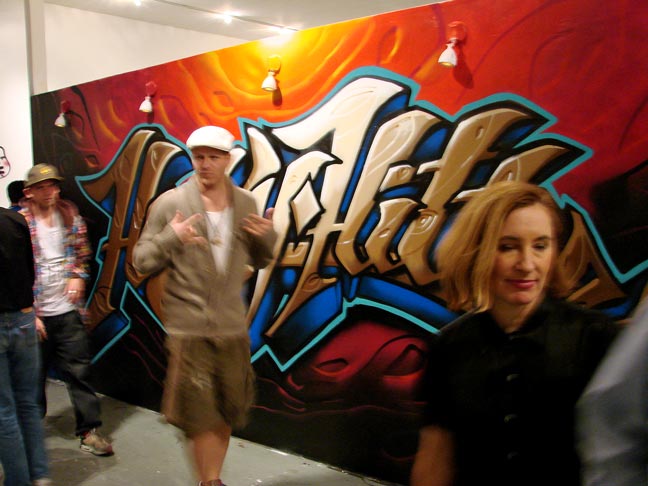 What it is.


Art.


Art.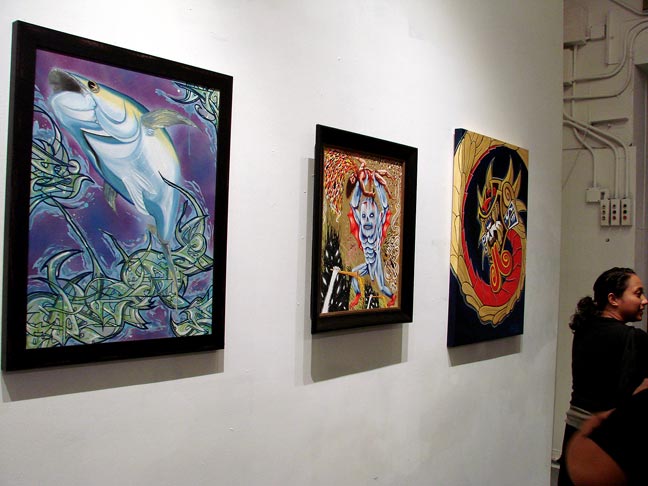 Art.


Live painting by David Choong Lee.


Art.


Art.


Art.


***
Addendum:
Group show at Ritual Coffee Roasters.


One more from Ritual Roasters.


Last Ritual Roasters - Non Sequitur curated by Sacha Eckes.


***