SAN FRANCISCO ART GALLERIES - OPENINGS
MEYEROVICH - STEPHEN WIRTZ GALLERY - PAULE ANGLIM
MERIDIAN - TINHORN GALLERY
SAN FRANCISCO ARTS COMMISSION
11.09.06
Gallery Paule Anglim Gay Outlaw - Sculpture and Photocollage; Dean Smith - Works on Paper.
Comment: I just love the name Gay Outlaw. Now that I've got that albatross off my chest, Gay Outlaw here shows metamodern (maybe even ahead of its time) sculpture and photocollages to match. It's one of those deals where there appears to be a reasonably robust cerebral buy-in which, according to the briefing, has something to do with "formal art," whatever that is. I probably mostly mainly look at casual art. Anyway, the overriding allure of Outlaw's work is its uncategorizable nature combined with its not inconsiderable craftswomanship. But between you and me, I snuck (or is it snuckded?) a look inside "Three-Legged Intersection" (plywood and milk paint, 2006), a skillfully assembled swiss cheese of a structure nuanced with small wooden ovals glued to the insides of the plywood "legs," visible from the outside by looking through holes in those legs. All's basically well in inner legland except for these pesky pencil outlines around some of the ovals-- looking like interim reminders for where to position the ovals for gluing. Details, details...
In the side gallery, Dean Smith administers some superfine pencil work on a series of drawings that get better and better the closer you scope. His technique somehow animates the compositions with delightfully benign bursts of outward motion.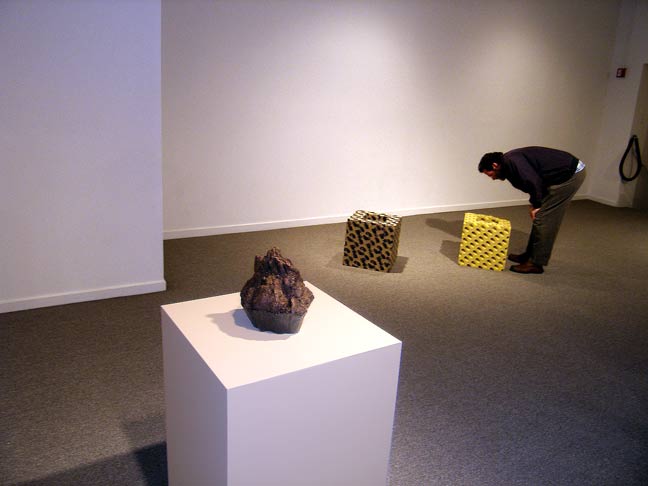 Art (Gay Outlaw).


Art (Gay Outlaw).


Art (Gay Outlaw).


Art (Gay Outlaw).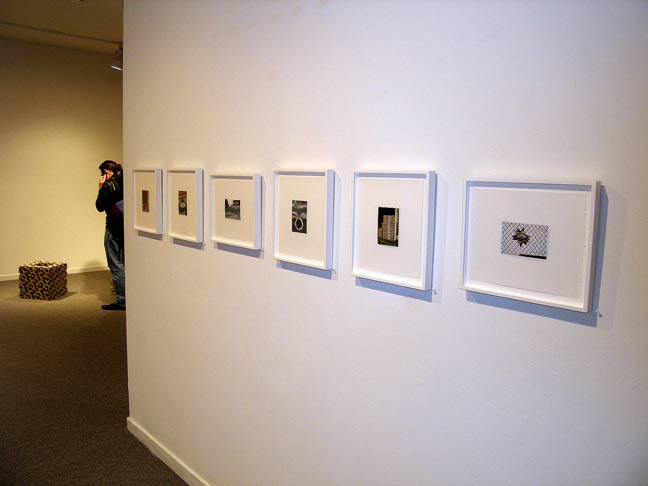 Art (Gay Outlaw).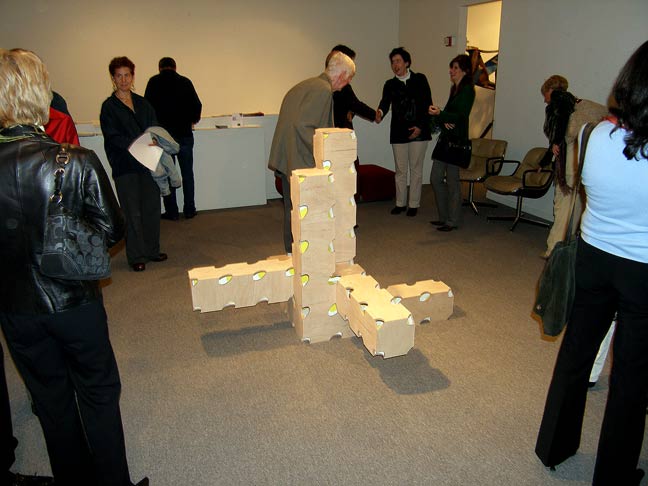 Three-Legged Intersection (Gay Outlaw).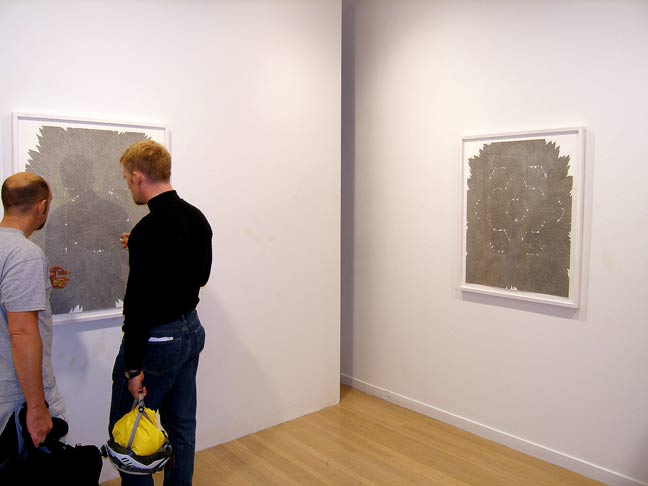 Art (Dean Smith).


Art (Dean Smith).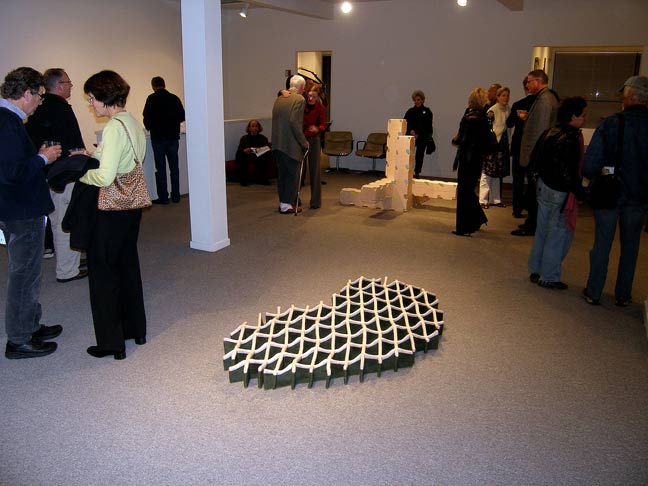 Art (Gay Outlaw).


***
Stephen Wirtz Gallery: Dave Anderson - Rough Beauty; Lucy Puls - However Often.
Comment: Photographer Dave Anderson explores life in Vidor, Texas, a former Klu Klux Klan town whose current demographic makeup remains overwhelmingliy white. Anderson focuses his attentions on the impoverished aspects of existence through a series of disquietingly revealing portraits of the less well-to-do residents, those images complemented by destitute views of the local landscape. In the side gallery, Lucy Puls gets all ropy or maybe cordy with a series of laquer and enamel paintings over snapshots hung around the walls, and surrounding a similarly painted cascading plastic roll of translucent plastic basking in the center of the floor. Can't find a press release so I have no clue what the punchline is.
Photography (Dave Anderson).


Photographs (Dave Anderson).


Dave Anderson getting introduced.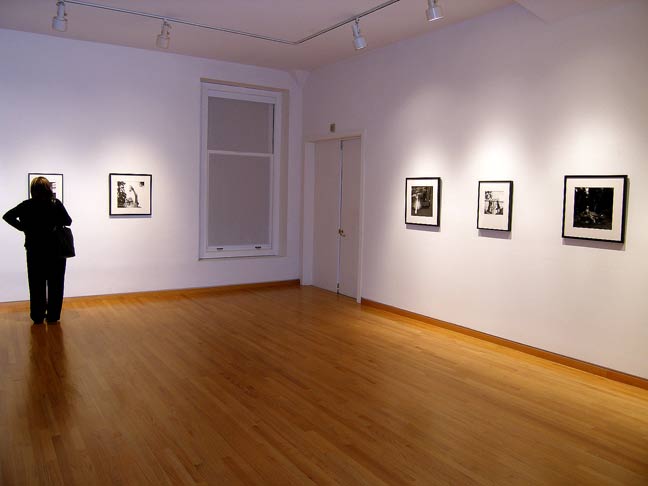 Images (Dave Anderson).


Art (Lucy Puls).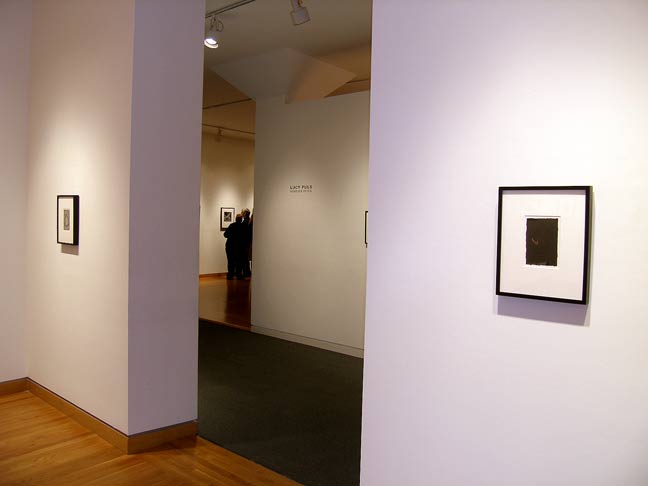 Art (Lucy Puls).


***
Meyerovich Gallery: Grisha Bruskin - Mythology and Mysticism; 20th Anniversary of Meyerovich Gallery.
Comment: Remarkably versatile and impressive display of art by Russian-born Grisha Bruskin includes painting, sculpture, photography, and more in a variety of styles and mediums, sporting a variety of influences including Chagall, folk art, heroic/political/propaganda art, traditional religious art, and more. Definitely worth a look. Plus the 20th Anniversary party was kick-ass good.
Art.


Art.


Art.


Grisha Bruskin.


Art.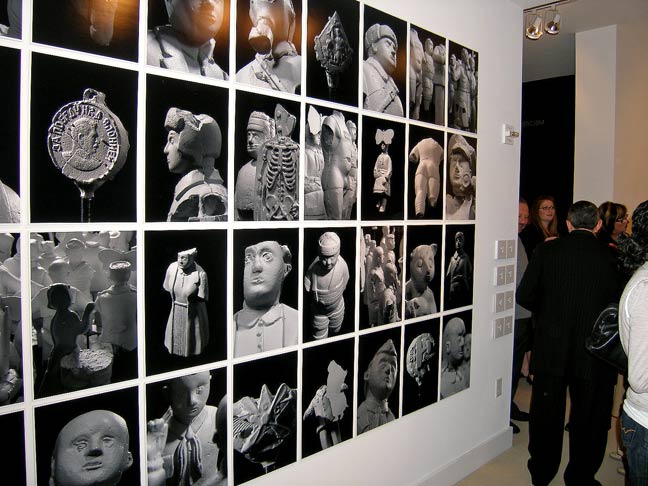 Art.


Art.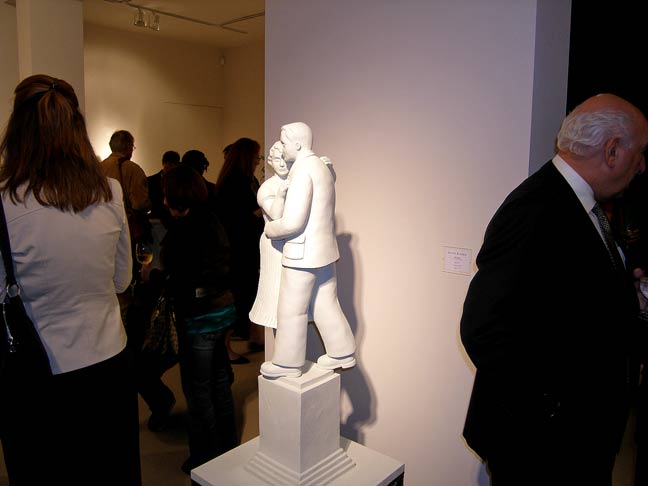 Art.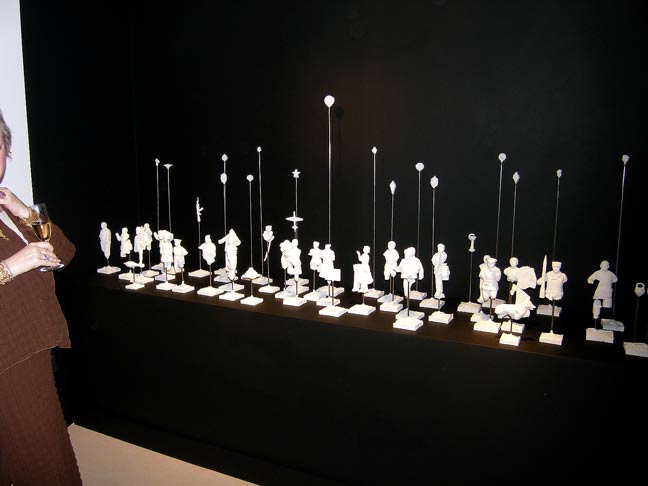 Art.


***
Meridian Gallery: Creatures, Real and Imagined - Paintings and Drawings by Devin Cecil-Wishing; Paintings, Drawings and Ceramics by Rue Harrison Whittaker.
Comment: Author, illustrator and clinical psychologist Rue Harrison Whittaker paints her birds and animals humorously ensconced in incongruous settings, making her point in a charming mildly naive style. In contrast, Devin Cecil-Wishing, focusing exclusively on species facing extinction, paints his birds, animals, and portions thereof far more realistically, a bit like Audubon, but with an eerie romantic flair-- except it ain't gonna be too romantic when the subjects of his paintings are dead and gone. Final show for Meridian Gallery at this location.
Art (Rue Harrison Whittaker).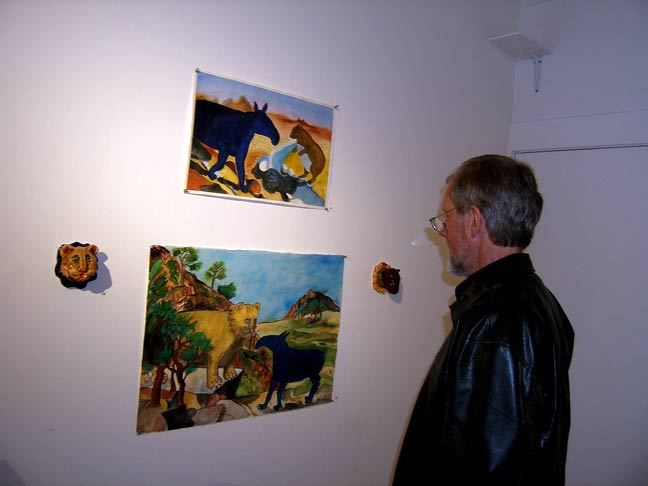 Art (Rue Harrison Whittaker).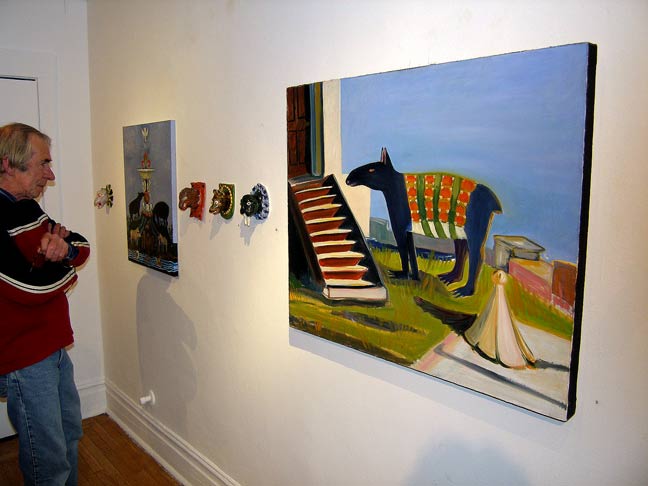 Art (Rue Harrison Whittaker).


Art (Rue Harrison Whittaker).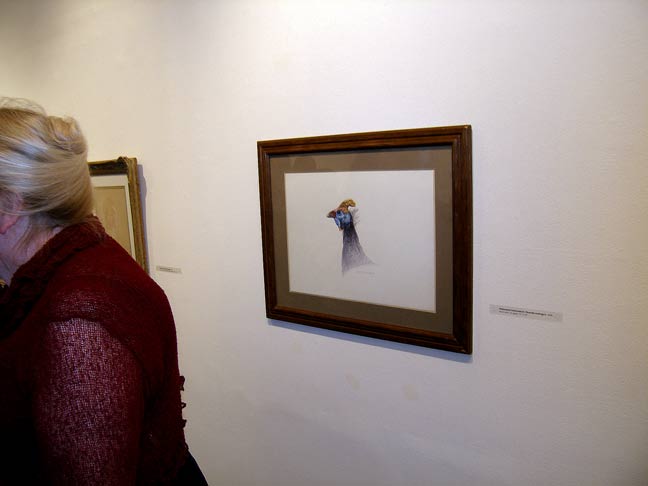 Art (Devin Cecil-Wishing).


Art (Devin Cecil-Wishing).


Art (Devin Cecil-Wishing).


Art (Devin Cecil-Wishing).


***
Tinhorn Gallery: The Tinhorn Ten.
Artists: Terry Chastain, John Gruenwald, Andrew Junge, Kirk Hinshaw, Annalisa Goodin, Sylvia Walters, Jill Storthz, Endi Poskovic, Sieko Tachibana, Dennis Parlante.
Comment: Group show; ten artists. That simple and no more complicated.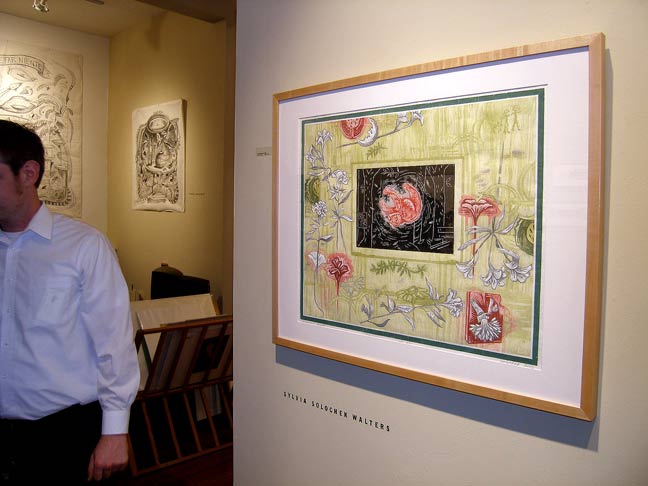 Art.


Art.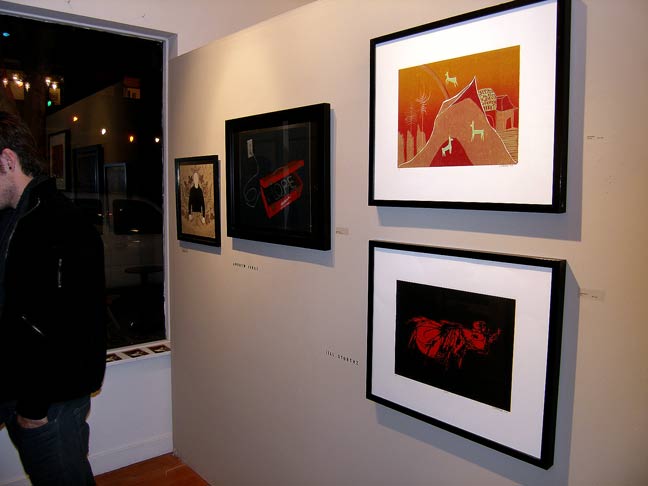 Art.


Art.


***
San Francisco Arts Commission Gallery: Commission '06 - Remix, Cocktail Party and Art Sale.
Artists: Ulrika Andersson, Laura Ball, John Bankston, Jim Christensen, Daniel Cox, Ala Ebtekar, Harrell Fletcher, Jona Frank, Valerie George, Maizie Gilbert, Jim Goldberg, David Hammill, Gabriela Hasbun, Jonn Herschend, David Huffman, Xylor Jane, Packard Jennings, Leonardogillesfleur, Robert Linder, Reuben Lorch-Miller, Anna Von Mertens, Paula McCarthy, Sean McFarland, Apollonia Morill, Paul Mullins, Tucker Nichols, Chris Oliveria, J. John Priola, Tino Rodriguez, Jon Rubin, Alice Shaw, Jessica Snow, Kathryn Van Dyke, Anna Von Mertens, Lee Walton, Heidi Zumbrun, more.
Comment: Annual benefit party and fundraiser for the the San Francisco Arts Commission and its various venues. Plenty to eat and drink; plenty of art to buy with most artists producing and donating affordably priced multiples to the cause including photographs, digital prints, videos, DVD's, CD's, and drawings. Always a most enjoyable event.
Art.


Art.


Art.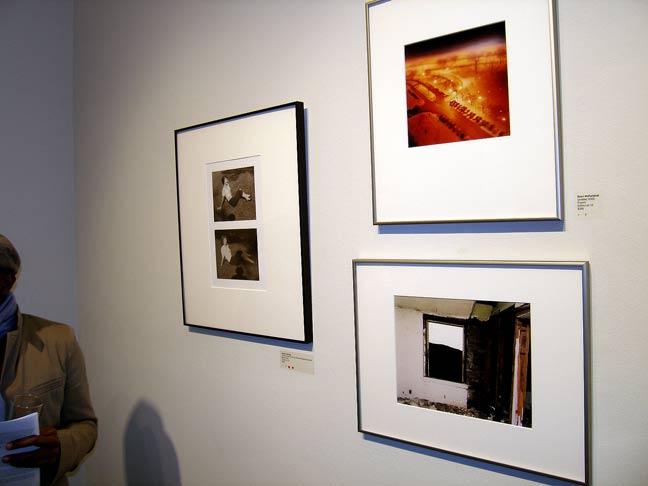 Art.


Art.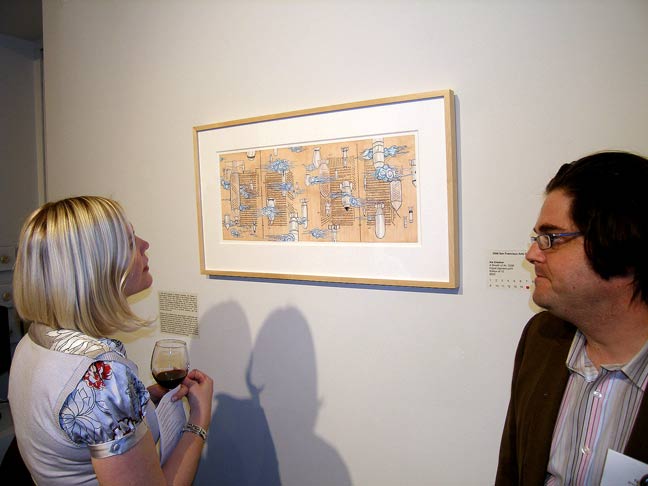 Art.


Art.


Art.


Art.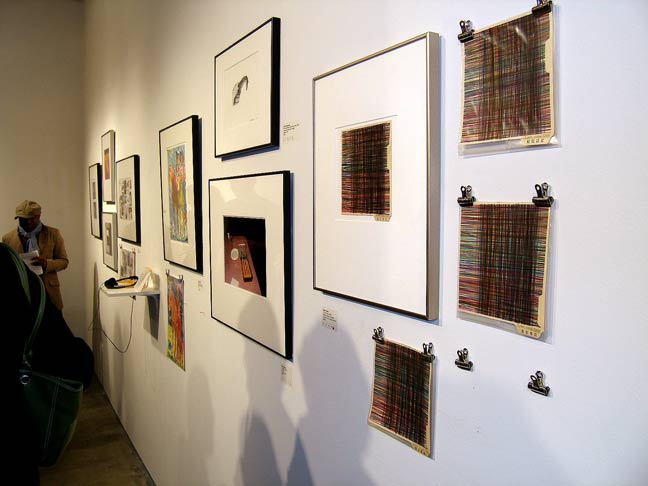 Art.


Yeh, I'm tired too. Outta here.


***