SAN FRANCISCO ART GALLERIES - OPENINGS
ANTHONY MEIER - LIMN - GALLERY 16 - AFTERMODERN
SOUTHERN EXPOSURE - INTERSECTION FOR THE ARTS
JACK HANLEY - MARKET STREET GALLERY - AR+SPACE
11.09.07
Anthony Meier Fine Arts: Donald Moffett - GUTTED.
Comment: Technically superb, flawlessly presented, and cerebrally satisfying show of, for lack of a better term, zipper paintings by Donald Moffett. Each canvas (actually linen) is divided into quarters, the boundaries of those quarters delineated by zippers which open and close. According to the expository, the actual paintings are on the backs of the zipper/linen amalgams, facing the walls. When the zippers are closed, you see the stained linen "backs," and when open, you see the monotone painted innards.
For this show, the zippers are partially open with the unzipped quadrants peeled back part way and adhered to the walls. You see the "backs" of the paintings and the "guts" of the paintings, but the one thing you don't see are the paintings themselves-- because they face the walls. There's all kinds of places imaginative analytical types can go with this, several of which are exposited in the expository, however one of those exposits-- extrapolating "a sexual reference that is both teasing and brazen" out of an unzipped (or zipped) painting-- might be a bit of a stretch. Er... wait... On second thought, I take that back, basically 'cuz we're in San Francisco where libidinous minds regularly wring sexual references out of pretty much everything.
Art.


Art.


Art.


Art.


***
Limn Gallery: Thierry Feuz - Eldorado; Stephen Galloway - Ab Aeterno.
Comment: Thierry Feuz tells me he uses automobile paints to create his riotously energized rhapsodies. The works brim with spirit, the subject matters, though abstract in varying degrees, reference flowers, celestial patterns, microbiology, and more. Stephen Galloway, meanwhile, artfully arranges leaves, twigs, vines, and other plant fragments into intricate labyrinthine patterns on large light boxes, and then photographs the results from above. The upshot might be likened to strolling along a backlit forest floor. Good show on both counts; worth a visit.
Art (Stephen Galloway).


Stephen Galloway - art.


Art (Stephen Galloway).


Art (Stephen Galloway).


Art (Thierry Feuz).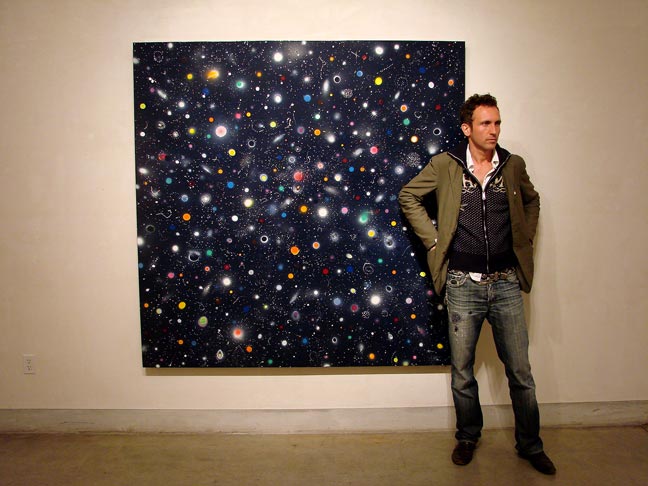 Thierry Feuz - art.


Art (Thierry Feuz).


Thierry Feuz - art.


Art (Thierry Feuz).


***
Gallery 16: Rex Ray - New Paintings and Collage.
Comment: There's an inexplicable something about Rex Ray paintings and collages that's undeniably upbeat, uplifting, perhaps even inspirational. You can't possibly look at one without feeling better than you felt the moment before you looked at it. Say what you will, but that's the magic of Rex Ray. Special added bonus-- the book "Rex Ray, Art + Design" is now available at Gallery 16 (and selling exceptionally well this evening).
Art.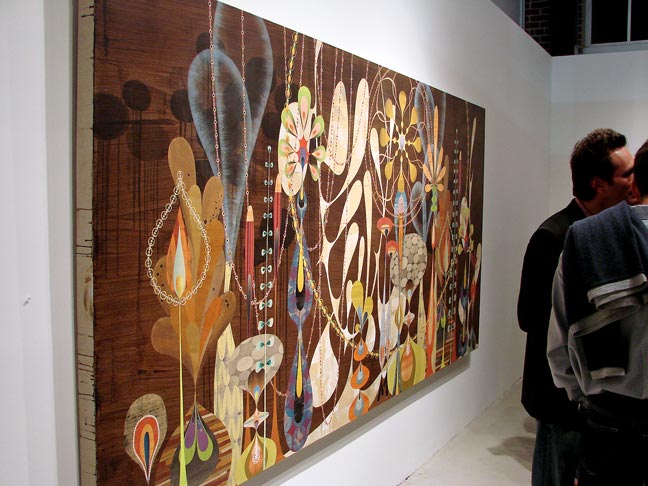 Art.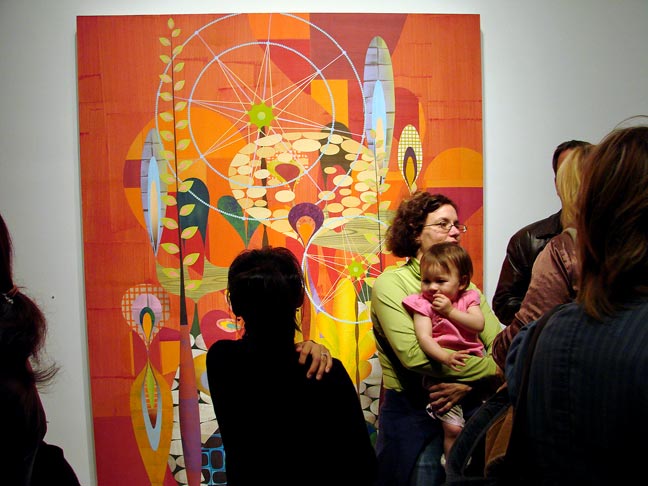 Art.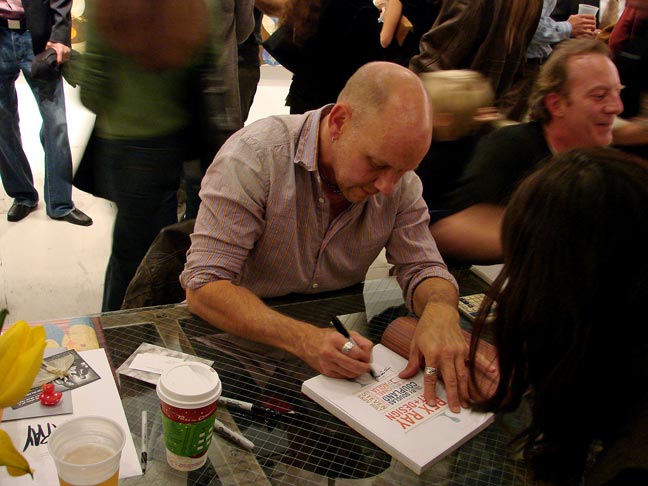 Rex Ray signs his newly released book.


Art.


Relative density.


Art - tunes.


***
Aftermodern Fine Art Gallery: Antonio Sindorf - From Paper to Paint, Drawings and Paintings.
Comment: This one's a bit of an overkill. I mean the art's competent and everything, but one could arguably surmise that Antonio Sindorf corrals every available exhibitable work in his oeuvre, no matter what it is, and puts it up on Aftermodern's walls. The upshot? Chaos.
Art.


Art.


Art.


Art art.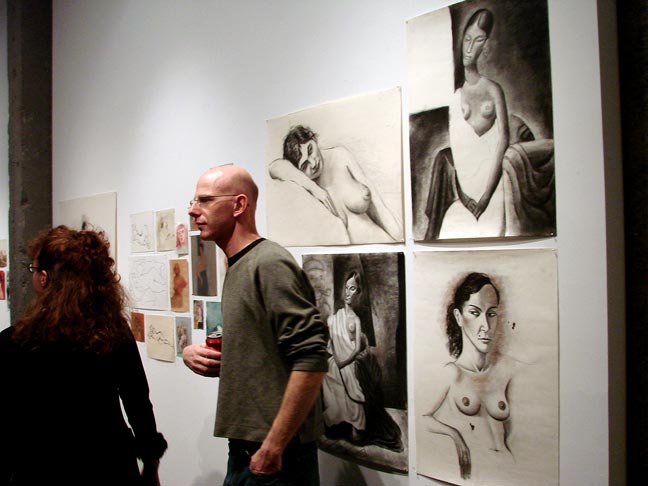 Art art art.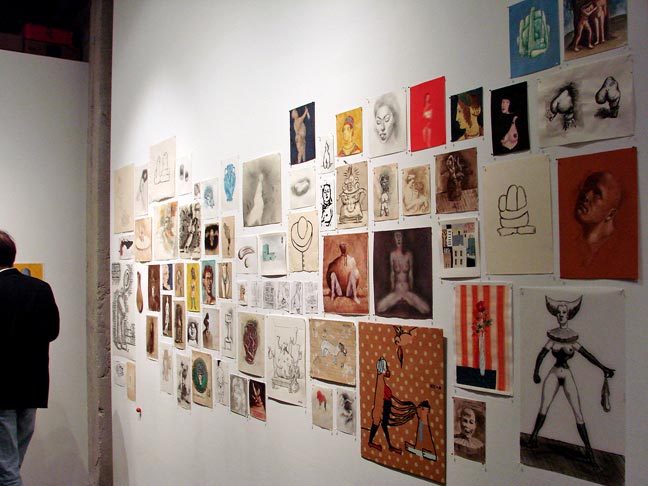 Art art art art art art art.


***
Southern Exposure and Intersection for the Arts: GROUNDED? - 16th Annual Juried Exhibition.
Artists: Tamara Albaitis, Verda Alexander, G. Cole Allee, Erin Allen, Brian Andrews, Seth Armstrong, Amy Auerbach, Christopher Baird, Mark Baugh-Sasaki, Bert Bergen, Nicholas Bohac, Deric Carner, Matt Cella, Christopher Culver, Shayla Dopp, Claire Droney, Rebecca Ebeling, Christian Ebert, Catherine Haley Epstein, Adam Friedman, Jeffrey Glossip, Ariel Goldberg, Robert Jackson Harrington, Carrie Hott, Arthur Huang, Cynthia Ona Innis, Robin Johnston, Melissa Kaseman, Matt Kennedy, Scott Kiernan, Justin James King, Chris Koehler Amy Fung-yi Lee, Brendan Leonard, Frederick Loomis, Martin Machado, Liz Maher, Laura Mappin, Christina Mazza, John Patrick McKenzie, Jessica Miller, Tom Mueske, Daniel Nevers, billy o'callaghan. Sean Olson, Rebecca Parks-Ramage, Erik Parra, Hilary Pecis, Moshe Quinn, Airyka Rockefeller, Brion Nuda Rosch, Yoram Savion, Mark Scheeff, Zachary Royer Scholz, Corinne Schulze, Meg Shoemaker, Peter Stampfer, Owen Takabayashi, Aaron Terry, Kathleen Thompson, Kristen Van Patten, Jerad Walker, Adam Wier, Celeste Zolezzi.
Comment: Premier event at Southern Exposure's official new digs located on 14th just above Valencia, and continuing at Intersection for the Arts, around the corner and down the street. On the docket, the work of 64 artists, selected from nearly 550 submissions, the aggregate comprising So-Ex's 16th Annual Juried Exhibition. As for the art itself, there's no shortage of fresh perspectives to peruse. Both venues are packed for the occasion. Wanna help identify artists? Kindly drop me an email at artbusiness@artbusiness.com.
On exhibit at Southern Exposure:

Art.


Art.


Art.


Art.


Art.


Art (Kal Spelletich and I both like this one).


Art (Scott Kiernan).


Art (billy o'callaghan, right).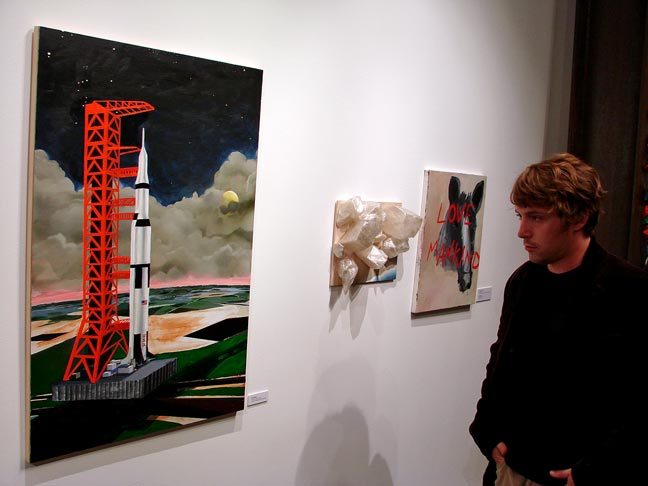 Art.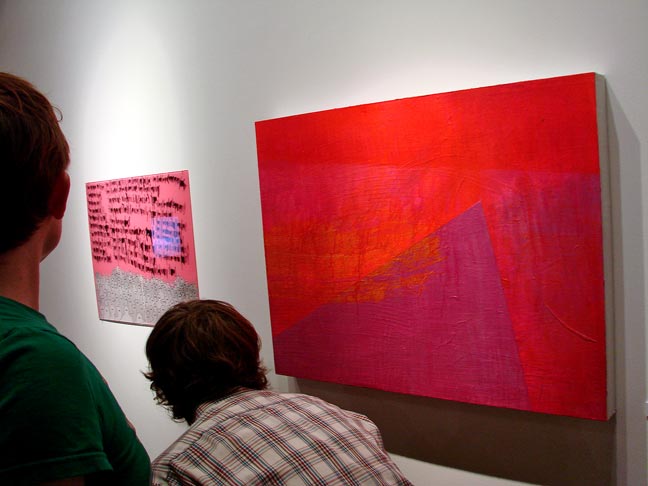 Art.


Art.


Art.


Art.


Art (Seth Armstrong).


On exhibit at Intersection for the Arts:

Art.


Pretty good performance piece here (like it).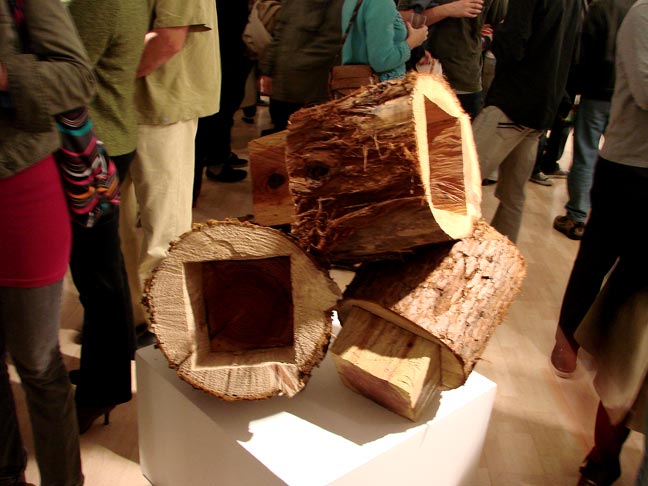 Art.


Art.


Art.


Art (Tamara Albaitis).


Art.


***
Jack Hanley Gallery: Fergus Feehily - Small Inventories; Ajit Chauhan - Sit in You in the Sun (Light Station).
Comment: I'm basically flummoxed by this one, so will rest on the laurels of my ignorance and quote from the handout. "First U.S. solo show of the work of Irish artist Fergus Feehily includes new works which straddle the boundries between painting and drawing, figurative and the non-representative, all through the use of quiet, minimal gestures." Makes sense, I guess, but I dunno. I look at it and wonder, is it "minimal gestures" or "where's the beef?" Meanwhile, over at the 389 gallery, Ajit Chauhan's presentation, mainly mysterious meditative drawings in discreet pyrographic frames, translates almost shamanistic in nature.
Art (Fergus Feehily).


Art (Fergus Feehily).


Art (Fergus Feehily).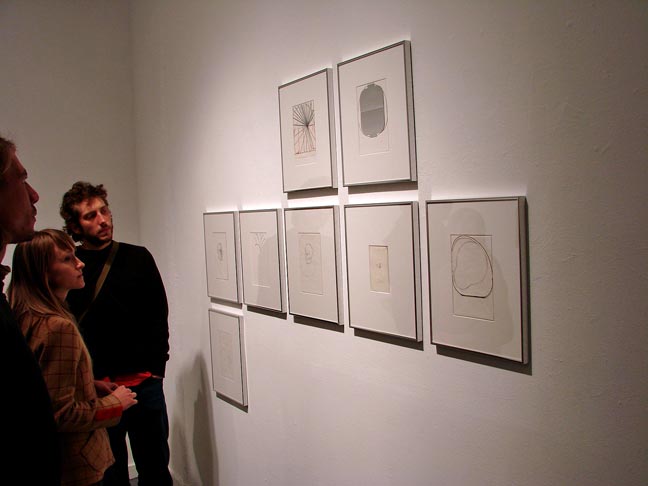 Art (Fergus Feehily).


Art (Fergus Feehily).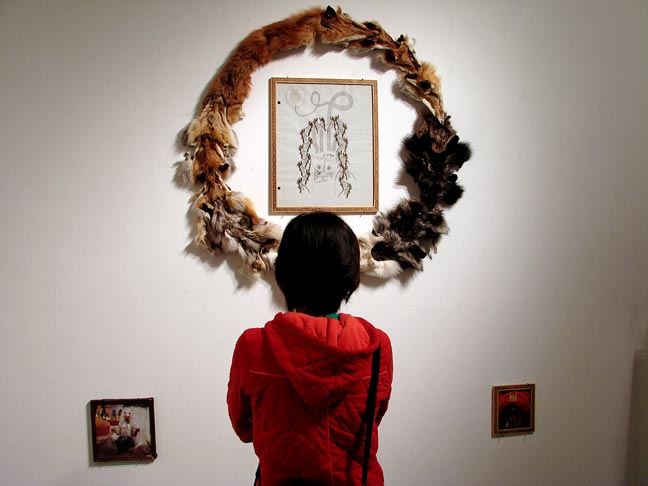 Art (Ajit Chauhan).


Art (Ajit Chauhan).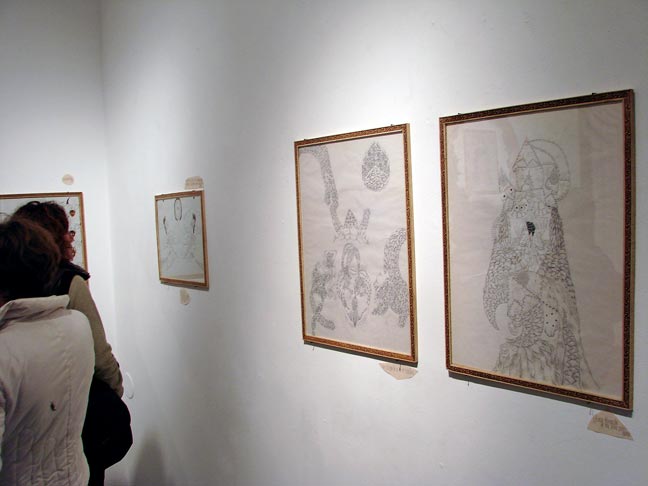 Art (Ajit Chauhan).


Art (Ajit Chauhan).


***
Ar+Space: United We Orbit.
Artists: Melissa Adams, Peter Dobey, Erica Gangsei, Aaron Hegert, Gayle Laird, Caleb Louis, Lisa Lozano, Julia Magid, Emi Stanley.
Comment: Rangy group show presented by an entity designating itself as Orbit Eight features mainly photography, a slice-of-life video of Istanbul, excised pages from an old dictionary arranged in a large rectangle in the center of the gallery floor, and more. If I recall correctly, the artists are mainly affiliated with SFAI-- recent grads perhaps.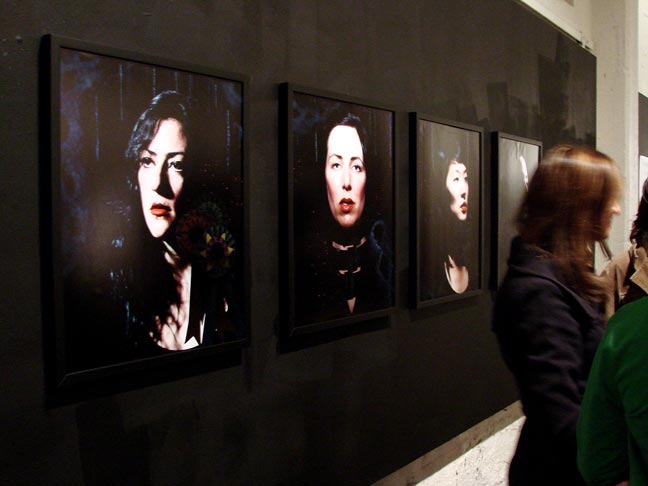 Art.


Art.


Art.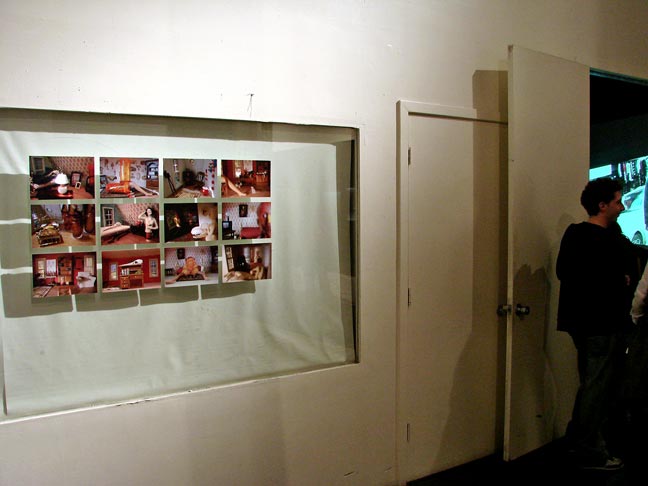 Art.


Art.


***
Addendum:
Priyanka Gupta (left) & art at Market Street Gallery.


One more from Priyanka Gupta at Market Street Gallery.


***