SAN FRANCISCO ART GALLERIES - OPENINGS
LINCART - BLUESPACE - WOMEN'S BUILDING
HARDWARE STORE GALLERY - MOLLUSK SURF SHOP
CALIFORNIA INSTITUTE FOR INTEGRAL STUDIES
11.10.06
Lincart Gallery: Beatrice Wood - Young Men & Chocolate.
Comment: Beatrice Wood was best known for her lustrous ceramics, but she packed plenty into her 105 years including a conjugal stint with Marcel Duchamp, and a slew of additional Dada dawdles with the likes of Man Ray, Francis Picabia, Gertrude Stein, Anais Nin, Krishnamurti, and so on and so forth ad infinitum, eventually to settle in Santa Barbara. So tonight we've got ceramics, drawings, pieces of Wood's personal jewelry, documents, photographs, and more-- the exhibit being as much about her life, times, and personality as it is about her art.
Art.


Art.


Art.


Art.


Art.


Essence.


***
The Women's Building: Dene Shelton - Body Splendor, A Collection of Paintings.
Comment: Abstract introspective organ-esque essays on the female body imbued with abundant vaginality.
Art.


Art.


Art.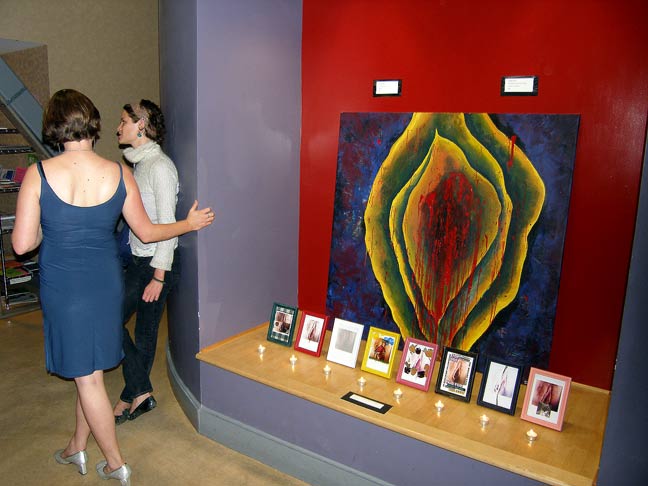 Art.


***
Bluespace Gallery: George Pfau - 2006, Exhibition and Book Release.
Comment: The former 66 Balmy gallery is now known as Bluespace, a " private workspace" and multi-purpose community oriented facility that, among other things, shows art-- this being their first art show, I think. And for that show, George Pfau exhibits a series of complicated allegorical collage-like commentaries blending abstract and real. The place is packed, perhaps in part due to a large refreshment table holding court smack in the center of the room.
Art.


Art.


Art.


Art.


Art.


Relative density.


***
Hardware Store Gallery: Get Together.
Artists: Sarah Applebaum, Alex Clausen, Jonn Herschend, Sean McFarland, Ashley Neese, Keri Oldham, Lindsay White.
Comment: It's kind of an art show, but more like a party around art organized by Susan O'Malley and the Curiosity Guild. The work on display includes photography, text, berserk crochet, video, knots, pamphlets, installation, ceramics, and so on.
Art.


Art.


Art.


Crochet art.


Knot art.


Overview.


***
Mollusk Surf Shop: Leo Bersamina.
Comment: Always good art, good music, mellow crowd, progressive fashion, and lousy parking. This time around, the gallery sector hosts a variety pak by Leo Bersamina who tells me he approached the space more as a project room than a by-the-book art show. In other words, he made whatever he felt was appropriate rather than conceiving a conventional series where everything fits. Fine by me. Top on my list is a digitally manipulated house pile that appears to float on clear blue open waters against an expansive electric blue sky. I ask Bersamina whether the real estate is purposeful or random, and he tells me they're all places he lived in while growing up. Intelligent art; worth the excursion. Special added bonus-- the ocean's right around the corner.
Leo Bersamina - art.


Domicile pile art (pick).


Art.


Woven photo art.


Tunes.


Sliced branches frosted with paint art.


***
Addendum:
Issue-based art, most about war, by Elaine Badgley-Arnoux
at California Institute of Integral Studies.


Elaine Badgley-Arnoux "Shadows of War" paintings at CIIS.


One more Elaine Badgley-Arnoux art from CIIS.


***