SAN FRANCISCO ART GALLERIES - OPENINGS
ROBERT TAT - HESPE - MERIDIAN - SOMARTS
VISUAL AID - STUDIO GALLERY - KOTTIE PALOMA
FRANKEE UNO - ALLIANCE FRANCAISE
SHOOTING GALLERY - WHITE WALLS
11.10.07
Robert Tat Gallery: Alyson Belcher - Body of Light, Pinhole Self-Portraits.
Comment: Alyson Belcher photographs herself through a pinhole camera, sometimes posing herself twice in the same image (she tells me the exposure time is so slow, she can easily change position without being detected by the film).
Photography.


Alyson Belcher - photo.


Photographs.


***
Hespe Gallery: Rob Harrell - Recent Paintings.
Comment: Paintings of wistful women in interiors. It's that simple and no more complicated.
Art.


Art.


Art.


***
Meridian Gallery: Peter Foley - manifesto/random; Larry Lippold - Drawings; Ruth Eckland - Heartland.
Comment: Peter Foley "appropriates" photographs, digitally alters 'em, then blows 'em up, then pairs 'em with other appropriated digitally altered blown up photographs. Ruth Eckland's engaging three-screen video, Heartland, treatises on various aspects of Americana including playing in the yard, riding a bike, and watching nondescript scenery pass by from the window of a moving vehicle. Larry Lippold shows pastel drawings of what look to be cropped sections of venerable church interiors.
Art (Peter Foley).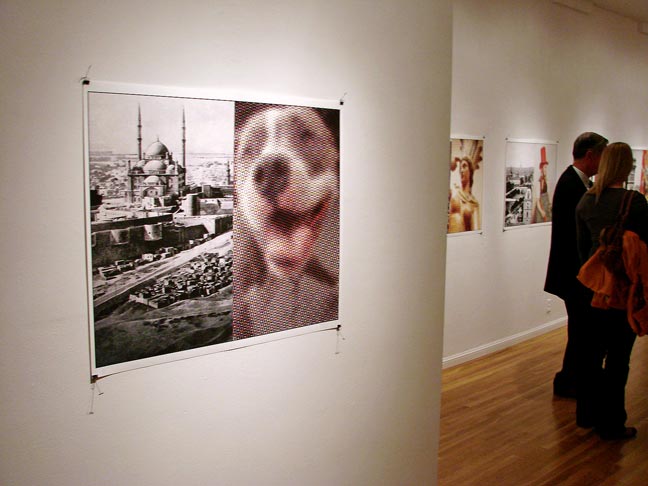 Art (Peter Foley).


Art (Ruth Eckland).


Art (Ruth Eckland).


Art (Larry Lippold).


Art (Larry Lippold).


***
SomArts Main Gallery: Evolution.
Artists: Pamela Lanza, Ellie Barrett Wilder, Glenn Hirsh, Michael Lewis, Nena St. Lewis.
Comment: Paintings, drawings, prints, collage, sculpture, and installations manifest the responses of five Bay Area artists to a "habitat in crisis," broaching issues around peace, war, ancestors, and more. Price range is $250 - $2500.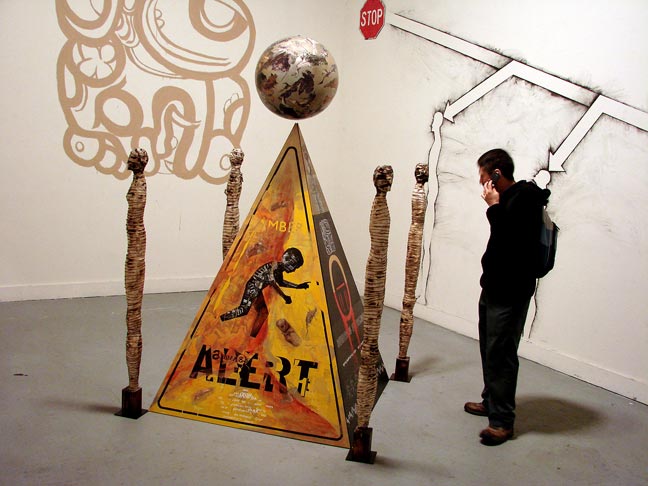 Art.


Art.


Art.


Art.


Art.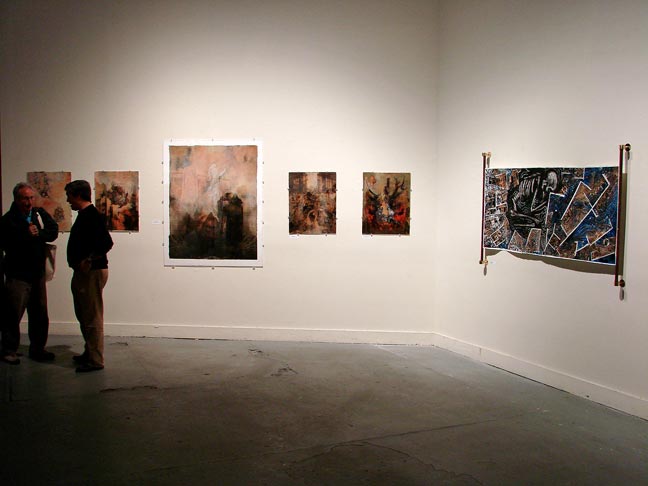 Art.


Art.


***
Visual Aid at SomArts: Big Deal 14 - Visual Aid's Art Sale and Fundraiser.
Artists: Linda Adreveno, Mary Allen, Paul Alley, Don Anderson, Rob Anderson, Mari Andrews, Maria Andrews, Adam J. Ansell, Bob Armstrong, Elizabeth Armstrong, Thomas Asmuth, Bob Aufuldish, Anne Austin, Rob Badger, Shannon Badiee, Jennifer Bain, Leigh Barbier, Jim Provenzano, Tony Bellaver, Charles Bierwirth, Robert Bilensky, Julie Blankenship, Jenny Bloomfield, Donna Blow, Alexandra Blum, Richard Bolingbroke, Tom Bolles, David Booth, Susan Bostrom-Wong, Bill Bowers, Linda Lee Boyd, Gail V. Braddock, Deb Evans Braun, Sara Bright, Robert Brokl, Ingrid Brook-Kothlow, Brandi Brooks, Jamie Brunson, Tim Burns, Bob Callaway, Laura Camerato, Jan Camp, Rene Capone, John Casey, Iris Cavanaugh, Clancy Cavnar, Helen Chellin, Jean Cherie, Howie Cherman, Deborah Childress, Belinda Chlouber, Chad M. Christensen, Marian Clark Cooch, Tyrell Collins, Mitchell Confer, Jean Conner, Jacqueline Cooper, Petrina Cooper, Sylvia Cossich-Goodman, Isabelle Courtault, Carolyn Crampton, Monica Crawford, Chris Crossen, Binh Danh, Rick Darnell, Barbara De Groot, Randall de Rijk, Ogdel Deal, Bazil Dean, Larry M. Deans, Luz Decker, Gloria DeFillipps Brush, Susanne Deising, Luis Delgado, Monica Denevan, James Devito and Ben Kroger, Angelo Di Pietrantonio, Nikos Diaman, MJ Levy Dickson, Jen Dietrich, Richard Dodds, Darin Donovan, Chuck Drees, durkART, Heather Dutton, Anna W. Edwards, Beth Yarnelle Edwards, Gunnar Ellam, Steven Elliott, Michelle Elmore, Bernadette Emrick, Jamie Erfurdt, Marisa Escolar, Charles Esler, Jane Evans, Georgianne Fastaia, David Faulk, Roberta Faust, Lorrie Fink, Joan Finton, G. Firing, Andrew Fisher, Robert Fisher, Tim Fogarty, Jo Ford, Charmaine Fornoff, Joanne Fox, Rebecca Fox, Bernadette Frank, Flower Frankenstein, Martin Freeman, Jerry Frost, Dana Fuhrer, Kathy Fujii-Oka, Taiko Fujimura, Matt Furie, Ken Gaghan, Jeremy Garza, Janet Gawthrop, Tebby George, Santiago Gervasi, Stephen Gibson, Whitney Giehl, Katie Gilmartin, Kurt Glowienke, James Gobel, Lisa Goldschmid, Susan Goldsmith, Sarah Beth Goncarova, Eric S. Goodfield, Paul S. Goodman, Sarah Gopher-Stevens, Fateme Gosheh, Andrea Guerra, Joni Offerman Gupta, Priyanka Gupta, Charles Gute, Karen Gutfreund, Leonie Guyer, Louis J. Gwerder III, dk haas, Michael Hall, Joe Halperin, Marc Ellen Hamel, David Hamms, Wade Hampton, April Hankins, Christine Hanlon, Lyall Harris, Stewart Harris, Rey Hauser, Wynne Hayakawa, Art Hazelwood, Conrad Hechter, Guilaine Hedquist, Audrey Heller, Taraneh Hemami, James Heron, Howard Hersh, Katherine Higgins, Maj-Britt Hilstrom, Katherine Hisako Kodama, Lisa Hoffman, Fay Holiday, Brad Holum, horea, Joel Hoyer, Phillip Hua, Matthew F. Hudson, Tedda Hughes, Patricia Hulin and Lynne Todaro, Kathryn Hyde, Irene Imfeld, Valerie Jacobs, Ivy Jacobsen, Ryan Jacques, Martine Jardel, Philippe Jestin, Ethel Jimenez, Michael Johnstone, Jonhomer, Soyoung Jun, Rachel Kadner, Sara Kahn, Sara Kahn, Daniel Goldstein and John Kapellas, Alan Kelchner, Jim Kelley, James Kelley, Ken Gaghan, Doug Kennedy, Russel Kiehn, Seamus Kiel, Stefan Kirkeby, David Kirkpatrick, Barbara Kleinhans, Lisa Knoop, Debby Kramer, Teresa Krulee, Evri Kwong, Jander F. Lacerda, Linus Lancaster, LandBuoy Project, Richard Lang, Howard Lapp, Dion Laurent, Peter Max Lawrence, Ken Leaf, Hugh Leeman, Minnette Malka Lehmann, Nancer LeMoins, Jennifer Lemper, Ira Lesser, Dennis Letbetter, Amy Levine, Carol A. Levy, Mark Levy, Weyman Lew, Constance Lewis, David Liittschwager, Karen Lindquist, Heike Liss, Lois Llewellyn, Sara Long, Reuben Lorch-Miller, Tim Losch, Michael Lownie, Kija Lucas, Leslie Lusardi, Derek Lynch, Tarra Lyons, Mila Maas, Pat Kemeny Macias, Richard Macias, Scott MacLeod, Wayne Madsen, Stuart "Mid*One" Mahoney, John Major, Liz Mamorsky, Darcy Manning, Shelley Marlow, Mary Marsh, Kay Marshall, Fred Martin, Wayne Masden, Jesse Mathes, Liz Maxwell, Kristine Mays, Andrew McClintock, Robin McCloskey, Brian McDonald, Lenore McDonald, William McElhiney, Nancy McNally, Elizabeth Medrano, Aurora Meneghello, Megan Metzger, Donna Meyer, Charlie Milgrim, Doug Miller, Barbara Milman, Victoria Mimiaga, Adam Moore, Mooshka, Jamie Morf, Leslie Morgan, Robert Morgan, U.B. Morgan, Maryln Mori, Doug Morris, Kristen Mors, Leroy Morvant, Biff Moshe, Kevin Mosley, Margaret Moster, Ashley Munro, Cheiko Murasugi, Joe Neff, Rob Nehring, John Neilson, Lisa Neimeth, Gregory Nelson, Julie Nelson, Cornelia Nevitt, Carol Newborg, Robert Newman, Jane Norling, Hadley Northrop, Alexander Nowik, Jann Nunn, Suzanne Olmsted, Javier Gutierrez Omar, James Orlando, Donald Osborne, Russ Osterweil, Denise Owen, Bruce Pagacz, Manisha Patel, Mary Patterson, Laura Paulini, Jacquelyn Paull, Kerrie Paussa, Stephanie Peek, Pam Peniston, Gilles Perez, Stephen Perreault, Matt Pipes, Jennifer Carol Platt, Jan Potts, Kevin D. Powers, Mel Prest, J. John Priola, Steven Raspa, Cherie Raciti, Mark Rain, Cameron Ramirez, Suzie Rashkis, Daniel Raskin, Andrea Raynor, Charles Reilly, K. Reiner, Nicole Repack, Tia Resleure, Fernando Reyes, Robert Rice, Samuelle Richardson, Colleen Ringrose, Cristina Rivera-Hess, RO, M.A. Roberts, Cayen Robertson, Daniel Robeski, Rebeka Rodriguez, Jamie Rogers, Veronica Rojas, Dianne Romaine, Cindy L. Root, Rafael Rosario, Ellen Rosenberg, Elliot Ross, Merl Ross, Thierry Rosset, Alex Rothwell, Ruby Rudnick, Lisa Ryers, Russel Sackson, Michael Sacramento, Charles Sands, Allyson Sarah, Ron Moultrie Saunders, Martha Schlitt, Patricia Sea, Judith Selby Lang, John Haley Xtopher Seldon, Kristine Severson, Tim Sharman, Kyle Sharp, Tyler A. Shaw, Elena Sheehan, StuART Sheldon, Sharon Shepherd, Addie Shevlin, Heidi Berrin Shonkoff, Kelly Jo Shows, Mike Shriver, Cynthia Siegel, Ann Simms, Anna M. Simson, Sharon Siskin, Ginger Slonaker, Joshua Smith, Ryan Jacob Smith, Andrew Soh, Clark Sorensen, Joe Soto, Annie Sprinkle and Elizabeth Stephens, Kirk Stoller, Inez Storer, Stephen Stout, Arlene Streich, Carol Summers, Julie Sutherland, Ted Taplin, Janet Taylor, Terry Telles, Sarah Thibault, Karen Thomas, Gabrielle Thormann, Lissa Ivy Tiegel, Kent Tool, Paul R. Toulmin, Toby Tover-Krein, Amy Trachtenberg, Virginia Trembles, Linda Trunzo, Trish Tunney, Susan Tuttle, Eddie Valentine, Tito Vandermeyden, Ted Vasin, Josefa Vaughan, Victoria Veedell, Scot Velardo, Anne Veraldi, Xavier Veramontes, John Vias, Katie Vida, Joan von Briesen, Ron Van Dongen, Norman Vortigy, Mira Waksman, David Waldorf, George Walters, Jon Steven Walters, Gillian Wee, Audrey Welch, Michael Wertz, Bob Whyte, Vivi Wiitala, Ed Williams, Laura Williams, Clementine Wilson, David Wilson, Donnette-Gene Wilson, Ginny Wilson, Jokie X. Wilson, Renee Winick, Jim Winters, Vanessa Woods, Jih-Chin Wu, Jan Wurm, Carmen Wyllie, Laurie Wyman-Heron, Tim Yankosky, Melissa Yarbrough, Chris Ybarra, Joan Yokom, Eileen Zevallos.
Comment: Visual Aid's prodigious annual fundraiser offers over 600 works of art at a fixed price of $160 per piece (get in line, get a number, take your pick of whatever's available when your number comes up), and climaxes with a live auction. Visual Aid's mission is to encourage artists with life-threatening illnesses to continue their creative work. They also endeavor to present and preserve art by these artists. Big Deal is truly a big deal and Visual Aid is truly worth supporting.
Art.


Art.


Big board shows what artworks are still available.


Attendees.


Art.


Art.


***
Studio Gallery: tiny.
Artists: Brian Behnke, Brandon Smith, Paul Ferney, Jeremy Mann, Sandra Speidel, Greg Gandy, Chris Leib, Scott Grabowski, Kanna Aoki, Carol Aust, Josh Coffy, Brett Amory, Michael Loomis, Rab Terry, Laura Williams, Canon Tissue, Chris Grassano, Bill Dunlap, Maggie Yee, Mike Dutton, Ian Hart, Scott Pettersen, Christine Hanlon, Niana Liu, Christine Benjamin, Jennifer Wasson, Alanna Spence, Michael-Che Swisher, Marilyn Cullen, Jumeen Kim (Ria), Michael Schoenig, Chur Park, Matt DeLite, Daniel Ochoa, Sarah Reardon, Jessica Whiteside, Nikki Sims, Jen Norton, Megan Wolfe, James Lee, David Steinhardt, Barbara Kleinhans, Charlotte Seekamp, Judy Harter, Elena Brancato, Shelby Ulibarri, Aurora Young, Ray Bonilla, Ben Collison, Lisa Mistiuk, Alicemarie Mutrux, Christopher Jernberg, Susan Landor Keegin, Ayu Tomikawa, Lark Pien, Elizabeth Ashcroft, Barbara Wyeth, Alice Gibbons, Linda Pedersen, Mark Faigenbaum, Toru Sugita, moongirl, Thalia Stratton, Jason Werner, Jeremy Natividad, Chloe Lauer, Chiaki Darski, Jody McMillan, Carol Allen, Judy Hummell, Chiami Sekine, Bang, Haelee, Chiami Sekine, Katja Ollendorff, Lola, Audrey Welch, Tammy Stellanova, Marco Mejia, Mei Mei Everson, Sofia Harrison, Debbie Huey, Rebecca Bennett, Sidnea D'Amico, Chris Wade, Mina Reimer, Lynne Averill, Jack Stelnicki, Bobbie Pires, Jessica Dacher, Colette Crutcher, Jana Rumberger, David Young V, Verity Dierauf, MariNaomi, Art Moura, 3D-Edddy, Richard Benbrook, Rebecca Fox, Candy Miller, Jim Rosenau, Tachina Rudman, Brian Wort, Reed Slater, Denisse Romay, Kate Phillips, Brian Behnke, Melita Morales, Tammy Stellanova, Vivena, Brook Jasmine, Kathy Lo Rocks!, Victoria Cameron, Sue B. Designs, ShadowBox, Made with Molecules, Proehl Studios, Alice Gibbons, Sue Cazaly, Maggie Yee, Ruth Franken, Elizabeth Ashcroft, Jake Wrench, Samantha Zaza, Phyllis Rockne, Michael Markowitz, William Mayfield, Chloe Fortin, Henry Bridges, Anastasia Emmons.
Comment: Approximately one scrillion small format works by over 100 artists include paintings, drawings, prints, restored clocks, photographs, jewelry, and much much more, all priced under $400. You'll find it here.
Art.


Art.


Art.


Through the front window.


***
Kottie Paloma Studio, 1005 Market Street #306, San Francisco, CA 94103: Grown-ups of the Corn.
Artists: Archie McKay, Joe Roberts, Chris Sollars, Nic Chaffin, Alison Pebworth, Chris Corales, Karla Milosevich, Fred Rinne, Sean McFarland, Lindsey White, Jack Hanley (not), Marsea Goldberg, Brian Storts, Kottie Paloma.
Comment: Combination group show and art party. The essence is consistently eminent at the Paloma locale.
Art.


Art.


Art.


$1 a pop art raffle.


Art.


Gettin' dense; time for me to go.


***
Frankee Uno: Hilary Williams - Urban Foraging.
Comment: Painted and silkscreened San Francisco cityscape/countryscape overlays, and handmade fabric dolls attest to multi-talent Hilary Williams. Tonight's delight in the delectables department? Heart-shaped peanut butter and jelly sandwiches.
Art.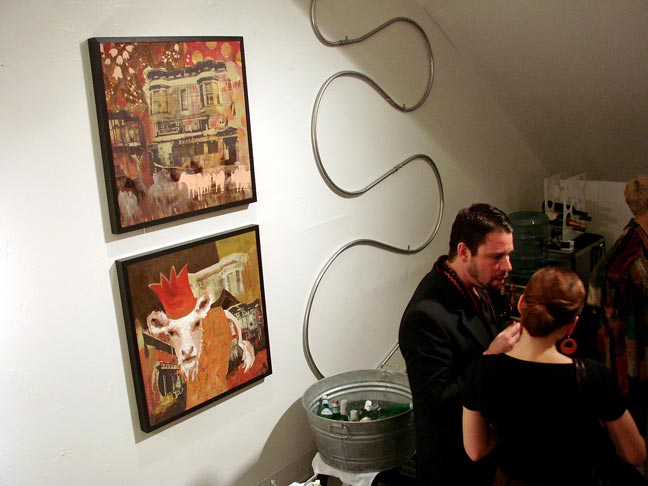 Art.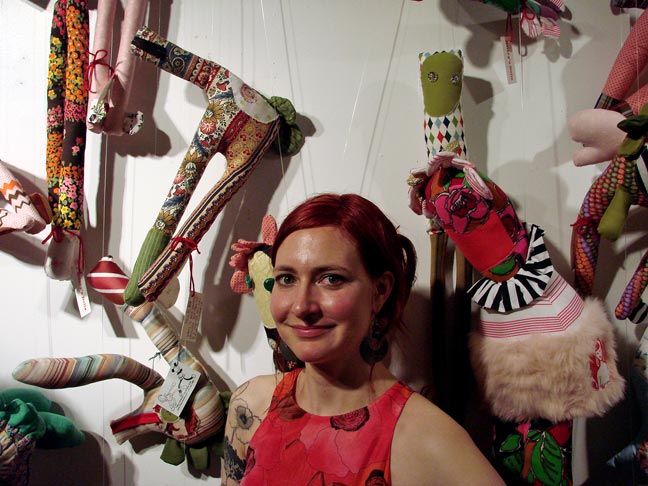 Hilary Williams - art.


Art.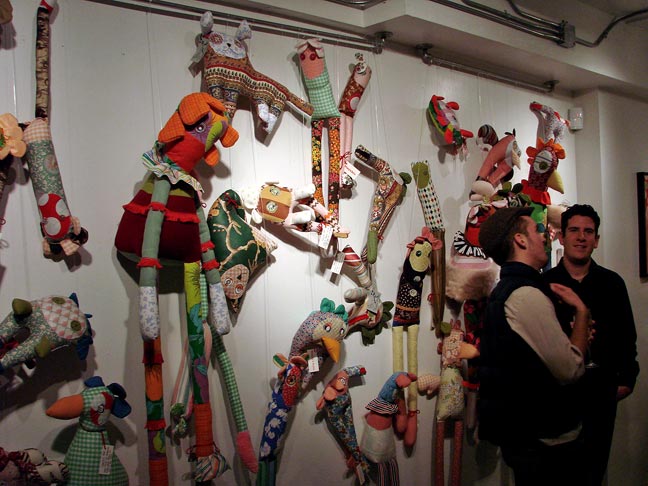 Art.


Nourishment.


***
Alliance Francaise: If You Can Believe Your Eyes and Ears - The Mix Tape.
Artists: Alicia Bainbridge, Ethan Cook, Ryan Compton, Mathew Gemill, Jeffrey Hogan, Eden Hutchinson, Colter Jacobsen, Todd Nelson, Jessica Soulen, Jonathan Vandenberg.
Comment: Meandering group show of work by "likeminded artists unified by friendly alliance" offers up a little bit of everything.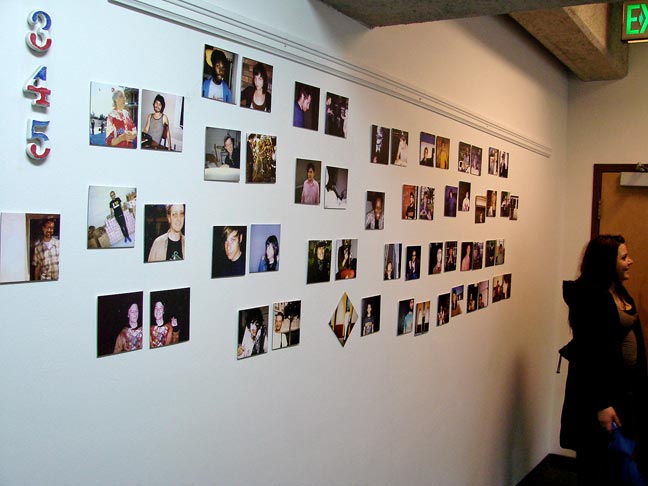 Art.


Art.


***
The Shooting Gallery: Van Arno - Volume.
Comment: No available synopsis on the plot line for Van Arno's "Volume," but the captions on the individual paintings indeed elucidate the tale. His intense, resplendent, in-your-face style could conceivably be categorized as heroic camp.
Art.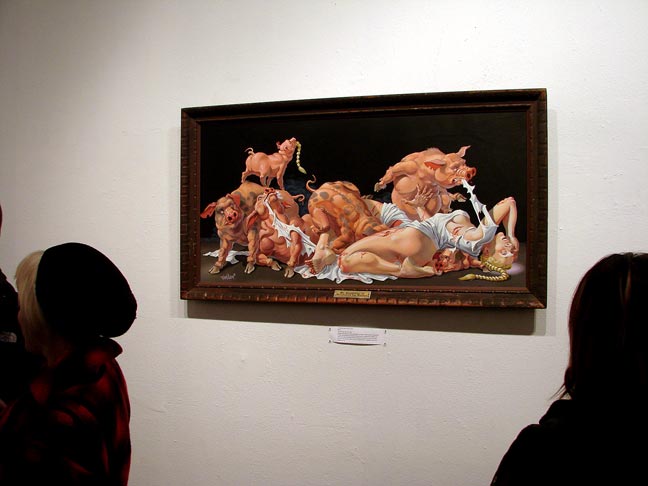 Art.


Art.


Art.


Art.


***
White Walls: Mike Giant and Usugrow.
Comment: Black and white works by urban icons Mike Giant and Usugrow (plus several unique vintage-style painted skateboards plus a fine graffiti-ized bike). Giant encapsulates the idiom more in the mode of blunt trauma while Usugrow typically opines from a calculated calligraphic stance. It doesn't get much better than this for streetwise devotees.
Art (Usugrow).


Usugrow - art.


Art (Usugrow).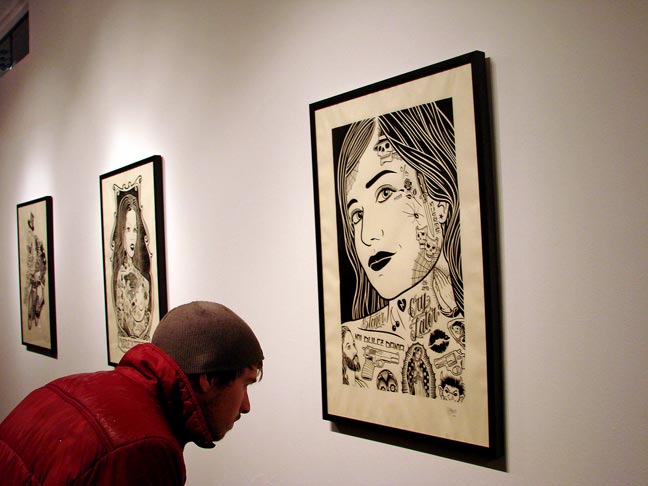 Art (Mike Giant).


Art (Mike Giant - kinda like 'em).


Art (Mike Giant).


Art (Mike Giant).


Mike Giant shoots portrait photos upstairs.


***