SAN FRANCISCO ART GALLERIES - OPENINGS
JOHN PENCE - THOREAU CENTER - GALLERY ONE
JUICE DESIGN - ADOBE BOOKS - LEVY ART & ARCHITECTURE
TINHORN PUBLIC WORKS - ARCHITECTURAL ELEMENTS - OLIVE
ONE TASTE URBAN RETREAT CENTER - SPACE - CALIFORNIA MODERN GALLERY
LE TRIANON GALLERY - SUB ROSA SALON DES ARTS - DIPIETRO TODD
11.10-11.05
Thoreau Gallery: Roots & Branches - James Gayles, Adunni.
Comment: "A musical journey from the motherland to Diaspora" through paintings, sculptures, and mixed media works-- African to jazz. James Gayles works mainly in watercolor, acrylic, and color pencil, exhibiting a nice selection atmospheric close-in jazz portraits, most priced $1000-$3000. Adunni shows both paintings and sculptures, meticulous in care and detail, mainly African subject matters.
Art (James Gayles).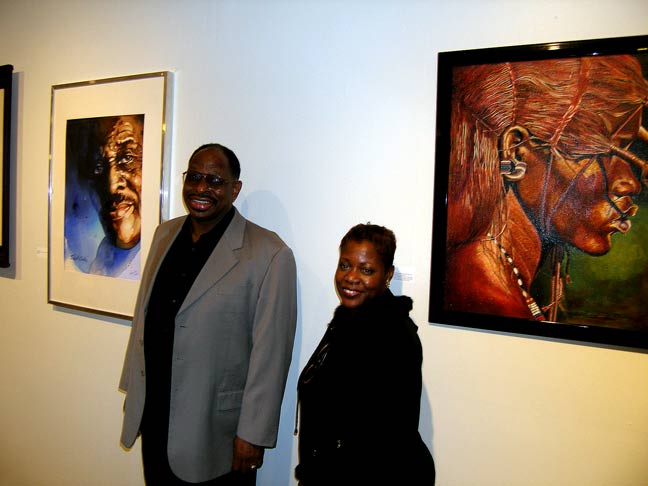 James Gayles & art (left) - Adunni & art (right).


Art (James Gayles).


Art (James Gayles).


***
John Pence Gallery: Travis Schlaht - Recent Oil Paintings.
Comment: A versatile display of still lifes, landscapes, portraiture, and trompe l'oeils, a number looking fresh out of the late 19th or early 20th centuries in style, a handful imminently approximating Emil Carlsen. Pretty copasetic fare for the most part, reflective and easy on the anima, except for maybe the distilled beverage still-lifes-- good enough to get you tipsy or at least in the mood. Prices range $2K-$12.5K, the majority under $5K, a respectable percentage sold. Travis Schlaht tells me he was born and raised in Merced, then moved to New York City where he's lived for the past six years. Travis-- there's a word for that: Congratulations!
Art.


Art.


Travis Schlaht - art.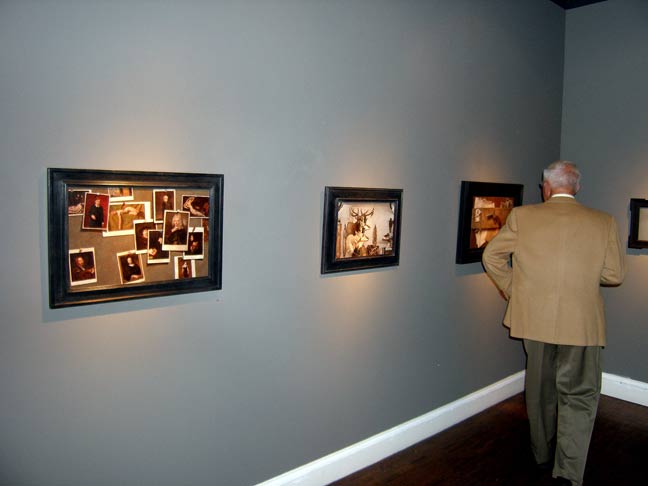 Art.


Art.


Ambience.


***
Gallery One: Jerry Garcia Art Tour 2004-2005.
Comment: Tribute to the life and art of the incomparable Jerry Garcia, complete with altar, photographs of Garcia at various points during his career, and live Greatful Dead music performed by "The Sleepy Alligator." The music's pretty genuine and there's even a couple of authentic Hippies whirling Dervish-style to the tunes. The opening was underpublicized, actually a good thing, otherwise the gallery would have been jammed to overflow. The art's mainly editions, accessories, and such. The event marks the Grand Opening and Jerry Garcia art book release party for a show that'll tour the nation
Art.


Altar.


Book - accessories.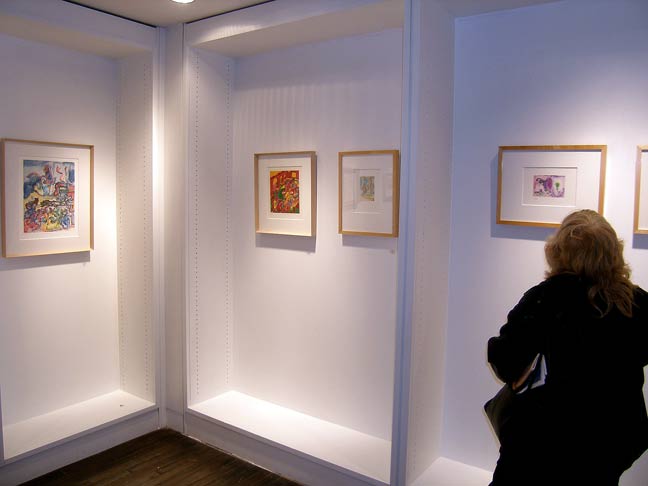 Art.


Tunes.


Facility.


***
Juice Design: Landscapes and Character - Artwork by Joel Dugan & Alicia McDole.
Comment: The landscape part of the show is courtesy of Joel Dugan, maritime coastal scenes-- clean, introspective, moody, spare. These are Dugan's first photographs (auspicious start), and a continuation of his ongoing investigations into the many ways coastal proximity impacts and influences life in the Northeast United States. The character part belongs to Alicia McDole, mostly portraits, mostly smaller, convincingly conveying the characters of their subjects. And there you go. Priced $50-$400.
Photographs (Joel Dugan).


Photography (Alicia McDole).


Joel Dugan - photos.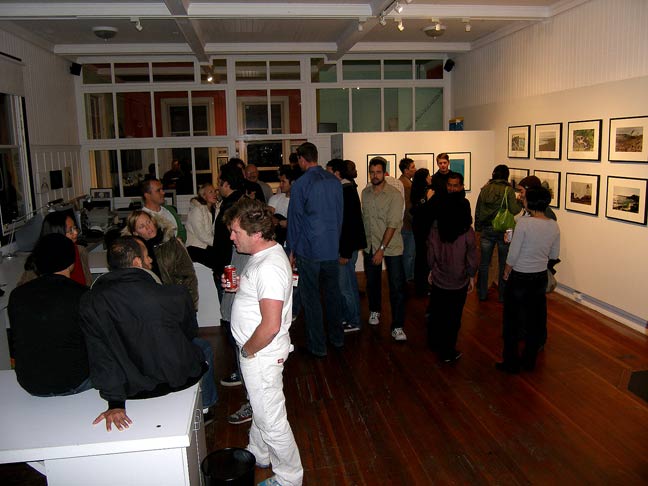 Head count.


***
Levy Art & Architecture: All the Lives We Haven't Lived Because We're Living This One by Robert Geshlider.
Comment: Very odd stuff here; a handful of post-modern sculpturals displayed in a bed of sand are made of printed plaster and cyanoacrylate (I think that's super glue). They look kind of like Thalidomide Memphis. The larger pieces are bouyantly folky.
Art.


Art.


Art.


***
Tinhorn Public Works: He Remembereth That We Are Dust - Works by Grady and Riley McFerrin.
Comment: Something happened to Tinhorn. Suddenly it's really interesting. I haven't covered a show here before though I've been to several. That's about to change because brothers Grady and Riley McFerrin, collaborating as "The Mechanical Press," transform Tinhorn Public Works into a walk-through survivalist frontier man-against-the-elements diorama with guns and woods and snow and game and cabins and beards and mountains and a wigged out Satyr-esque buck-bottom hunter-top rifle-weiding contraption that greets you as you walk through the front door. As the McFerrin brothers know, all good backcountry dioramas need art, so they've festooned the walls with plenty of that. Extra added bonus-- the whole shootin' match waxes festive-- perfect for The Holidays.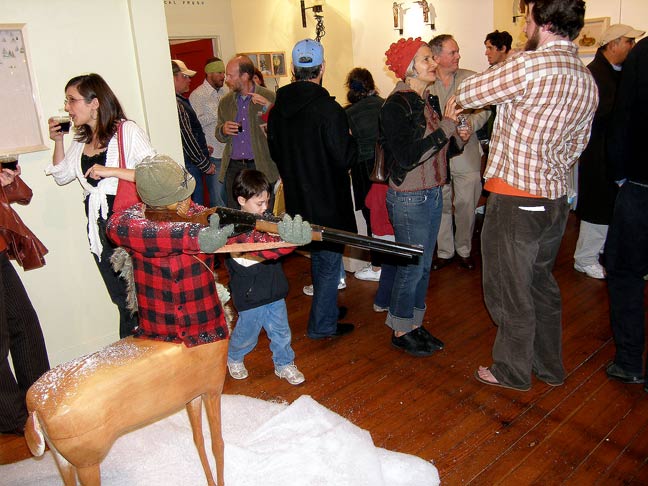 Welcoming committee.


Art.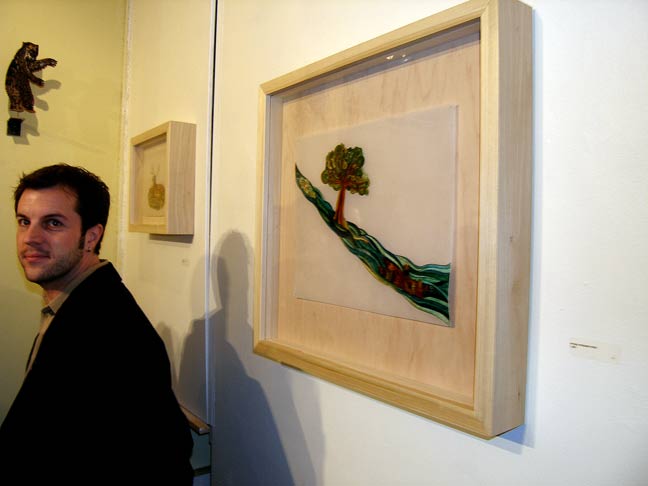 Art.


Riley McFerrin (he's the younger one).


Grady McFerrin (he's the older one).


Site.


Through the front window.


***
California Modern Gallery: Abstractions '05.
Artists: Ray Buffalo, Stela Mandel, Pierre Guettier, Mike Puccio, Rene Fressola, Sidnea D'Amico, Rob Racine, Paule Dubois Dupuis, Nikolai Atanassov, others.
Comment: Journeyman abstract paintings, take your pick, mix-and-match, all sizes, $500 - $5600, most $800-$2000.
Art.


These were unusual-- kinda liked 'em.


Art (Stela Mandel).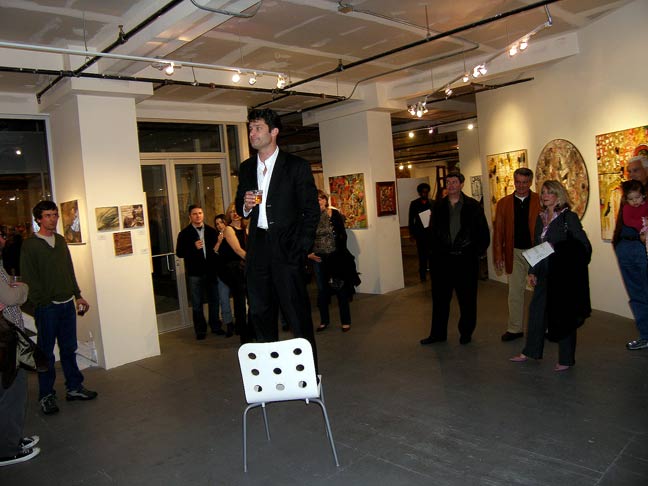 Gallery owner Risley Sams thanks everybody for everything.


Art (Nikolai Atanassov).


Ray Buffalo - offspring - art.


Art (Rene Fressola).


Art.


Art (Stela Mandel).


Art.


Art.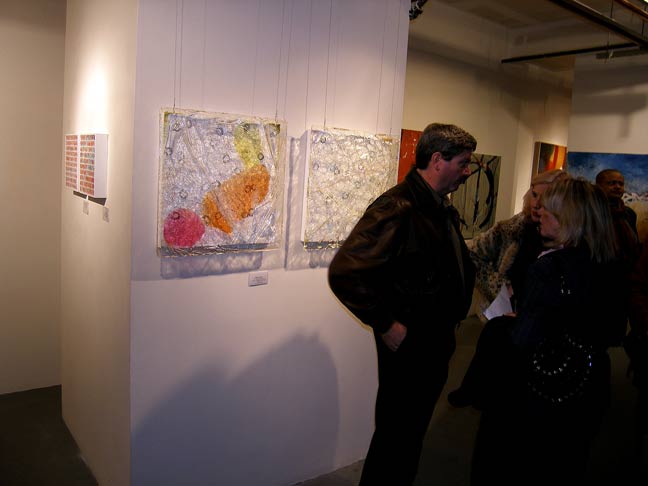 Art.


***
Sub Rosa Salon des Arts, 352 Sixth Street, San Francisco, CA 94103; 415.867.6005: Chromatic Fantasy and Fugue - Portraits by Catherine Brooks.
Comment: Olympia, Washington expatriate and Crown Point Press master printer Catherine Brooks pencils up a batch of agreeably out of kilter portraits, mainly people she knows. Everything appearing in her compositions is cognitively accounted for, including the backgrounds, meaning she has specific well-thought-out reasons for what it means, why it's there, and how it contributes to the whole. I'm a big fan of deliberacy. In case you're wondering, all those little white rectangles on the walls are painted over places where art hung at previous shows (sort of a work in progress, I suppose).
Catherine Brooks - art.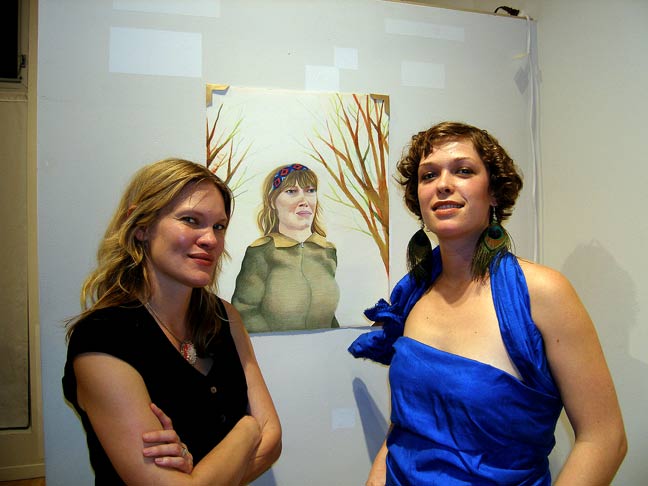 Subject - portrait - artist.


Art.


Art.


Line up.


***
One Taste Urban Retreat Center: The Secret Garden - A Celebration of Women in Art.
Artists: dominni, Donna DeBonis, miranda c. burns, Kyle Spencer, Dana Levitt, Elizabeth Cline, Laura Thompson, Raina Woolfolk, Ruchi, Spencer Franklin, Stacee Gillelen (Dragonfly Design), Cheryl Stone, Florencia Aleman, Mariclare Cole, priya gheysari, Rachel Forbes, Bonneville-Hoffman, Cheryl Drake, Dawn Athena grace Kourage, EarthlynCreation's, Elizabeth Flanagan, F. Fox Frohlich, Kaysi Contreras (CHULA Designs), Kendra Cunov, Tara L. Shorey, redvelvet, Sara Chieco, Shelly Birger, Tisha Kenny, Tracy Pitts,
Comment: The Secret Garden is a "year-round community that provides women the inspiration to perfect their art and launch their own creative business ventures." About 30 women participate here at One Taste in this notably warm and fuzzy night of art, apparel, jewelry, mixed media works, painting and more. Plus performers, music, DJ's, bodywork, wine, and plenty of positivity with a dash of New Age spiritual harmony. Two floors of enjoyment.
Art - artist.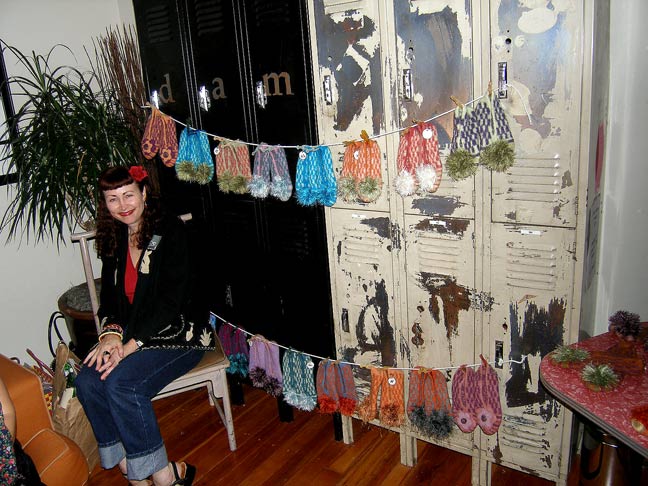 Art - artist.


Tara L. Shorey - art.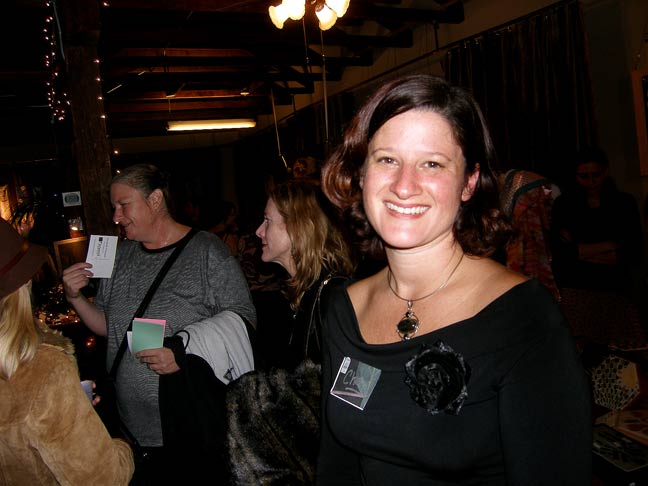 Cheryl Stone - producer/creator of Secret Garden.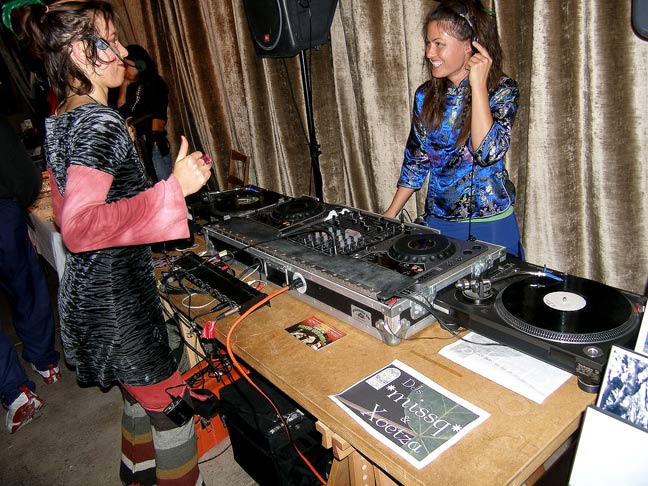 Tunes (first floor).


Not what I wanna see when I lift the toilet seat.


Tunes (second floor).


Second floor situational.


***
Adobe Books: Earth, Wind and Fire - Suzanne Husky in the backroom & front window, Emily Sevier in the main space & front window.
Comment: Suzanne Husky sews up a roomful of pretend rocks and arranges them into a mini-rockscape with narrow path so you can take a hike. Curator Eleanor Harwood tells me the rocks represent materials cities are made of, signify the importation of those materials from other places to build our cities, point up that hardly any of these materials are native to cities to begin with, and so on and so forth. OK.
So here's the deal-- if you're gonna make art with a message or a story, that message or story has to be at least somewhat apparent in the art. You can't just make everything up and go, "This means this and that signifies that because I say it does." Support your contentions. Without Eleanor Harwood explaining the installation, I'm clueless (hold the rejoinders, please)-- and she's not included in the purchase price. I might as well fill a jar with water, insert a piece of toast, say it represents the tears cried by all the starving people around the world, and here's the amazing part-- put a price on it and offer it for sale. Any takers?
That said, I like the rocks plus the layout-- pleasingly persuasive-- plus Emily Sevier's faux sewn storm clouds in the main room get a positive nod. I forgot to look in the front window, but since I like everything else, I'll probably like whatever's there too. All competently crafted and displayed.
Rock art (Suzanne Husky).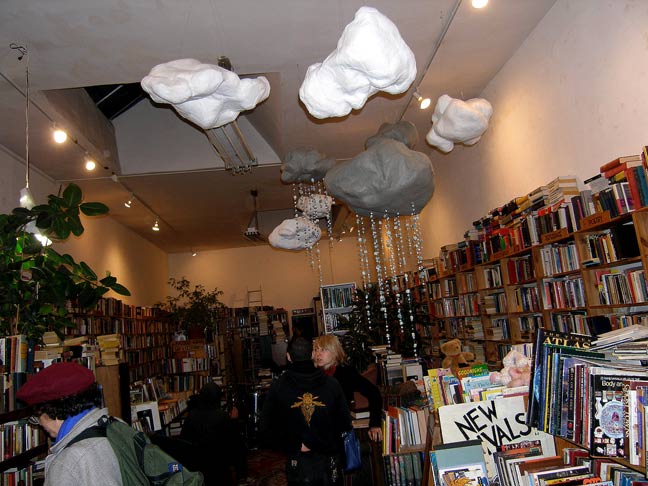 Cloud art (Emily Sevier).


Suzanne Husky and Adobe domo Andrew McKinley.


Rock art (Suzanne Husky).


***
Space Gallery: Introspection - Public vs Private.
Artists: Alejandro Alvarez, Amanda Lopez, Andrea Hatch, Angelica Realce, Brett Fisher, Craig Sherod, Heather Kelly, Holman Turner, Jadelyn Goh, Jill Bittner, Kari Orvik, Li Beltran, Michael Boschetti, Michelle Gibson, Najib Joe Hakim, Samantha Morton, Silvana Di Franco, Spencer Brown, Victoria Charles.
Comment: Group show of portrait photography by students of photographer Holman Turner, and by Holman Turner himself. Turner teaches at City College of San Francisco.
Photograph (Holman Turner).


Photography.


Photographer & self-portrait.


Photos.


Photographs.


Photography.


Image.


Photos.


***
Addendum:
1950's/60's watercolors by Key West artist Carolyn Bowman
at Le Trianon Gallery.


Sharon Virtue at diPietro Todd Salon.


One more diPietro Todd, 2239 Fillmore St.


Windy Brown at Olive, 743 Larkin St., San Francisco, CA 94109; 415.776.9814.


Windy Brown.


Fundraiser auction for at Star Mountain Art at Architectural Elements.


Another Architectural Elements, 573 Valencia St SF, CA 94110; 415.252.8370.