***

Get your art fix fast: Instagram @alanbamberger
***
CK Contemporary: Jamie Perry - New Americana
Comment by AB: You would never expect to come across these scenarios, but then again, you could easily believe any one of them if you did. Plus there's faceless figures galore, famous works of modern art, high points in Postwar architecture and all kinds of other fun stuff. Stop on by.

Art by Jamie Perry at CK Contemporary. Will you finish the dives already?


Art by Jamie Perry.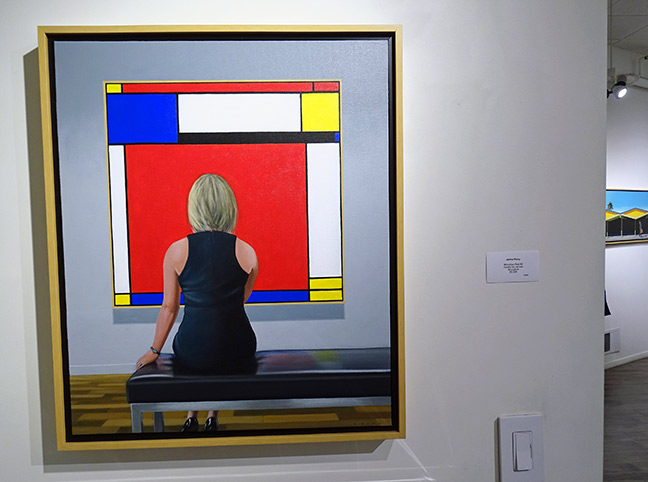 Looking-at-art art by Jamie Perry.


Jamie Perry and his art at CK Contemporary.


Art by Jamie Perry.


Jamie Perry art.


Looking at others looking at things. Jamie Perry voyeuristic art.


***
Guerrero Gallery: Umar Rashid - The Free Radicals; Tosha Stimage - These Are Not Isolated Events
Comment by AB: A satisfying show rich with compelling historical commentaries on social, political and power struggle conflicts. Whether you're up to speed on the specifics or not, calls to action are everywhere. It all starts with art. Good show.

Umar Rashid and his art at Guerrero Gallery.


Ethnographically influenced art by Umar Rashid.


Small-format works by Umar Rashid.


Art in above image closer.


Art in above image closer.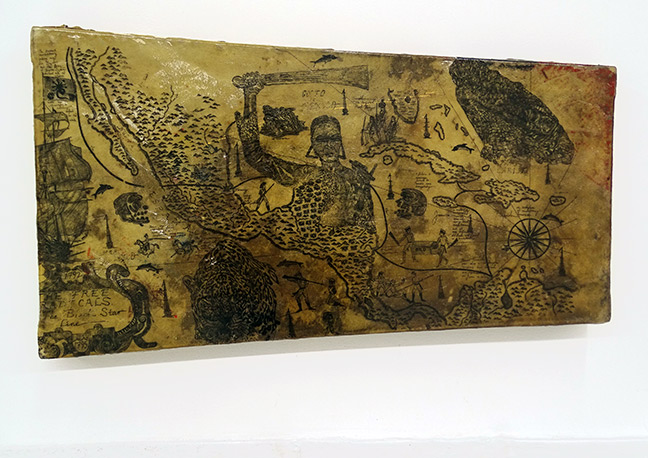 Umar Rashid historical commentary art.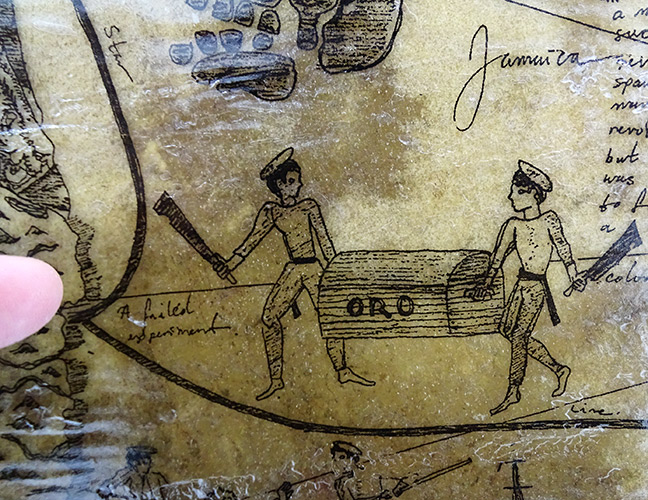 Pinkie cam detail of art in above image.


Umar Rashid art.


***
Tyler Wood Gallery: A Spectrum in Retrospect - Chason Matthams
Comment by AB: An admirable meld of photorealism, fantasy and abstract prismatic adventures.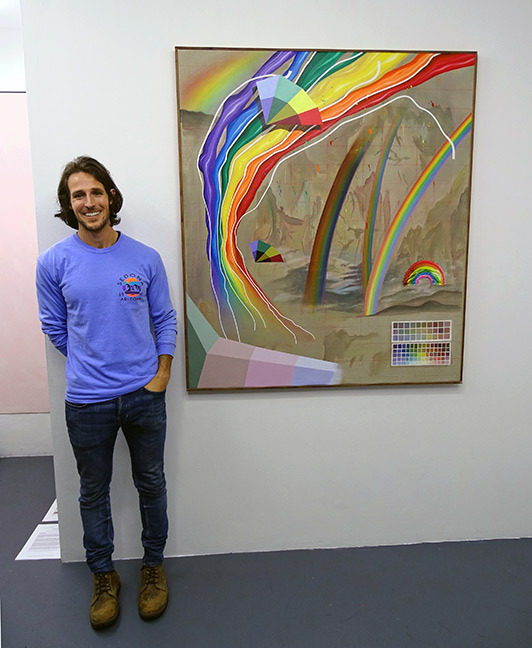 Chason Matthams and his art at Tyler Wood Gallery.


Quality photorealist art by Chason Matthams.


Prismatic art with some ambiguous anatomy by Chason Matthams.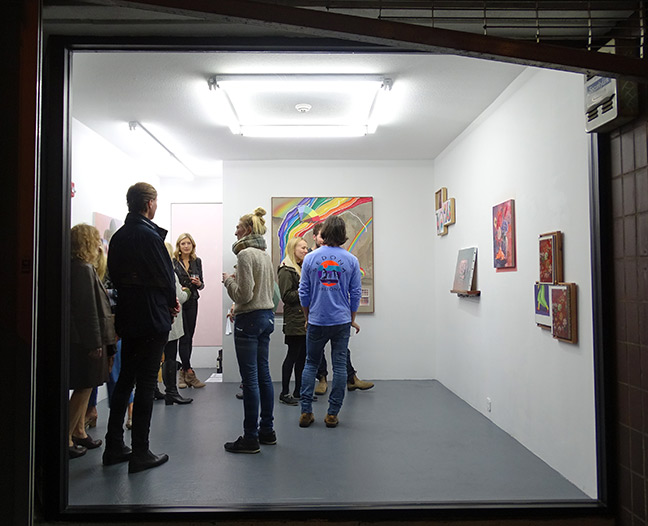 The whole shebang - Chason Matthams art show at Tyler Wood Gallery.


***
R/SF Projects: Maryam Yousif - Shamiram's Delight
Comment by AB: "Matriarchal prowess" in ancient civilizations. Like it.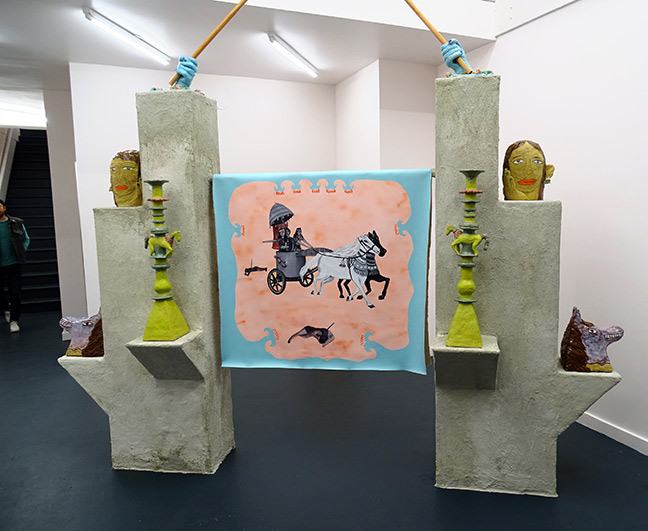 Riffs on ancient civilizations by Maryam Yousif at R/SF Projects.


Ceramic art in above image closer.


Art by Maryam Yousif.


Maryam Yousif and her art in top image closer.


Top of installation in top image.


Matriarchal macrame and ceramic by Maryam Yousif.


Maryam Yousif ceramic art up close.


***
Arc Gallery: Luminous - National Juried Exhibition
Artists: Brandin Baron, Robin Becker, Laurie Borggreve, Kristen Brown, Ron Colbroth, Judy Doherty, Jennifer Ewing, Andrew Faulkner, Michael Fischerkeller, Cathleen Francisco, Xia Gao, Jenny Hale, Gary Hauser, Ginny B. Heenan, Lynn Jaye, Blond Jenny, Eric Kelly, Arthur Koch, Stephen Mangum, Michelle Mansour, Soni Martin, Katherine McDowell, Erika Morillo, Karen Olsen-Dunn, Robert Pendleton, Jenny Phillips, Juan Reyes, Katie Richardson, Anita Sagastegui, Mike Sonnichsen, Diane Szczepaniak, Pep Ventosa.
Comment by AB: Luminous can mean many things. And some of those things are on display here.

Manequin with a light show inside by Lynn Jaye at Arc Gallery.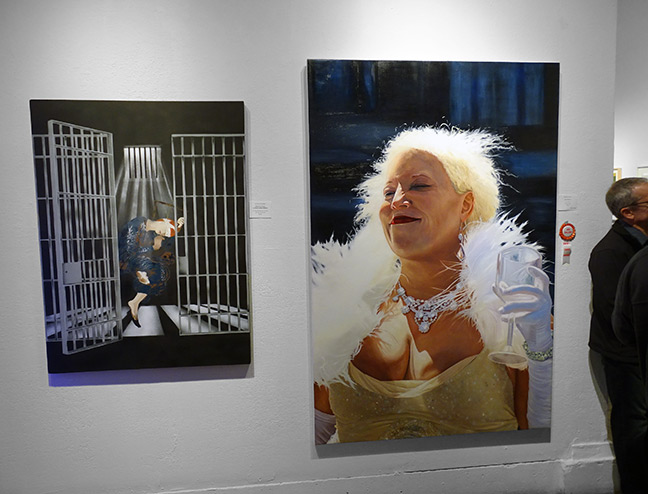 L-R, art by Michael Fischerkeller and .


Digital image by Gary Hauser.


Overview - group art show at Arc Gallery.


***