SAN FRANCISCO ART GALLERIES - OPENINGS
SF ARTS COMMISSION - CALIFORNIA ACADEMY OF SCIENCES
PASQUALE IANNETTI - DAVID CUNNINGHAM - BOB PRITIKIN
11.15.07
San Francisco Arts Commission Gallery: Amber Hasselbring - Mission Greenbelt Campaign Headquarters.
Comment: Not really an art show, but rather an instructional introduction to how San Franciscans can create their own "urban earth artwork" (aka grow sidewalk gardens). The Mission District "Greenbelt," located between Franklin Square Park and Dolores Park and mapped out on a gallery wall, is the focus of this project. Sidewalk gardens planted there are designed to consist of native plants and to be located in front of homes, apartment buildings, storefronts, and schools. Complete rules, regulations, recommendations, and suggestions for cultivating your sidewalk garden can be found at the gallery.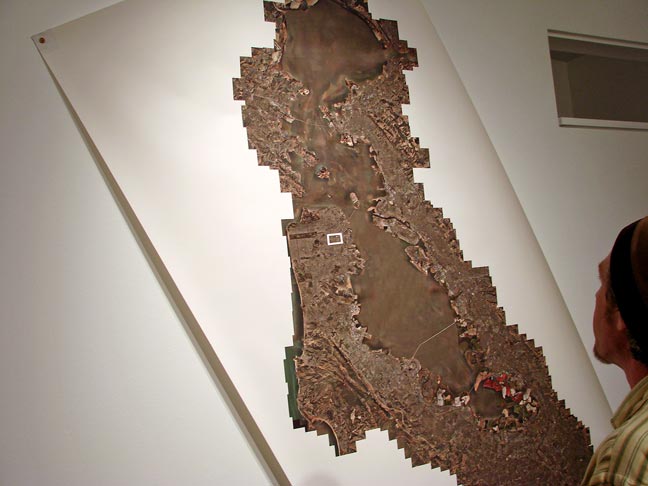 Mission Greenbelt aerial, outlined in white rectangle.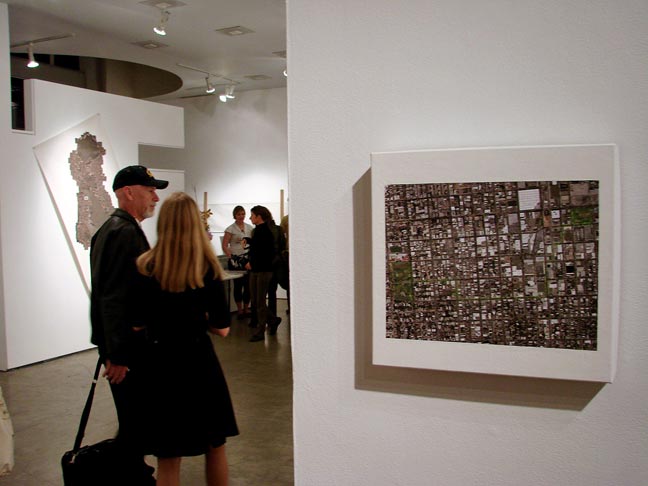 Mission Greenbelt from above.


Mission Greenbelt puzzle.


Your basic sidewalk garden.


Stipulations.


Headquarters.


***
California Academy of Sciences: Tiffany Bozic - From the Depths. 
Comment: Art meets science with the science part being photographs, preserved specimens, and live fish in arty tanks from the Academy's Invertebrate Zoology collection. The art part is a series of new works Tiffany Bozic, the concept being what the Academy of Sciences' marine invertebrate collections might look like through the eyes of an artist. And Bozic delivers a stunning Atlantis fantasy played out in paintings and drawings. She tells me her remarkable compositions on wood are created with acrylic paints diluted to a point where they appear more like stains than paint, with the wood grain faintly visible beneath her shimmering translucent excursions. Bozic's the best; go see.
Art.


Art.


Tiffany Bozic.


Art.


Art.


Art, left - museum collection, right.


Art.


***
Pasquale Iannetti Art Galleries: Grand Opening, New Location.
Comment: Pasquali Iannetti Galleries relocates down the block to spacious new digs featuring a wide selection of paintings, drawings, prints, watercolors, graphics, posters, sculptures, and a balcony, with everything but the balcony by European, American, and Latin American old and modern masters. I don't know whether the balcony's gonna be open during regular business hours, but there's a room up there that houses Iannetti's impressive personal art reference library, and as an antiquarian art book dude, an effective art library is one thing I always appreciate. Art dealers take note (and less so, but still in the ballpark, artists)-- you're only as good as your library.
Here we are.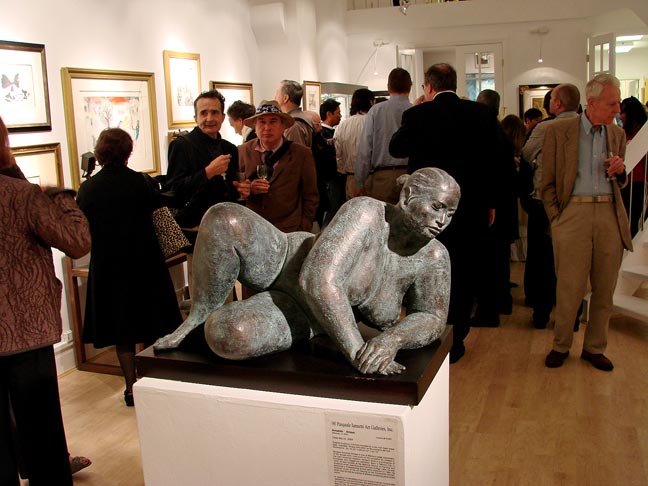 Art.


Art.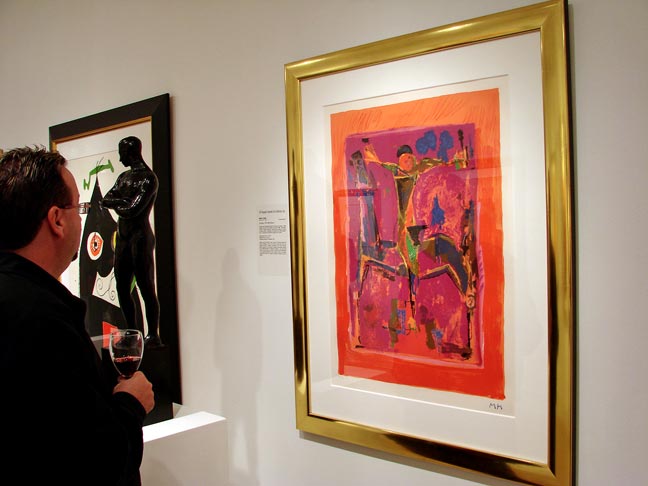 Art.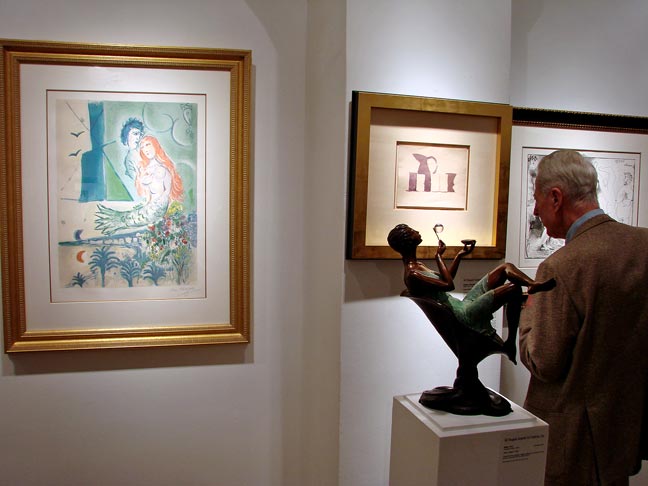 Art.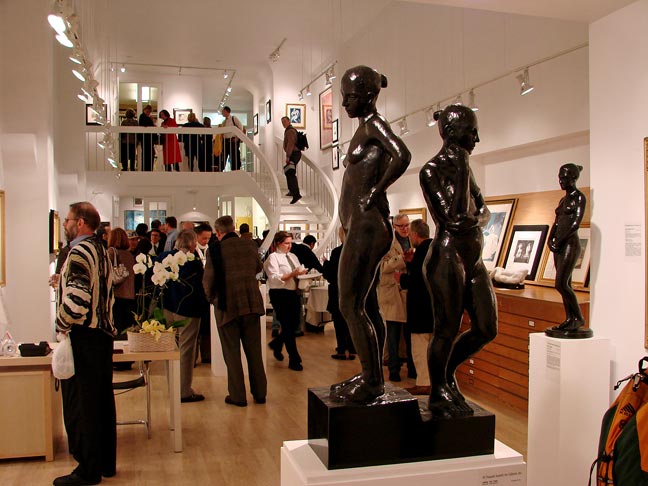 Down.


Up.


Down again.


Pasquale Iannetti and associate.


***
David Cunningham Projects: Austin McQuinn - The Force of Destiny.
Comment: Artist and performer Austin McQuinn, inspired by Giuseppe Verdi's opera, The Force of Destiny, plays a batty sculptor attempting to construct and enact the entire opera out of plaster and thrift store throwaways. Watching McQuinn at work is disquietingly captivating as he looks so wild (dressed all in white, his face caked in plaster), you think he might come unhinged at any instant. Accompanying the performance (which itself is being filmed) is a black and white video similar in plotline, several sculptures, a framed picture or two, and a tapestry.
Austin McQuinn - performance artist.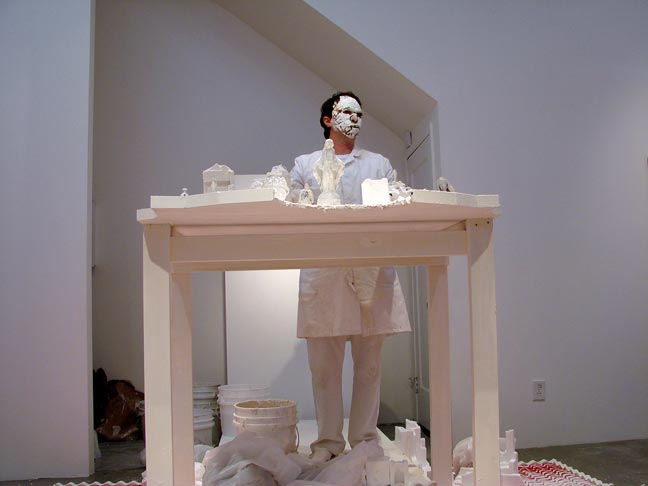 Performance art.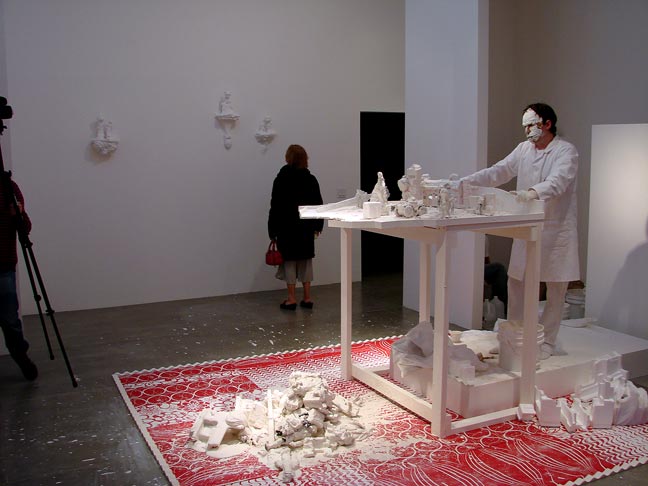 Performance art.


Performance art.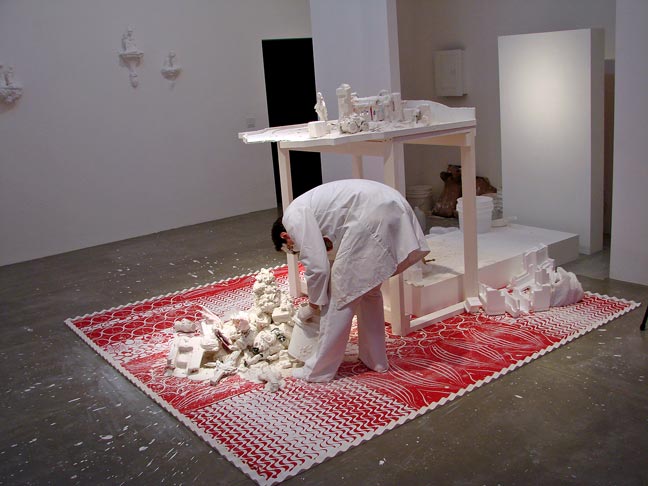 Performance art.


Documenting the incident.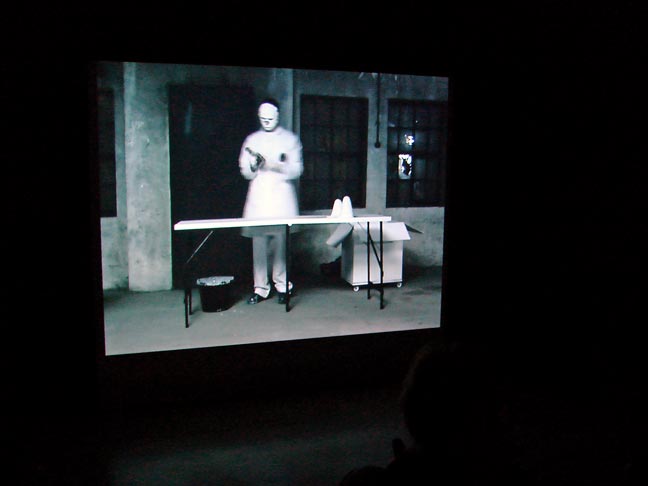 Accompanying video.


***
Chenery House: Robert C. Pritikin Sitdown Dinner.
Comment: Intimate dinner honors Italian master wood sculptor Livio De Marchi hosted by incomparable iconoclast Bob Pritikin. Pritikin owns a De Marchi carving of a topcoat that "hangs" on the wall, looking oh so real you truly believe you can take it down and put it on. And a fine time was had by all... let me assure you.
Livio De Marchi - art.


Bob Pritikin - host.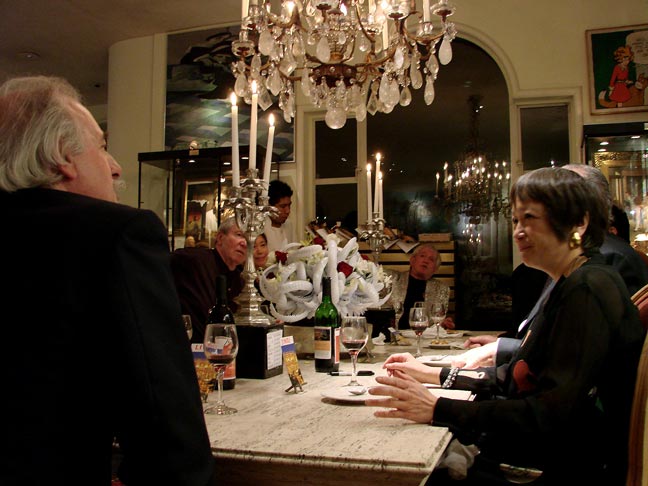 Occasion.


Occurence.


Affair.


***