SAN FRANCISCO ART GALLERIES - OPENINGS
SUPERVISOR AARON PESKIN
MODERNISM - SCULPTURESITE GALLERY- TIMBUK2
SAN FRANCISCO MUSEUM OF CRAFTS AND DESIGN
11.16.06
Supervisor Aaron Peskin: Peter Eller & Eugenio de Arnal - Surrealism, Modernism, and the Sublime.
Comment: Creative confluence of Mexican American surrealist Eugenio de Arnal and Bulgarian modernist Peter Eller. Supervisor Aaron Peskin appears to be firing up regular art shows at his City Hall offices. Here's an idea-- since Supervisor Ross Mirkarimi has art shows too, why don't the two of you synchronize your openings. Hint: Mirkarimi's are on the third Friday of the month.
Art (Peter Eller); Supervisor Aaron Peskin (center).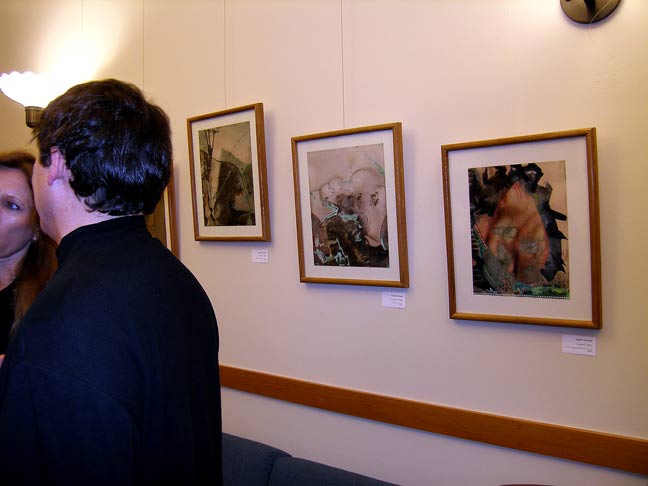 Art (Eugenio de Arnal).


Art (Eugenio de Arnal).


Art (Peter Eller).


Art (Eugenio de Arnal).


Art (Peter Eller).


***
Modernism Gallery: Jonathon Keats - Speculations.
Comment: Jonathon Keats, in fit of income-enhancing brilliance, moonlights at Modernism by selling real estate in the fourth, fifth, and sixth dimensions. Prices start at under a dime which means there's still time to get in on the ground floor and ahead of those pesky speculators. Plus all buyers get official proof of purchase documents. In case you're interested, and I know you are, I winter in the fifth dimension-- been doing so for years. It's really quite nice, like never having to leave home-- mainly because you never have to leave home (overlapping planar dimensions... duh). I'm not in it for the money either-- never was. But since Keats has gone public, I've experienced a nice bump up in the value of my lot.
Deciding what type of property to buy.


Deciding what location to buy it in.


Making the purchase.


Preparing to receive the deed.


Recording the deed.


Recording the deed close-up.


Ownership documents.


Can't wait to move in.


***
Sculpturesite Gallery: Peter Schifrin - Love/Fear.
Comment: Sculptor Peter Schifrin signs copies of his new book, "Love and Fear - The Sculpture of Peter Schifrin." Book price is $90; the one-of-a-kind bronze and steel sculptures on display at the gallery are $18k each.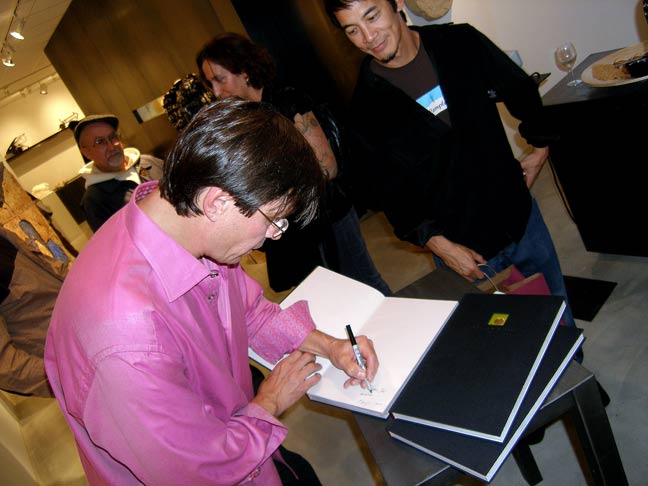 May I take your picture for a local website? Thanks.


Peter Schifrin.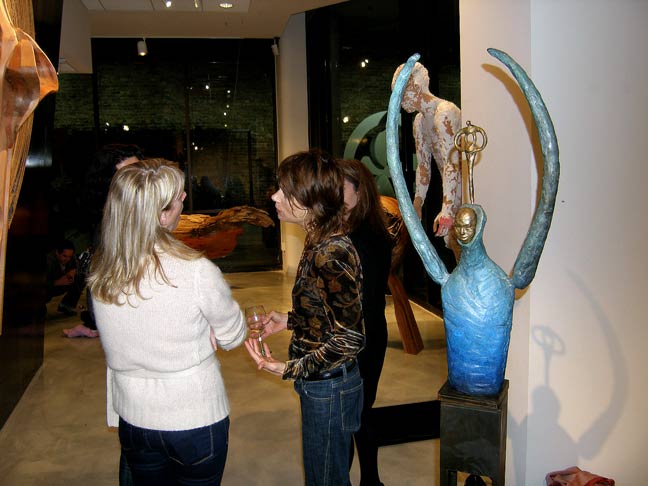 Sculpture.


Sculpture.


***
San Francisco Museum of Crafts and Design: Joyce J. Scott - Kickin' It.
Comment: I'm gonna ratchet the title of Joyce J. Scott's thirty-year retrospective up a notch or two from Kickin' It to Kickin' Ass. Her momentously magnificent work includes textiles, fashion, jewelry, prints, sculpture, beadwork, and more. And everything is excellent, she's mastered many mediums, and the time, attention to detail, and care apparent in her art are inspiring to say the least. One of my favorite pieces in the show is an elaborate Chinese-style beaded necklace with Black Panther subject matter. And her riotously unbridled freestyle quilted textile wallhangings are to die for. Must see show. Speaking of must, I must confess, I didn't even know this was a museum (it used to be a gallery) until tonight, but it's been that way for over a year. Check it out.
Art.


Art.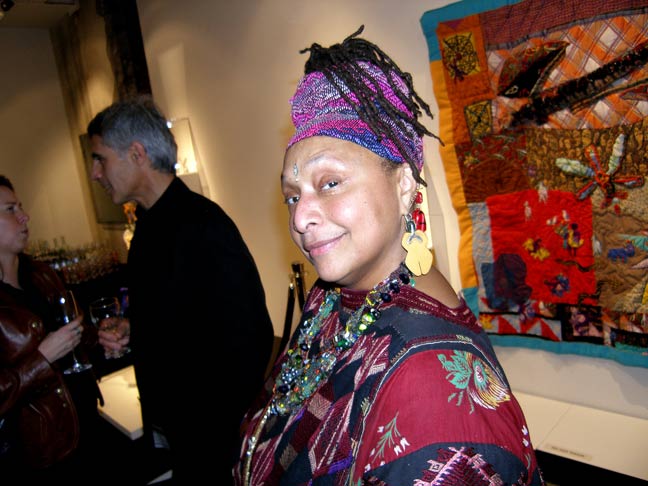 Joyce J. Scott.


Art.


Art.


Beaded Black Panther necklace, 1979 (left).


More beadwork.


Art.


***
Timbuk2 Store: DAVe (Dave Warnke) - Painted Bags.
Comment: DAVe shows six hand painted Timbuk2 bags in this combination art show and fundraiser for his youth program, Street Styles, an after school visual art workshop open to all San Francisco high school students that teaches the history, techniques, and styles of "street art."
Bag art.


DAVe arts it up to raise money for Street Styles.


Bag art.


Bag art.


Timbuk2 interior.


***