SAN FRANCISCO ART GALLERIES - OPENINGS
MODERNISM - SCULPTURESITE GALLERY
SAN FRANCISCO MUSEUM OF CRAFTS AND DESIGN
REPORTED BY CAROLINE ANDREOLLE
11.16.06
Modernism Gallery: Jonathon Keats - Speculations.
Comment: In the vibe and matter reminiscent of Flaubert's Bouvard and Pecuchet, Jonathon Keats explores the limits of science, taking them to a comic turn of art. Where humanities, sciences, and unexplored dimensions of thoughts meet, that's where you'll find Jonathon Keats. In a 3-piece timeless suit which transports you to the 19th century, the futuristic thinker enthusiastically hashes out the nuts and bolts of string theory, and for an instant, transports you into an otherworldly vision of our busy planet. Check it out! It'll make you think, it'll make you smile, and it might take you into another dimension... for a second... or a couple of yards... or something else...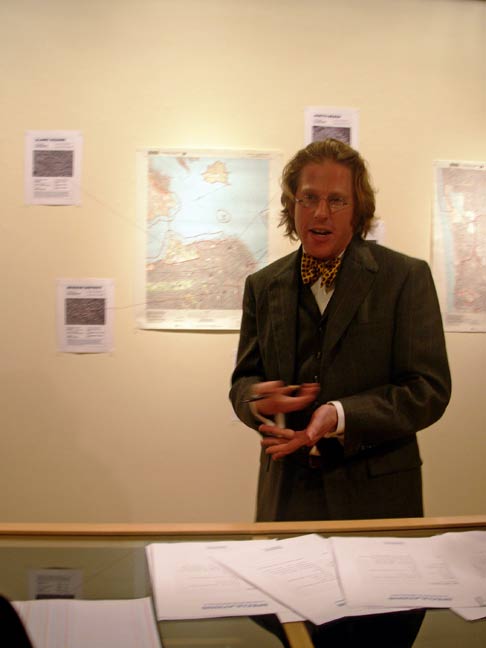 Jonathon Keats.


Art.


***
Sculpturesite Gallery: Peter Schifrin - Love/Fear.
Comment: Peter Schifrin has a 'hands on' approach to making sculpture, and to explaining it... and he wants you to do the same. His sculptures have Giacometti's thinness and palpable quality. Whoever sees them is bound to be attracted, want to take a closer look at these elongated figures that seem to strive to boil down to the essence. Just like the artist, they are reaching out, unashamedly; they are fully engaged in the act and seem to show off their hands to emphasize the tactile and gestured nature of their being. They spin, they smile, they fear, and they are left to your mercy, if you dare touch them, remove their faces for a jollier, or scarier, look. Emblazed with symbolic meaning, these bronze figures seem reminiscent of the Comedia Dell'Arte in their posture, their exaggerated movement, their masks. Each figure comes with its own 3 masks: one for love, one for fear, and one for this state of transition. No, you don't have to always use the transition mask if you wish to make a change in your bronze alter ego; you can whimsically go from fear to love and love to fear, and see how the faces change the sculpture and leave a different mark on your imagination.
The shapes are subtle, and there are more details to unfold as you spin the figure, and find a coin freely set in a cove, there for your childish pleasure of discovering a secret coin, dug into the figure's back. Pick the coin, and you will find that if love is heads, the tail will be fear (and not hate, emphasizes Peter Schifrin), for the artist believes fear inhibits love, not hate.
The art is an experience, and to those anime fans, it will most certainly remind of Miyazaki's watery guest from "Spirited Away" (original title: "Sen to Chihiro no kamikakushi") wanting to please the object of its existence, reaching out to keep it close, seducing it with unrestrained yet controlled want for love... Seductive, and yet, one has to ask if, even in our time and age, Peter Schifrin will manage, through Scupturesite, to get his viewers to break away from the museum effect, and seduce us enough into touching the art which we so easily stand there and admire.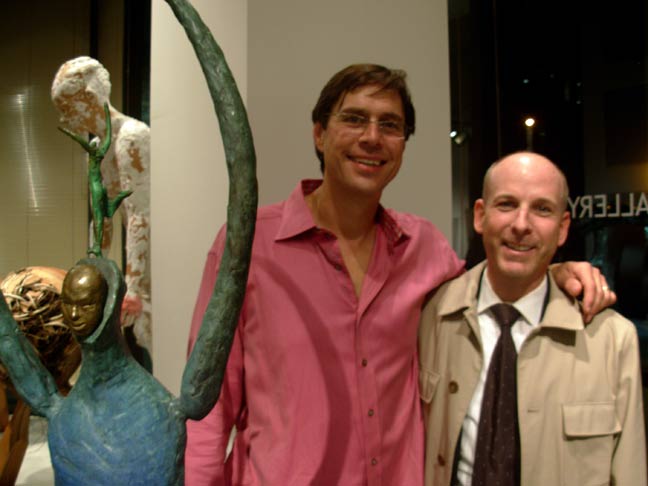 Peter Schifrin (center) - sculpture.


Sculpture.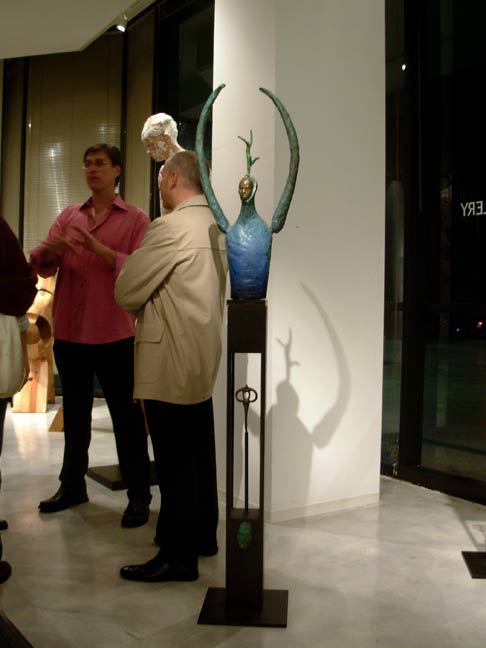 Sculpture.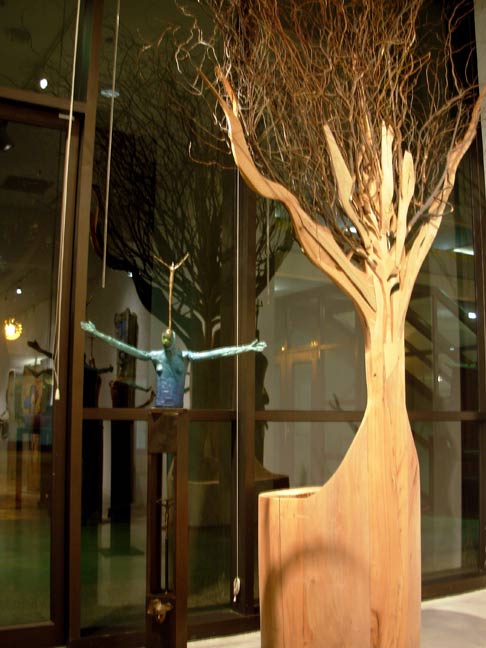 Sculpture (left).


Miyazaki's watery guest from "Spirited Away."


***
San Francisco Museum of Crafts and Design: Joyce J. Scott - Kickin' It.
Comment: Vibrant colors and instinct mark this exhibition. From mixed media patchworks to beaded sculptures, the raw art sometimes screams of racial injustice, fear, and an omnipresent death joins images of angels in a series of drawings and collages. The mixed media seems to mirror the intriguing diversity at the center of certain patchworks and sculptures.
Diversity marks the exhibition and pulls together a melting pot of cultures, from patchworks, which remind us of Southern quilts, to collages evoking El dia de los muertos, and beaded sculptures representing the Hindu Shiva and Buddha.
The colors are bright, the diversity is stunning, and the walk is pleasant, along this gallery of art that just 'puts the heart out there' while artistically representing our society. Kudos to the gallery for gathering eclectic pieces and crafting a unified voice, making a full spectrum of thoughts with apparently incompatible threads.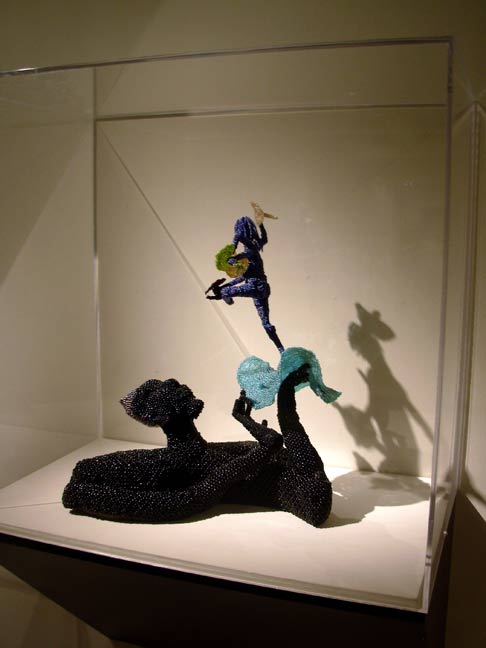 "Buddha Supports Shiva Awakening the Races," 1993 (beads, thread, fabric). Sign reads, "Hindu deity Shiva joyfully dances on the water held in races in celebration of the diversity of mankind."


Art.


In the background, far left, "If life were a tree," 2003 (brown glass, glass beads, thread, mixed media). Patchwork in the background - "Spring to Fall (Four Seasons)," 1991 (yarn, fabric, beads).


Art.


Art.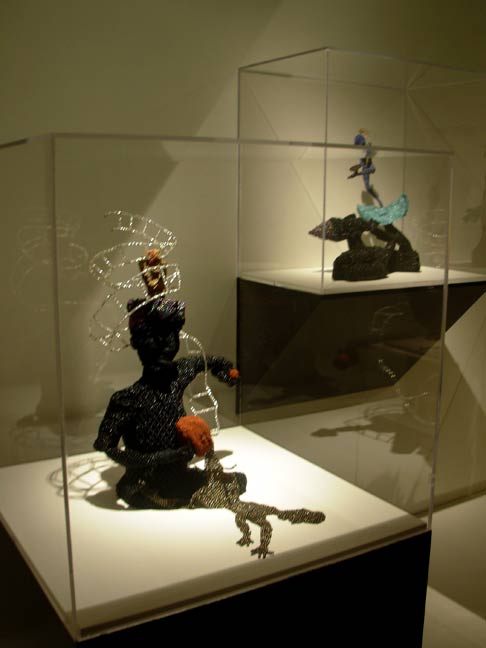 "Buddha gives basketball to the ghetto," 1991 (glass beads, wires, wood, fabric).


***