SAN FRANCISCO ART GALLERIES - OPENINGS
JOHN PENCE - SOAP - AMPERSAND - THE 8 GALLERY
SILVERMAN - PING PONG - SPARE ROOM PROJECT
SECESSION - ROZANOFF - BIG UMBRELLA
(WITH ASSISTANCE FROM DEWITT CHENG)
11.16.07
John Pence Gallery: Jacob Pfeiffer; Randall Sexton.
Comment: Jacob Pfeiffer presents a mind-blowing array of trompe l'oeil paintings ranging from traditional themes like a wagon full of apples to more unexpected arrangements like a floating shoe or impossibly stacked columns of fruits and vegetables. Randall Sexton, meanwhile, paints just about everything else including landscapes, still lifes, cityscapes, and more. But getting back to Pfeiffer, later in the night, an artist asks me whether I've seen anything good, and of course I mention Pfeiffer. He goes, "Yeh, you like that kind of stuff, don't you?" Well, yes I do, but I will never understand the disdain that a certain cavalier contigent of the MFA crowd has for traditional practitioners, no matter how good they are. I will say this, though, that if you artists could paint (or make whatever you make) as well as Jacob Pfeiffer makes his, you know you would. Give credit where credit is due.
Art (Jacob Pfeiffer).


Art (Jacob Pfeiffer).


Art (Jacob Pfeiffer).


Art (Jacob Pfeiffer).


Art (Jacob Pfeiffer).


Art (Randall Sexton).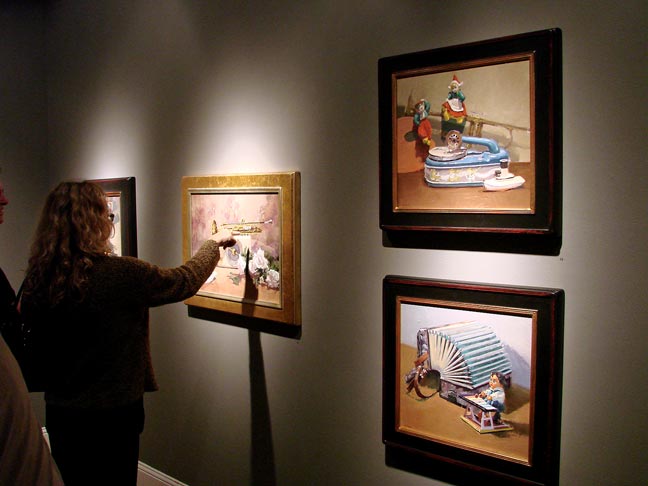 Art (Randall Sexton).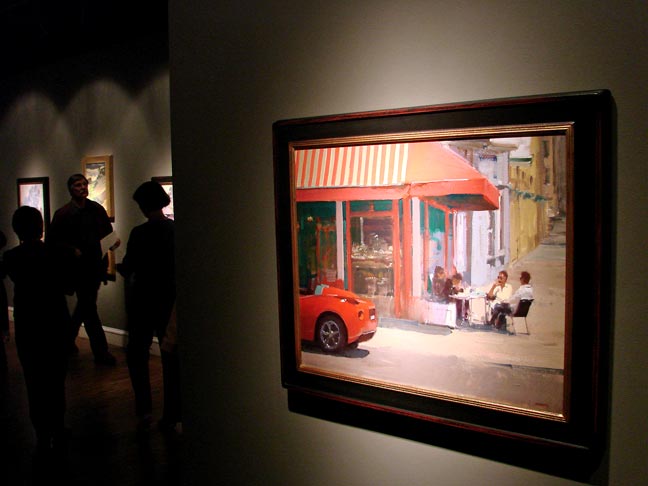 Art (Randall Sexton).


Atelier style wall display in the rear gallery.


***
Soap Gallery: Lisa Mendelson - 10 Pieces of Furniture; Carla Avitabile - Scenes of Folklore and Fantasy; Harvey Mendelson - The World at 2 Miles an Hour.
Comment: Festive final episode for Soap Gallery at this space features wistful images of dilapidated discarded furniture by Lisa Mendelson, an installation by Lisa's 70+ year-old father Harvey based on a 30-day hike he took along the John Muir Trail, and a wiggy display of photographs populated with items of Asian kitsch by Carla Avitabile.
Art (Carla Avitabile).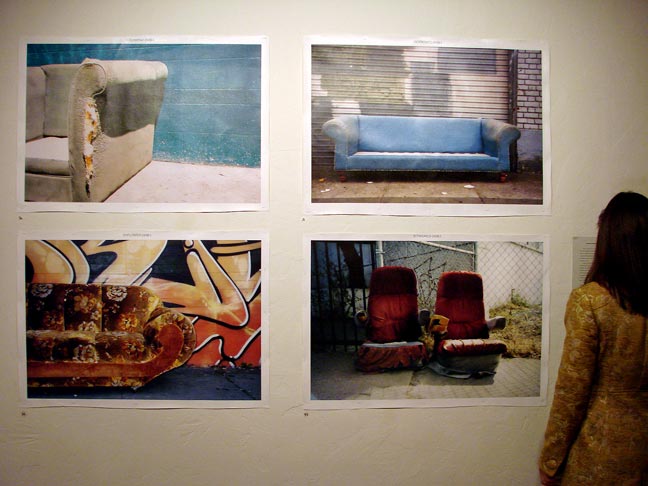 Art (Lisa Mendelson).


Art (Lisa Mendelson).


Art (Harvey Mendelson).


Art (Harvey Mendelson).


Tunes.


***
Ampersand International Arts: Cannelle Tanc - Cities; Frédéric Vincent - Season 1.
Comment: Two Paris artists transport their talents to San Francisco. Cannelle Tanc basically makes intricate criss cross grids out of maps, for example, by excising everything but the streets in certain areas, and then either displays the maps flat or forms them into sculptures. She also shows photos and a screen print with incorporated grids. Frédéric Vincent combines original compositions with the silent sound of vintage record albums and album covers, using the covers as frames or backdrops for his paintings, and painting on and around the records.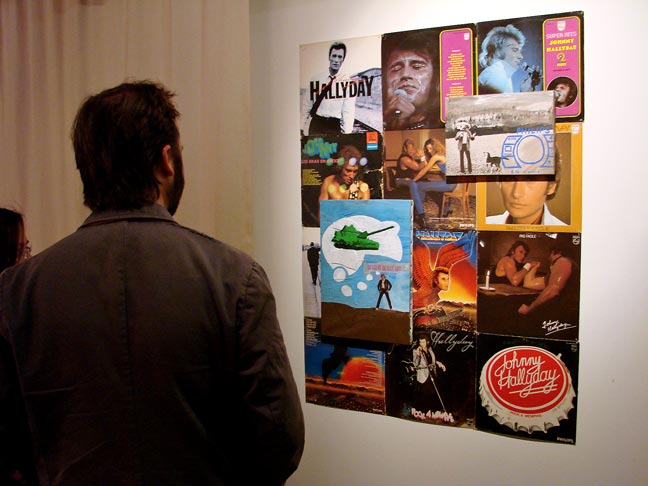 Art (Frédéric Vincent).


Art (Frédéric Vincent).


Art (Frédéric Vincent).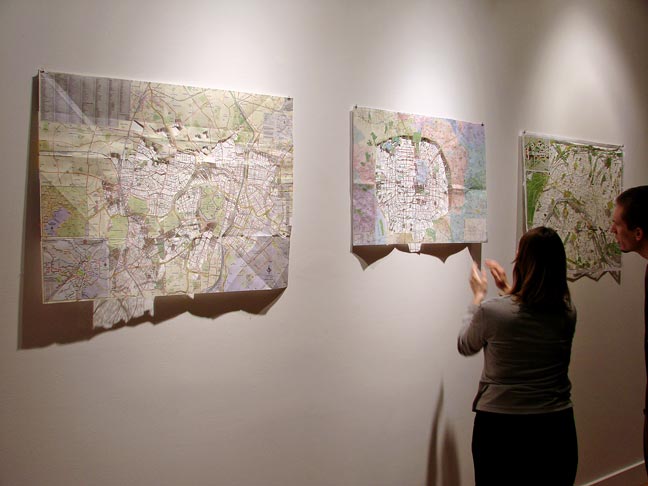 Cannelle Tanc explains her art.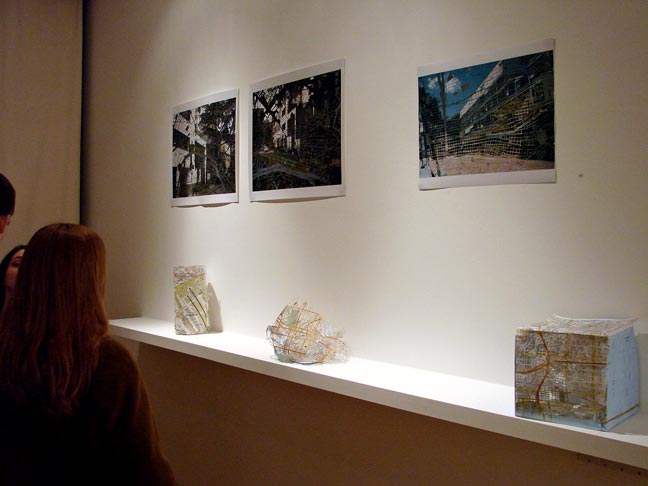 Art (Cannelle Tanc).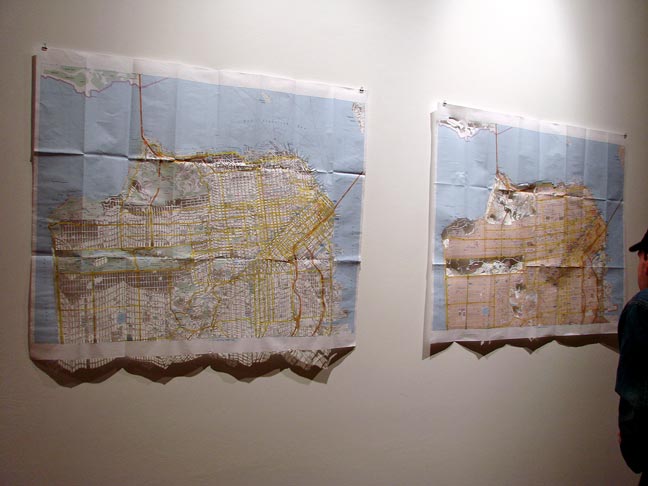 Art (Cannelle Tanc).


***
Silverman Gallery: Nothing Moments Project.
Comment: Mainly small format works on paper and small press publications represent the combined efforts of nearly one hundred writers, artists, and designers.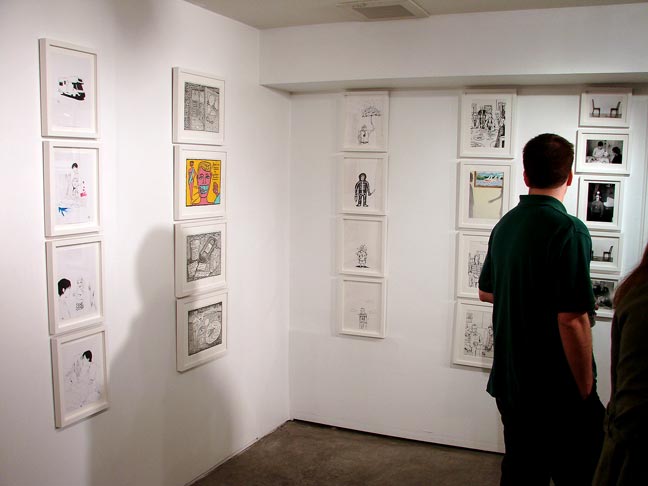 Art.


Art.


Art.


***
Ping Pong Gallery: Ping Pong Happy Hour.
Comment: It's a free-for-all invitational with the artified ping pong table that started it all fully operational and available for gaming, plus sectors for socializing along the outskirts. Human interraction as art.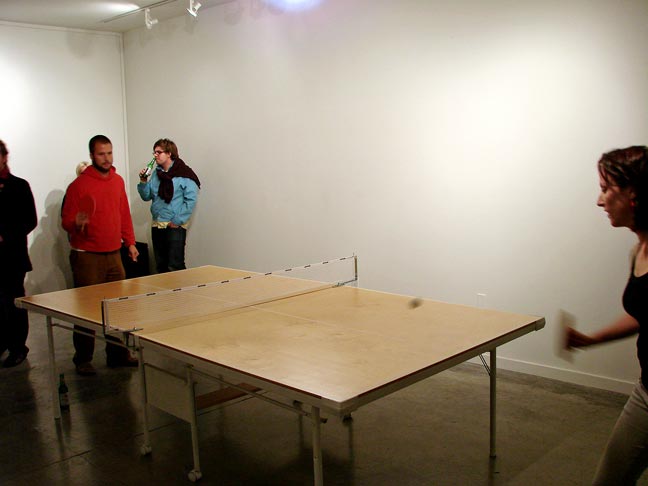 The game.


The setting.


***
The 8 Gallery: The Creamery - FUNK ART etc. from Bodega.
Artists: William Morehouse, Michele Morehouse, Peter Forakis, David Hamilton, Bill Wheeler, Richard Faralla, Wally Hedrick.
Review and photos by DeWitt Cheng: The 8 Gallery, which shows postwar Bay Area abstraction, presents "The Creamery - FUNK ART etc. from Bodega." Funk Art refers to the iconoclastic, angry/humorous art of the postwar period that combined modernist art and the Beat and hippie cultures. This show is a sampling of Sonoma County artists who worked and lived at, or were otherwise associated with The Creamery, a converted industrial building in Bodega Bay.
DeWitt Cheng writes for Artweek, Art Ltd., www.SanFranciscoArtMagazine.com and www.Shotgun-Review.com.
Protest art.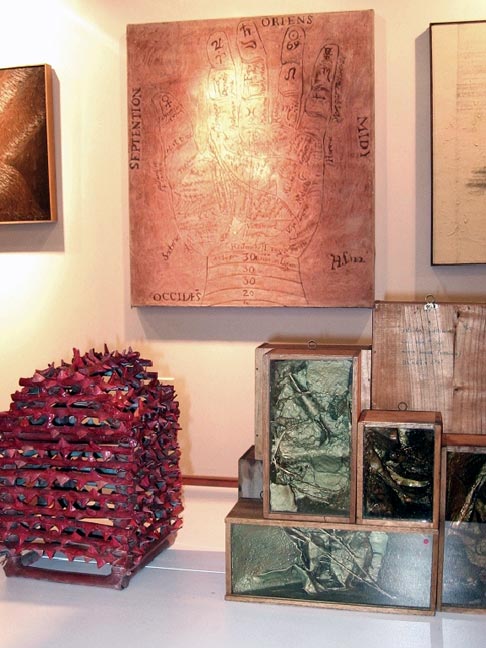 Installation view with Wally Hedrick painting at center.


Wall art by William Morehouse.


David Hamilton - art.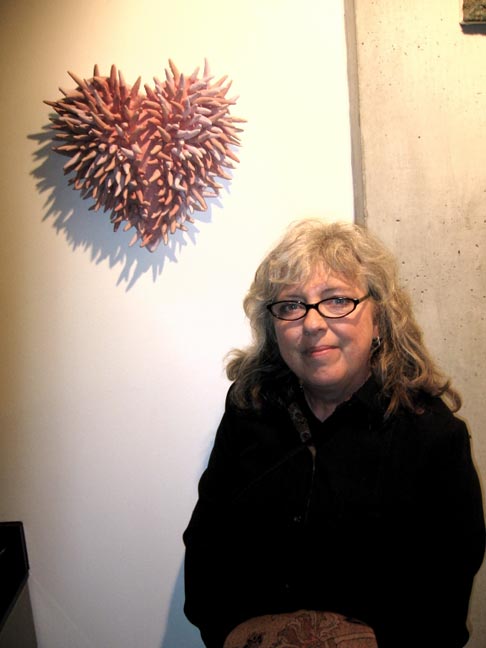 Michele Morehouse - art.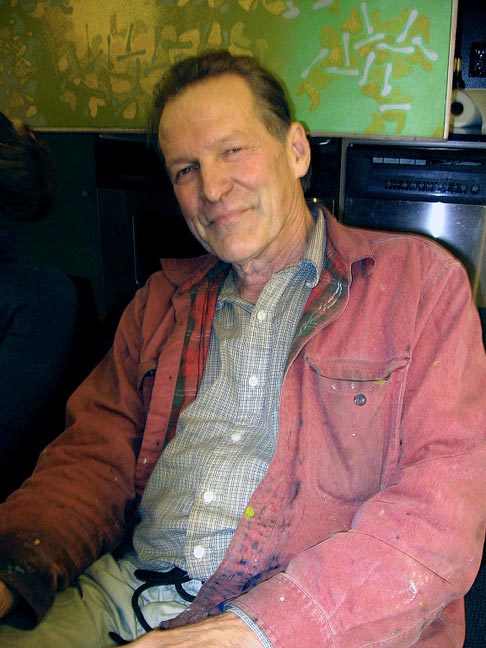 Artist Bill Wheeler.


View from the loft.


***
The Spare Room Project: For the Duration.
Artists: Becky Ebeling, Scotty Enderle, Francois Hughes, Guy Overfelt, Maggie Preston, Travis Meinolf.
Comment: The Spare Room Project turns out to be a room in a Bernal Heights apartment. The art is about portraying the concept of time in tangible or material form.
Art.


Art.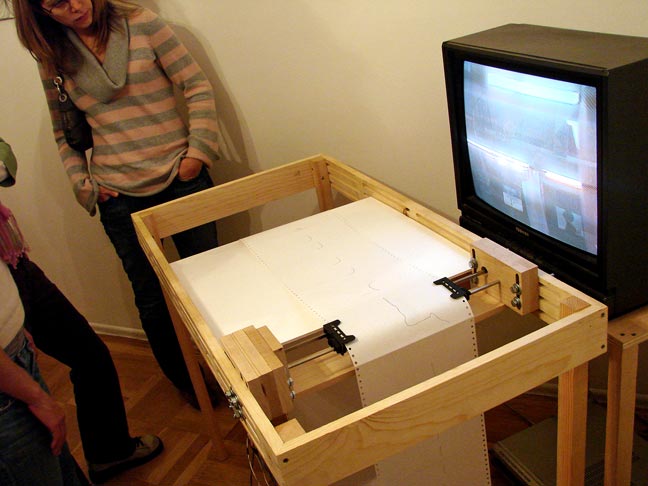 Art.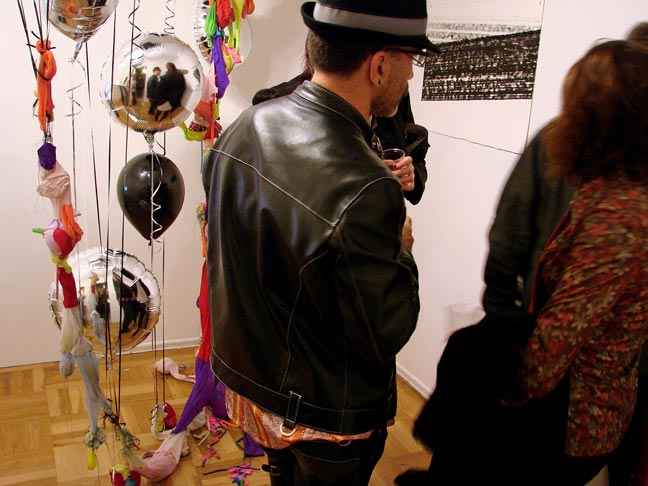 Art.


***
Secession Art and Design: Ivy Jacobsen; Hilary Williams.
Comment: Ivy Jacobsen nuances her atmospheric paintings with bronzing powder while Hilary Williams shows silkscreen prints and upbeat hand-sewn fabric dolls. Plus you'll discover vintage jewelry, fashion, handmade boxes, and more.
Art (Ivy Jacobsen).


Art (Hilary Williams).


Through the front window.


***
Rozanoff Art Gallery: Affordable Art Exhibition.
Artists: Igor Koutsenko, Marty Katon, Yakub Kalousek, Efanova, Rebecca Meredith, Carole Splendore, Joel Hoyer, Martin Freeman, Lee Cannarozzo, Kevin Piyatilake.
Comment: Your basic variety pak is the order of the day, affordably so, at Rozanoff Art Gallery. Not sure how long the gallery's been around; this is my first time.
Art.


Art.


Art.


Art.


Art.


***
Big Umbrella Studios: First Member Show.
Artists: Chad Kipfer, Devon Ellis, Andy Patchin, Caleb Sheridan, Kat Horn, Ariane Jones, Gavin Lord, Therese Agnew, Forrest Pound, Kristine Lee, Bradley Thathiah, Dustin Garber, Miriam Diaz, daniel Baker, Peter Tschann-Grimm.
Comment: Debut event for this combination co-op studio and gallery space. The art is generally urban, but encompasses more traditional alternatives too. Prices range from $25-$2000 with most under $300 and a healthy percentage under $100. On a budget? Shop here.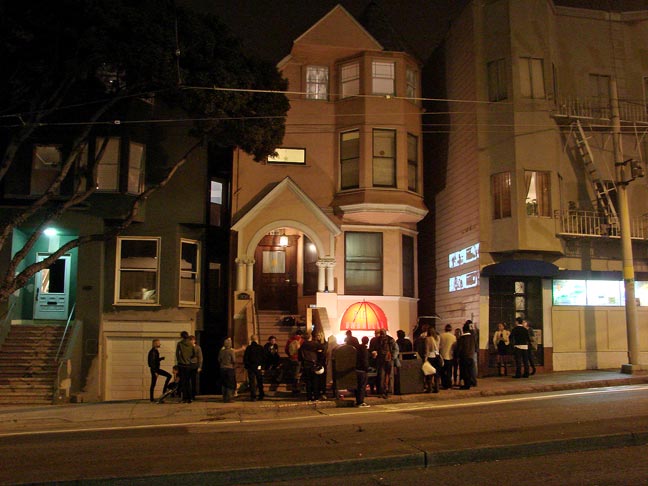 Here we are.


Wanna check it out? OK.


Art.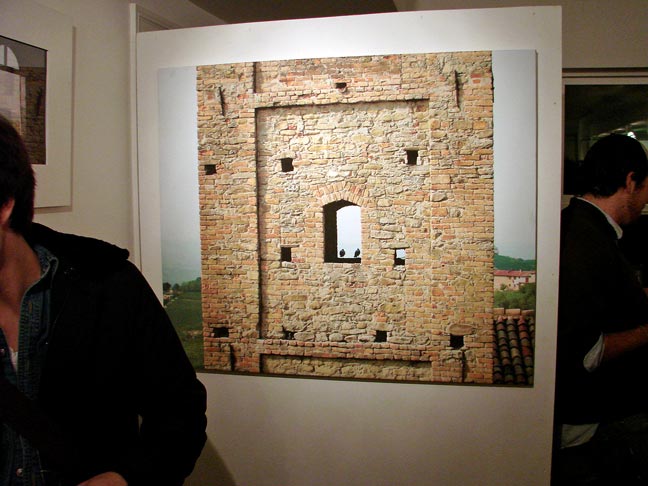 Art.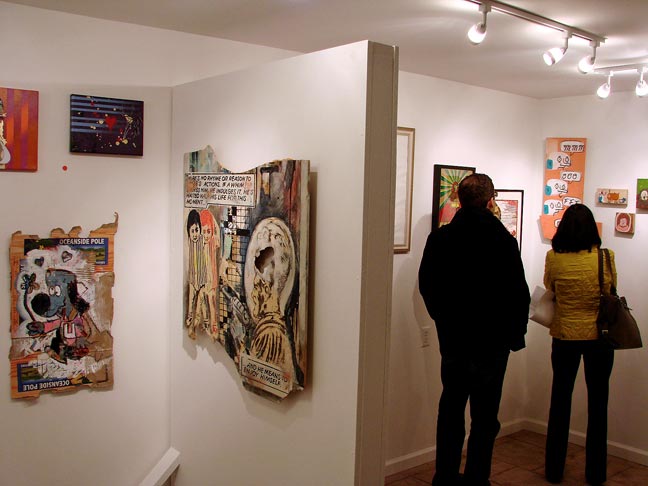 Art.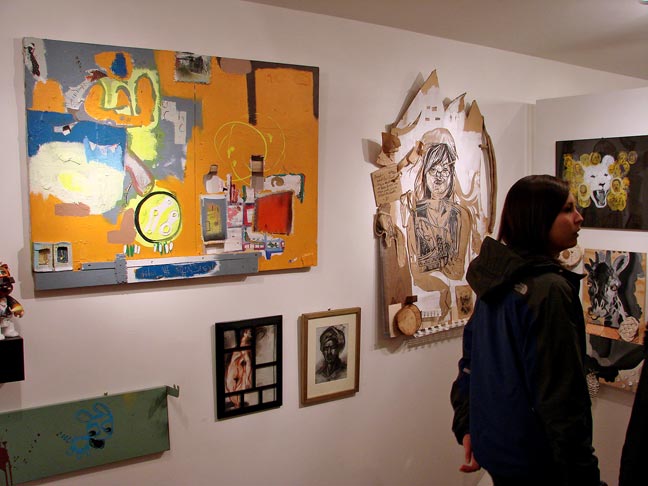 Art.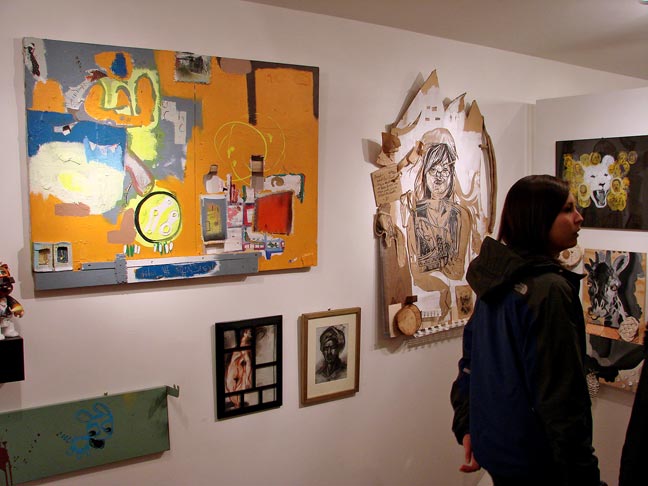 Art.


Turnout.


***