SAN FRANCISCO ART GALLERIES - OPENINGS
JOHN BERGGRUEN - LISA DENT GALLERY - BLUE TANGERINE
MAVERIX STUDIOS - HAYES VALLEY MARKET
WARNOCK FINE ARTS - THE LAB - SCULPTURESITE GALLERY
11.16-17.05
Lisa Dent Gallery: Makoto Aida - Drink SAKE Alone.
Comment: The gallery is transformed into a series floorbound mini-video environments; each video is different and is surrounded by art relating to its content. The show-stopper for me is a brief epic of a polite unassuming attractive young woman drinking pink milk from a wide shallow bowl, then throwing it up, smiling, and repeating the procedure. Fortunately, that video is not surrounded with content-related art. Bonus-- Aida can paint. Overall, the experience richters my disposition to the tune of about 5.0, and that's enough to knock a vase off a shelf.
Art.


Art.


Makoto Aida - art.


Art.


Art.


Flood plain.


***
John Berggruen Gallery: Kiki Smith - A Cautionary Tale.
Comment: John Berggruen Gallery has THE BEST press releases. This one describes the art and then tells me that "principal themes in Smithıs oeuvre explore life, death, resurrection, and rebirth"-- all in four simple sentences. It's clear, concise, it makes me feel like I know something, and as you're all aware, making me feel like I know something is not easy. It doesn't pommel me with palaver, talk down, browbeat me with art history, tell me what to think, what to look for, what to believe, where to stand, how to live, or anything else. And here's the amazing part-- in spite of the simple lingo, John Berggruen Gallery still sells art! Can you believe it?
Feeling confident, I digitally swagger on over to the SFMOMA Kiki Smith retrospective synopsis for another quick dose, and snarf the first sentence off of that-- Kiki Smith is best known for depictions of the female body. I'm complete. See how easy it is to satisfy someone who knows hardly anything about a particular artist, but who loves art and wants to learn?
I know. I know. There's far more to it than that, but with your permission, I'd like to stick with what I've got. Thank you. Your magnanimousness will not go unnoticed.
Oops. Almost forgot-- the show. Smith's life-sized fem-form bronzes are sturdy, dignified, enduring, and museum-worthy (priced $150K). They're complemented by delicate drawings on handmade paper that delight in their fragile vulnerability (some drawings Kiki Smith made with her own blood).
Art (Kiki Smith).


Art (Kiki Smith).


Art (Kiki Smith).


Art (Kiki Smith; the women wanted their picture tooked).


She asked a bunch about my camera so I tooked her picture too.


Art (Kiki Smith).


Art (Kiki Smith).


Essence.


Chuck Close - gallery selections - second floor.


Damien Hirst - gallery selections - second floor.


Gregory Crewdson - gallery selections - second floor.


***
Blue Tangerine presents at Belcher Studios: Abstraction is Dead - Long Live Abstraction.
Artists: Ed Moses, James Hayward, Jonathon Keats, Sarah Coleman, Andy Moses, Mel Davis, Josh Feldman, Rebecca Szeto, Sieglinde Van Damme, Maria Vasconcelos, Nicola Wood.
Comment: Top shelf abstracts here. We got the thick frosting luxury of James Hayward, Mel Davis halcyon meditative color fields, Ed Moses magic with paint, Andy Moses streamlined lines (makin' Dad proud), Josh Feldman getting technical, three Jonathon Keats inside-out smell paintings to make sure nobody takes anything too seriously (Keats also authored the catalogue essay), Nicola Wood's abstruse abracadabra alibi for keeping originals and selling copies, and more. Belcher is unquestionably congnoscenti central tonight, crammed to the rafters with luminaries too numerous to mention. Hey, abstract artists-- this is a good opportunity to check out the competition and see what it takes to play in the pros. Thanks, by the way, to whomever included color images of all the art on price list. In exchange, the captions will be 100% accurate.
Part of Blue Trangerine's mission is "to demystify the art buying process." Yo! Blue Tangerine! That's what I do!
Art (James Hayward).


Art (Mel Davis).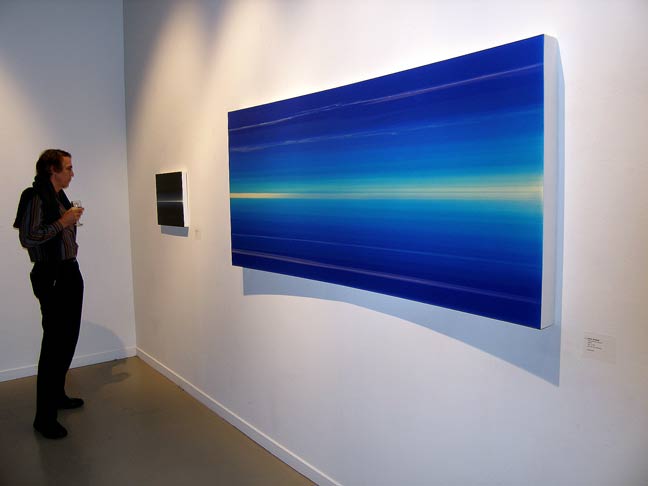 Art (Andy Moses).


Art (Josh Feldman).


Artist and critic Jonathon Keats explaining stuff.


Author and columnist Richard Polsky says hello.


Art (Sieglinde Van Damme).


Nose art (Jonathon Keats).
The paint's on the inside. You can't see it, so you sniff it.


Art (Sarah Coleman).


Art (Ed Moses).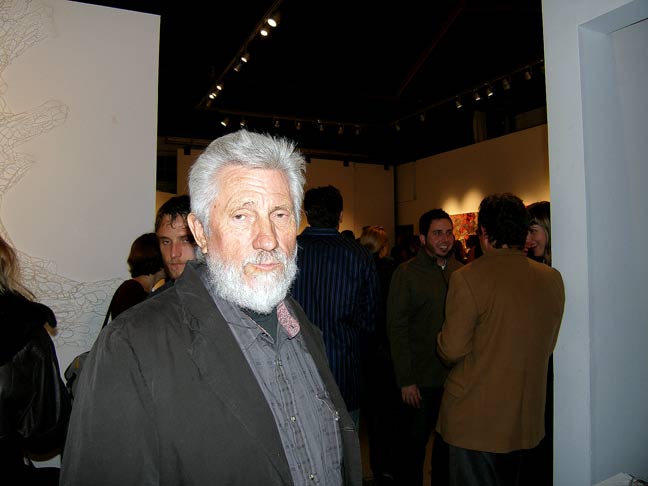 Ed Moses.


Art (Rebecca Szeto).


Digital-print-of-a-painting art (Nicola Wood).


Art (Maria Vasconcelos).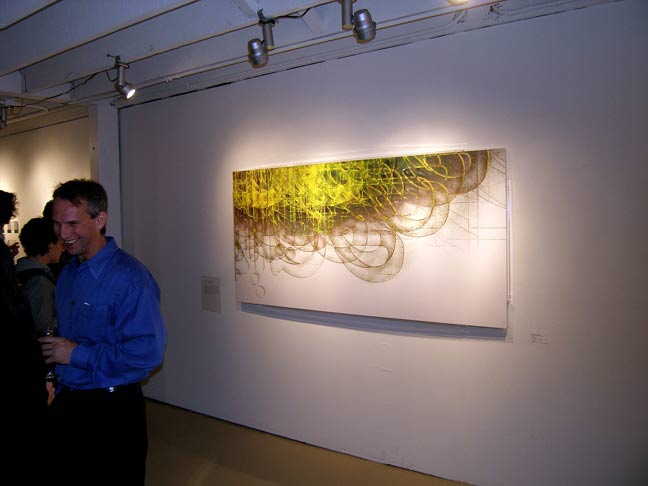 Art (Josh Feldman).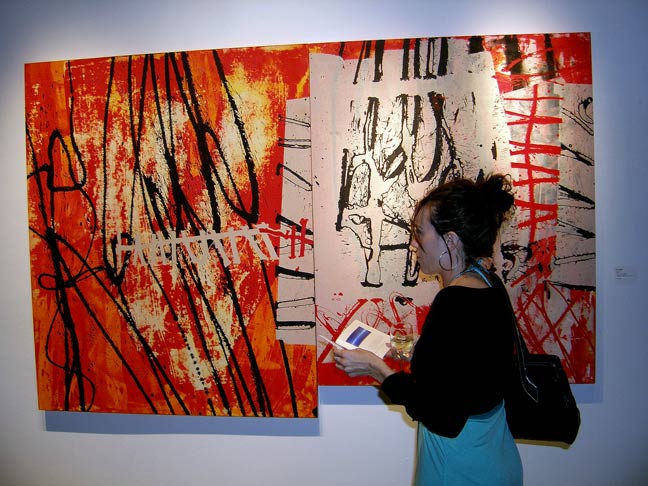 Art (Ed Moses).


Art (Ed Moses).


***
Hayes Valley Market, 580 Hayes St.: Maitri 10 Day Art Sale.
Comment: Maitri provides hospice and 24-hour care to men and women living with AIDS. Buy art and help those in need at the same time. Double fulfillment. The sale features work by artists and students of Academy of Art University, California College of the Arts, and San Francisco Art Institute.
Art.


Art.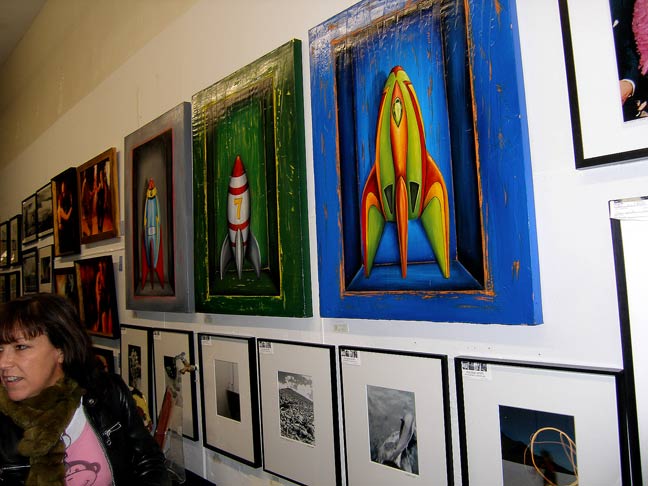 Art.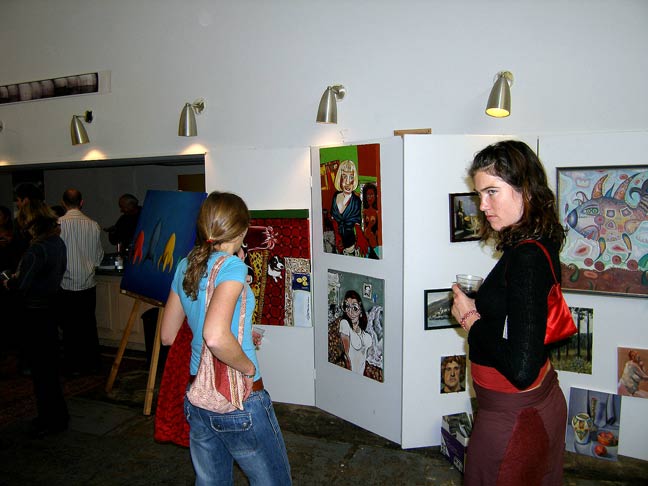 Art.


Art.


***
Maverix Studios: HEAL - The Art of Healing.
Artists: Carlos Jose Guzman, Enrico Casarosa, Jerome Opena, Paule DuBois, Denise Laws, Patrick Awa, Justin Proj Rowley, Ed Bell, Karen Koltonow, Garvey Albert, Judith Carroll, Larissa Martin, Tessa Merrie, Adam Moore, Micheal Murnane, Nancy Otto, Cheri Lynne Reid, Dolphin Waletsky, and Maverix Studio members Derek, Tom , Vaughn, Sho, and Sergio.
Comment: Art auction fundraiser for Charlotee Maxwell Complementary Clinic, a state licensed health clinic providing free alternative medical treatments to low-income women with cancer. Another excellent opportunity for simultaneous giving and receiving.
Art.


Art.


Art.


Art.


Art.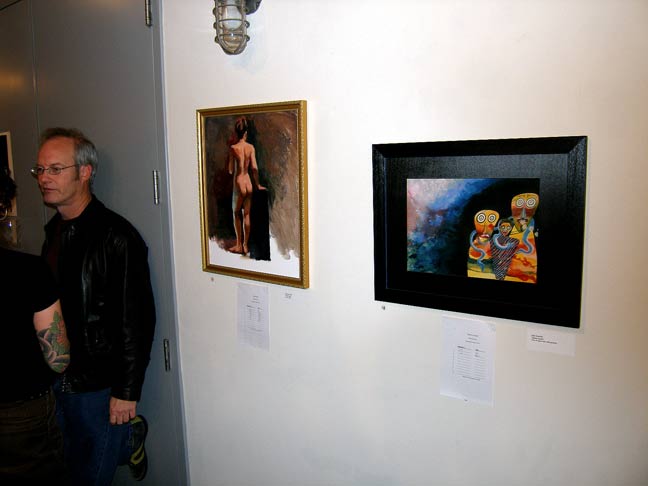 Art.


***
Addendum:
John Abduljammi carved painted tiger
at Virginia Breier.


John Abduljammi - carves, paints, & mosaics solid elm at V. Breier.


Stan Peterson - carved painted wood at V. Breier.


Jennifer McNeely fabric fest at The Lab.


One more Jennifer McNeely at The Lab; priced $450-$2200.


Clement Meadmore sculpture at Sculpturesite Gallery.


Another Clement Meadmore at Sculpturesite Gallery.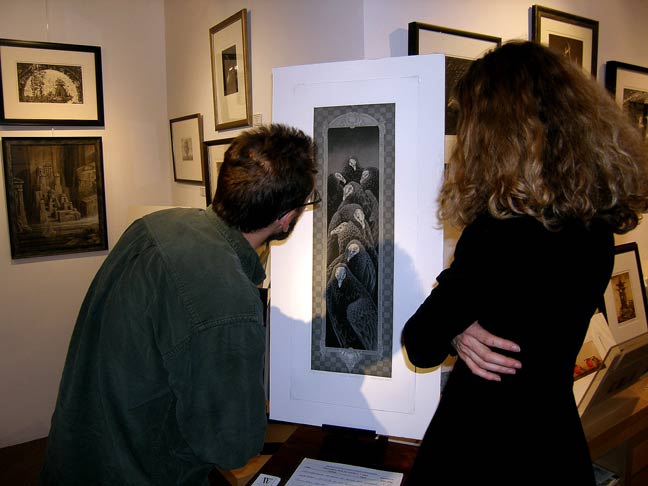 Prints and photographs at Warnock Fine Arts.


Larry Warnock - art - Warnock Fine Arts.