SAN FRANCISCO ART GALLERIES - OPENINGS
ANTHONY MEIER FINE ARTS - OCTAVIA'S HAZE
JOHN PENCE - LUGGAGE STORE GALLERY - LIMN
SUPERVISOR ROSS MIRKARIMI - PARK LIFE - 3131 CLEMENT GALLERY
YERBA BUENA CENTER FOR THE ARTS
11.17.06
Anthony Meier Fine Arts: Tam Van Tran - Purple System.
Comment: Los Angeles artist Tam Van Tran incorporates organic ingredients such as spirulina, saffron, and chlorophyll into this group of works on paper, the most remarkable of which is titled "Beetle Manifesto XIV (Genesis), 2006," a wavy curvy three-dimensional dealie-doo synthesized (and dramatically enhanced) with binder and thousands of staples. His circuitous compositions blend decorative elements with a variety of non-western references including Buddhism, Inca, and Sanskrit. So either way, visually or cognitively, you're covered. Plus there's some crinkly crimply ceramic sculpture including one piece with a gen-u-ine banana sticking out of it (no, I didn't ask).
Anyway, now I'm all juiced and wanna know the story, but the ferkin' synopsis is so brutal that anyone without an MFA or better who wants to understand the underpinnings gets stuck in the parking lot. So I settle for aesthetics (they're more than adequate to keep me entertained). Art dealers far too often overlook the fact that people without art degrees like art too (frequently enough to wanna know more about it). Believe it or not, the overwhelming majority of people who like art aren't degreed in it. Time to maybe remember the Alamo here? What do you have to lose? Liner notes for aspirants would be nice. If you're bright enough to confuse the living shit out of people with insider argot, you're certainly capable of using basic English to welcome 'em into the fold.
Art.


"Beetle Manifesto XIV (Genesis), 2006" (pick - $35k).


Tam Van Tran - art.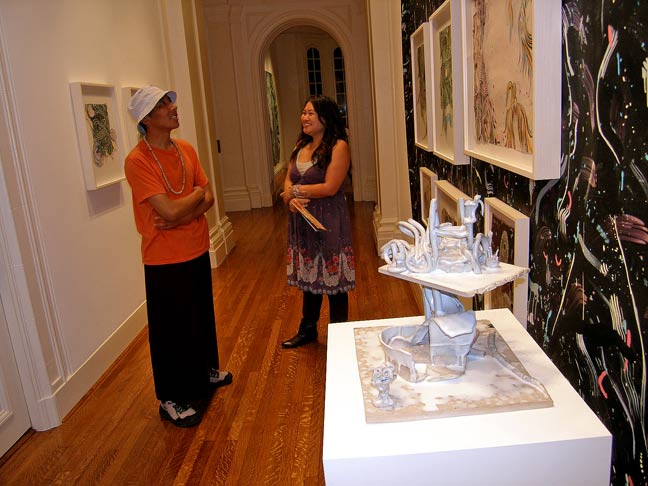 Art.


The one with the embedded banana.


***
John Pence Gallery: Kate Lehman - Recent Oil Paintings; Sarah Lamb - Recent Oil Paintings.
Comment: Academic realism, as always, and the best of it. A notable factoid this time around, I suppose, is that both painters are of the female persuasion-- relatively uncommon for this venue. In terms of style, Sarah Lamb is eminently sedate in her choice of subject matters, many appearing to be direct descendants of nineteenth century American still life painting, while Kate Lehman is the jiggier of the two not only with respect to subject, but additionally compositionally. Many paintings are already sold, particularly Sarah Lamb's.
Art (Kate Lehman).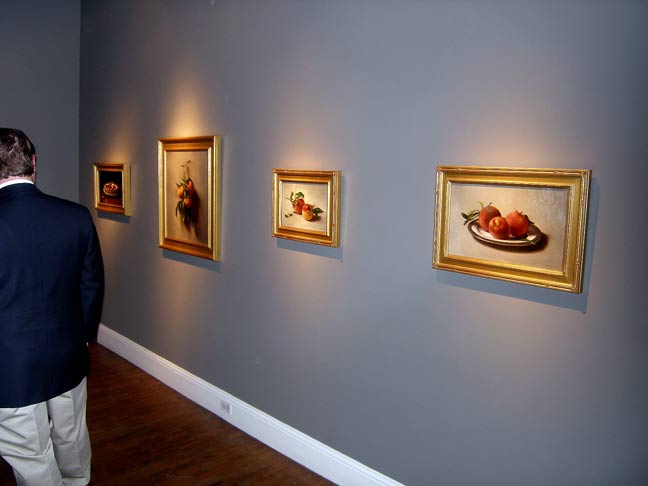 Art (Sarah Lamb).


Art (Kate Lehman).


Art (Sarah Lamb).


Art (Kate Lehman).


Art (Kate Lehman).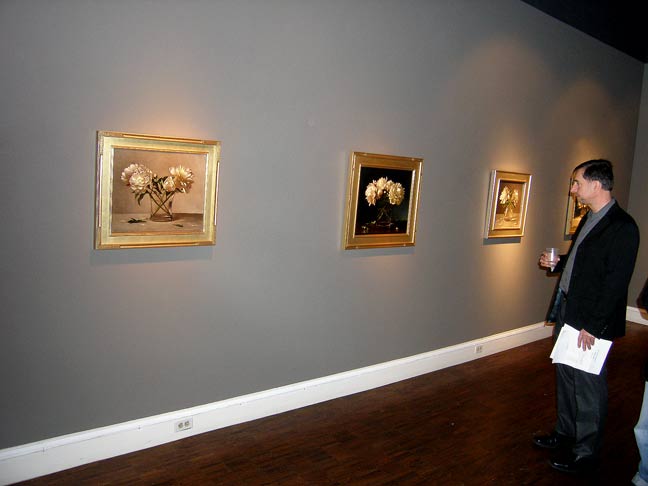 Art (Sarah Lamb).


***
Luggage Store Gallery: Tavares Strachan - Where We Are is Always Miles Away.
Comment: Tavares Strachan digs up an unpretentious chunk of Crown Street in New Haven, CT, trucks it cross country, and plants it smack in the center of the Luggage Store floor. He accomplishes this by craning it up to the second floor gallery, entirely intact, and to climax the act, cages it in a hermetically sealed chamber set to the precise weather conditions (temperature, humidity, etc.) that existed at the instant of its East Coast excisement.
So OK. I ask Luggage Store doyenne Laurie Lazer what the abiding essence of this not inconsiderable exercise is and she tells me it's all about artistic expression. That's it? The end? I would think that any artist who does something as bold and decisive as this, has a sock rockin' tale to go with it (and that he preps the owners of the gallery showing the art). If that's the punchline, I might as well Super Glue a toothpick to the tip of my nose and say the same damn thing-- it's an exercise in artistic expression (and ain't it great to be an Amerkin).
So OK. Maybe there's something in the statement. I'll try that. Nope. Just a tumult of verbiage so superbly somnambulant my interest implodes in a paroxysm of ennui. My lovelies, if art's ever gonna get traction outside the beltway (and if any show deserves it, this one does), you gotta be way more accountable than dropping names, babbling universal truths, wallowing in generalities, or referencing esoteric antecedents. Make me care, Tavares Strachan. I know you can. And I know that if you tell it right, a whole lotta people are gonna line up at the Luggage Store door to see what you've wrought.
Before the move.


Permission to move granted by city of New Haven.


After the move - ensconced in artland.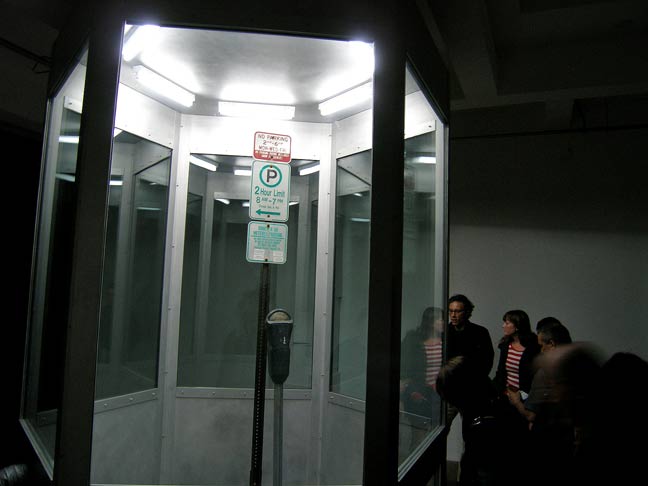 After the move.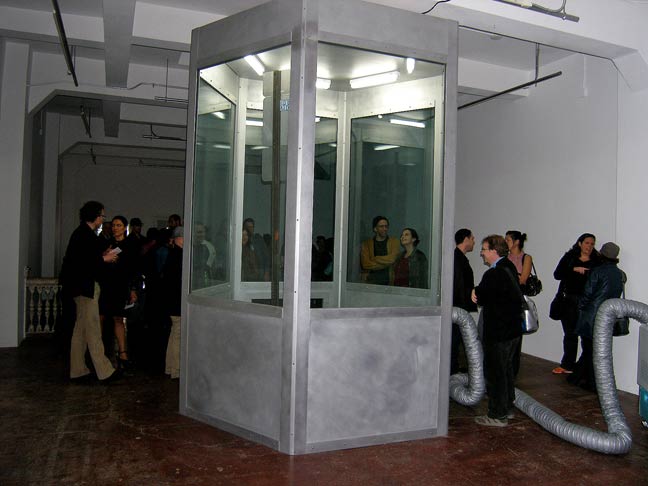 With its life support system.


***
LIMN Gallery: New Moves - Fast Forward & Instant Replay, an Exhibition of Artist Furniture in Celebration of LIMN's 25th Anniversary.
Artists: Jennifer Anderson, Russell Baldon, Greg Benke, Robert Brady, Marc D'Estout, Clay Foster, Dan Friedlander, Mia Hall, Barbara Holmes, Kim Kelzer, Wendy Maruyama, Bob Marsh, Courtney Skott, Norma Pizarro, Harry Siter, Brian Cordell Wilson.
Comment: It's furniture. No, it's art. No, it's witty. No, it's comedic. No, it's absurd. No, it's entertainment. No, it's craftsmanship. YES, IT'S ALL OF THE ABOVE. I have never experienced such an engaging array of artist furniture anywhere that simultaneously satisfies on so many levels, pretense-free and easy. The art world tends to take itself way too seriously way too much of the time, and this is about as refreshing a respite from that as I can recall.
So I'm chatting up curator Russell Piti who reminds me that LIMN hatched in modest digs on Pacific Avenue 25 years ago with a stock of metamodern top-of-the-line artist furniture (there was no game like it in town). And people loved Limn, and it grew and it grew and it grew, and this show is a tribute to, and update, of that. Check it out; you will not be disappointend-- guaranteed. If the mock Danish Modern mud side chair doesn't do it for you, the matching nightstands-- one with dildo drawer, the other with condom drawer-- will.
Art furniture.


Art furniture.


Art furniture.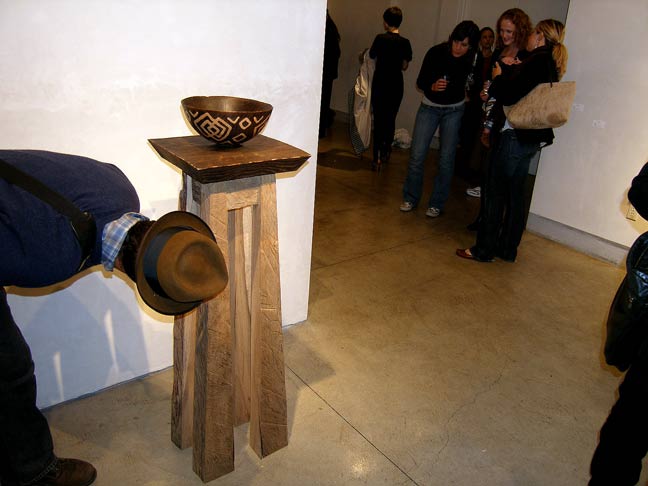 Art furniture.


Art furniture.


Curator Russell Piti + curatorial pooch.


Dildo-micile.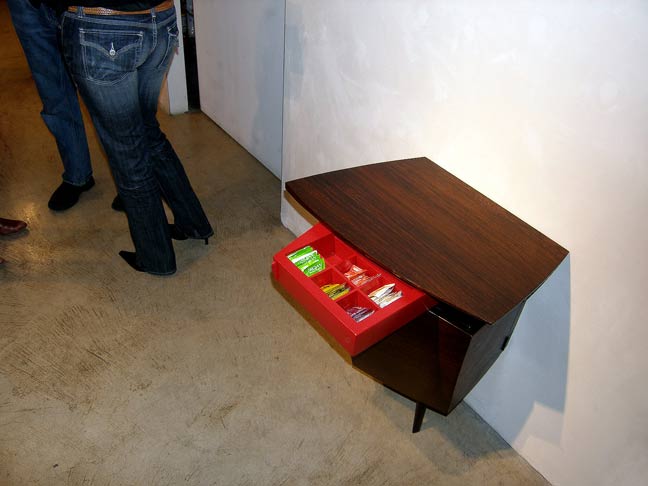 Condom-inium.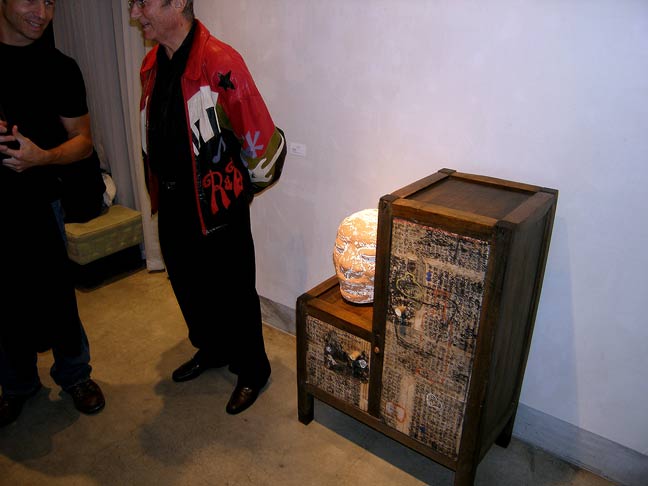 Art furniture.


Art furniture.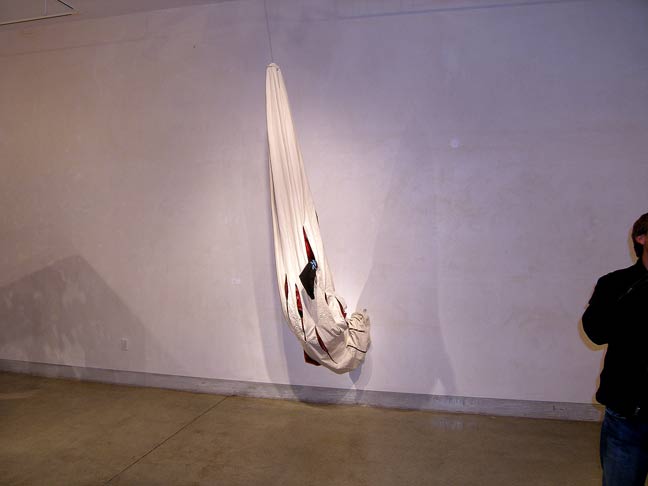 Art furniture.


Art furniture.


Mud chair.


***
Octavia's Haze Gallery: James Michalopoulos - New Works.
Comment: James Michalopoulos paints the architecture, atmosphere, vibrancy, and distinctiveness of New Orleans (interspersed with an occasional cow composition) in all its splendor-- like it used to be-- and will one day be again (you know it can't play out any other way). If you've never been, you're missing San Francisco's closest cousin (in my opinion), every bit as accepting and as giving as we are, and every iota as architecturally captivating as our fair city can ever hope to be. So I'm assessing the dossier on this dude, and in addition to a newly released book of his art (available at Octavia's Haze), he's recently founded the Celebration Distillation Corporation to produce his premium single malt and blended Louisiana rums named Cane. It's good to keep busy in your spare time.
Art.


Art.


James Michalopoulos.


Art.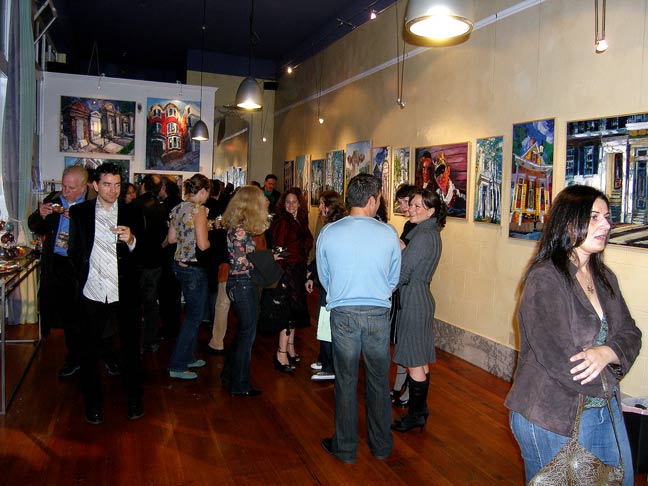 Grounds.


***
3131 Clement Gallery: Tobin Yelland + Dennis McGrath - Photographs.
Comment: Two prodigious and widely published skateboard & youth culture documentary photographers strut their high intensity imagery deckwise and otherwise. This is only the second show for 3131 Clement, but they know how to throw 'em down right-- especially opening night. They may be out on the Avenues (just down the hill from the Palace of the Legion of Honor), but they're in with their art. Worth the trip; go see.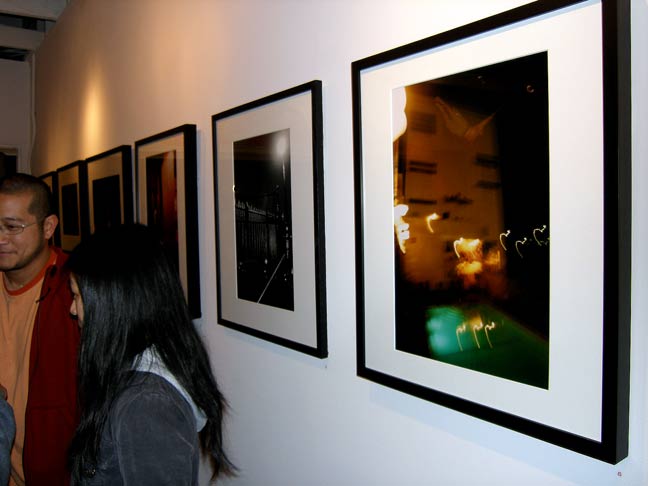 Photography.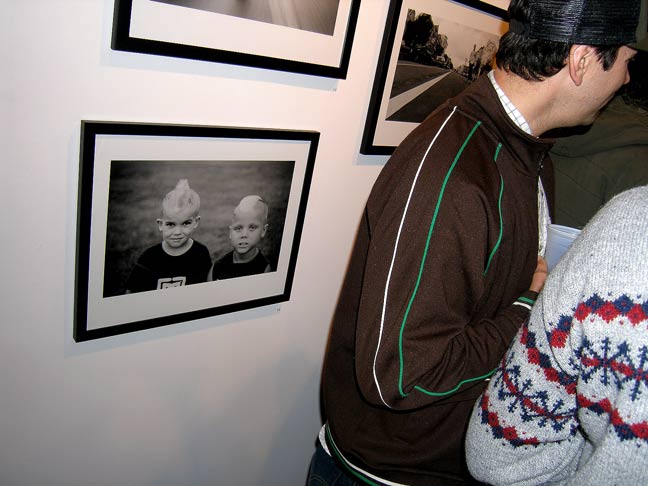 Photos.


Images.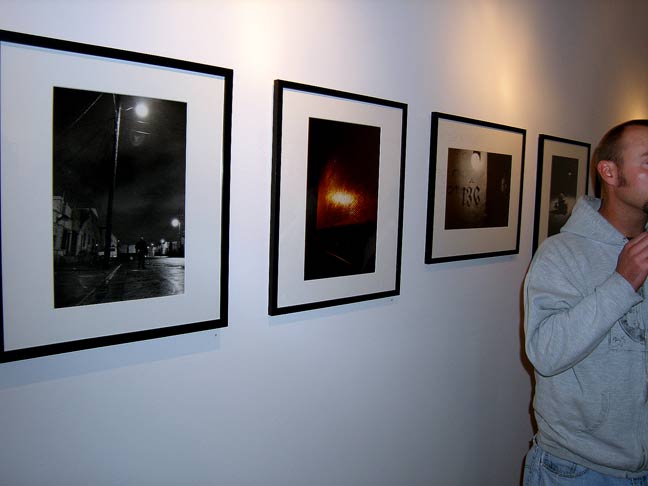 Photographs.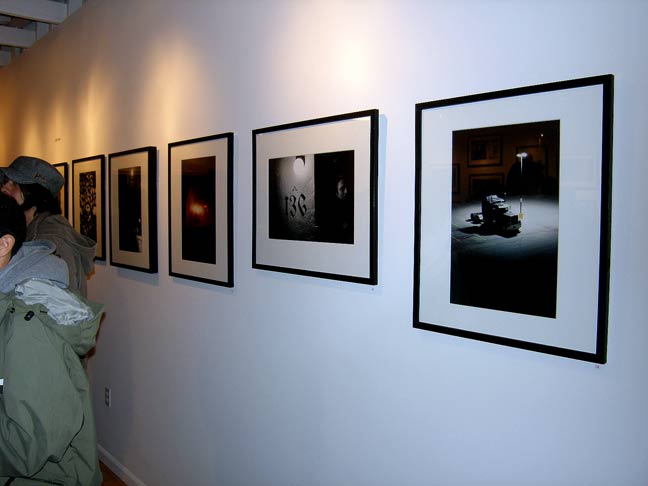 Photos.


Photography.


Photos.


Tunes.


***
Park Life: One and Oh.
Artists: Scott De Bie, Kelly Lynn Jones, Kyle Mock, OGI, Kelly Tunstall, Porous Walker.
Comment: Competent group effort serving up, among other things, classic Kelly Tunstall girlie-q's, a nice OGI abstract, a wall of appealing mixed media works by Scott De Bie, and my favorite-- hilarious "Far Side" slice of life sculptures by Porous Walker including "Equestrian X-Games" and an idyllic suburban-esque lawnscape with dude lying face down in the swimming pool. Note to Porous: While your concepts are excellent, the results come off a mite unofficial, or maybe casual, or maybe unecessarily impermanent, or maybe even flimsy. I'm thinkin' maybe firm it up, deliberate it up, couch it in propriety (like the fancy-schmancy shit they show at museums), and then see what happens. Nothing over $1800; most under $500.
Equestrian X-Games (Porous Walker - pick).


Art (Porous Walker).


Art (Scott De Bie - kinda like 'em).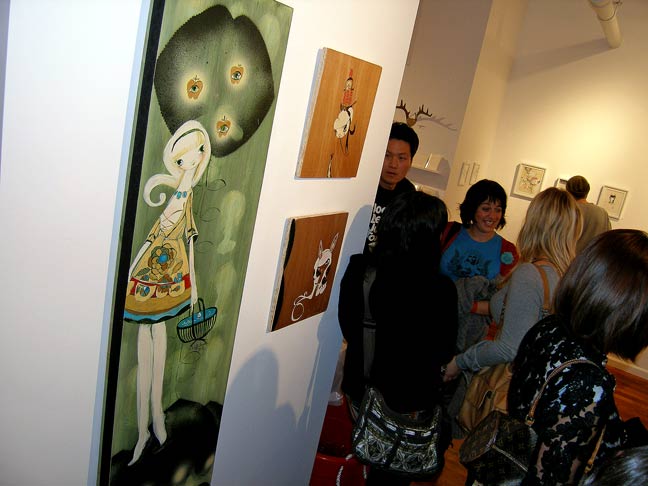 Art (Kelly Tunstall).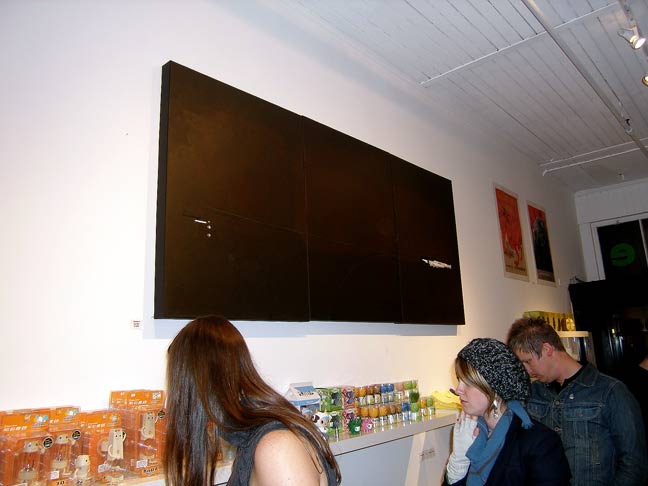 Art (OGI).


Art.


Art.


***
Yerba Buena Center for the Arts: Sensacional! Mexican Street Graphics; Underplayed - A Mix-Tape of Music-Based Videos.
Comment: Since I'm shootin' off my mouth about press releases & statements & stuff, I gotta commend YBCA for doin' it right. They got a big fat press release for anyone who wants the dope in detail (like critics, feature writers, cognoscenti, pseudo-cognoscenti, and so on), AND they've also got a flawlessly Sensacional! four-sentence snack for quicksters like me. Behold the brilliance:
"Sensacional! Mexican Street Graphics celebrates the vernacular design of the comic books, flyers, posters and signs common in Mexico, where a rough, idiosyncratic beauty arises from a mom-and-pop street economy. The artisans are the sign-painting, lithographic tradespeople who work off the high-art grid, and serve as de facto ad agencies for auto repair shops, food vendors, and wrestling events. Though these artists may not concern themselves with visual art trends, their work has enormous significance: in public environments increasingly monopolized by corporate controlled and mechanically produced imagery, these artists assert a brilliant graphic design presence thatıs hand-made, individualistic, and defiantly human. Organized by Trilce Ediciones, an independent publishing house based in Mexico City." Love it! Makes me feel like I know something.
Can't get enough? Here's YBCA's synoptic snack for Underplayed:
"A companion exhibition to Sensacional! explores the intersection between fine art, pop culture and the DIY explosion. For years visual artists and musicians have collaborated to produce album covers and concert posters. But the music video has spawned a whole new art practice that finds artists collaborating with musicians in entirely new ways. This video project co-curated by Julio Morales and Berin Golonu takes a look at artists who incorporate music with their imagery or who use the music video itself, as a form for creative expression. The exhibition showcases this international phenomenon with a special focus on Mexico City-based artists such as Miguel Calderon, Juan-Luna Avin along with others from around the world including Josh Lazcano, Jeroen Offerman and Eamon Ore-Giron."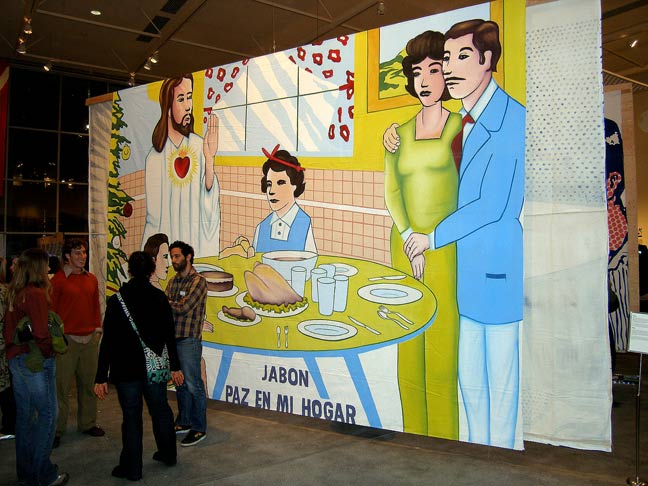 Art.


Art.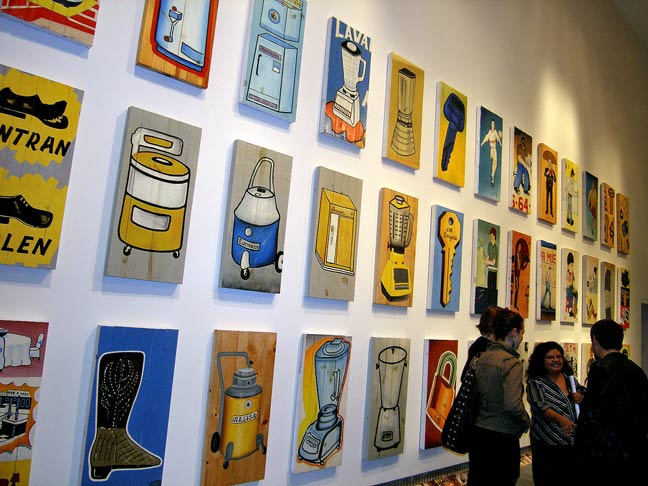 Art.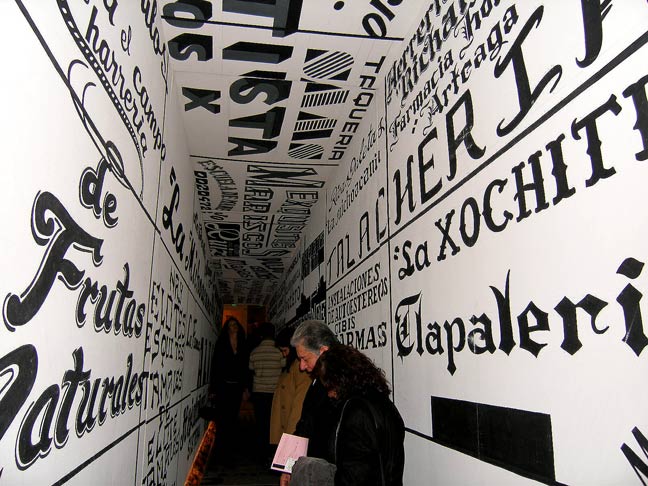 Art.


Art.


Art.


Art.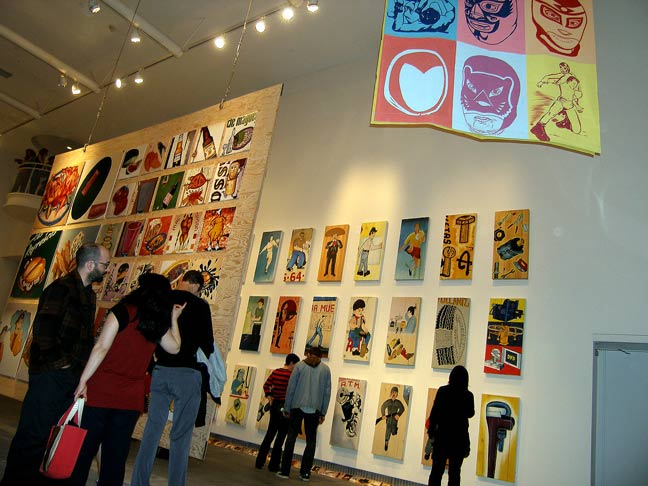 Art.


Art.


***
Addendum: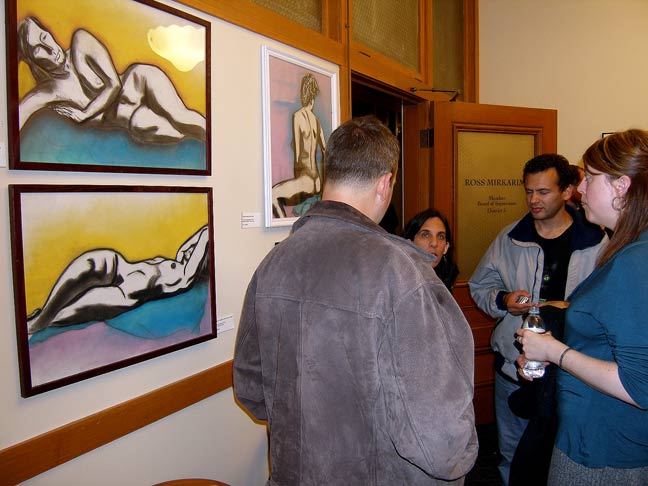 Group show at Supervisor Ross Mirkarimi City Hall offices.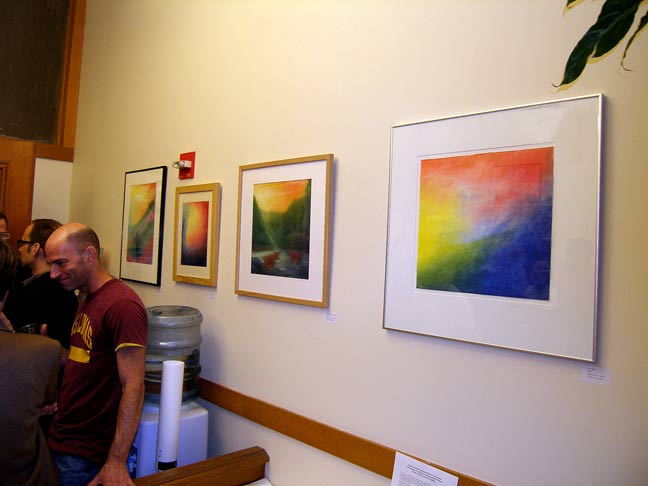 Another from Supervisor Ross Mirkarimi.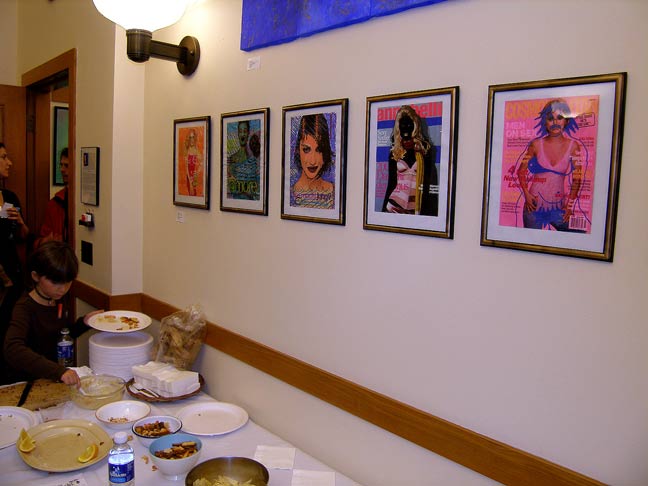 And another from Supervisor Ross Mirkarimi.


Last one from Supervisor Ross Mirkarimi.


***