SAN FRANCISCO ART GALLERIES - OPENINGS
BRAUNSTEIN/QUAY - TRIANGLE - LUSCIOUS GARAGE
TRIPLE BASE - GALERIA DE LA RAZA
2ND FLOOR PROJECTS - STUSSY
11.17.07
Braunstein/Quay Gallery: Gyöngy Laky - Intersections, Recent Work.
Comment: Remarkably intricate impeccably crafted sculptural works by Gyöngy Laky include telephone wire woven into vase-like shapes; wood and wire constructions; and cut trimmed buffed stained or painted tree branch and commercial wood segments fastened together to form words, letters, symbols, and vessels. If you appreciate excellence in art and/or mastery of medium and/or consummate finesse, see this show. Well worth a visit.
Art.


Woven phone wire art.


Art.


Art.


Art.


Art.


Art.


Art.


Art.


Art.


Attendance figures.


***
Triangle Gallery: Koi Kawashima - Recent Paintings.
Comment: Koi Kawashima utilizes texture, gradation, and the combination of oil and wax to achieve effects of light, shadow, and depth in his color-field paintings on canvas.
Art.


Koi Kawashima - art.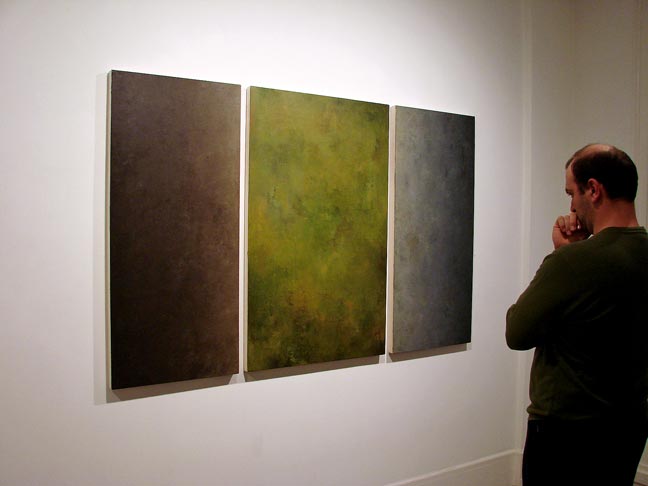 Art.


Art.


***
Luscious Garage: Kellesimone Waits - Men in Power.
Comment: The title sums it up-- portrait paintings of men in power. Luscious Garage, for the unitiated, bills itself as "the planet's first auto repair shop dedicated to the maintenance, modification, and repair of hybrid cars." And it's woman-owned and operated. And it's just down the alley from the Hosfelt - Braunstein/Quay complex.
Art.


Art.


In.


Out.


***
Triple Base Gallery: Adel Abidin - Abadin Travels.
Comment: Direct from the Venice Biennale to Triple Base, we have the Finnish Pavilion, the Abidin Travel Agency, courtesy of Baghdad-born Helsinki-based Adel Abidin. So here's the deal-- Abidin boguses up the gallery to mimic a travel agency advertising a single destination-- Baghdad. And you got brochures and posters and a computer station where you enter your itinerary and print out your tickets and all kinds of fun stuff like that. The best part? You get to reflect on the power-mad perpetrators who got us into this mess. By the way, after four and half years, tens of thousands of lives, and the better part of a trillion dollars down the drain, our fearless leaders are all giddy 'cuz violence is down. The bad news? It's nowhere near the levels it was at before the invasion. Meanwhile back at the gallery, we don't get international-grade art in the Mission all that often, so stop by and experience the agony of our imperialist indulgences.
The scene of the ruse.


Ticket station.


Baghdad travel brochure.


Baghdad travel poster.


Adel Abidin.


***
Galeria de la Raza: Pachanga.
Artists: Ana Adarve, Pilar Aguero-Esparza, Raul Aguilar, Juana Alicia, Mitsy Avila Ovalles, Jesus Barraza, Sylvia Buettner, Monica Canilao, Tân Khánh Cao, Victor Cartagena, Enrique Chagoya, Lawrence Colacion, Jaime Cortez, Rudy Cuellar, Beth Custer, Hugh D'Andrade, The Date Farmers, Ali Dadgar, Einar & Jamex De La Torre, Lou Dematteis, Andy Diaz Hope, Francisco Dominguez, Caleb Duarte, Christianne Dugan-Cuadra, emael, Rodney Ewing, Ana T. Fernandez, Colleen Flaherty, Demian Flores, Sam Flores, Nicole Franco, Juan R. Fuentes, Rupert Garcia, Guillermo Gomez-Peña, Johanna Grawunder, Jaime Guerrero, Gabriela Hasbun, Ester Hernandez, Noe Katz, Tim Keefe, John Leaños, Liz Lerma, Carmen Lomas Garza, Yolanda Lopez, Juan Luna Avin, Scott MacLeod, Paul Madonna, Maggie Malloy, Kara Maria, Miju, Rhode Montijo, Julio Cesar Morales, Michele Muennig, Angela Muro, Erika Olsen-Han! nes, Gage Opdenbrouw, Txutxo Perez, Patrick Piazza, Dulce Pinzon, Johanna Poethig, Silvia Poloto, Juan Carlos Quintana, Armando Rascon, Calixto Robles, Favianna Rodriguez, Isis Rodriguez, Diana Sanchez, Morgan Satterfield, Andrew Schultz, Brian Storts, Andrea Suess, Cynthia "Kiki" Wallis, Rio Yañez, Rene Yañez, Cynthia Yardley, Mario Ybarra Jr., more.
Comment: Seventh annual art auction and benefit for Galeria de la Raza offers up an abundance of quality examples by an impressive roster of notable artists. Excellent opportunity to bulk the collection at auction prices plus you get to support a great cause. Sliding scale admission to the event starts at only $20 making it one of the best fundraiser bargains in town. Get on their mailing list now so you don't miss next year's.
Art.


Art.


Art.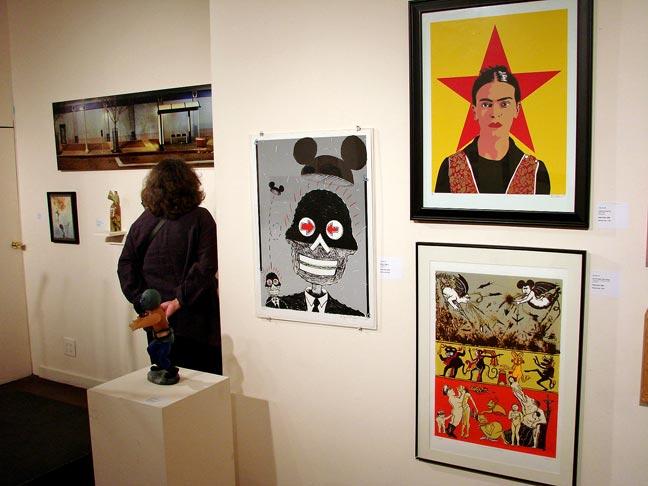 Art.


Art.


Art.


***
[2nd floor projects]: C O L L E C T O R S - new work by Jill Miller.
Comment: Jill Miller goes undercover for six months to surveil the homes (and lives) of approximately ten Bay Area art collectors "within the legal limits of the law" (according to the leaflet), "focusing on five of them in depth." Why? Out of "interest in the ways that the legal system protects (or challenges) an individual's right to privacy." The results of her covert operations, performed "under the advisement of a private investigator," are impressively presented in the gallery as a labyrinthine installation of mainly photographs and notes interspersed with occasional surveillance-based works of art.
So I'm like instantly appalled, putting myself in the position of these involuntarily conscripted collectors, imagining someone secretly following me around for six months with a camera, taking notes on my activities, monitoring comings and goings at my house, rummaging around various aspects of my life. I ask Miller what the deal is, mainly 'cuz I don't know anything about surveillance or what's legal or not legal-- like, for example, presenting clandestinely gathered evidence of people's lives in a public place without their knowledge or permission, priced and for sale. And she tells me it's all legal, and she did it under trained supervision, and not to worry. But what gets me is the imperiousness of her attitude, like I must be either stupid or crazy to even question her motivations or any aspect or ramification of her surreptitious adventures. Like how dare I impinge on her imprimatur!
You know... Miller's minuet with the perimeters of better judgment kinda reminds me of the most expensive work of art ever made-- "Piss Christ" by Andres Serrano. That icon of insensitivity has cost artists and arts-related endeavors everywhere many hundreds of millions of dollars to date, and we're all still paying for it. The moral of the story? The issue is not so much whether it's legal, but rather whether it's appropriate.
Invasive art.


Jill Miller (right) - art.


Intrusive art.


I spy art.


***
Stussy San Francisco: Ghost NYC.
Comment: Noted outdoor muralist Ghost NYC presents a selection of his work suitable for display at your home or office. To top it all off, he flocks the Masonic Avenue flank of Stussy's building in classic East Coast style.
Ghost NYC - art.


Art.


Art.


***