SAN FRANCISCO ART GALLERIES - OPENINGS
YERBA BUENA CENTER FOR THE ARTS - SAN FRANCISCO ARTS COMMISSION
SUPERVISOR ROSS MIRKARIMI - BUCHEON GALLERY
BALILLA APARTMENTS - HIEROS GALLERY - RED INK STUDIOS
QUEENS NAILS ANNEX - MELTING POINT - CHILLIN PRODUCTIONS
GIANT ROBOT - SUPER 7 STORE - mixedUSE - GALLERIA TEMPEST
SFMOMA ATISTS GALLERY - NEEDLES AND PENS - LOLA GALLERY
11.18-19.05
Supervisor Ross Mirkarimi: Paintings and Drawings by Ian Johnson.
Comment: Ian Johnson specializes in portrait paintings and drawings of 1950's and 1960's jazz musicians. He's also the art director of Western Edition Skateboards; several of his skateboard deck designs are on display at the show.
Art.


Art.


Supervisor Ross Mirkarimi.


Art.


Skateboard deck designs.


***
San Francisco Arts Commission Gallery, 401 Van Ness Ave.: Conversation 1 - Oliver Herring and Tim Sullivan.
Comment: This is fun. Oliver Herring contributes a video of himself clad only in shorts, socks, and shoes, engaged in a wiggy concrete-basement pas de deux with a portly older woman dressed in a plain grey calf-length smocky button-front dress. The two cavort in a series of enthrallingly awkward ballet moves gone haywire, and when they're not doing that, Herring does stuff like drag her around the floor by her ankles as she lies face-up on styrofoam packing material. The other half of the double-bill is Tim Sullivan (one of my more favoriter artists) using obscure references to justify an installation that includes a large photo of himself floating horizontally face-down several inches above a white shag carpet, a simulated earthquake in a suitcase, a teeny tiny itsy bitsy shelf of books, and a photo of a ripe tomato impaled by an index finger.
Tim Sullivan - art.


Art (Tim Sullivan).


Pas de deux art (Oliver Herring).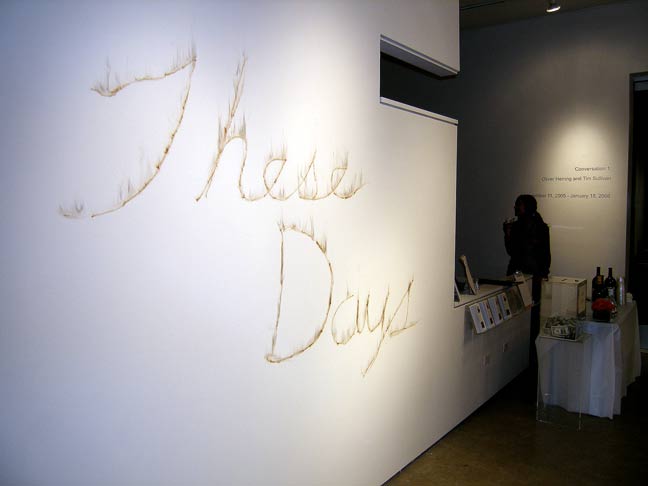 Art (Tim Sullivan).


Quake in a valise art (Tim Sullivan).


***
Bucheon Gallery: Provisional Communities - Cynthia Hooper; We Are All Tourists - Liza Phillips.
Comment: Cynthia Hooper paints minor manmade intrusions on the landscape like improvised drainage ditches and utility poles she finds in fast growing lower class neighborhoods of Tijuana, Mexico. (She tells me the infrastructure there is so poor that the residents have to build these things themselves.) I like her small paintings of lone methane gas release valves that puncture landfills near Eureka, CA. New York painter Liza Phillips themes her work around onlookers (people who look without taking action), and how power and authority figures keep a grip in various situations (I think).
Liza Phillips - art.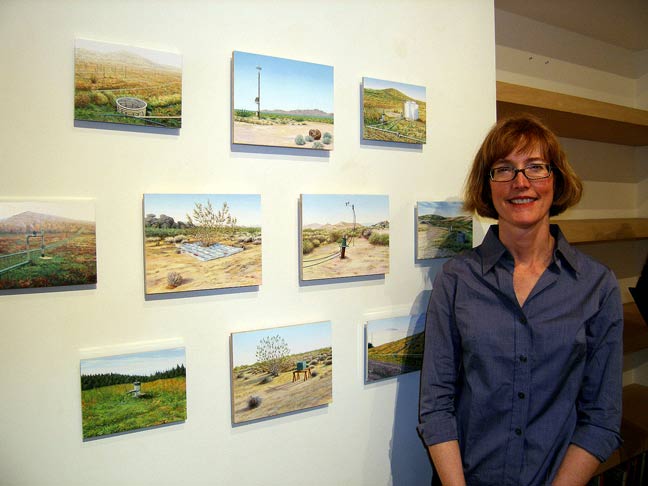 Cynthia Hooper - art.


Art (Liza Phillips).


Art (Cynthia Hooper).


Art (Cynthia Hooper).


***
Balilla Apartments, 565 Geary St., San Francisco, CA 94102: Balilla Art Show.
Comment: Art up and down the entrance hall and lobby walls of the Ballila Apartments. The show is held once a year for one night, a project of the building managers on behalf of the many residents who are artists.  The evening is all about artistic expression-- all kinds of art-- and a great example of how any group of artists anywhere can put on their own show, and maybe get a little exposure. Hey-- they got me.
Art.


Art.


Art.


Art.


Art.


***
Queens Nails Annex: Troglodyte - Solo Exhibition of New Work by Desiree Holman.
Comment: A three-page chimp dissertation by Lera Boroditsky, Professor of Cognitive Psychology and Cognitive Neuroscience at Stanford University, accompanies the show and reaffirms my belief that I could have never gotten into Stanford. Toward her conclusion, Boroditsky postulates as to whether we're more like chimps or they're more like us. She believes that we're more like them, primarily citing the heathen infidel theory of evolution. Desiree Holman's "Troglodyte" show is the visual manifestation of Boroditsky's mini-tract (or maybe it's the other way around), amusingly anthropomorpizing our primate progenitors in a series of $1100 C-prints. Holman tells me the photos are of her and her friends dressed and posed in gorilla costumes; several costumes are positioned at intervals around floor of the gallery.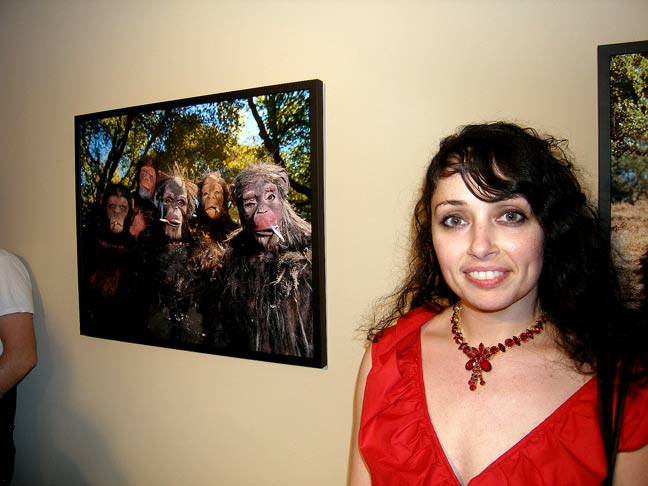 Desiree Holman - art.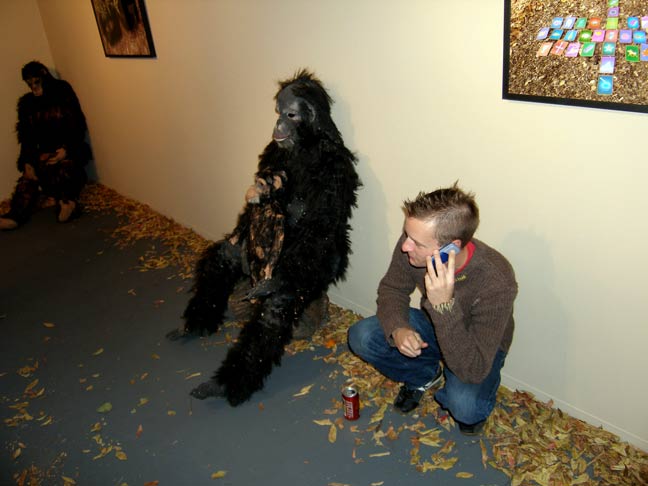 Art.


Art.


Art.


***
Hieros Gallery: Waldon's Warhols - The Superstar Years.
Comment: According to the roster, the art is "reproductions and variations on Andy Warhol's works from the 1960's or original works created in the Warhol style," silkscreens mainly, by former Warhol Factory member and Warhol film star Louis Waldon. He's supposed to be there and I'm pretty sure he is, but nobody seems willing to answer any of my questions. I bet Warhol would have answered my questions. Price range $500-$6000.
Art.


Art.


Art.


Art.


***
Yerba Buena Center for the Arts: Wang Du - First American Solo Show; New Work by Cornelia Parker.
Comment: Chinese artist Wang Du inflates, distorts, and dimensionalizes military, political, celebrity and other photographic images found in today's mass media. His imposing presentation is decidedly in the style of vintage Chinese propaganda art, accented with hundreds of photocopy news stories strewn over the art and around the gallery floor. My favorite piece is a huge handmade (I think) Chinese rug faithfully reproducing a Time Magazine cover, bar code and all. I didn't see the signs telling me to remove my shoes before traversing the rug, so I walked on it without removing my shoes, and fortunately survive to tell the tale.
The Cornelia Parker installation is a perfect example of my "less is more" perspective on art (explanatory-wise, that is-- truncate the tomes and let the art do the talking). It's two strung suspended oversized cubical forms. One is made of charred wood remnants from a White Texas church struck by lightning; the other is made of charred wood remnants from a Black Kentucky church destroyed by arson.
Art (Wang Du).


Art (Wang Du).


Art (Wang Du).


Wang Du (left) - Suzanne Husky (translator - artist, center).
That dude in the back looks like he's got upskirt head wedge.


Mega crumpled paper bronze (Wang Du - like it).


Time Magazine bar code handmade rug art (Wang Du).


Time Magazine handmande rug art (Wang Du - pick).


Cinder art (Cornelia Parker - pick).


Cinder art (Cornelia Parker - pick).


Art (Wang Du).


Art (Wang Du).


Art (Wang Du).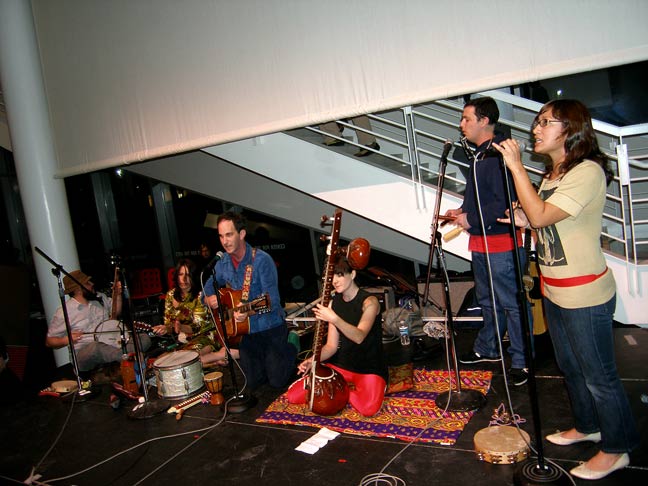 Tunes.


Tunes - 4 - Sale.


***
Melting Point Gallery, 1340 Bryant St., San Francisco, CA 94110: Tobias Tovera - The Medicine of Space.
Comment: I was a little queasy in anticipation of this show, the artist's email announcement crediting one Lauren Davidowski with saying "Tobias Tovera has emerged as one of San Francisco's young artists to watch," but I played through it and went anyway. The good news is that the four installations are reasonably compelling, their stories make sense, and I'm impressed by their craftsmanship. Intelligent concepts can't go far without the concepticator's dexterity to materialize them, and Tovera's materializations certainly make the cut. Helpful artist tip #5864C-- go light on adulation in show announcements; just tell us what you're showing and we'll take it from there.
Tobias Tovera - art.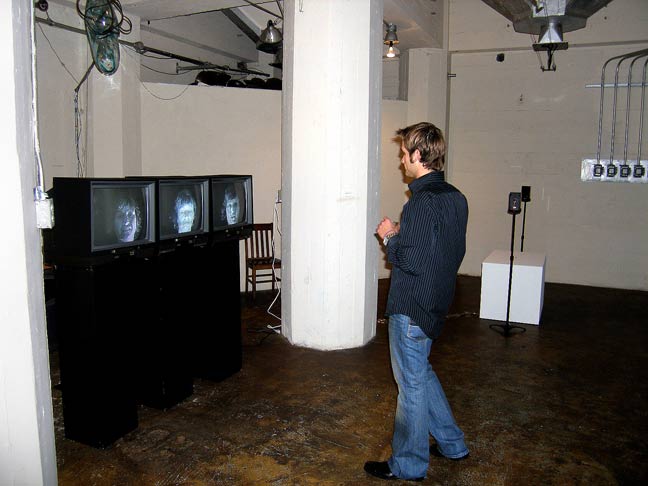 Art.


Tobias Tovera - art.


***
Lola Gallery: Rags to Riches - Charles Gatewood.
Comment: Early Charles Gatewood photographs from his "Wall Street" series, taken from 1972-1976. Nice. Gatewood, best known over the past two decades for his work documenting various subcultures, particularly sex and fetish related, tells me he currently devotes most of his time to publishing. The rambling gallery also features new sculptures by Nuala Creed and "illuminated photographs" by Cindy Bennett.
Charles Gatewood explains photograph.


Charles Gatewood explains photograph.


Photography (Charles Gatewood).


Photos (Charles Gatewood).


Charles Gatewood - photo.


***
Needles and Pens: The Copyist Conspiracy.
Artists: Bill Brown, Janelle Hessig, Sara Jaffe, Mike Taylor, Sean Tejaratchi, Cristy Roads, Andrew Scott, Icky Apparatus, Greta Snider.
Comment: Zine art, the essence a little obscure for me. The "Viewmaster" slide shows are fun-- the one I looked at had images of day-to-day life in The Mission. Co-owner Breezy Culbertson tells me that a number of the collaged and photocopied works in the show will be combined and printed as a special limited edition zine for subscribers. Most everything is under $50-- stocking stuffers.
Breezy Culbertson - zine - art.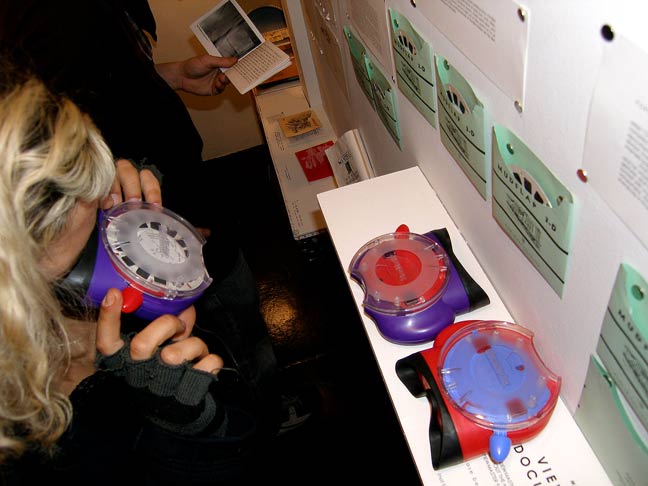 Viewmaster art.


Art.


Art.


Art.


***
Chillin Productions and Effection: STORM - Raising funds for Habitat For Humanity and Rebuilding Together.
Comment: Chillin Productions doyen Irene Hernandez-Feiks, in a fit of brilliance, does a major venue upgrade for her popular art and fashion event. Hosting this latest incarnation at Herbst Pavillion, Fort Mason Center, the options include 100 Fashion Designers, 60 artists, a runway show, tunes, libations, installations, and more. Plenty of room to move (there was a long line waiting to get in when I left), exceptionally convivial atmosphere-- excellent all the way around. Some of you artists might consider showing your stuff at future Chillin shows.
Hernandez-Feiks tells me that the purpose of her shows is to support and promote Bay Area talent, whether it's art, film, fashion, or music, by creating environments where artists and designers can show their work and grow their careers. All profits go to the artists.
Art.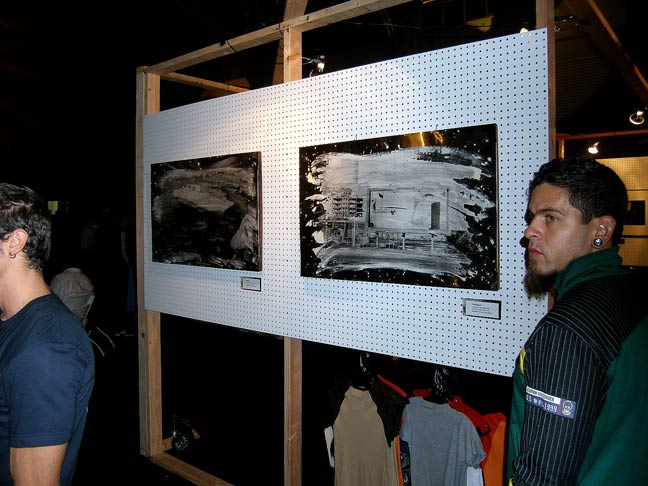 Photo emulsion on metal (like it).


Irene Hernandez-Feiks, show producer.


Art.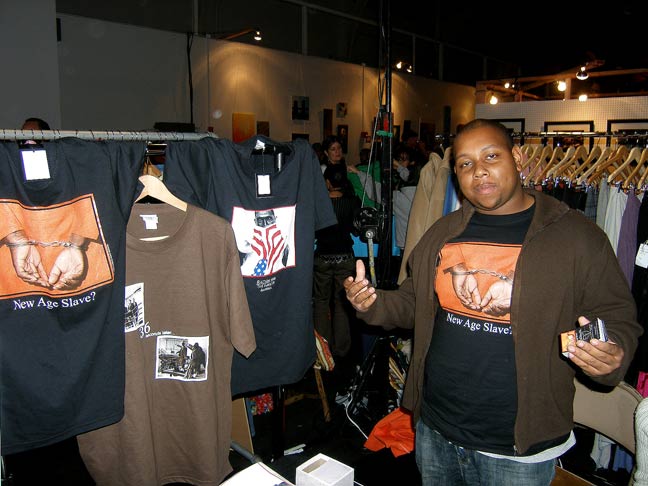 Fashion art.


Fashion Show.


Fashion show overview.


Scatha G. Allison, artist/designer.


Art.


Art.


***
SFMOMA Artists Gallery: Photography - A Semi-annual Survey of New Work in Photography.
Artists: Cara Judea Alhadeff, Hronn Axelsdottir, Elizabeth Block, Ryan Bush, A. Paul Cartier, Mimi Plumb Chambers, Carol Inez Charney, Pamela Cobb, Hannah Henry, Walter Kennedy, S. Lamanet-Lalonde, Mark Luthringer, Michelle McCarron, Sheila McLaughlin, Beth Moon, A. Leo Nash, James Reeder, Teresa Renee Norris, Reuben Ruiz, Carol Turner, Penny Webb, Margie Widmann-Hille, Melissa Wood.
Comment: I apparently missed the November 2nd opening for this show. Tonight sure looks like an opening as I pass by the gallery after leaving Chillin Productions, so I go in, but it turns out to be an opening night party for Magic Theatre. Well, an opening is an opening as far as I'm concerned and you wouldn't know the difference if I didn't tell you, and the photography is worth seeing, so let's do it. My favorites are a couple of Burning Man photos sans celebrants by Leo Nash-- just the art. Never quite saw the dustfest that way, but it's fresh-- excise the humans and you got artful device vs desert. Prices range to about $3K, most under $1K. Decent show-- check it out.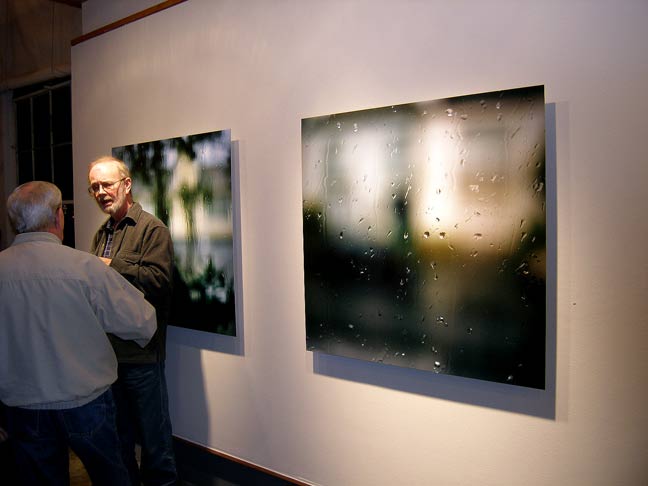 Photos (like 'em).


Burning Man photographs (Leo Nash - like 'em).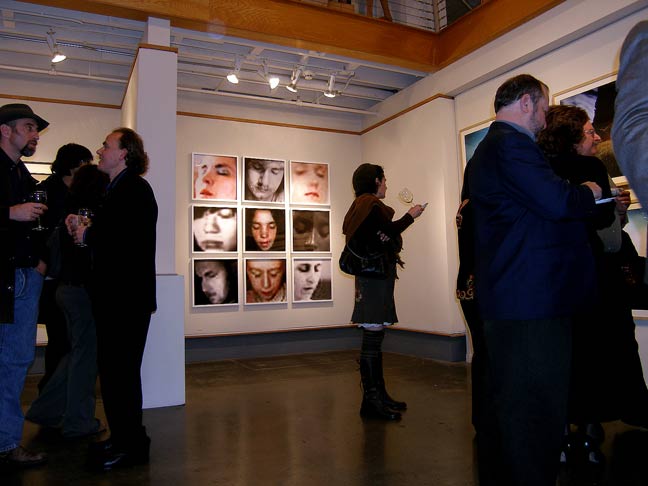 Photographs.


Photography.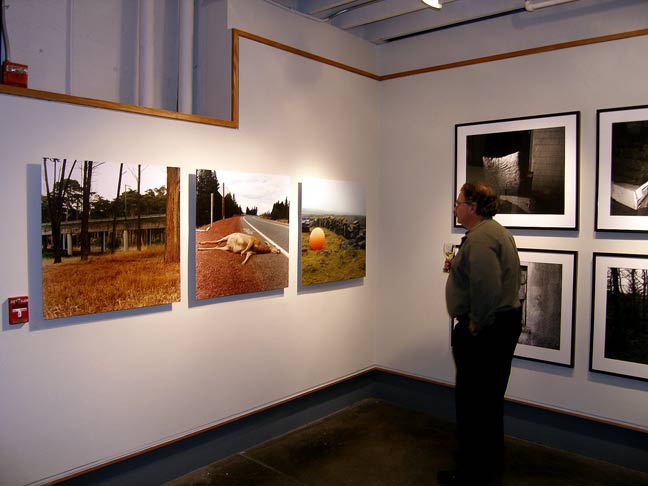 Photographs.


Photography.


***
Addendum: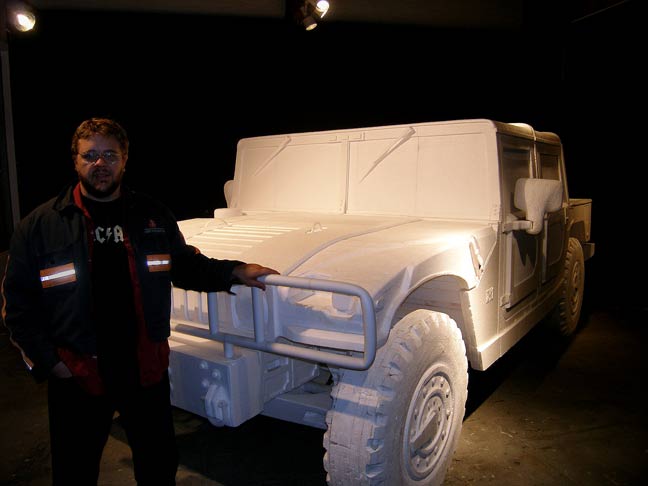 Andrew Junge and his styrofoam hummer at
San Francisco Arts Commission Gallery, 155 Grove.


Michael Wong, Joshua Gorchov, Eila Kovanen at mixedUSE.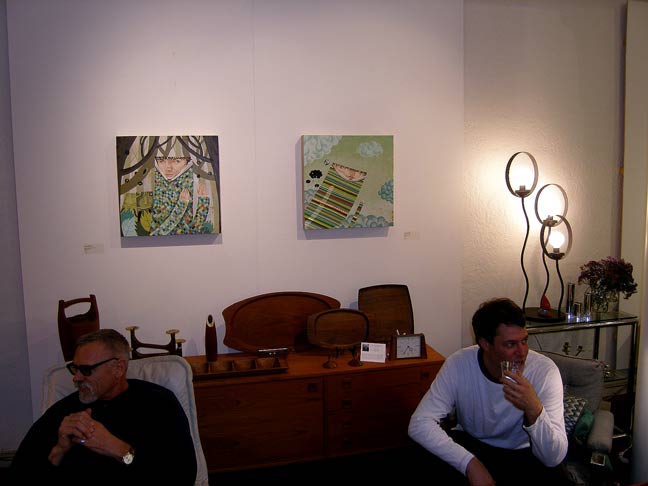 One more mixedUSE Modern.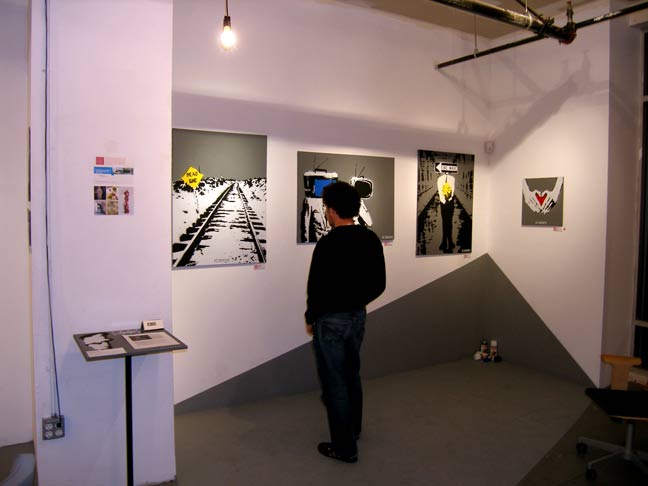 "Unsung" at Red Ink Studios (art - G-Money).


David DeRosa art at Red Ink Studios, 1035 Market St.


Karina Figueroa art at Red Ink.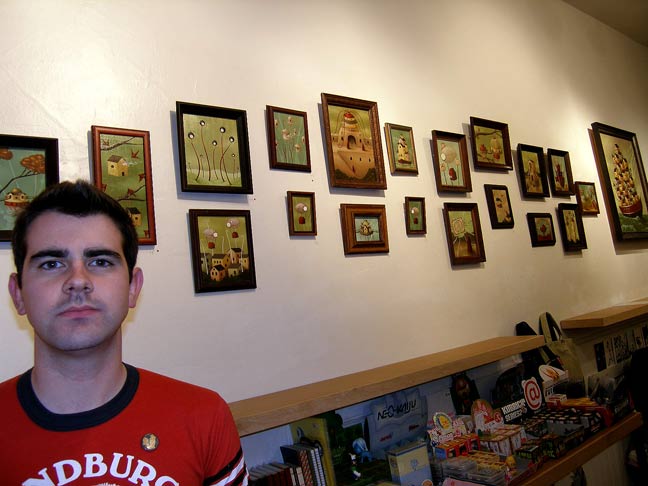 Jack Long + art at Giant Robot San Francisco.


Ert O'Hara shoots Susie Ghahremani art at Giant Robot.


Slick poster silkscreen show at Super 7.


One more from Super 7.


Richard Doyle + favorite handmade doll, Herb, at Galleria Tempest.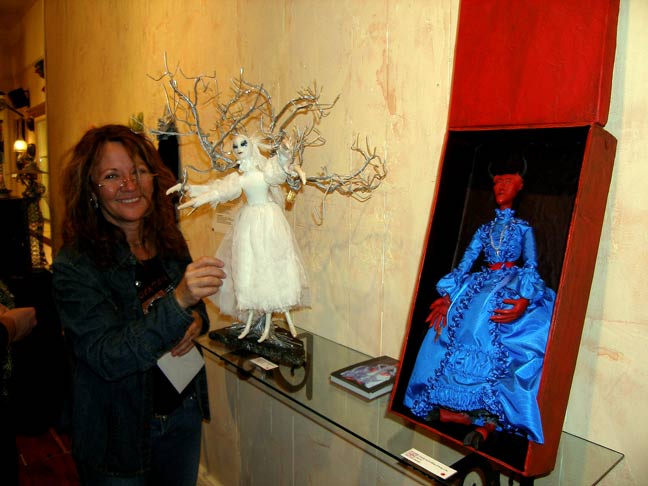 More Richard Doyle dolls at Galleria Tempest.