SAN FRANCISCO ART GALLERIES - OPENINGS
CHARLES CAMPBELL - LIVE WORMS - LOW GALLERY
11.26.05
Charles Campbell Gallery: First Annual Invitational Auto Show - New Paintings by Jane Fisher.
Comment: Charles Campbell Gallery partner Steven Lopez likes cars, hence the inaugural installment of this respectable automobilic array. In fact, he likes cars so much, he's concurrently exhibiting auto art at the Auto Show proper, Moscone Center, Booth 210. I'll have to ask Lopez about Moscone sales, but this brings up an interesting point of information for artists who like to sell art. No matter what kind of art you make, you can establish ancillary avenues for moving the merchandise, in this case, offering car art to car people. Makes sense, doesn't it? I've met a number of artists over the years who make comfortable livings operating entirely outside the confines of the gallery system (one more thing they don't teach you in art school).
Meanwhile back at the gallery, the car art's downstairs, and upstairs is a show of medium large figural works, big-brush smooth-surface pointillist-leaning impressions by former gymnast Jane Fisher. As a former high school wrestler (eminently mediocre in stature), I see people kinda the same way Fisher does.
Art (auto show).


Art (auto show).


Art (auto show).


Art (auto show).


Art (auto show).


Art (Jane Fisher).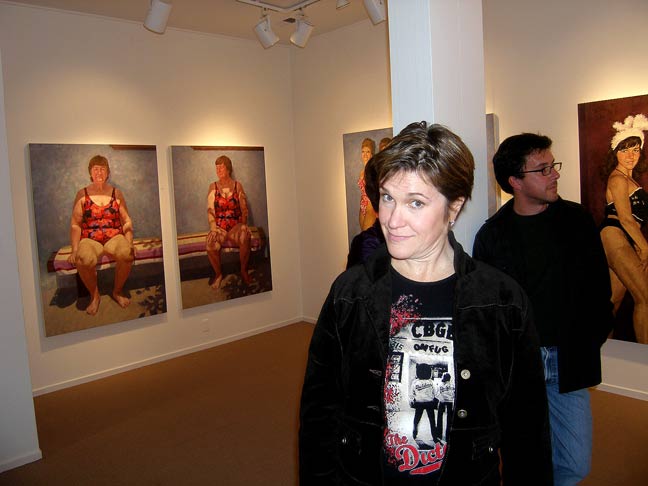 Jane Fisher - art.


Art (Jane Fisher).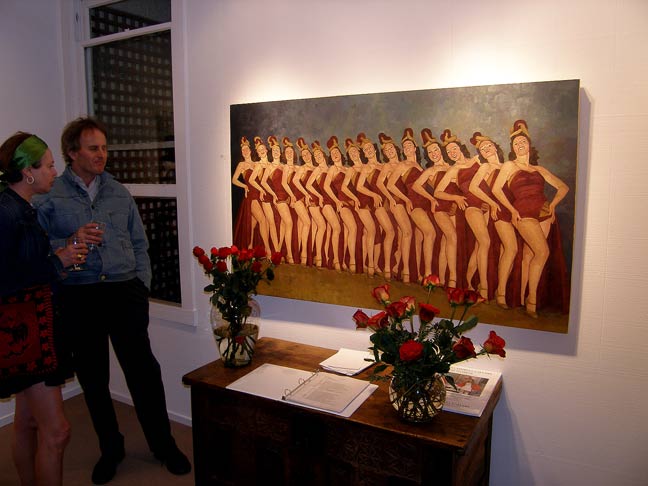 Art (Jane Fisher).


Curb candy out front.


***
Live Worms Gallery: Modern Masters - Stanley Mouse Fine Art Paintings, Bill Weber aka El Gallo Surrealist Paintings, Jason Griego Figurative Sculpture Art.
Comment: The show's Saturday-only. It's over. But I got pix. Live Worms appears to be part of painter Kevin Brown's studio. It's a very nice space on upper Grant Avenue, it's available for rent, and if you got the art, you got the mailing list, and you can turn out the populace, put Live Worms on your options list.
And so the epic of indignities endured by San Francisco's self-appointed raconteurial art scene gadfly continues. Here at Live Worms, more artists and their operatives warn me about copyright infringement than anywhere else. I weather the interrogations (this dude last night even took a video of me stating my name and website), assure all concerned that my intentions are good, and carry on. A brief word to artists, gallery owners, agents, reps, and sundry artsters everywhere who read art commentary anywhere: PUBLICITY IS ALWAYS GOOD. No matter what the medium, what they say, how they say it, how uninformed it is, how mean-spirited it is, how inaccurate it is, how stupid it is, AT LEAST THEY TAKE THE TIME AND SPACE TO SAY IT. This means one thing-- the art is worth saying something about.
Still fretting? Let's take this infringement thing a step further. Suppose a gallery wants to publish a catalog of your art. You gonna tell 'em no because someone might copy one of the illustrations? Chronic worrywarts might read Copyright Infringement and Your Creative Health.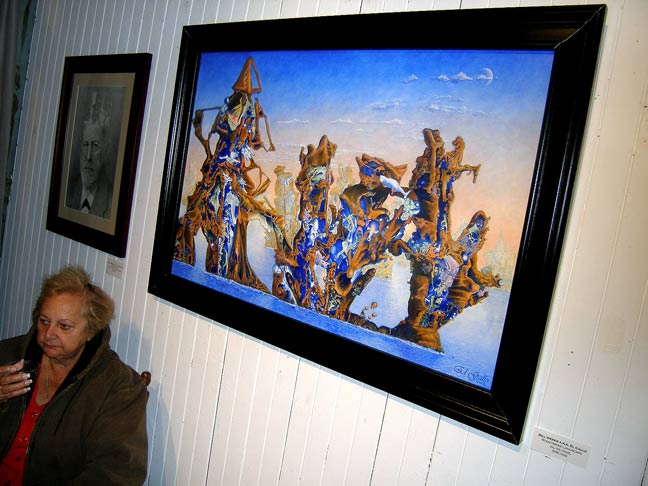 Art (El Gallo).


Art (Jason Griego).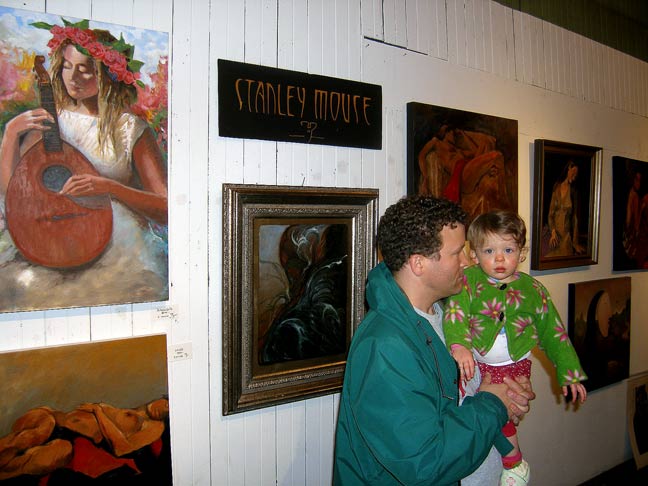 Art (Stanley Mouse).


Art (El Gallo).


Art (Stanley Mouse).


Art (Jason Griego).


Art (Stanley Mouse).


Arena.


***
Low Gallery: The Gravy Train.
Artists: Sylvia Ji, Nathalie Roland, Susie Ghahremani, Kris Chau, Narangkar Khalsa, Lisa Romero, Breanne Trammell, Shannon Palmer.
Comment: Eight artists collaborate by mail, sending their art back and forth until it's done, and now it is, and now it's here. The show benefits non-profit art world trumpet Fecal Face Dot Com. 50% of profits go to Fecal Face, the other 50% is split equally by the artists. Everything's under a hundred bucks. Hey stodgies-- wanna see the future of art event coverage? Check out Fecal Face. Don't let the Fecal train pass you by. (Note: for you terminologists in the house, artbusiness.com is technically a sub-profit.)
Lisa Romero (artist, show curator).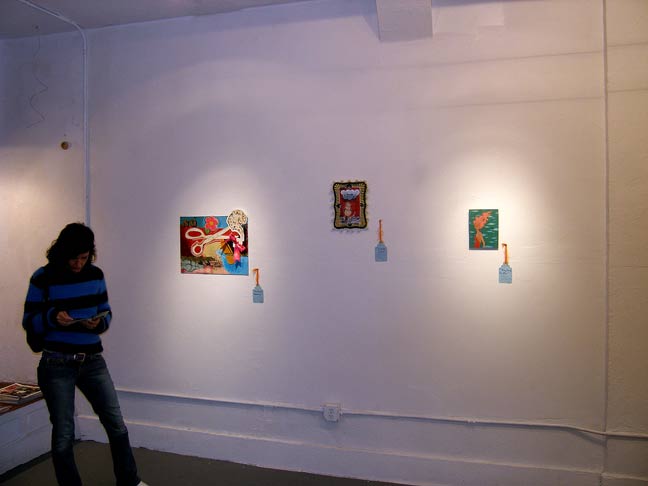 Art.


Art.