SAN FRANCISCO ART GALLERIES - OPENINGS
PAULE ANGLIM - RENA BRANSTEN - CATHARINE CLARK
SCULPTURESITE - RAYKO PHOTO - EROS - SPACE
(with assistance from Uba Owl)
11.29.07
Gallery Paule Anglim: Tony Labat.
Comment: So I'm perusing the ballyhoo on this Tony Labat show which is instantly winning my approval based on video works like "Peace Roll," where a confederate rolls an oversized peace sign across the street in a crosswalk before stopped traffic, and "Meta Crush," the story of Labat's 1977 Lincoln biting the dust in a wrecking yard, plus plenty of art to go with 'em. But then I trip over "Mapping the Outside (Fat Chance Bruce Nauman)" where Labat apparently christens himself with the liberty to covertly video day laborers standing on the corner beneath his studio.
Here's an idea-- covertly make a video about people who sell art under the table to skirt state and federal taxes. Like it? You don't? Hmmm. Sorry, but I don't understand artists who, at their whims and discretions, stealth themselves into other people's lives, particularly when those intrusions involve potentially sensitive data or issues, and-- here's the capper-- then publicly exhibit the results of those intrusions, priced and for sale. It's almost like claiming eminent domain over other human beings. You know the old saying that starts, "Do unto others...?" Sometimes it comes in handy.
But enough about me. Excellent show; go see.
Art.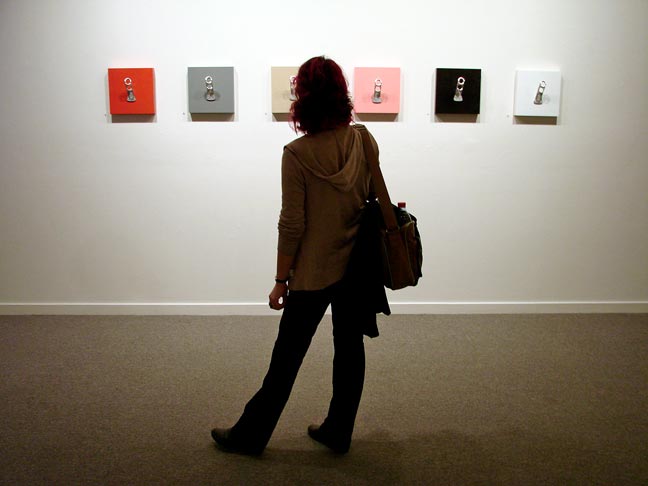 Art.


Art.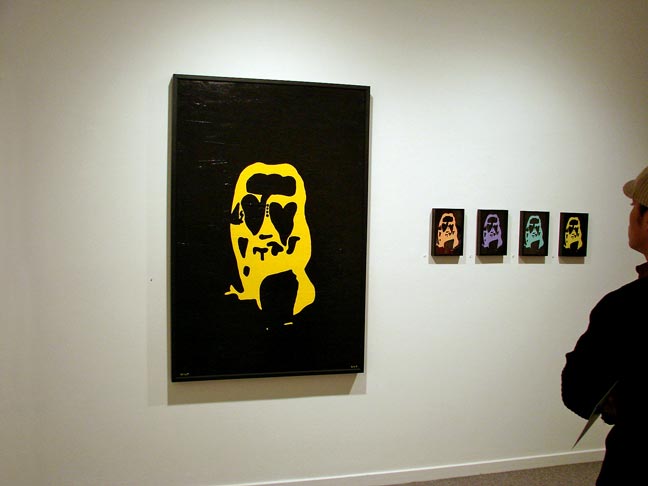 Art.


Art (Like it).


Art.


Art.


Art.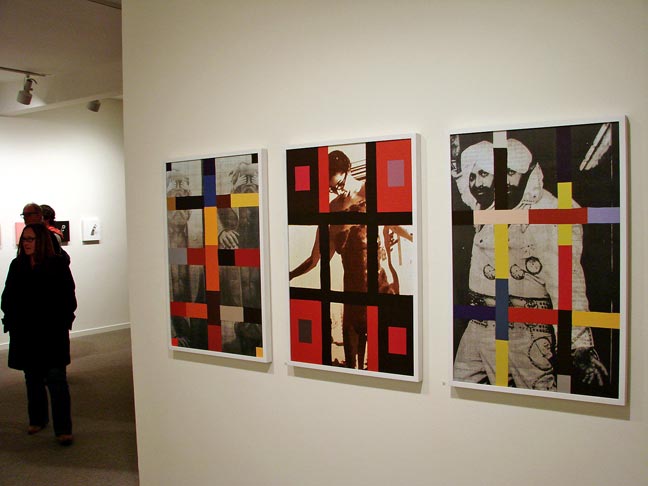 Art.


Art.


Art.


***
Rena Bransten Gallery: Ruth Asawa - Shapes and Forms; Rebecca Bollinger - The Chaos of the Stars.
Comment: Ruth Asawa is one of my all-time favorites. In particular, I can never get enough of her intricate floating woven wire sculptures. People often ask me whose art I would own if I could. Ruth Asawa's. Her art embodies so many attributes I value-- beauty, balance, mastery of medium, committment, dedication, patience, perseverance, attention to detail, daring to be delicate in a blunt force world, and most importantly, gifting everyone everywhere with something to marvel about.
In the front gallery, Rebecca Bollinger's adventures in telephoto blur are both aesthetically engaging and visually appealing; some incorporate exceptionally sharp-focus insets which effectively enhance their mystery.
Art (Ruth Asawa - love it).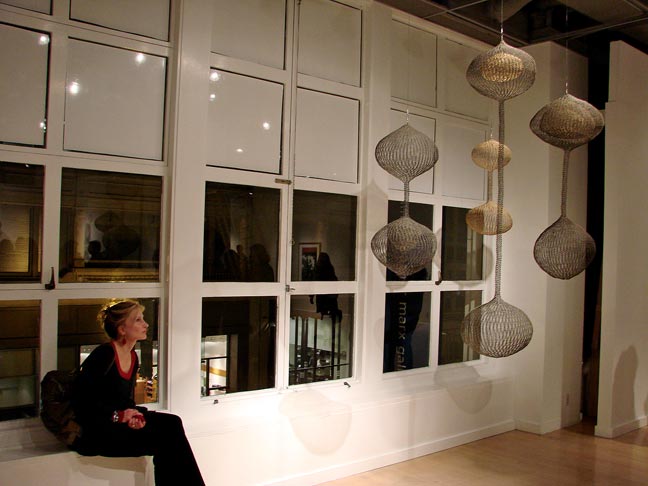 Art (Ruth Asawa).


Ruth Asawa.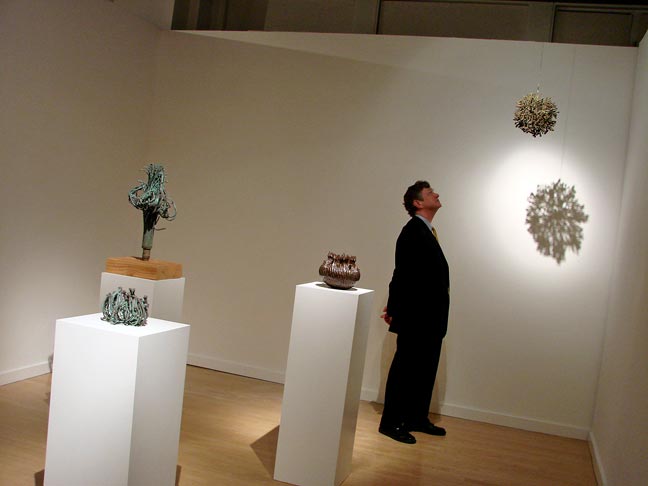 Art (Ruth Asawa).


Detail (Ruth Asawa).


Art (Ruth Asawa).


Art (Ruth Asawa).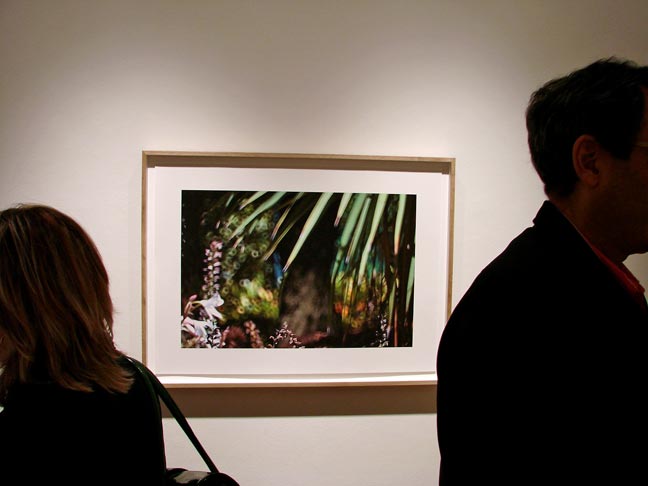 Photography (Rebecca Bollinger).


Photography (Rebecca Bollinger).


Photography (Rebecca Bollinger).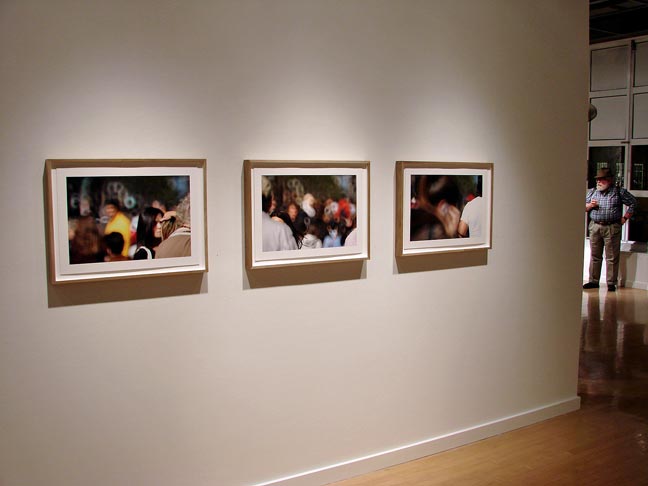 Photography (Rebecca Bollinger).


***
Catharine Clark Gallery: Al Farrow; Scott Greene - Fodderland; John Slepian - Caged.
Review by Uba Owl: As we walk into the gallery, a big red-orange color painting that looks like a large letter "l" leaps at us from 100 feet away. As we get closer, the image comes into focus revealing a bunch of extension cords suspended from a sky? On another piece, a head from what looks like a sculpture is broken off and laying on a ground... The artist, Scott Greene, mixes symbols and images from different objects to create images that examine relationships between every day culture, nature and politics.
Comment by AB: Al Farrow forges houses of worship from bullets, gun metal, and weapons parts. And they're devastatingly effective. The centerpiece of the show is a mind blowing rendition of a Gothic Cathedral with a surprise inside, surely destined for a museum, assuming it hasn't been snapped up already, which, knowing Catharine Clark, it likely has. Scott Greene, meanwhile, paints up a not improbable eventuality entitled "Fodderland," a penetrating perspective on how current events continue to unfold-- chards, fragments, and symbols-- disjointed, disorderd, jumbled, twisted, the progression trending increasingly tenuous and inoperative. Worth a visit on both counts.
Centerpiece cathedral frontal (Al Farrow).


Centerpiece cathedral detail (Al Farrow).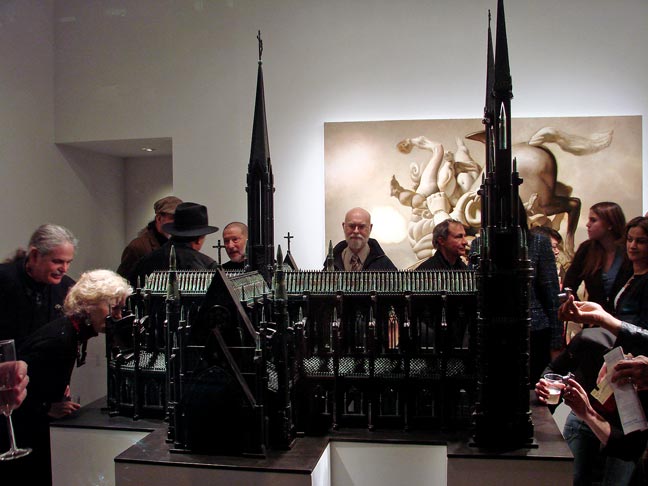 Centerpiece cathedral through the gallery front window (Al Farrow).


Art (Al Farrow).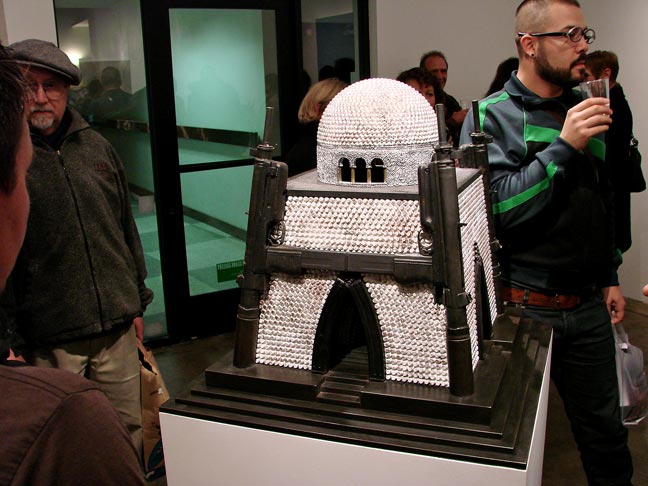 Art (Al Farrow).


Art (Al Farrow).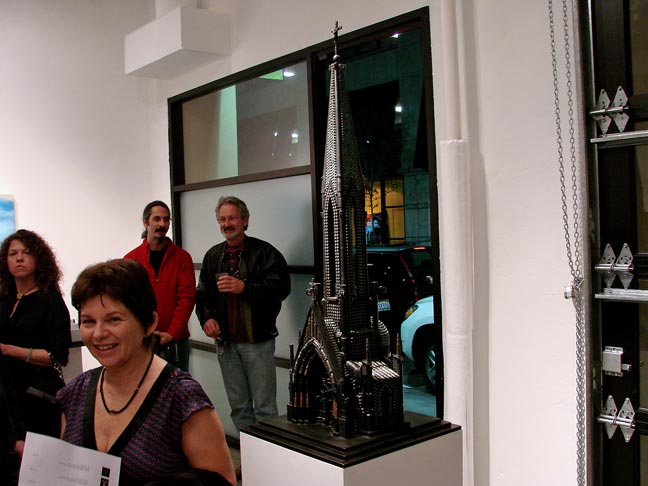 Art (Al Farrow).


Art (Scott Greene).


Art (Scott Greene).


Detail (Scott Greene).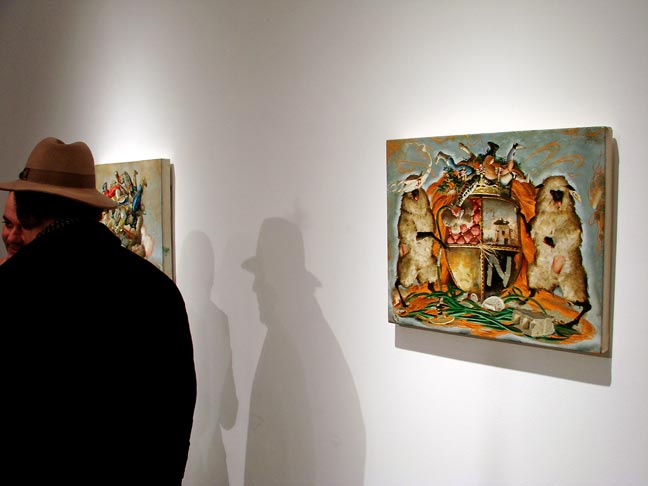 Art (Scott Greene).


Art (Scott Greene).


Art (Al Farrow, left - Scott Greene, right).


***
Sculpturesite Gallery: Big Ideas, Small Works.
Artists: Noa Bornstein, Terry Kreiter, Duane Loppnow, Frank Morbillo, Jenny Read, Dan Romo, Joseph Slusky, William Wareham, Matthew Zupnick
Comment: Small sculptures by accomplished sculptors; perfect stocking stuffers for The Holidays. Every art collection deserves at least two sculptures. Why? 'Cuz I say so. Plus sculptures have the added bonus of being tactile whereas most two-dimensional works are only visual.
Sculpture.


Sculpture.


Sculpture.


Sculpture.


Sculpture.


Sculpture.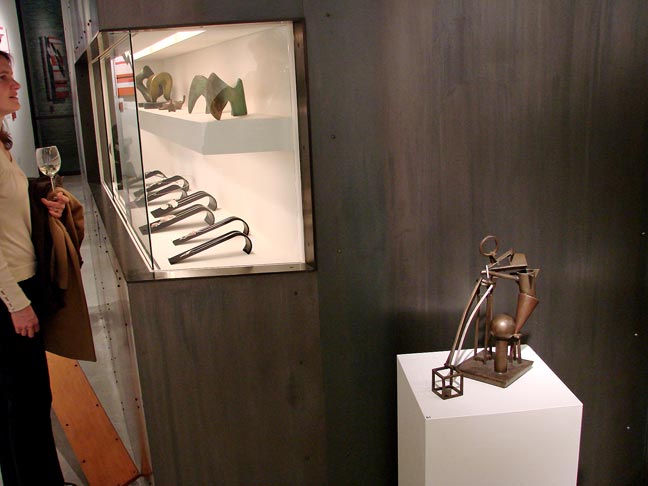 Sculpture.


***
Rayko Photo Center: Kenn Coplan - Der Ligner.
Comment: Kenn Coplan serves up a most entertaining assortment of kinetic contraptions, often amusingly deprecating to their creator, many mimicking antique scientific instruments, both electric and manual, and operated by pushing, pulling, turning, flipping, or pressing buttons, switches, levers, or dials. The exhibition also includes bogus board games, mock posters and newspaper advertisements, and sundry odds and ends. Coplan tells me that in real life, he designs and constructs film props and sets for films and TV in Los Angeles-- which explains why what we see here is so professionally produced and presented.
Art.


Art.


Kenn Coplan - art.


Art.


Art.


Fabricated board game art.


Coplan even designs and prints his own press clippings.


Art.


***
Eros - The Center for Safe Sex: Artworkers II.
Artists: Jack X. Taylor, Michel St. Germain, "The Queered," Mykkah Herner, Loren Bruton, Rick Cantryll, Lance Victor Moore.
Comment: "A show of erotic and non-erotic artwork created by current and past employees of San Francisco's Premier Gay Sex-Club." It's that simple and no more complicated. Prices range $45-$6000.
Art.


Art.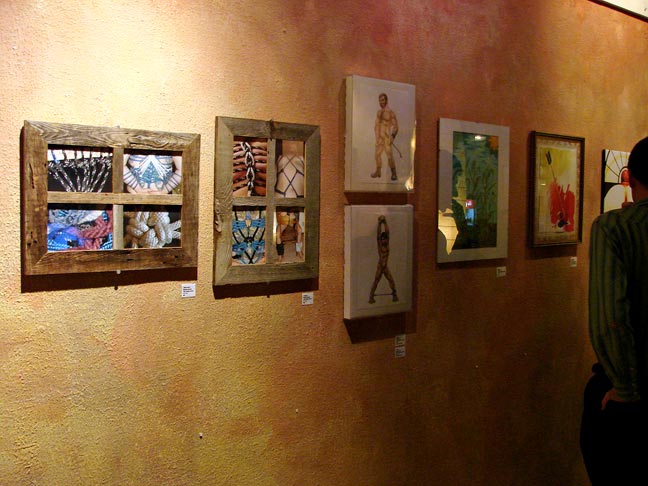 Art.


Art.


***
Space Gallery: More Brains - Zombies II.
Artists: Rob Zombie, Andrew Junge, Skott Cowgill, Clinton Lowery, Sham, John Dywer, Joe Roberts, Jesse Balmer, Chris Murdoch, Jim Dirschberger, Josh Powell, Chase Bowman, Archie Mckay, Marco Mejia, Max Kauffman, Jehan Choo, David Young V, C3, Jason Dryg, James C. Trujillo, Cameron Ramirez, Aron Meynell, Chris Conroy, Chris Treggiari, James Gregg, Tony Grat, Dusty Grooves, Dana Swirsding, Nikki Sass, Brandy Grogen, Becca Henry, Matt Delight, Kirk Larkins, Gorwhor, Jeremy Forson, Greg Gandy, Jeremy Mann, Andy McPherson, Kyle Lee, Joshua Ellingson.
Comment: The title pretty much nails it-- art about zombies, vampires, aliens, creatures, and other scary stuff. And some of it's pretty damn repulsive which indicates, in the context of this show, that it's pretty damn good.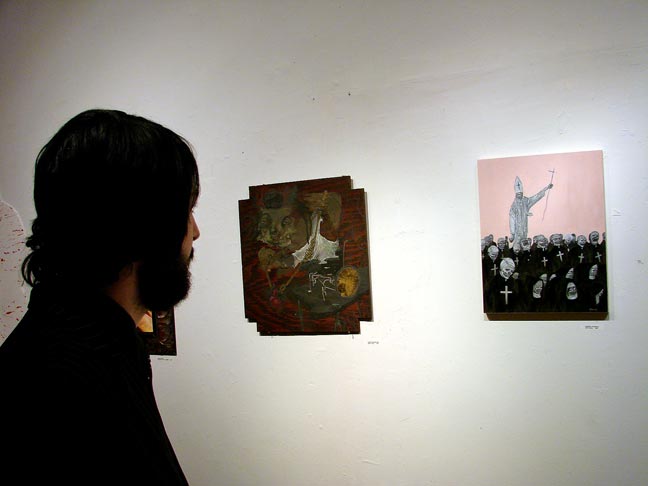 Art.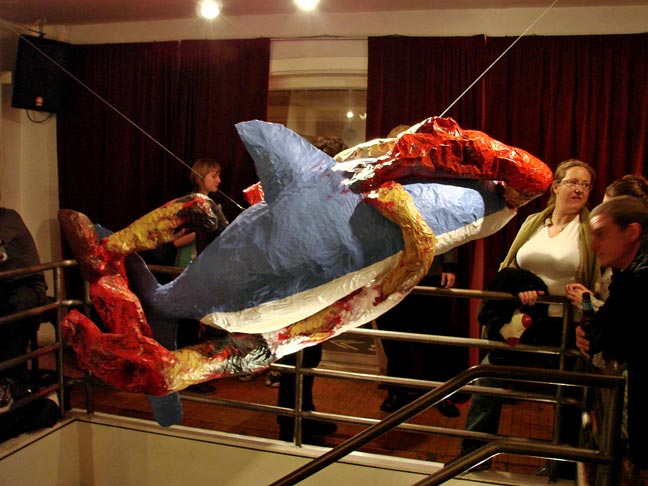 Shark mauls dude art.


Art (kinda like 'em - persuasive, don't you think?).


Art.


Art.


Art.


Art.


***