SAN FRANCISCO ART GALLERIES - OPENINGS
ANDREA SCHWARTZ GALLERY - MUSEUM OF THE AFRICAN DIASPORA
CCA WATTIS INSTITUTE FOR CONTEMPORARY ARTS
MUSEUM OF CRAFT AND FOLK ART
11.30.05
Andrea Schwartz Gallery: Emilio Lobato, New Works.
Comment: Colorado artist Emilio Lobato creates capable balanced antiqued paint-collage combinations featuring pages from old books. The compositions appear inspired by early modernist geometric abstraction, particularly Russian Constructivism, and the way he finishes them, they look like they could date from the 1910's or 1920's. Lobato tells me he gets his rich deep finishes by hand-applying numerous layers of paint to various forms in his compositions. Price range approximately $4K-$14K.
The Andrea Schwartz website has one of those irritating "We Know Best" features that automatically resizes your browser window when you visit. Mommy, I'm a big boy now and I wanna do it myself.
Art.


Art.


Emilio Lobato - art.


Art.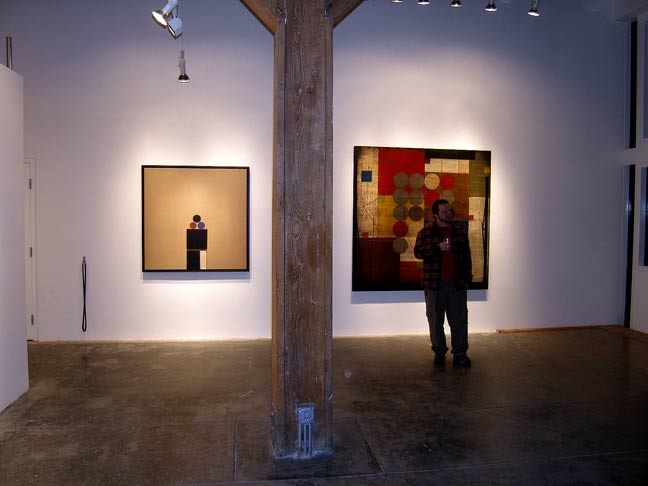 Art.


***
The Museum of Craft & Folk Art: Inaugural Celebration and Exhibition - Folk Art for the Soul from Bay Area Collections.
Comment: The San Francisco Museum of Craft and Folk Art relocates from Fort Mason Center to Yerba Buena Lane (pedestrian promenade between Market and Mission Streets) alongside the Marriott Hotel-- another cultural coup for Yerba Buena Center. The clean airy space is modest in size, but it's nicely laid out and packed with plenty of outstanding art from a variety of origins and time periods. The museum store, actually more like a gallery, offers a surprisingly large selection of top-shelf arts and crafts, including glass, ceramics, jewelry, furniture, and more. (That's right, every shelf is top-shelf.)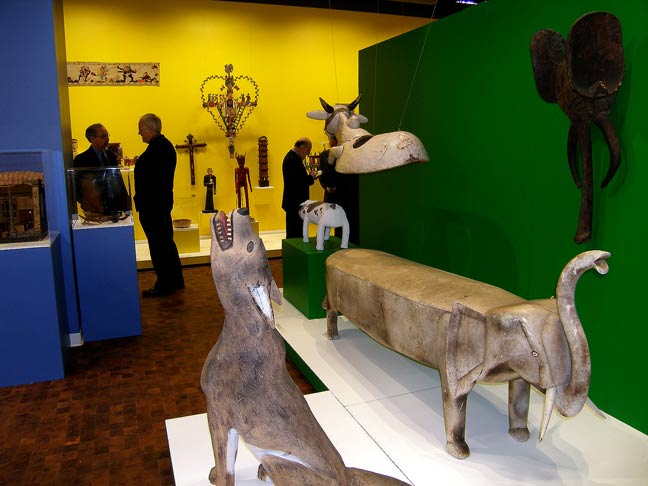 Art.


Art.


Art.


Museum store (gallery).


Art.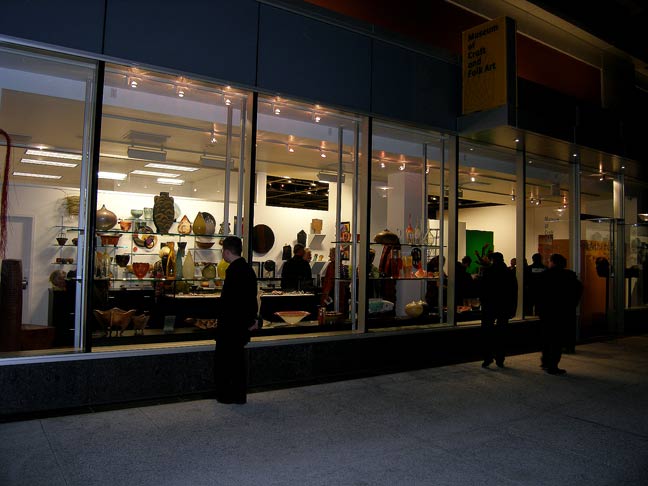 Walk-by.


***
Museum of the African Diaspora: Grand Opening Celebration - Linkages and Themes in the African Diaspora, Selections from the Eileen Harris Norton and Peter Norton Contemporary Art Collections; Dispersed, African Legacy/New World Reality; Made in Africa.
Artists: Maria Magdalena Campos-Pons, Mildred Howard, and Marepe (Marcos Reis Peixoto), iona rozeal brown, Hew Locke, Willie Cole, Glenn Ligon, Malick Sidibe, Kerry James Marshall, Belkis Ayon, Alison Saar, Yinka Shonibare, David Hammons, Kara Walker, Chris Ofili, Fred Wilson, Gary Simmons, Isaac Julien, Carrie Mae Weems, Nzuji De Magalhaes, Lamar Peterson, Mark S. Bradford, Ana Mendieta, Albert Chong, Lorna Simpson.
Comment: Excellent museum. Three floors along the North side of the Ritz Hotel on Mission Street. The first floor is the museum store and lobby, the second (at the moment) is about history and heritage, and the third is for art. The three inaugural exhibits cover just about every diasporic aspect and include personal interviews, videos, contemporary art, period art, prehistoric artifacts, and more. The museum's the perfect size too-- precision satisfaction. Nothing more to say other than that I love it. Go see.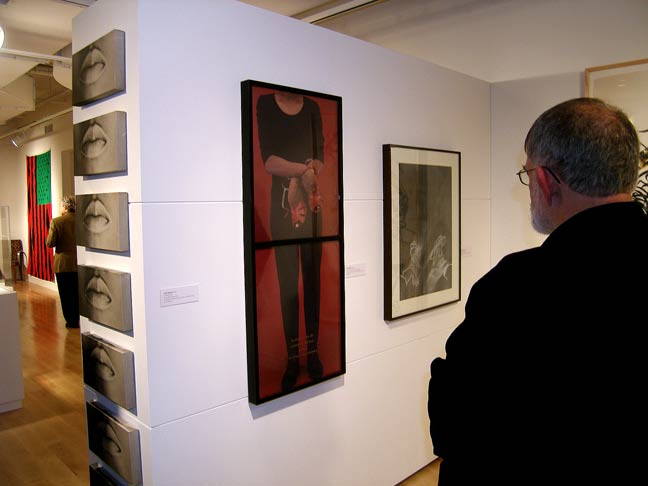 Art.


Art.


Art.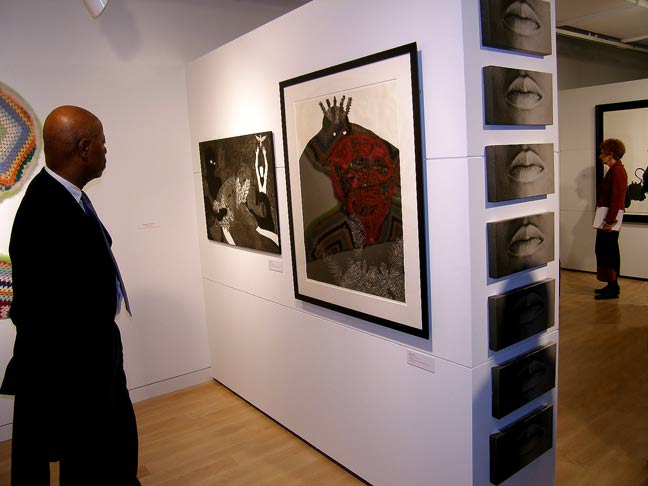 Art.


Art.


Art.


Art.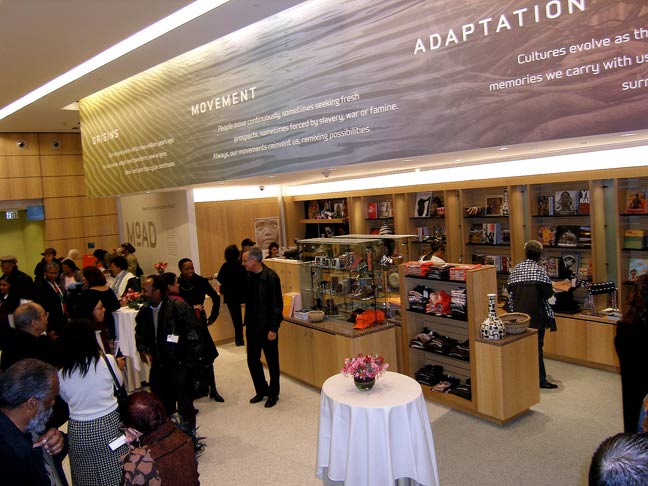 First floor.


Exterial.


***
CCA Wattis Institute, Logan Galleries: A Brief History of Invisible Art; Capp Street Project - Jeanne Dunning; Repetition - Artur Zmijewski.
Artists: Jeanne Dunning, Artur Zmijewski, Art & Language, Michael Asher, Robert Barry, James Lee Byars, Maurizio Cattelan, Jay Chung, Trisha Donnelly, Tom Friedman, Carsten Holler, Bethan Huws, Bruno Jakob, Yves Klein, Glenn Ligon, Jonathan Monk, Gianni Motti, Andy Warhol.
Comment: The press release doesn't say, but it looks like Jeanne Dunning talks a bunch of folks into having a major stewed-tomato fray. When the marinating ends, she photographs each lycopene-drenched contestant against a plain white backdrop as well as the saucy carnage that covers the floor. Then she makes life-size prints of it all, frames 'em up, and that's the show. To top it off, she gussies the deal with a can full of resplendent rhetoric presenting the images as elaborations "on her continuing investigation of representations of formlessness that evoke disturbing corporeal associations." Maybe that's what it is to Jeanne, but to me it's a tomato fight. In any event, the photographs are flawless, the frames are perfect (stains, finishes, joints, and sides), and the presentation is immaculate, which means only one thing, my artful darlings-- a show worth seeing.
For more rhetoric plus a quick dong-pull, head on upstairs to the second floor where they're showing "Invisible Art." According to the summons, the show's supposed to be conceptual, but it's really a bait-and-switch. They tell you the art's invisible, but then they substitute it with art you can see-- and it's mostly shades of white and beige. If you're gonna show invisible art, show art you genuinely can't see; for the quizzicals, put a small table outside the entrance with a stack of pretext handouts, and a sign saying "Take One," explaining that the room's not really empty. On second thought, maybe some of the art in the show is invisible, but I just can't see it. The good news is that the visible invisible art is generally well-constructed and displayed, like the glass-top showcase tables for instance, so it's not a total wash.
Artur Zmijewski's video might be art and it might be psychology, attempting to reenact the famous Stanford Prison Experiment of 1971 where good people got put into a bad place.
Tomato art.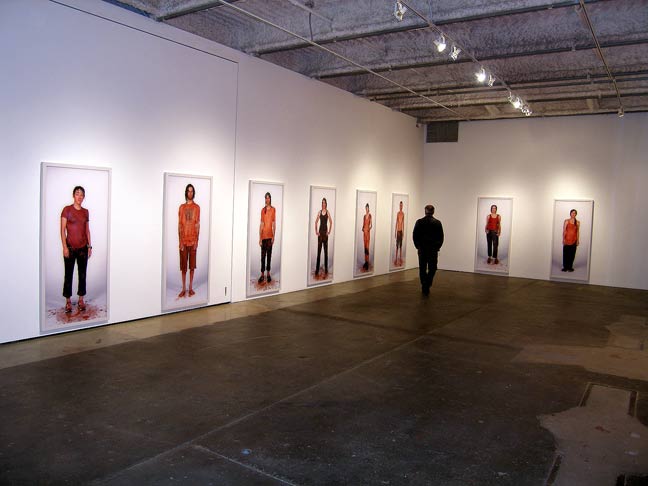 Tomato art.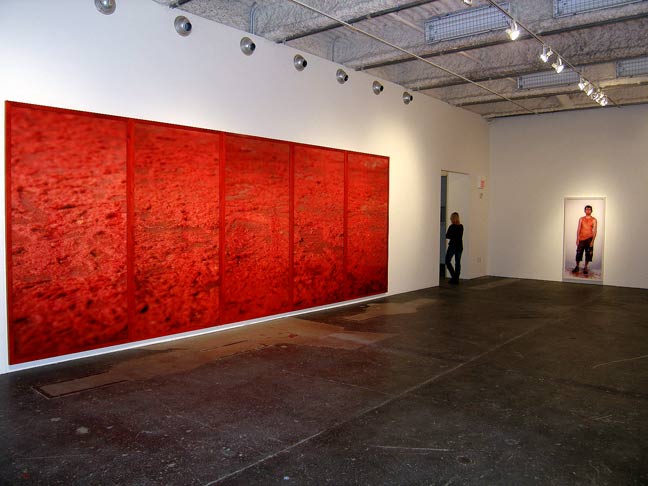 Tomato art.


Visible invisible art.


Visible invisible art.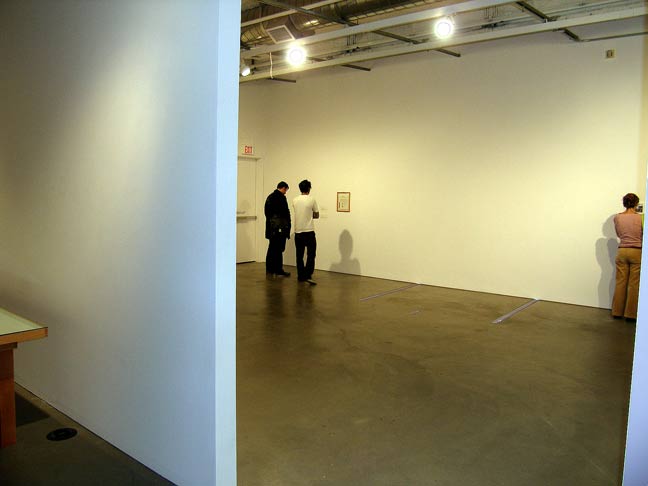 Visible invisible art.


Visible invisible art.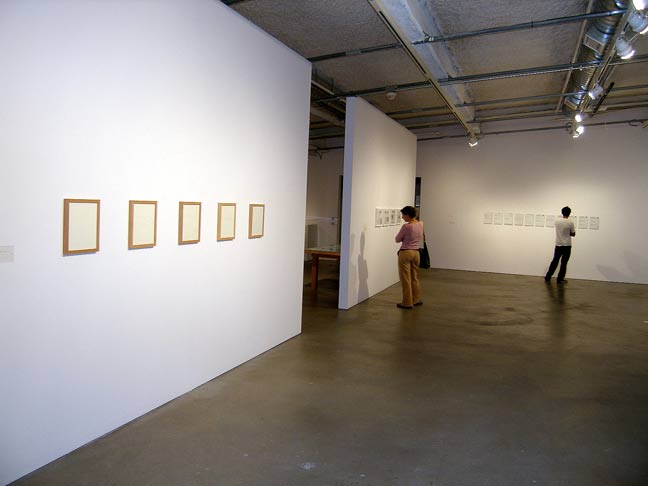 Visible invisible art.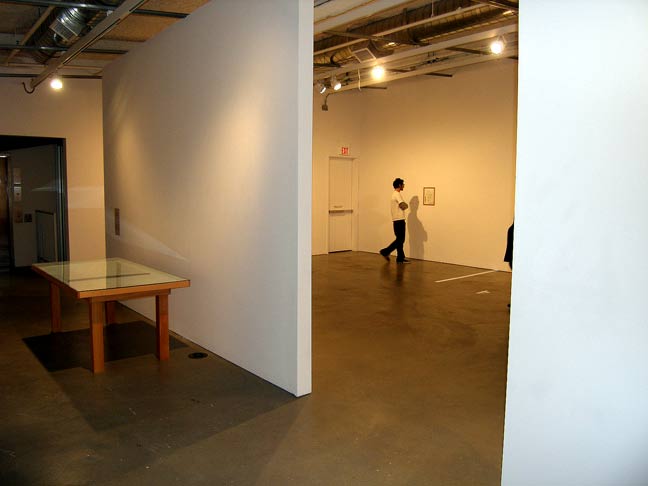 Visible invisible art.