SAN FRANCISCO ART GALLERIES - OPENINGS
JACKSON SQUARE HOLIDAY WALK
REPORTED BY CAROLINE ANDREOLLE
11.30.06
Jackson Square: Holiday Walk.
Comment: San Francisco's finest antiques dealers and fine art galleries open their doors for an evening of food, drink, and browsing in elegant classic settings. I think I went to North Point, Montgomery, Le Trianon, and the Antique Poster galleries. I loved everything I saw. I especially loved North Point and Le Trianon.
The painter at The North Point Gallery, Carol Peek, was adorable. I love the lighting in her art, and the overall warmth I get from looking at her paintings. Amzing detail, and I like the point of view from which the scenes are painted. Very palatable, assuming such a word can be used to describe paintings!
Art by Carol Peek at The North Point Gallery.


Art (Carol Peek).


Carol Peek - art.


Art (Carol Peek).


Art (Carol Peek).


***
Comment: At Montgomery Gallery, a great variety of known and less known European and American artists, mainly 19th and early 20th century. Very well put together, it's a great melting pot as it were. Great insights into other times, evolving styles. An array of colors, details, portraits and scenes of daily life from other places, and another times. I really liked it because there were works from famous painters that are not super famous; it gives another view of the artists and broadens the understanding of their style. An insightful mini-Getty, right in the heart of San Francisco.
Period art (John Francis Murphy).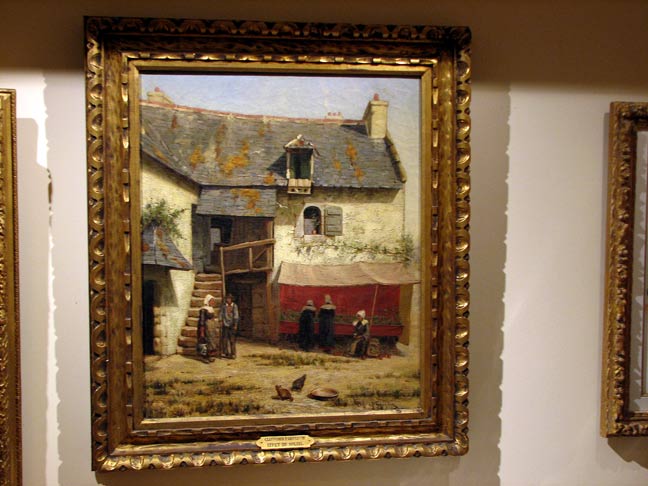 Period art.


Overview + command center.


***
Comment: I love Le Trianon Gallery gallery. Very interesting format, the further you walk in, the further back in time it takes you. A great way to travel through time (and less expensive than time machine research and development through astrophysics).
Art.


Art.


Art.


Art (Alexander Calder, left).


Art.


Art.


Art.


***
Comment: Sarah Stocking vintage posters was interesting to me, because I am French and have seen some of these magazine covers in art history class. I spent a lot of time translating for a friend who was a little disappointed to know that many were ads for chocolate, candy bars, or cabaret openings. A little caricatural of French culture I think, but a must in the history of magazine arts. I was surprised not to see any of Henri de Toulouse Lautrec's work (maybe it was there), typically showcased to give a taste of Paris's low brow night life at the turn of the century.
I was pleased to see some more provincial work (even though I have a distaste for the word "provincial" as it is degrading and meaningless), with views of the Alps, bicycling, and average Joe's. That broadened the scope one typically has of this type of art (that is, cabaret folly and colonialist views of sweets). Overall, I enjoyed it. Loved to see Mucha there, always was a big fan.
Poster art (Alfonse Maria Mucha).


Poster art.


The goods.


***