SAN FRANCISCO ART GALLERIES - OPENINGS
THE LAB - ELECTRIC WORKS - ART ENGINE
THE ELATIONISTS - YERBA BUENA CENTER FOR THE ARTS
A.MUSE - SOMARTS - BROWN BEAR
(WITH ASSISTANCE FROM DEWITT CHENG AND JESSICA WHITESIDE)
11.30.07
The LAB: Post-Postcard 11 - The Eleventh Annual Small Format Art Sale; Claire Nereim - An Alphabet of Famous Mountains.
Comment: In the main gallery, oodles of artists offer up incalculable abundances of postcard-size works of art in the eleventh electrifying episode of this celebrated open-invitation affordable art sale and fundraiser. Prices range from $1-$30, and who can possibly complain about that? In the breezeway, and also abiding by the postcard format, Claire Nereim shows 26 cut paper smalls of mountains. Now whether or not these are actual mountains and whether or not they're actually alphabetized (as the title of the show would suggest) is not clear from the promotional brochure. One of 'em sure looks like the Matterhorn, but reading from left to right, it's not in the "m" position.
Art.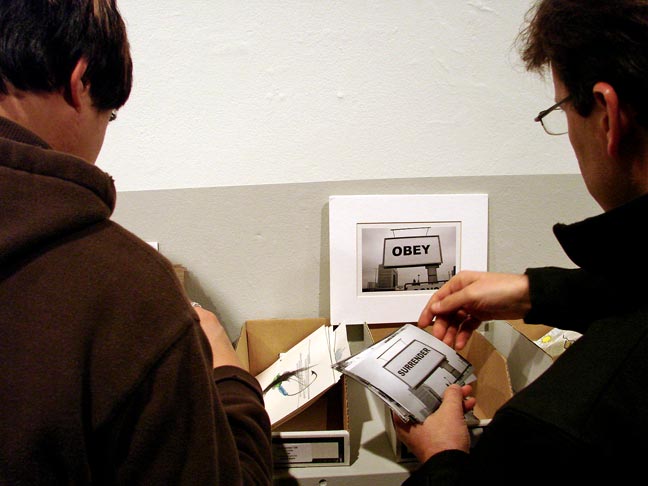 Art.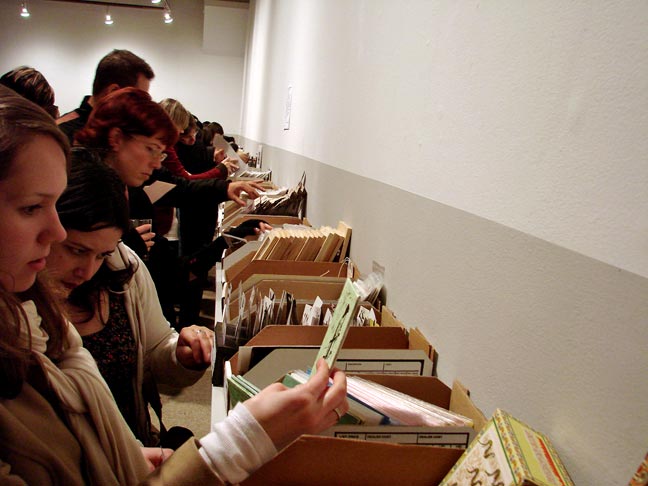 Art.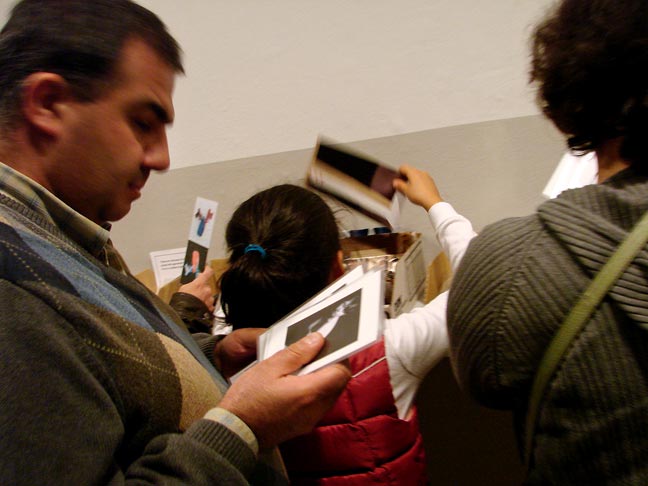 Art.


Art.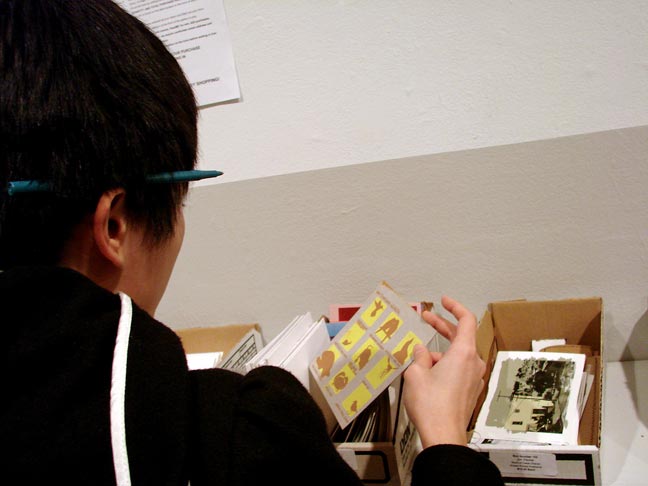 Art.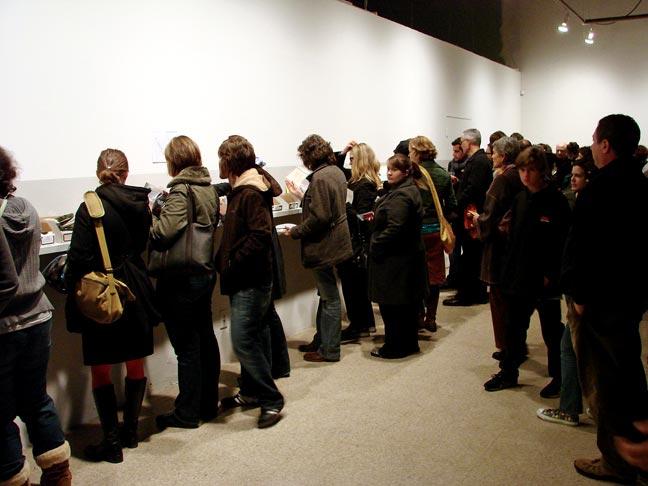 Long view.


Alphebetized mountain art (Claire Nereim).


***
Electric Works: Civil Twilight.
Artists: Michelle Blade, Iva Gueorguieva, Amanda Hughen, Jason Jagel, Jeremiah Maddock, Paul Madonna, Christina Mazza, Heidi McDowell, Michele Pred, Nathan Redwood, Julie Rofman, Travis Somerville, David Tomb, Katherine Westerhout.
Review and photos by DeWitt Cheng: "Civil Twilight," group show of 14 artists in the new 8th Street (near Mission) gallery and print shop, formerly Trillium Press of Brisbane. A family-run business, in art, in San Francisco! A good-sized crowd on a cold SF night.
DeWitt Cheng writes for Artweek, Art Ltd., www.SanFranciscoArtMagazine.com and www.Shotgun-Review.com.
Christina Mazza - black ballpoint drawings of found objects.


Nathan Redwood - hi-red giclée with painting.


Julie Rofman - ecological surrealism.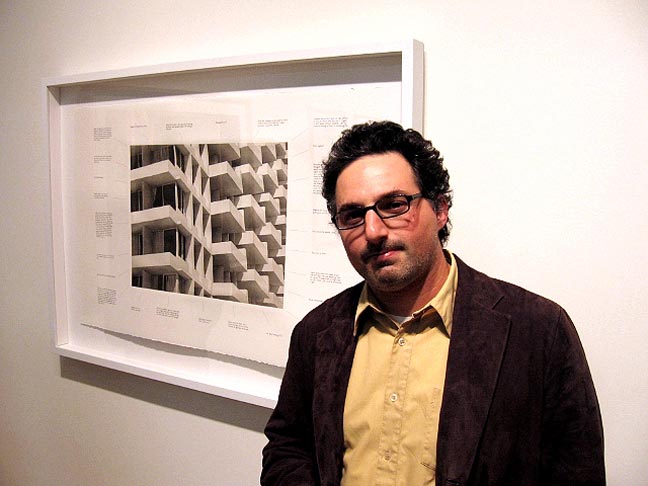 Paul Madonna - "All Over Coffee" original.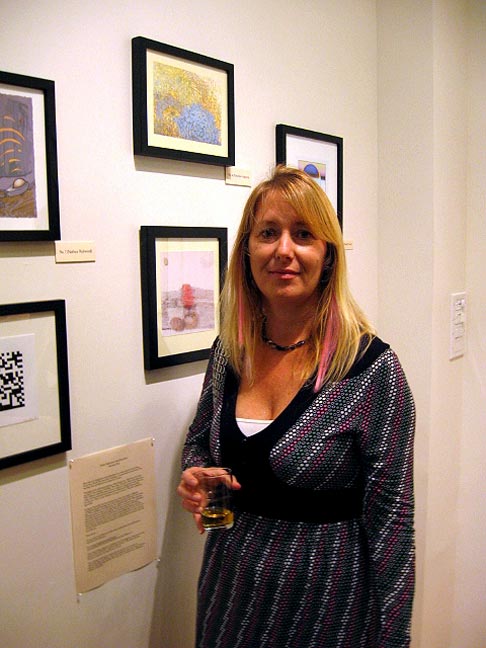 Michele Pred - bar code machine-readable art.


Heidi McDowell - pencil drawings of bird plumage specimens.


Michelle Blade - mixed media on mylar - "500 Mt. Tam climbers."


Owner Richard Lang and one of his sons.


Travis Somerville - art (photo by AB).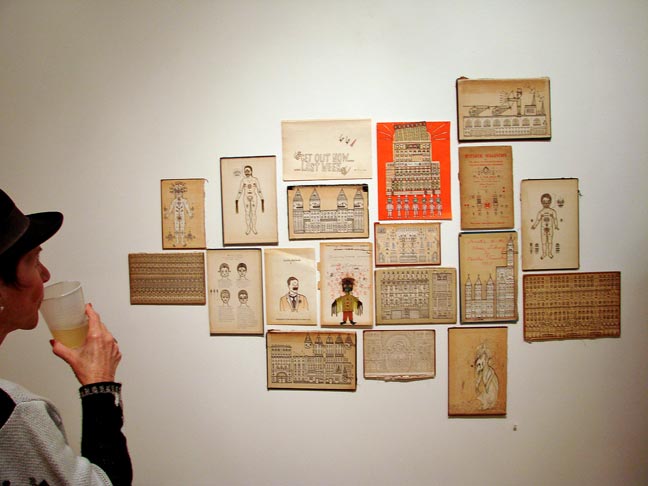 Art (photo by AB).


Jason Jagel points to photo of his brother in his piece.


***
Art Engine: Dan Grayber - Self-Resolving Problems, New Sculpture.
Comment: Crisp clean intricate engineering art by Dan Grayber consists of brake cables, motors, glass, metal, and related ingredients. His unique works are capable of sundry aerobatics which include climbing walls, suspending themselves in space using their own tension, adhering themselves to solid surfaces, and more. Priced $1100-$6000.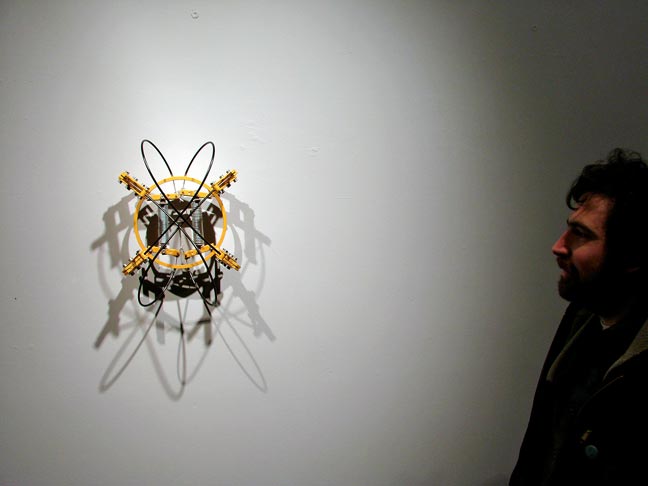 Art.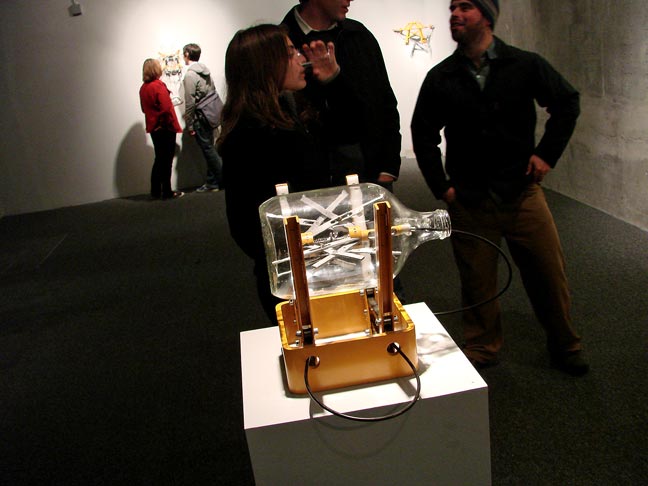 Art.


Dan Grayber - art.


Art.


Art.


Art.


***
The Foundation for the Preservation of Fantastic Possibilities, 444 Clementina St., San Francisco, CA 94103; 415.568.7456: Centennial Celebration of the Elationists (1907-1915).
Artists: Brent Bishop, Tyson Ayers, Robert Larkin.
Comment: A la Museum of Jurassic Technology, a repository of art, archival photographs and film footage, strange musical instruments, and miscellaneous curios, chards, heirlooms, artifacts, remnants, and dealie-bobs of early 20th century San Francisco are rediscovered in the attic of an ancient Victorian mansion. This not inconsequential stash turns out to be all that remains of an esoteric and forgotten San Francisco movement which rose from the quivering ashes of the Great One of 1906. Yes my lovelies, an elite group of creatives, monickered The Elationists, formed the core of this movement, captained by the charismatic Very Very Morley. And so on and so forth ad infinitum. The best part? Unlike comparable archeological unearthings that more or less invariably retire directly to museums, pretty much all these here Elationisms are for sale-- $250 per photo; the art priced from $800-$4000.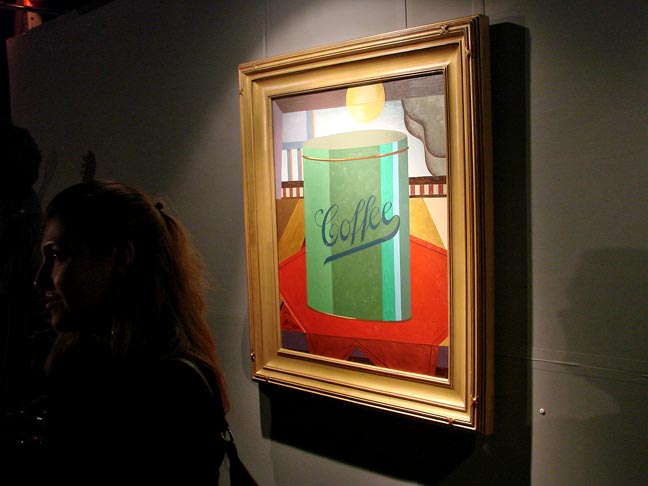 Art.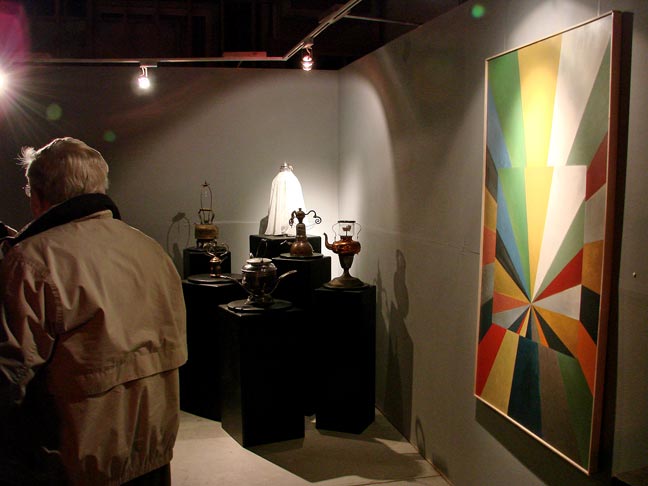 Art.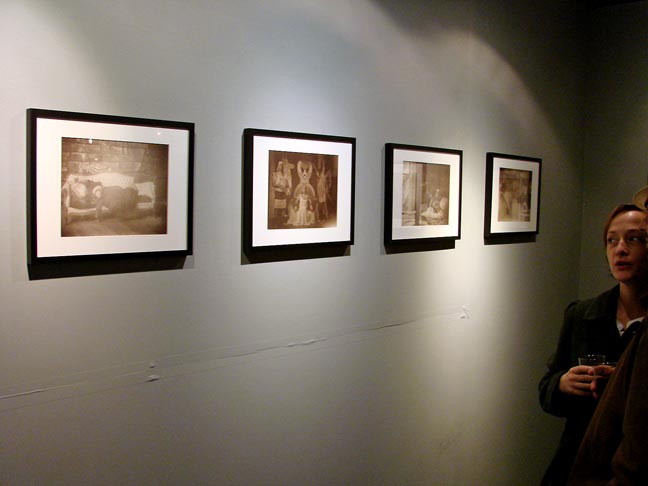 Art.


Art.


Principal Brent Bishop expounds on the momentousness of the event.


Art.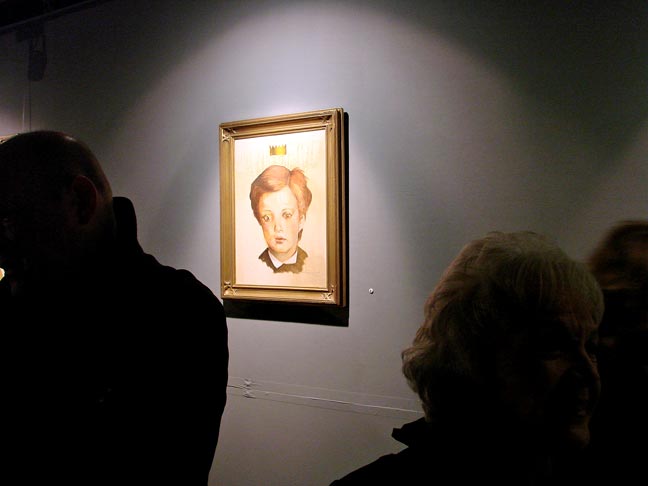 Art.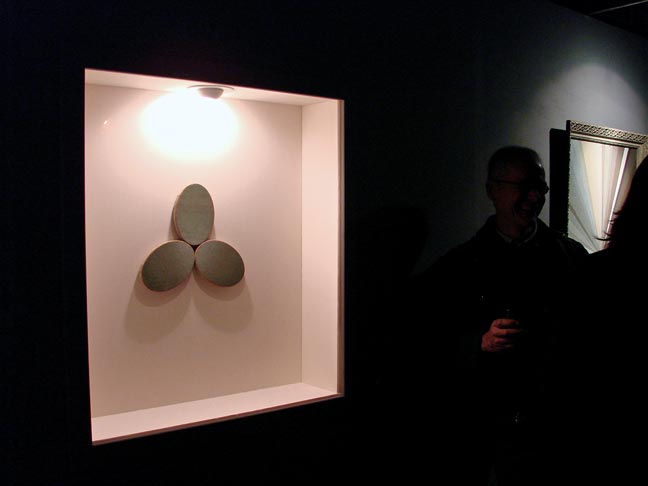 Art.


Explanatory.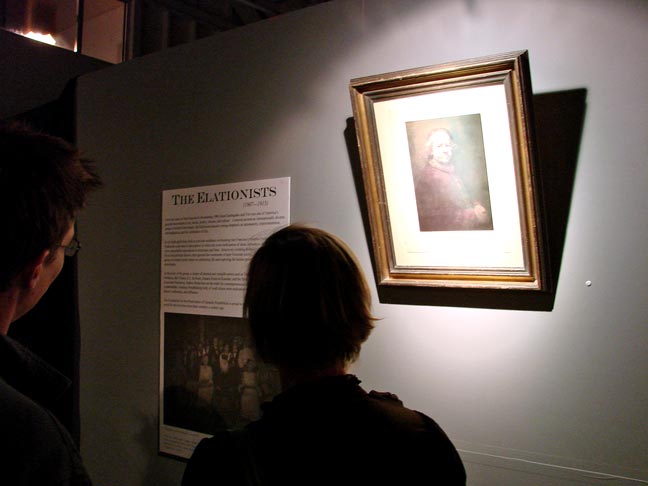 Explanatory.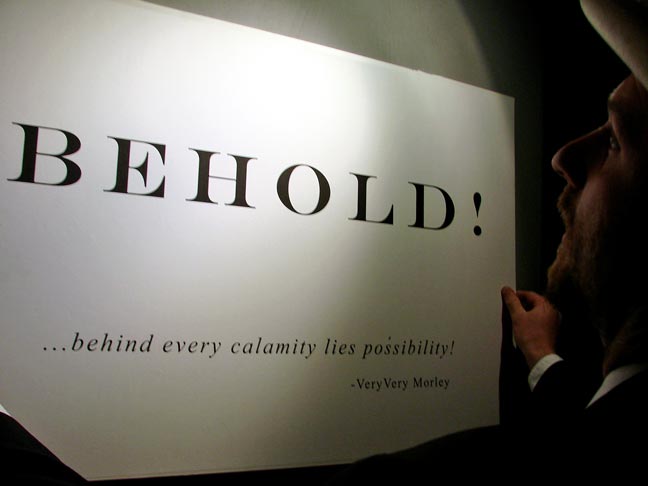 Homily.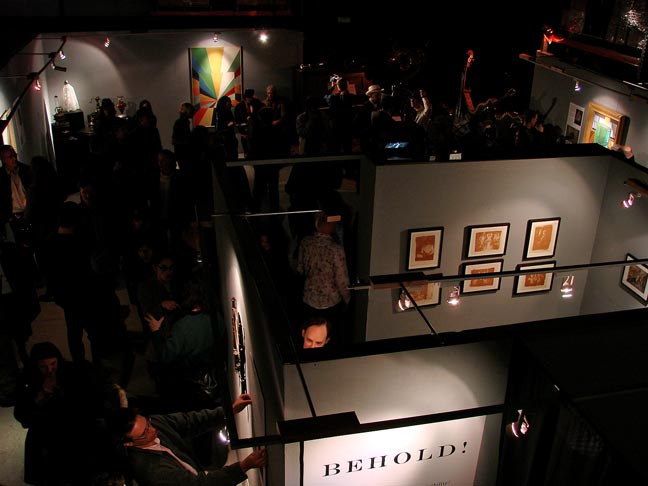 Aerial.


Restored rediscovered instrument.


Rediscovered tunes played on restored rediscovered instruments.


***
Yerba Buena Center for the Arts: The Missing Peace - Artists Consider the Dalai Lama.
Artists: Marina Abramovic, Seyed Alavi, Laurie Anderson, Richard Avedon, Sanford Biggers, Squeak Carnwath, Long-Bin Chen, Christo and Jeanne-Claude, Chuck Close, Santiago Cucullu, Binh Danh, Richard Gere, Jim Hodges, Jenny Holzer, Ilya and Emilia Kabakov, Anish Kapoor, Kimsooja, Enrique Martinez Celaya, Michal Rovner, Sebastiao Salgado, Jaune Quick-to-See Smith, Mike and Doug Starn, Pat Steir, Adriana Varejao, Bill Viola, William Wiley, Negishi Yoshiro, many more.
Review by Jessica Whiteside: The Missing Peace is organized by the Committee of 100 for Tibet and the Dalai Lama Foundation, the participating artists selected based on the criteria that their work embodies the themes and ideals of the Dalai Lama, namely, power of spirituality, mystery of transcendence, universal interconnectedness, and the need for peace.
In this exhibition dedicated to the Dalai Lama there are some truly standout works amongst an array of works that are largely unique and engaging, however the individual pieces do not necessarily tie together in an overall theme. An oversized photographic portrait of the Dalai Lama by Chuck Close hangs in the at the entrance to the show and draws you in with its intimate look at the Dalai Lama's kind features. Other pieces that stand out are a colorful mural called "Brief History of Tibet" by Tonzing Rigdol, Susan Plum's huge broom sculptures that call an end to violence against women, an odd video installation by Laurie Anderson that immediately reminds me of the holographic messages sent by Princess Laya in Star Wars, and last but not least, a beautiful red portrait called "Reincarnation" by Salutiano which is featured as the signature image of this show.
"Reincarnation" (Salutiano).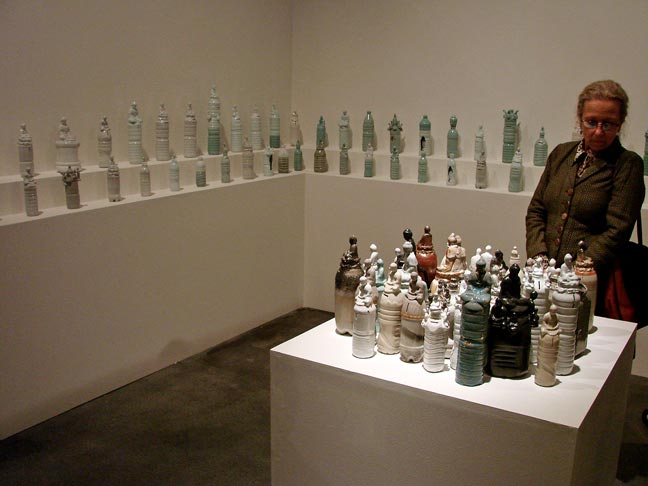 Art.


Video art (Marina Abramovic).


Art (Susan Plum).


Live painting.


Art.


Art.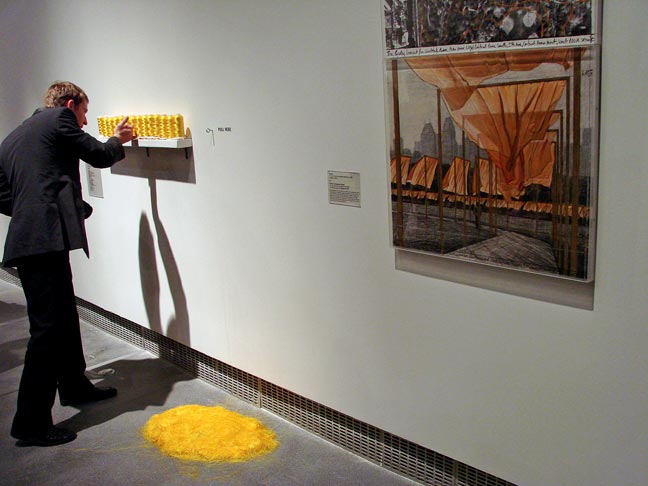 Art.


Art.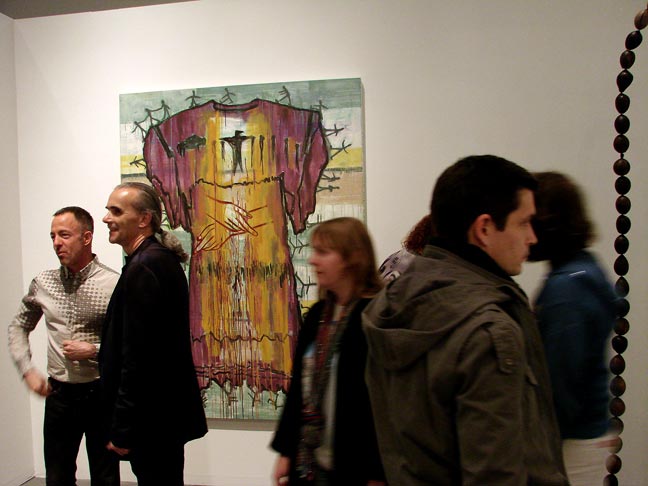 Art.


Art.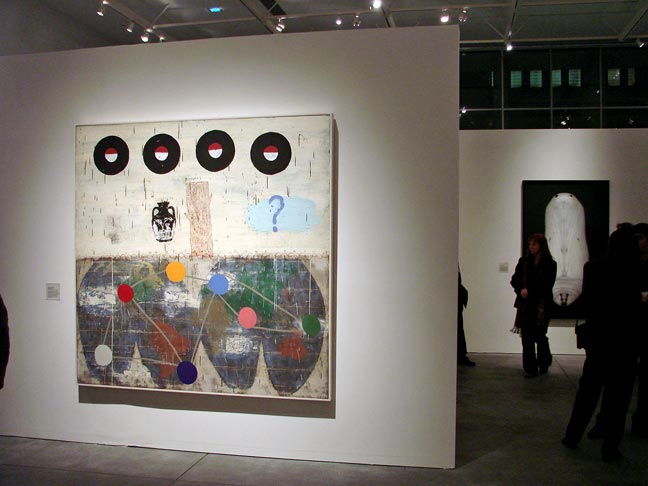 Art.


***
a.Muse Gallery: Peter Foucault - The Drawing Project; Veronica Van Gogh - The Magari Project.
Comment: Intricate nonrepresentational ink drawings by Peter Foucault, contemplative photographs with magnetic or mouse pad backings by Veronica Van Gogh (messages, as they're called), tunes by The Conspiracy of Venus (the female counterpart to The Conspiracy of Beards), and a sellout crowd.
Art (Peter Foucault).


Art (Peter Foucault).


Art (Veronica Van Gogh).


Art (Veronica Van Gogh).


Art (Veronica Van Gogh).


The Conspiracy of Venus (sorry but that's the best shot I got).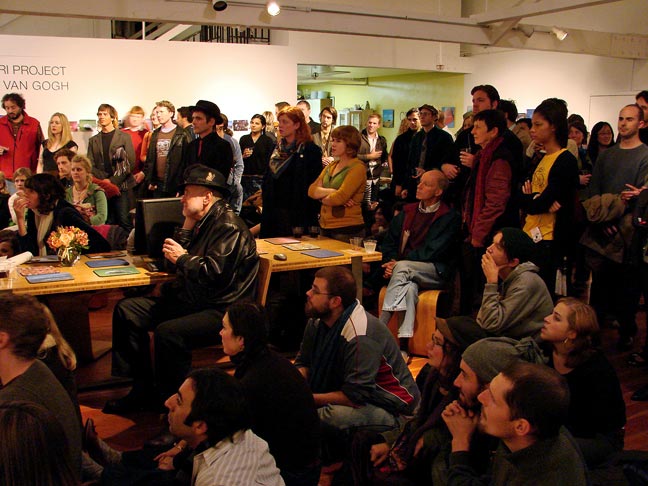 Partial head count.


***
SomArts Main Gallery: Lipstick Kisses.
Artists: The Flaming Lotus Girls.
Comment: Gallery show and silent auction fundraiser to benefit the Serpent Mother World Tour. According to the docket, the Serpent Mother is a 168-foot long fire breathing dragon which debuted at Burning Man and is currently perpetrating go on the road, "expanding her dominion beyond the Burning Man playa toward World Domination." And that, dear artsters, is the long and the short of it.
Self-propelled rolling globe art.


Art.


Art.


Art.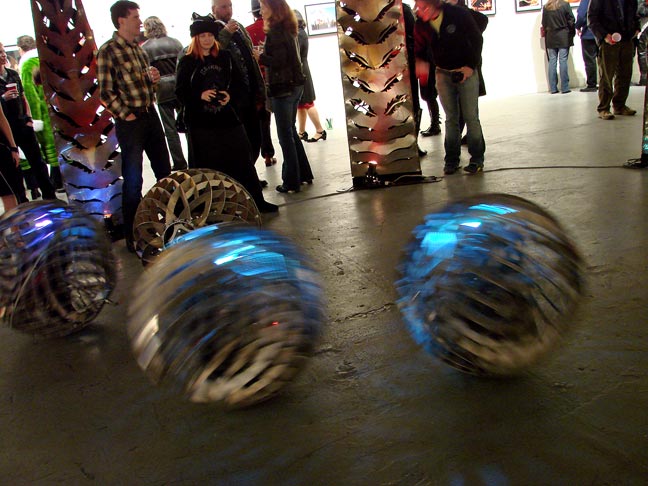 Rolling globe art in action.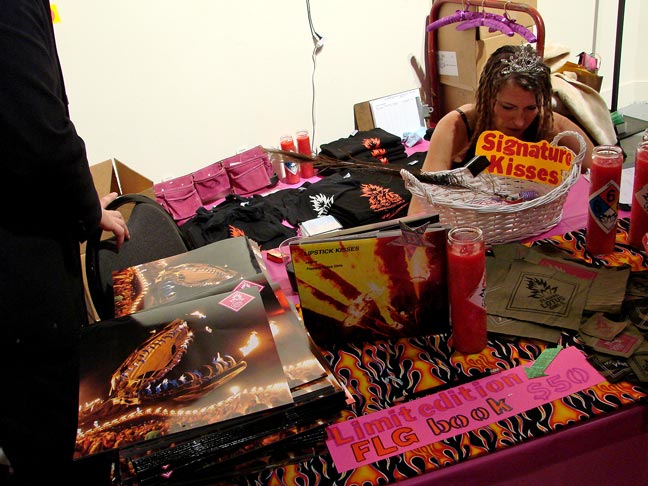 Schwagabilia concession.


Art.


***
Addendum:
Mary Joy Scott + art at Brown Bear.


One more from Mary Joy Scott paintings and drawings at Brown Bear.


Last one from Jary Joy Scott at Brown Bear.


***