SAN FRANCISCO ART GALLERIES - OPENINGS

MISSION 17 - ADOBE BOOKS
STEEL GALLERY - CITY COLLEGE OF SF
12.01.06
Mission 17 Gallery: Anti/Social - Mission 17's Third Annual Juried Exhibition.
Artists: Victor Barbieri, Deer Fang, Peter Foucault, Justin Hoover and Patricia Maloney, Jesse Houlding, Bradley Hyppa, Moshe Quinn, Eileen Starr Moderbacher, Kathrine Worel, Edmund Wyss, Paul Zografakis.
Comment: Every once in a while I get bushwhacked by uncustomary art that careens in from outta nowhere by an artist who's entirely off my radar-- and this is once in those whiles. I mean here I am minding my own business when these two close range still life paintings of camera lenses (plus one of a bullet and another of a gun) jolt me out of my incurable excursion through artland San Francisco. But I ain't no pushover. I'm thinkin' yeh, they may look good from a distance-- most art does-- but what's gonna happen when I zoom in for the kill? Well, what happens is that the detail entirely survives my superscope probe, and on my retreat back to normal viewing distance, I'm thinkin' they might even be better than I thought they were in the first place. And the winner is... Edmund Wyss.
As for the show's statement, it consists of twelve sentences, nine of which are questions pertaining to art, artists, society, politics, activism, and more. So if you're quizzical goin' in, you're gonna be zooey goin' out. Isn't this supposed to be an annual juried exhibition anyway? Not the first, but the third? A survey of promising talent on the local horizon? And doesn't extraneous postulating tend to blunt the thrust of the artists and their art? Maybe instead talk about the application guidelines and selection process? How 'bout them questions?
Art (Edmund Wyss - pick).


Art (Edmund Wyss - pick).


Art.


Art.


Lithographs of shopping bags art (kinda like 'em).


Proximitous highrise photographs.


Opportunity to fill out a survey on the show.


There's a dude in there scribbling all over the walls.


See? I told you.


Art.


Art.


***
Adobe Books Backroom Gallery: Where We Have Been Where We Are and Where We Are Going.
Artists: Joe Armin, Brian Bellot, Mat O¹Brien, Mark DeLong, Chris Duncan Kottie Paloma, Amanda Eicher, Joseph Hart, Kira Inglis, Kyle Knobel, Paula Malesardi, Sean McFarland, Jason McLean, Nicholas Mohanna, Donal Mosher, Mat O¹Brien, Kelly Ording, James Orlando, Kottie Paloma, Amy Rathbone, Kyle Ranson, Dave Schubert, Christine Shields, Johanna St. Clair, Judd Vetrone.
Comment: This could be one of the densest most highly curated group shows of all time ever in the history of art. Why? Four curators, twenty-five artists, and a ten by ten foot exhibition space. But wait. There's more. Good art-- all of it. Good artists-- all of 'em. Good prices too-- most under $500. Oh... almost forgot... circumnavigating the main store walls is Amanda Eicher's "Adobe Time Line" representing an approximate geneology-- hundreds of handwritten names interconnected into a meandering free-form horizontal family tree-- commemorating the cascade of creatives who have passed through Adobe's doors.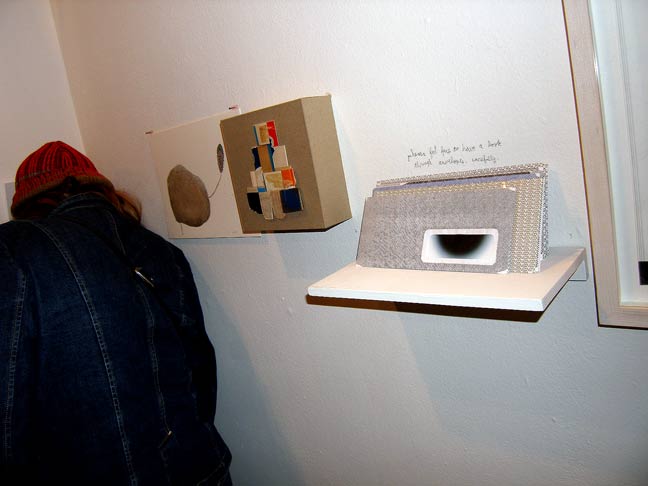 Art.


Art.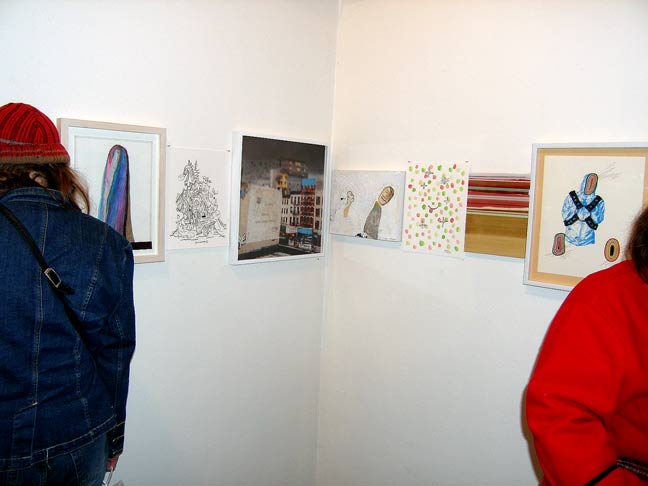 Art.


Art.


Art.


Brion Nuda Rosch + Adobe's artistic history (Amanda Eicher).


***
Steel Gallery: The Steel Gallery Event at Fort Mason.
Artists: John Bostock, Kati Casida, Peter Forakis, Marc Ellen Hamel, Sofia Harrison, James Jarrett, Sam Messer, Brigitte McReynolds, Mark Paron, Silvia Poloto, Chuck Price, Wendy Robushi, Leslie Safarik, Gordon Smedt, Tina Lauren Vietmeier, Merti Walker, Judith Williams, Steven Skollar, others.
Comment: Somebody emailed me about an art show at Fort Mason, Building B, so I'm makin' the beeline when in mid-traipse, I see there's another show in Building A. And you know what that means, don't you? Exactly-- documentation time. Here's the deal as near as I can tell-- potboiler honchette (female for honcho, dude) Danielle Steel opened Steel Gallery on Sacramento St. several years ago. It closed last June. But she's still got a finger or two in the art pie and this show is about that, tonight packing a substantial exhibition space with a medley of reasonably respectable creatables. I suppose if I had to categorize the selection, I'd call it benignly edgy yet tasteful mainstream.
Art.


Art.


Thick impasto typewriter art (Sam Messer).


Art.


Art.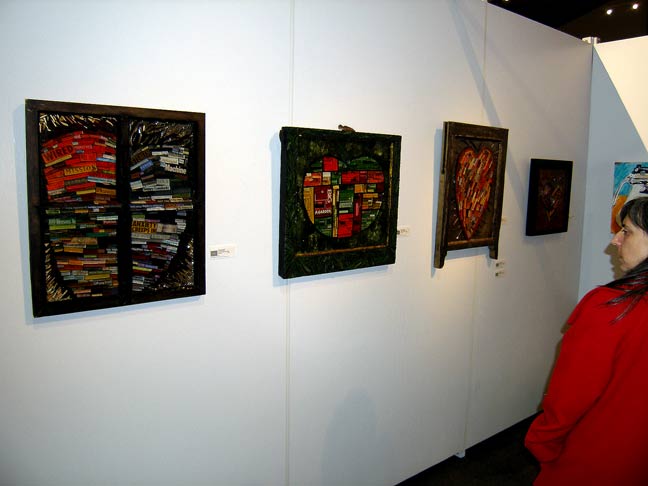 Glass word mosaic art (Sofia Harrison).


***
City College of San Francisco: The 32nd Annual Holiday Exhibition and Sale, Fort Mason, Building B.
Comment: The City College of San Francisco Art Department goes public for a mega two-day multi-floor art sale offering room after room of ceramics, drawings, jewelry, paintings, photographs, prints, sculpture, watercolors, weavings, textiles, and more. Millions of works available. Bring your semi.
Ceramics.


Drawings & watercolors.


Paintings.


Sculpture.


Photographs.


Watercolors.


Prints.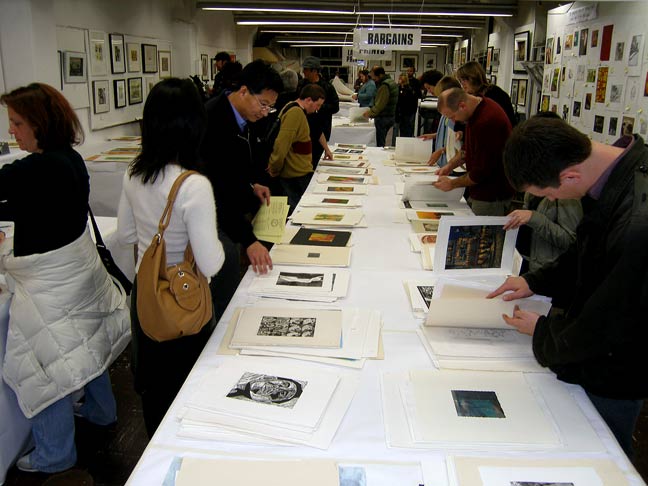 More prints.


More prints.


***