SAN FRANCISCO ART GALLERIES - OPENINGS
CHARLES CAMPBELL - LITTLE TREE - FEMINA POTENS
SHOOTING GALLERY - GALLERY 1988 - CHILLIN' PRODUCTIONS
MILLION FISHES
(WITH ASSISTANCE FROM DEWITT CHENG)
12.01.07
Charles Campbell Gallery: William F. Wolff - Paintings from the 1950s-1960s.
Review and photos by DeWitt Cheng: Wolff, known to the Bay Area as a woodcut artist specializing in literary and symbolic themes, made Arcadian-themed paintings during his formative postwar years that belong to the Bay Area Figurative School but point ahead to his later imagery, too. These paintings have been rarely if ever exhibited since Wolff made them forty years ago.
DeWitt Cheng writes for Artweek, Art Ltd., www.SanFranciscoArtMagazine.com and www.Shotgun-Review.com.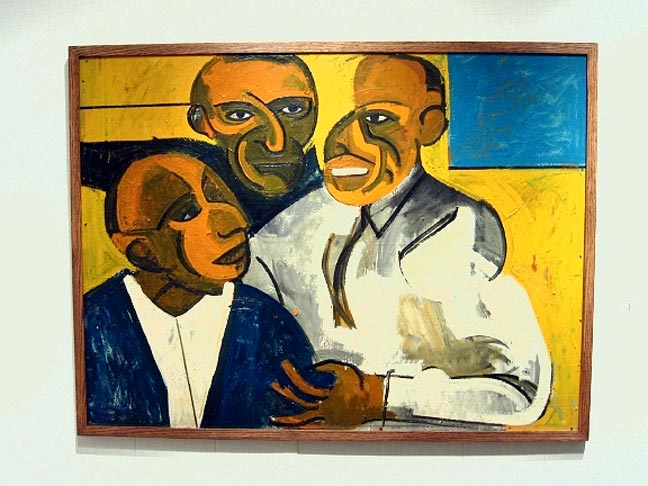 Painting titled "Three Men in Conversation."


Painting titled "Bath at Fountain."


Art.


Stage set model.


Memorabilia - photos, announcements, stage set model, mask.


Memorabilia close-up.


Gallery owners.


***
Little Tree Gallery: Maria Forde - The Fetching Veggie Etchings.
Comment: Art about food-- original prints enhanced with fabric and sewing, presented in frames handmade by the artist. Nicely done.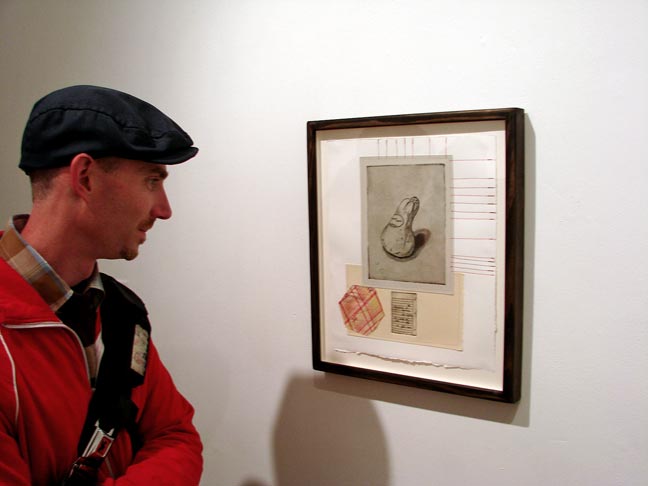 Art.


Art.


Art (Maria Forde, right).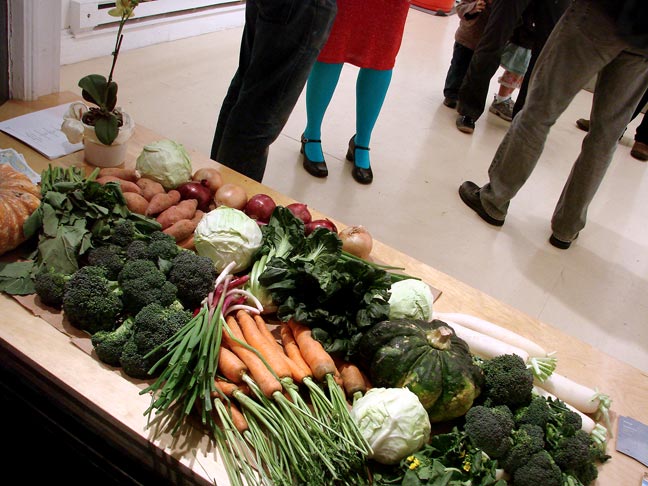 Edible window display.


***
Femina Potens: Elizabeth Stephens And Annie Sprinkle - We Made Love With Marcel Duchamp.
Comment: Meandering multimedia love and erotica installation loosely references Marcel Duchamp.
Art (vintage Annie Sprinkle images).


Art.


Art (vintage Annie Sprinkle images).


Out front.


***
The Shooting Gallery: Anne Faith Nicholls.
Comment: Paintings, drawings, collage, and installation by Anne Faith Nicholls are often autobiographical in nature, and about as direct and honest as it gets. Personal experiences are interwoven with dark dreamy landscapes, Victorian details, and of course, intrepid heroines.
Art.


Anne Faith Nicholls - Jessica Whiteside - art.


Art.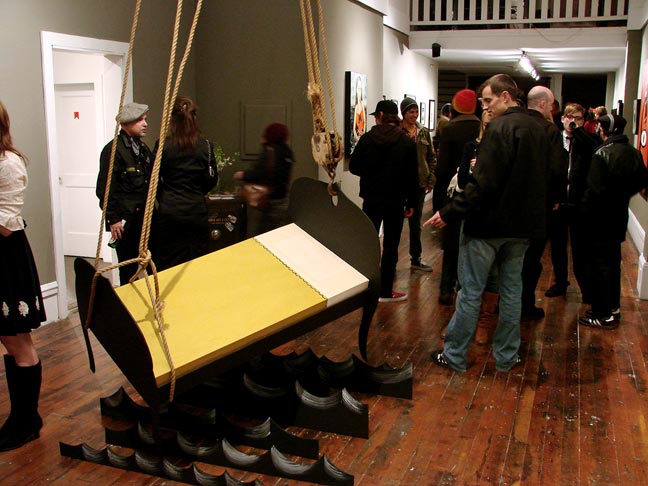 Installation.


Art.


Art.


Art.


***
Gallery 1988: Vivisect Playset IV.
Artists: Erik Alos, Anthony Ausgang, Paul Barnes, Luke Chueh, Matt Dangler, Mark Elliott, Brendon Flynn, Peter Gronquist, Walt Hall, Phil Holmes, Mari Inukai, Kamala Dolphin Kingsley, Joe Ledbetter, Aaron "Angry Woebots" Martin, Damon "Peek-A-Boo" Minaey, Alex Pardee, Robert Fayze Pellicer, Isaac Pierro, Dave Pressler, Amy Sol, Roland Tamayo, Amanda Visell, Rachel Wong.
Comment: Group show of art themed on the topic of anthropomorphized animals and creatures.
Art.


Art.


Art.


Art.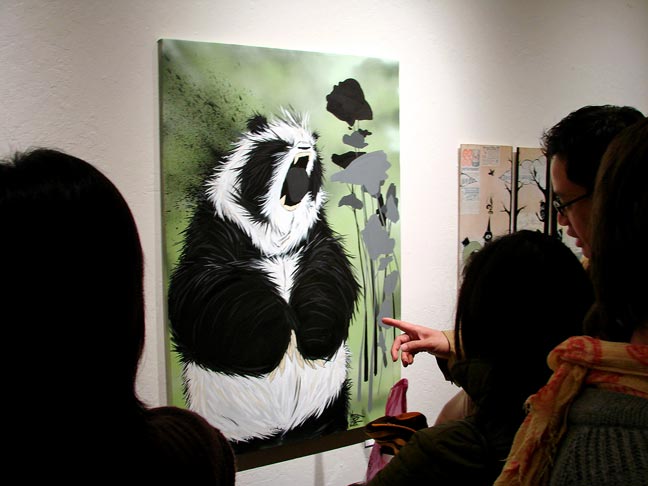 Art.


Art.


Live art.


***
Chillin' Productions at Mezzanine: Chillin' Presents.
Comment: What do you get when you pack 80 artists, 60 fashion designers, 40 filmmakers and 7 DJ's into Mezzanine on Jessie Street? Another exceptionally successful and well-attended Holiday event in an eminently peppy setting with tons of creatables to peruse and purchase. Being a professional lightweight, I'm in and out early; there's plenty of time left in the game and the line to get in already stretches down the alley.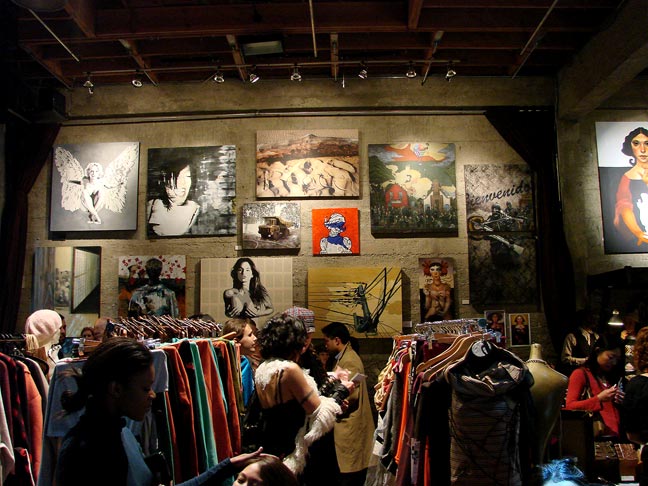 Art + fashion.


Fashion.


Art.


Art + literature.


Art.


Art.


Instant portraiture art.


Overview.


***
Addendum:
Holiday sale, mainly fashion, some art, at Million Fishes.


***