SAN FRANCISCO ART GALLERIES - OPENINGS
HOSFELT - BRAUNSTEIN/QUAY - LITTLE TREE GALLERY
NEEDLES & PENS - RECEIVER - BACK SPACE GALLERY
ELEANOR HARWOOD - WHITE WALLS - SHOOTING GALLERY
12.02.06
Hosfelt Gallery: Emil Lukas - Recent Sculptures, Related Paintings; Crystal Liu - Remember When We Used To Dream.
Comment: Emil Lukas's atypical columnar structures are actually piles of two-sided "sculpture paintings" that fit together and come apart, so when you're not lookin' at 'em, you keep 'em neatly stacked so they don't take up a lot of room. Plus you never have to worry about hammering a bunch of nails into your walls to hang 'em. However for those who prefer hammering nails into walls, Lukas also offers an assortment of "painting sculptures" that incorporate everyday residue like bubble wrap or paper cups, mainly set into flat surfaces and then painted in bright colors. According to the docket, I think you're supposed to think about "big picture" issues when you look Lukas's art (assuming you need a break from appreciating it based solely on its aesthetic merits), like where its component parts come from, what purposes they serve(d), and where they go after they're used.
Crystal Liu's mysterious meditative elemental photographic compositions run the ephemeral gamut from snippets of larger scenes to unnatural juxtapositions. For me anyway, they're kind of in the "What's up with that?" category of art. For instance, there's this one that looks like a smashed bug or something on a lace doily, gracefully unsettlingly alluringly set against a soft indistinct background, that according to the literature is actually a splotch of spilled jam. What's up with that?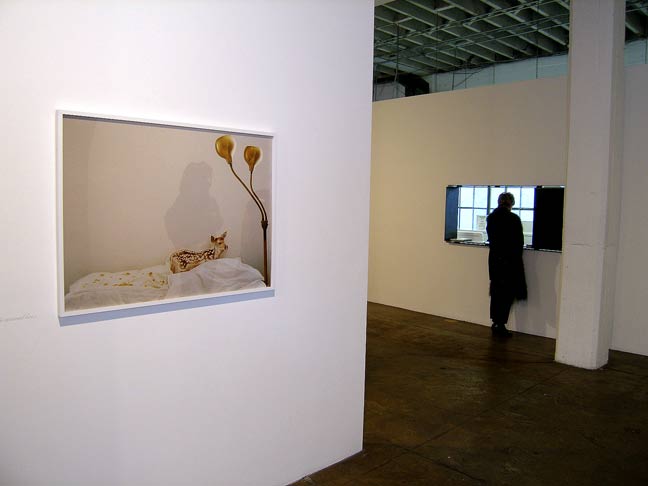 Photography (Crystal Liu).


Photos (Crystal Liu).


Images (Crystal Liu).


Art (Emil Lukas).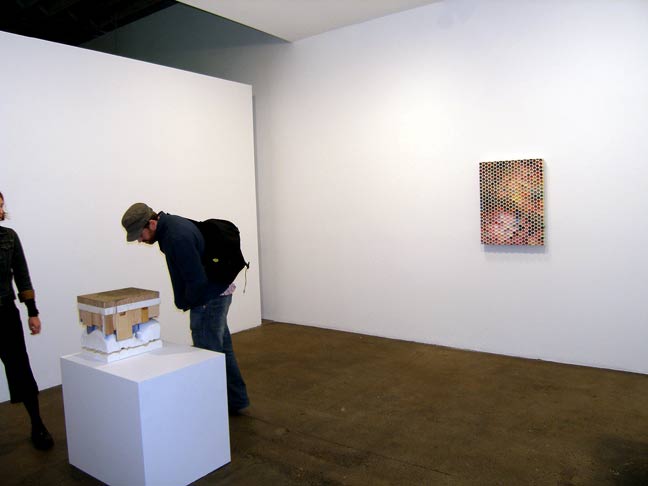 Art (Emil Lukas).


Art (Emil Lukas).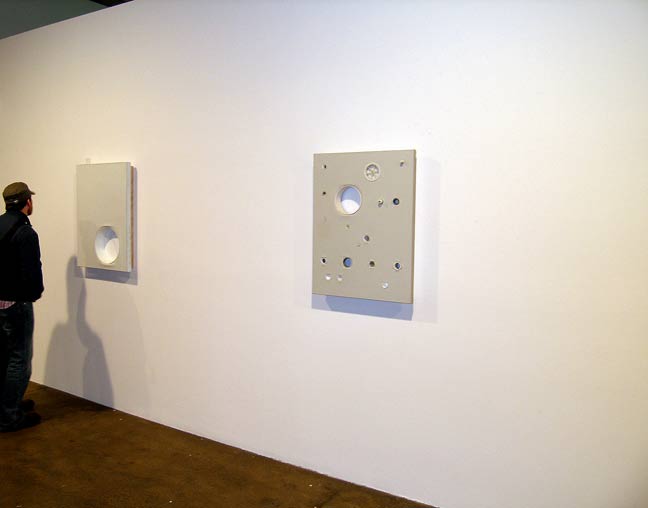 Art (Emil Lukas).


Art (Emil Lukas).


Art (Emil Lukas).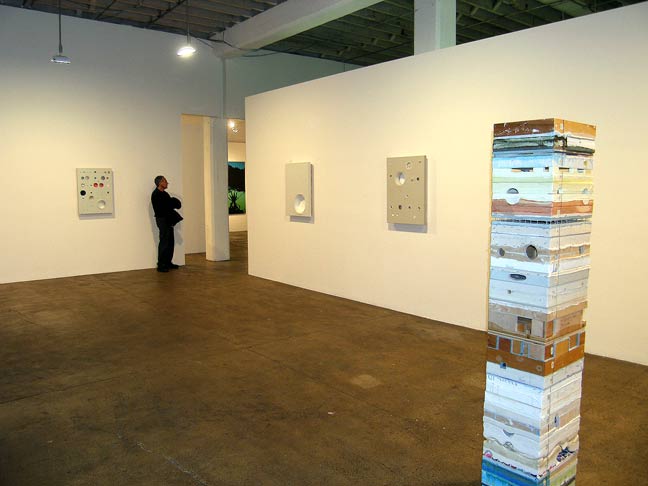 Art (Emil Lukas).


***
Braunstein/Quay Gallery: Cork Marcheschi - Back to Basics.
Comment: Sculptural variety pak, so satisfying and elegant in their simplicity that you marvel at how Cork Marcheschi accomplishes so much with so little. There's hanging neon sculpture for the walls, curious kinetic spinning bowls of balls for the floors and pedestals, natty knick-knack works for the shelves, and a backlit burst of rainbow colored condoms suspended for posterity between plexiglass sheets.
Art.


Art.


Art.


Art.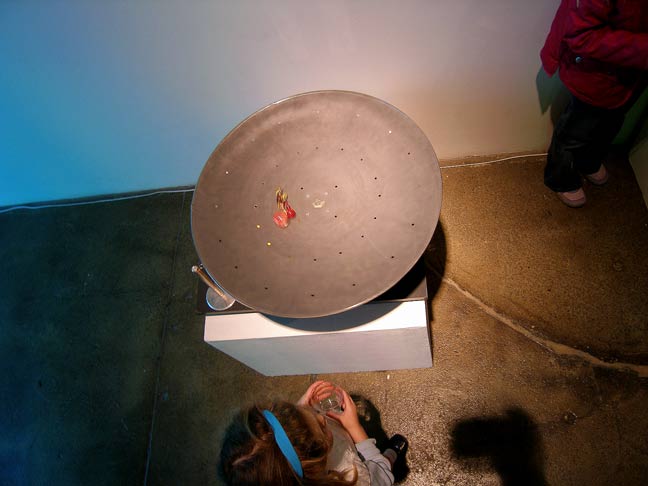 Art.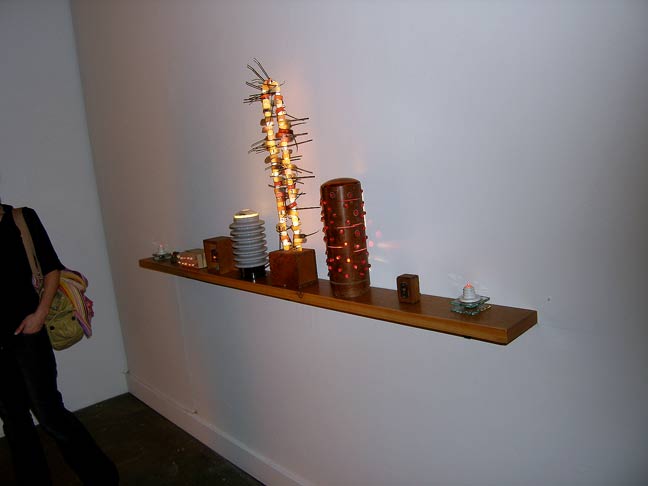 Art.


Art.


Art.


"Look Mommy... exploding condom art."


***
Needles & Pens: Monica Canilao - The Dispossessed.
Comment: Monica Canilao keeps the good stuff coming with a fresh set of variously painted stitched pieced collaged works on paper. She's firmly ensconced in her own distinct style, easily recognizeable anywhere-- always an auspicious situation. Priced $350 - $950. Buy now, before the rush. Healthy upside here.
Art.


Art.


Art.


Art.


Overview.


***
Little Tree Gallery: Casey Logan - I Believe in the Power of the Absurd.
Comment: It says in the liner notes that Casey Logan was a NASA Fellowship recipient through the San Francisco Art Institute. What's a NASA Fellowship, you ask? Well, I went to the NASA website and found this easy-to-understand Fellowship Overview Chart that explains it perfectly (our tax dollars at work). In fact, after reviewing the chart, I now better understand Logan's pseudypsychoscientific ramble at Little Tree, featuring among other things, a split globe with inset speakers, and a black hole cowboy hat. Read and see more in Sonya Derman's review.
Art.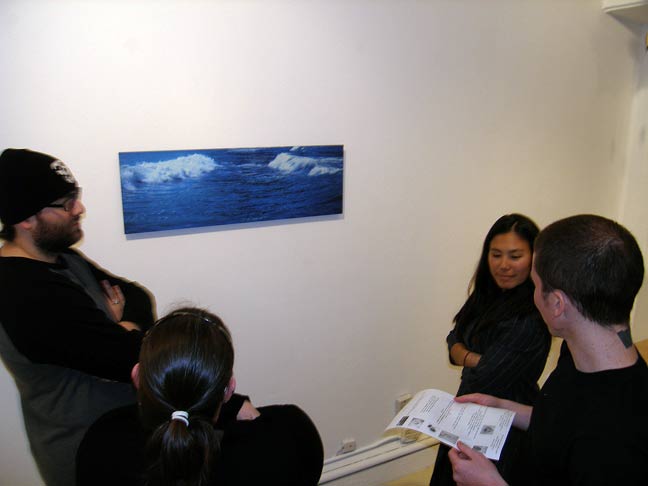 Art.


Art.


Art.


***
Receiver Gallery: I Think We Better Split Up.
Artists: Miki Amano, Taku Anekawa, John Casey, Mark Todd and Esther Pearl Watson, Susie Ghahremani, Tim Gough, Stella Im Hultberg, Caitlin Keegan, Aya Kondo, Kazumo, Frank McCauley, Ogi, Eamon Ore-Giron, Nick Paparone, Nathalie Roland, Casey Jex Smith, Ryan Jacob Smith, Steve Smith, Hannah Stouffer, Nakao Teppei, Paul Urich.
Comment: Rangy group show presented by Receiver Gallery and the nice folks at Poketo. My favorite objet in this melange-- an amusing faux wall-mounted raccoon pelt by Nick Paparone. If you think a regular raccoon is hard to catch, try catching a faux one. Read and see more of this show in Sonya Derman's review.
Faux coonskin throw rug art (Nick Paparone - benevolent taxidermy).


Art.


Ted Vadakan - Poketo co-founder.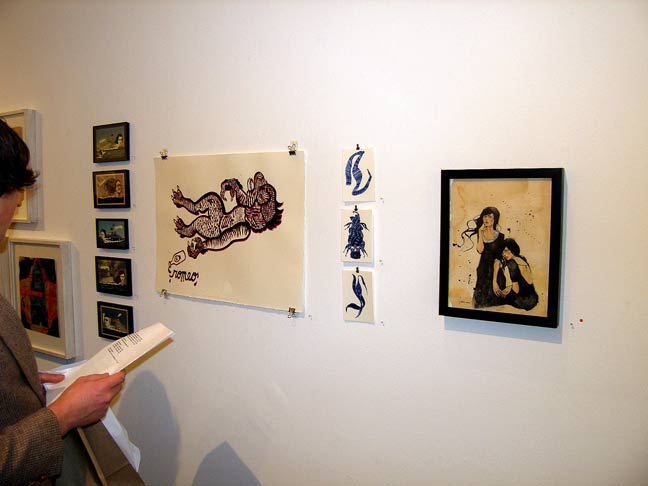 Art.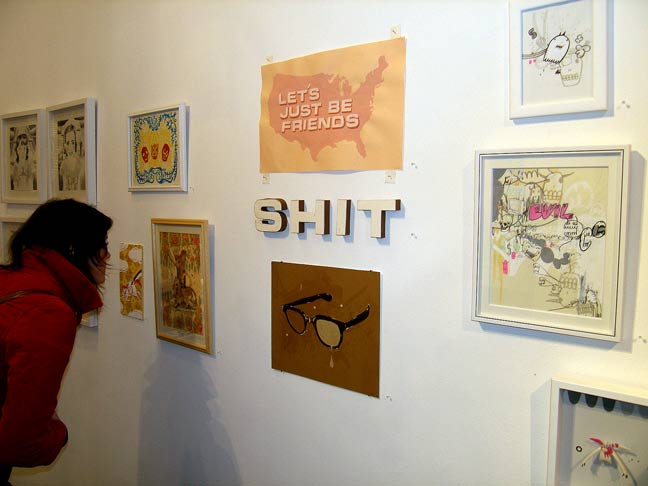 Art.


***
Eleanor Harwood Gallery: Other World.
Artists: Lara Allen, Adam J. Ansell, Julianna Bright, Alice Cohen, Georganne Deen, Veronica De Jesus, Colter Jacobsen, Jason Mecier, Donal Mosher, Kyle Ranson, Amy Rathbone, Jovi Schnell, Christine Shields.
Comment: Capable group show themed on where we go when we're on sabbatical from this world. Curated by Christine Shields. Adobe Enchilada Andrew McKinley tells me the show recently traveled to Portland, OR. Read and see more in Sonya Derman's review.
Christine Shields - art.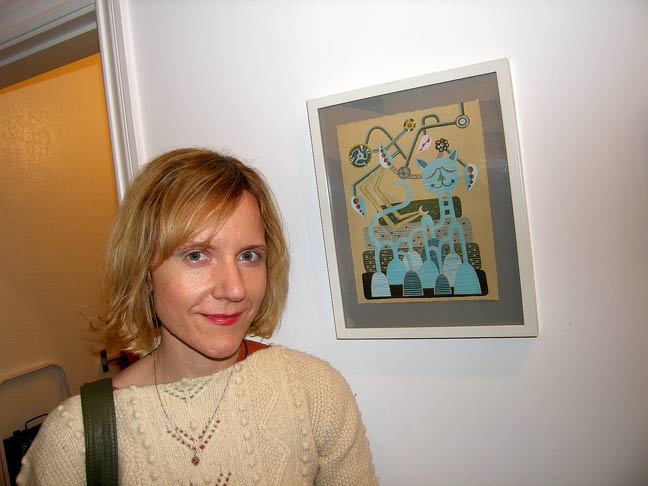 Jovi Schnell - art.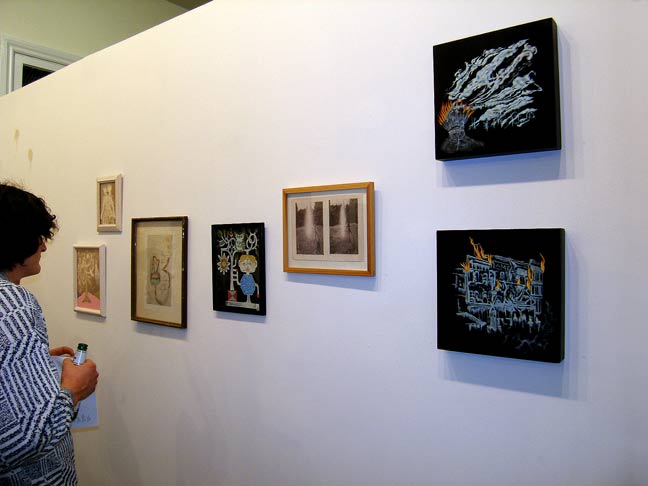 Art.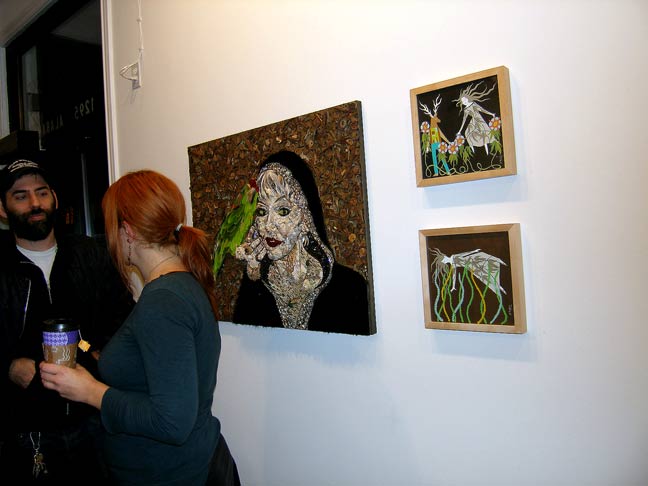 Art.


***
Back Space Gallery: 10 x 10 x 9.
Artists: Sarah Thibault, Hava Liberman, Bunnie Reiss, Matt Tinney, Dustin Rankin, Aidan Sellars, Stefanie Weyand, Gia Lee, David Chastain.
Comment: Nine "emerging" artists from the Bay Area, possibly students at or in some way affiliated with SFAI. Back Space Gallery at 731 Florida Street, a 1100 sq. ft. exhibition space with 12 ft. ceilings, is available on as a rental for shows, receptions, and related convocations. Plus they tout ancillary amenities including full lighting, hanging systems, kitchen, wet bar, and last but not least, a restroom.
Art (sorta like 'em).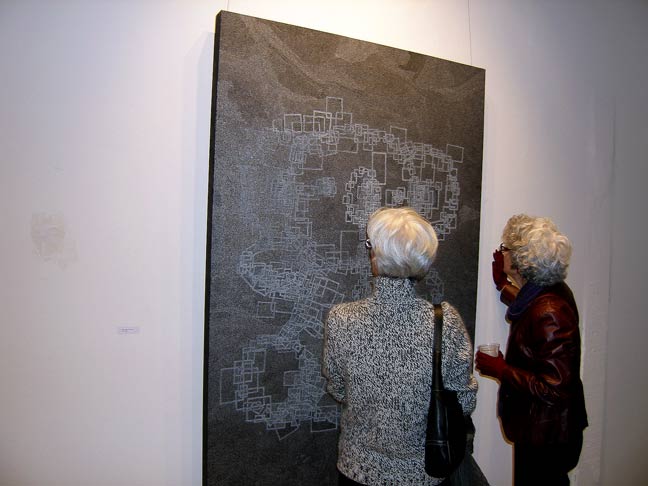 Art made outta scrillions of itsy bitsy words.


Art.


Art.


***
White Walls Gallery: Sam Flores - Water Under the Bridge.
Comment: Sam Flores decks White Walls with a comprehensive compilation of his oeuvre including paintings, drawings, works on paper, and several sculptural pieces, the most impressive of which towers towards the ceiling. Flores's compositions are deeply influenced by traditional Japanese art, particularly color woodblock prints, but he magically restyles and revises the idiom to welcome us all with immediate impactful access. But wait; there's more. The best pieces are exquisitely subtly delicately painterly, particularly some of the smaller works, though it's all good here. Sam Flores at his best. Go see. But wait; there's more. Something for everyone with sketches starting at $150, bigguns topping at $8600, and an unpriced magnum opus or two that, according to CEO Andres Guerrero, "we can talk about."
Art.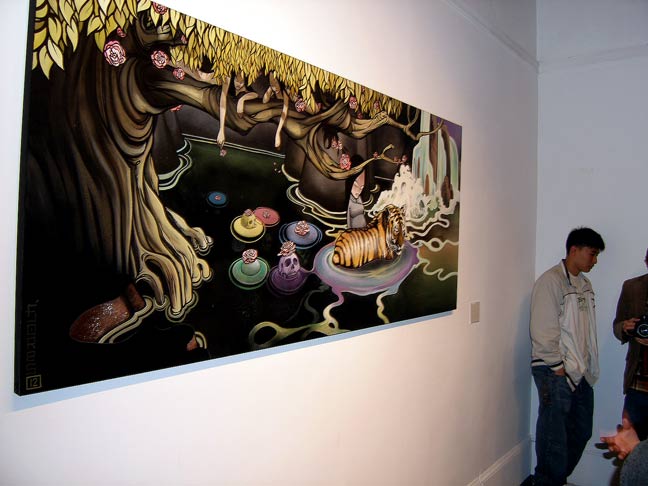 Art.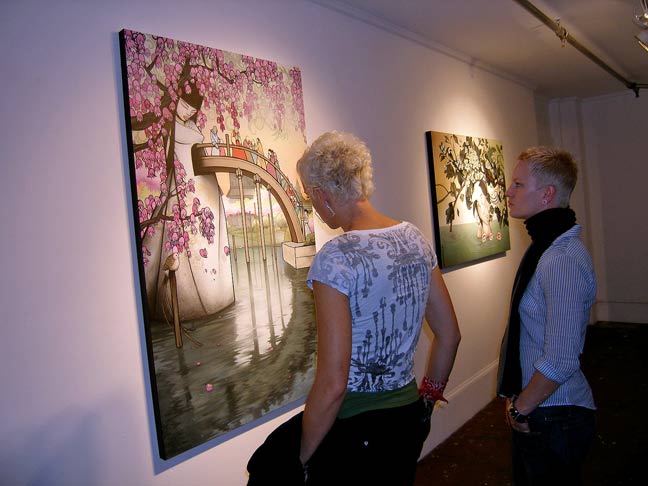 Art.


Sam Flores - art.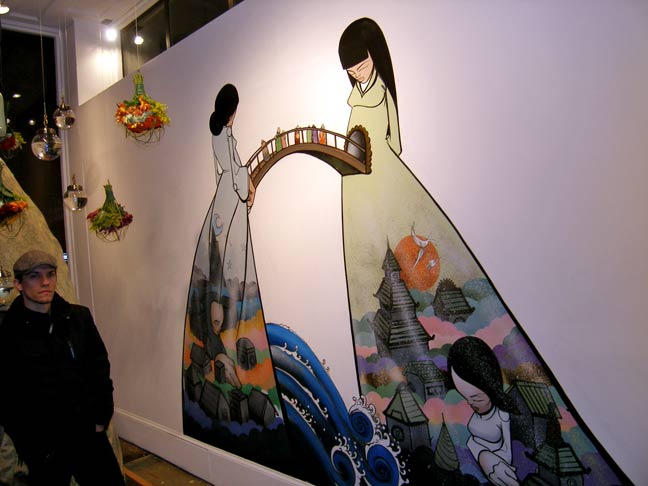 Art.


Art.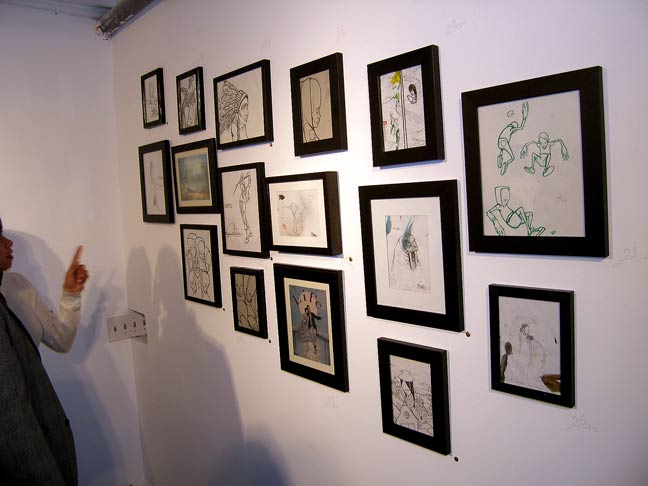 Art.


Art.


Art.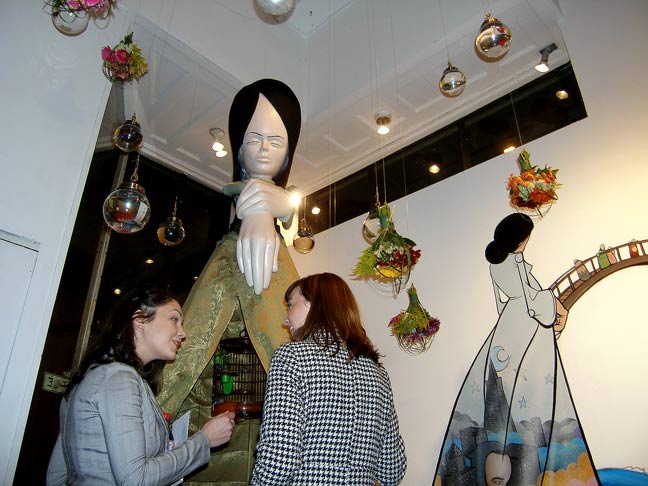 Art.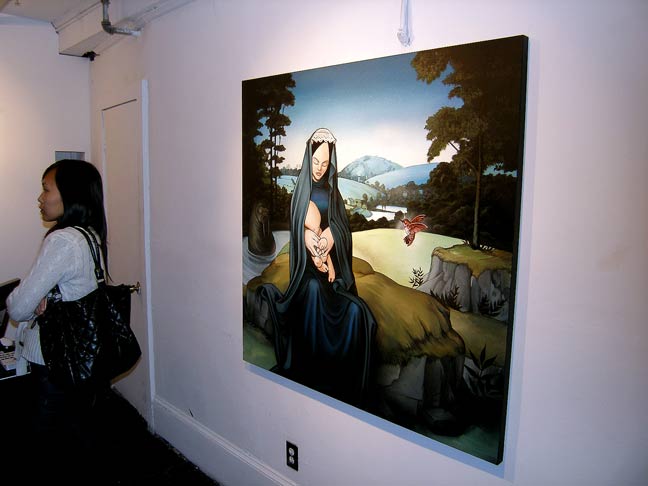 Art.


***
The Shooting Gallery: Anne Faith Nicholls - Collect My Thoughts.
Comment: Anne Faith Nicholls paints, sculpts, assembles, sorts, arranges, and splays her life for all to see in an unconditionally undaunted and intimate autobiographical surrender. Many times, artists make too much too different, get lost, and end up nowhere. Nicholls is the uncommon exception, staying squarely on point and dispatching the story line from such a barrage of perspectives that no one leaves unmoved. Try it; you'll see. Prices range $450-$10K, most under $1500.
Art.


Art.


Art.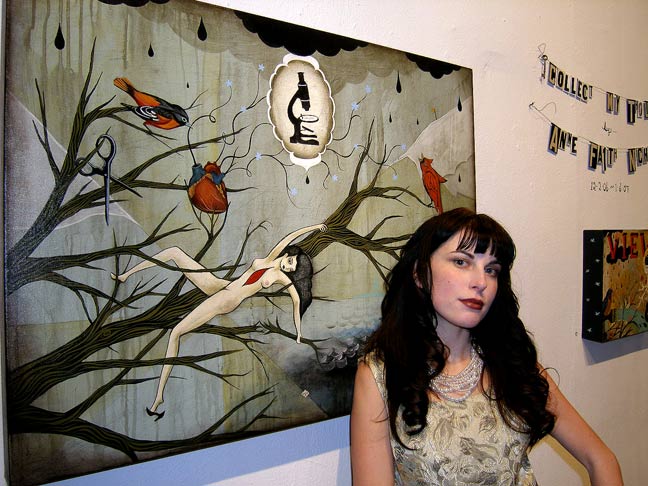 Anne Faith Nicholls - art.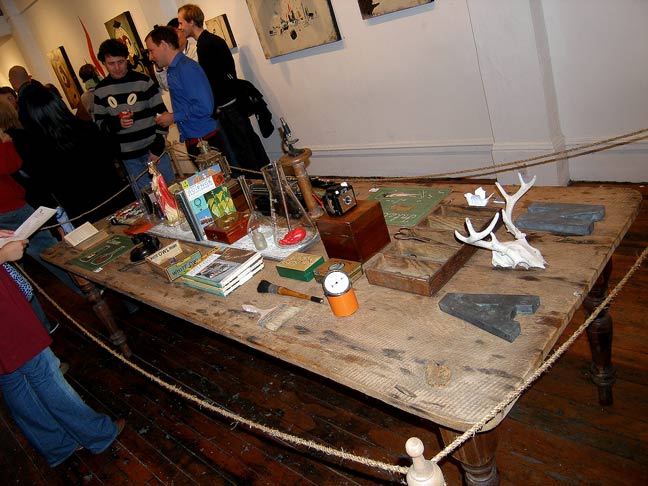 Art.


Art.


Art.


Art.


Art.


***