SAN FRANCISCO ART GALLERIES OPENINGS
LITTLE TREE - RECEIVER - ELEANOR HARWOOD GALLERY
REPORTED BY SONYA DERMAN
12.02.06
Little Tree Gallery: Casey Logan - I believe in the Power of the Absurd.
Comment: A compact and cohesive show. Logan is fascinated with physics and geology, playing with space, gravity, and order. His sculptures and photographs illustrate a world turned upside down, where chaos replaces reliable scientific laws. It's difficult not to see political and environmentally-conscious undertones in his work, although this is hardly explicit. In addition, the models that he uses (the flaming airplanes, the old model ships) are outdated and less reminiscent of the present time. Both humorous and disturbing. His titles (e.g. Blind Faith and I'M LOST) and written short stories (which are also available at the gallery) add a human element to his work - a simultaneous fear and desire of entropy and disaster.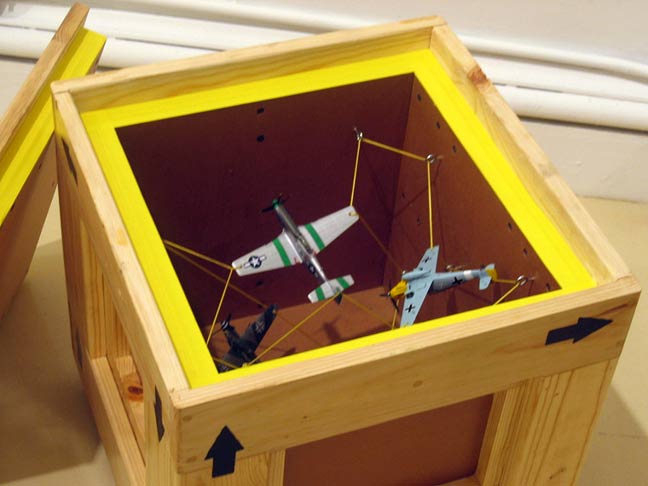 Art.


Art.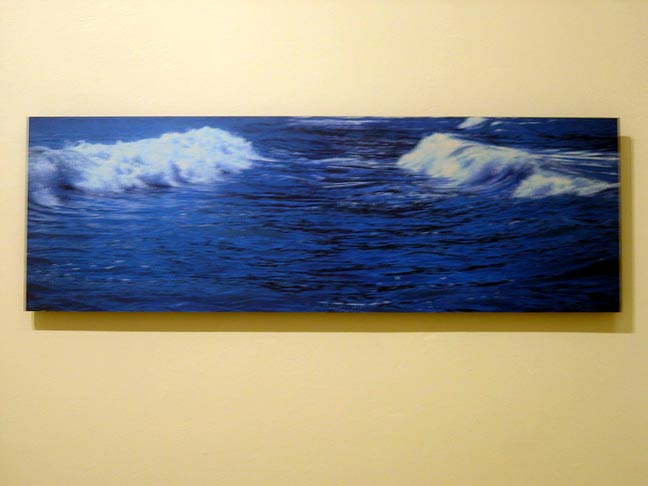 Art.


Art.


Art.


Art.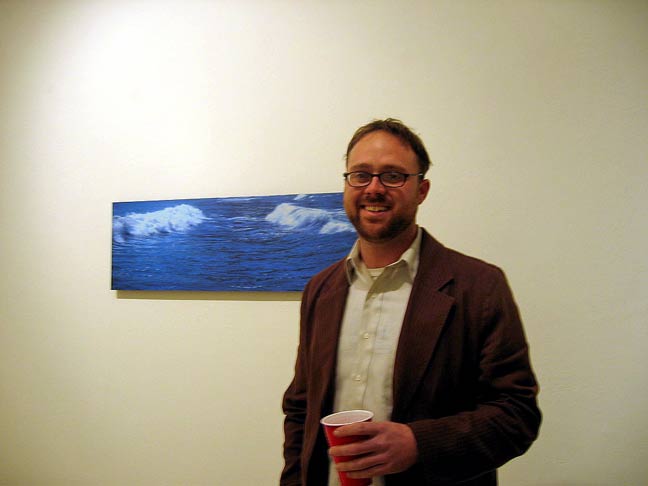 Casey Logan - art.


***
Receiver Gallery: I Think We Should Split Up.
Artists: Esther Watson, Miki Amano, Ryan Jacob Smith, Ogi, Casey Jex Smith, Taku Anekawa, Tim Gough, Frank McCauley, Paul Ulrich, Teppei, Aya Kando, Hannah Stouffer, Steve Smith, John Casey, Nick Paparone, Mark Todd, Caitlin Keegan, Nathalie Roland, Eamon Ore-Giron, Stella Im Hultberg.
Comment: A group show with a lot of artists that was all over the map, although all 2-dimensional and pretty representational. Co-curated by Receiver Gallery and Poketo, an "art product company" best known for creating wallets (and t-shirts, etc) featuring artists' work, including a lot of local San Francisco artists. I got a chance to speak to artist Casey Jex Smith, who told me his work is inspired by 19th century American frontier paintings. Other personal highlights include the updated Ukiyo-e style woodblock prints by Aya Kando, Esther Watson's graphite portraits.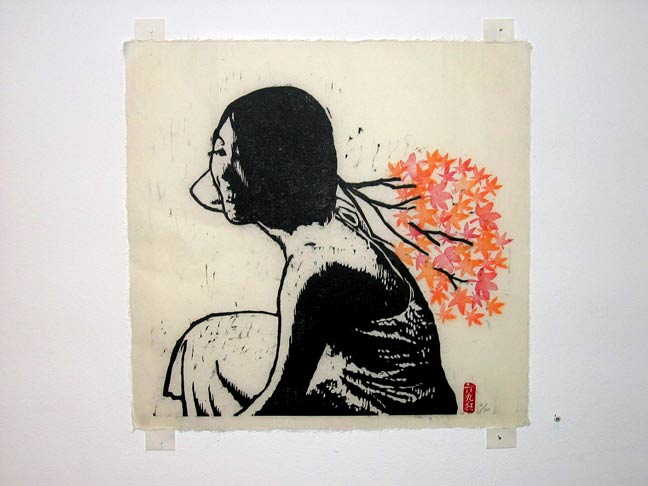 Art (Aya Kando).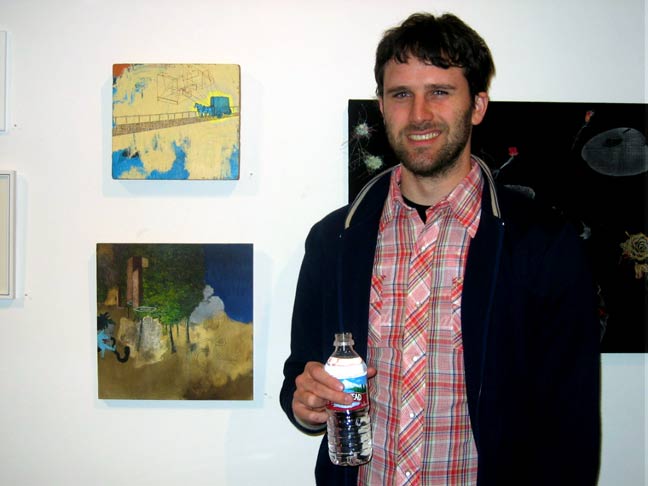 Casey Jex Smith - art.


Graphite portraits (Esther Watson).


Art (John Casey).


Art (Nick Paparone).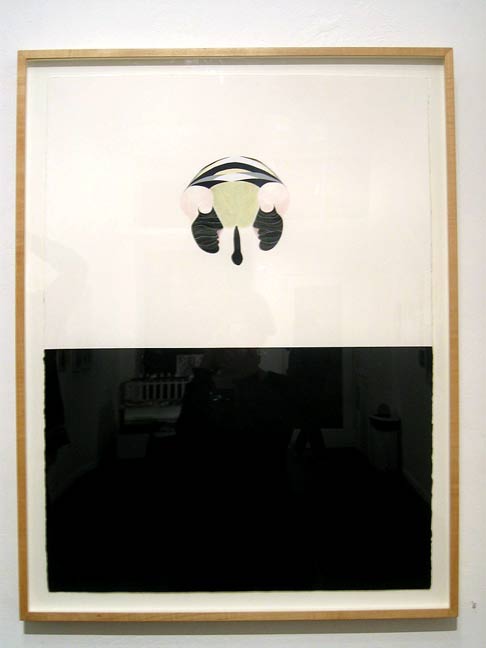 Art (Paul Ulrich) (and the gallery)).


Art (Ryan Jacob Smith).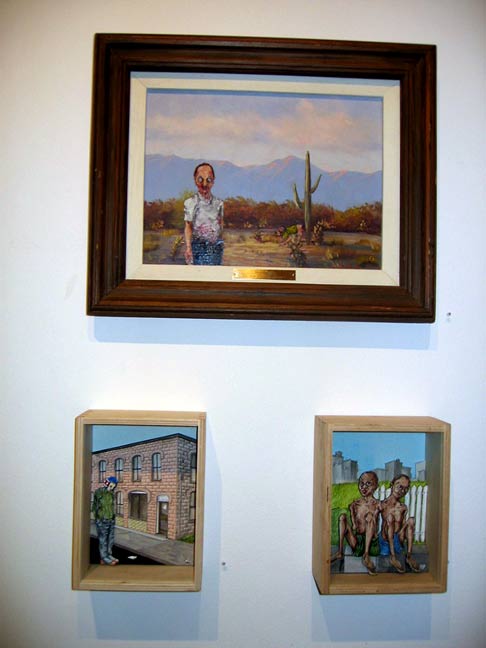 Art (Steve Smith).


***
Eleanor Harwood Gallery: Other World - Curated by Christine Shields.
Artists: Lara Allen, Adam J. Ansell, Juliana Bright, Alice Cohen, Georgianne Deen, Veronica De Jesus, Colter Jacobsen, Jason Mecier, Donal Mosher, Kyle Ranson, Amy Rathbone, Jovi Schnell, Christine Shields.
Comment: An ethereal group show in a great space and location, just off the bustle of 24th street. A lot of incredible artists, all exploring the myriad ways of transcending every day existence. Fantasies, celebrity idolization, daydreaming and doodling, visions of the future, numbing oneself in front of the television, and more - this is excellently curated, relevant, and well thought out. I'm very excited to see the next show. Also a good meta-description of the process of creating and viewing art, if one is feeling particularly idealistic. Some highlights (of many): Veronica De Jesus's intricate visions, Amy Rathbone's spittle-like installation piece (titled The Key to Plebian Heaven), Donal Mosher, Colter Jacobsen's melding of the digital and the transitory, Jason Mecier's unusual celebrity homage.
Art (Adam Ansell).


Art (Amy Rathbone).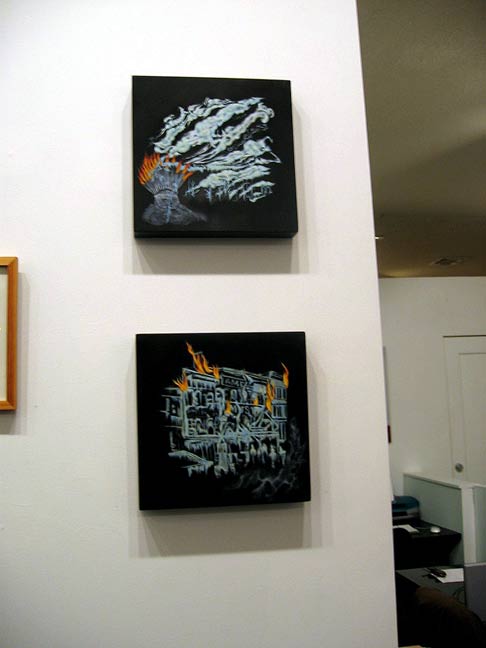 Art (Christine Shields).


Art (Colter Jacobsen).


Art (Jason Mecier).


Art (Julianna Bright).


The gallery.


The gallery.


Art (Veronica de Jesus).


Art (Veronica de Jesus, Amy Rathbone ).


***