SAN FRANCISCO ART GALLERIES OPENINGS
FIRST THURSDAY
REPORTED BY SONYA DERMAN
12.07.06
Haines Gallery: Director's Choice. Artists: Max Cole, Kota Ezawa, Binh Danh, Max Gimblett, Patsy Krebs, David Nash, Dennis Oppenheim, Alan Rath, Rex Ray, David Simpson, Joel Sternfeld, Peter Voulkos, Darren Waterston.
Comment: This Thursday Haines gallery features two group shows: Director's Choice and Consumption Junction (located in the back of the gallery). Director's Choice features artists that "Cheryl Haines has admired over time." The show features lots of hard-hitters, and a bent towards the conceptual. Highlights include Kota Ezawa's digital take on Yves Klein's "Leap into the Void," Dennis Oppenheim's thoughts on digestion, and Binh Danh's unusual form of photography.
Consumption Junction is a group of five humorous video works by young artists focusing on everything food-related.
Art.


Art.


Art.


Art.


Art.


***
Dolby Chadwick Gallery: Dan Jackson - New Paintings.
Comment: At first glance, Jackson's paintings seem to be traditional still lifes influenced by Dutch masters. On a second and closer view of his meticuolosly-worked realist pieces, they display a sensibility that is more unique. Jackson focuses on amalgamations of objects that are pretty idiosyncratic. He juxtaposes the timeless (e.g. food, flowers) with contemporary throwaways such as tupperware, plastic bottles, and cheap kiddie crowns.
Art.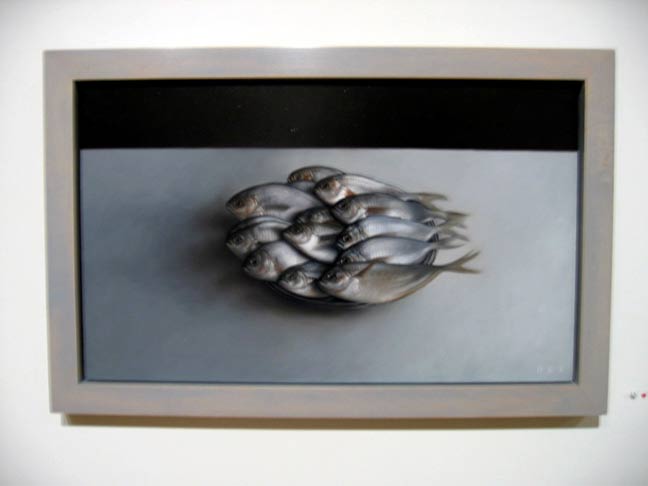 Art.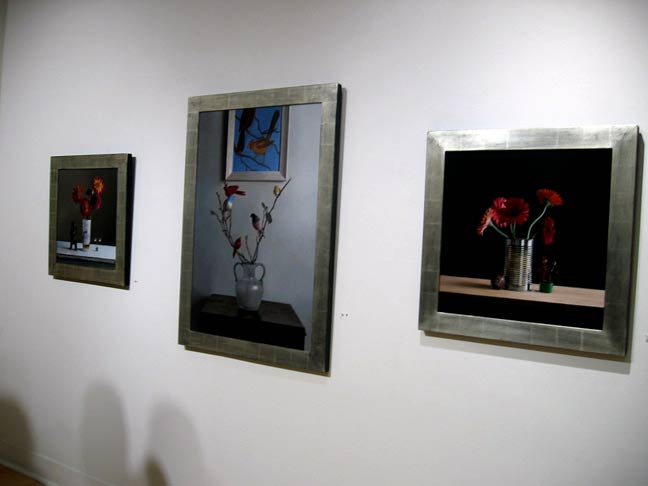 Art.


Art.


Arena.


***
Hotel Des Arts: Women's Art Festival.
Artists: Allison Renshaw, Aondrea Maynard, Audrey Heller, Casey O'Connell, Christine Wolheim, Dharma Strasser, Diane Serafini, Hadley Northrop, Jennifer Delilah, Judy Gittelsohn, Kate Durkin, Kate Moore, Kelly Tunstall, Kytha Gernatt, Lesley Ruda, Marcia Teusink, Mari Naomi, Miranda Lloyd, Rebecca Szeto, Teresa Moore, Tracy Taylor Grubbs, Whitney Giehl, Xan deVoss.
Comment: This show supports La Casa de las Madres, an organization that helps victims of domestic violence. It seems pretty popular-- there's a line to get into the hotel and a bouncer at the door. Most of the art is located in the hallways between rooms, and generally consists of paintings and some photographs. The proprietors were also kind enough to open up some of the artists' rooms for public view.
Art.


Art.


Painted room.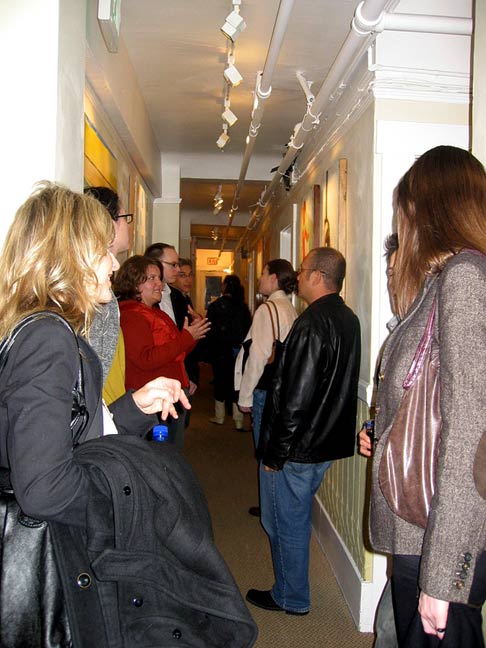 Hallway gallery.


Head count.


***
111 Minna Gallery: 111 @ 111.
Artists: 111.
Comment: A pretty straightforward concept-- 111 artists exhibiting 111 works at 111 Minna, and all of the works 20 by 20 inches (though I think I might have seen an exception). Catchy, too.
Art.


Art.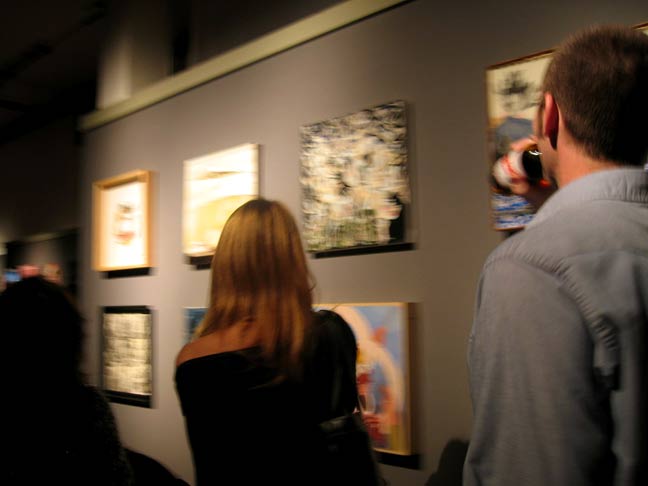 Circumstance.


Atmosphere.


***