SAN FRANCISCO ART GALLERIES OPENINGS
FIRST THURSDAY
REPORTED BY MATTIE BAMMAN
12.07.06
ARTworkSF: Holiday Group Show. Artists: Sonia Rumzi, Steve Haas, Adell Shaw, The Indra, many more.
Comment: With "Maximum Occupancy Not To Exceed 50" strongly enforced, as well as a wide selection of delicious holiday cookies and beverages inside, you best have arrived early. Many of the works were well worth it, particularly Adell Shaw's work using encaustics (the painting or sculpting of wax). The wax emits a shine similar to enamel but also of Vaseline or some other malleable material, offering life and texture to the work. Elsewhere, perched at 8 ft., The Indra's decadent Ghost Ship really did float above the crowd, as it would if it were actually worn as a hat.
Sonia Rumzi - Serene High Sierra Lake (Oil on Canvas).


Sonia Rumzi - Carmel Valley (Oil on Canvas).


Steve Haas - Cold War Pin-Up (Mixed Media).


Adell Shaw - Brightly He Sang (Encaustic on Panel).


Adell Shaw - Tub Study 17 (Encaustic on Panel).


The Indra - Ghost Ship (Pearls, Wool, Feathers).


***
Stephen Wirtz Gallery: Melanie Pullen.
Comment: Melanie Pullen's photographs have the eeriness of a David Lynch movie or Baudeliarean poem. In each shot an unknown and attractive woman is alone and dead; murdered. Somehow Pullen gives each photograph a specific color tone, whether in the dark room or by using a lens, or as one viewer supposed, by covering the entire piece with color-tinted glass. In "Untitled," the use of an elongated shutter speed expresses the passage of time, the individual steps on the escalator are indecipherable-- the woman has, perhaps, been dead a while.
Each photograph is done in an edition of 5.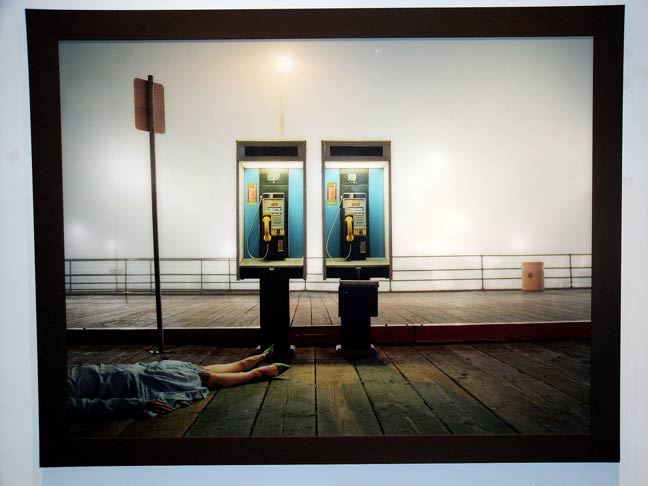 Phones.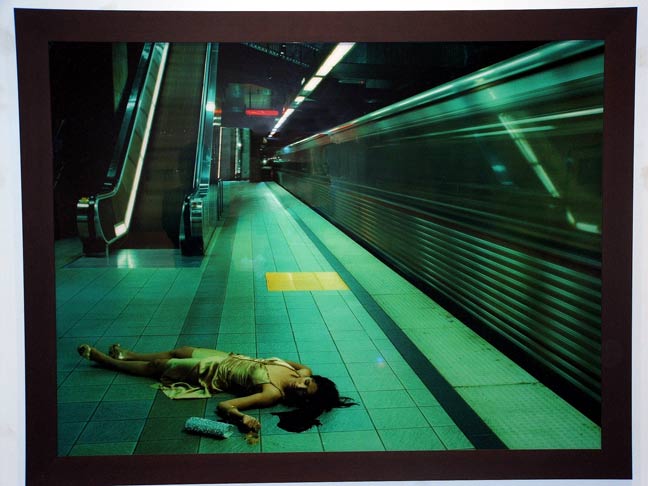 Untitled.


Half Prada.


***
111 Minna Gallery: 111 @ 111.
Comment: The opening came complete with a packed house, lives bands, and no tonsa art. A massive amalgamation really. Each wall even had it?s own title to give the viewer some sense of organization. Enticement-- 10% discount on works purchased before Dec. 21st 2006.
The first three images are from the "Dimensionally Challenged" wall; the fourth and fifth are from "Original Space Wall #3"; the sixth is from "Dragonfly Wall #2"; the seventh is from "Dragonfly Wall #1"; the last two are for atmosphere.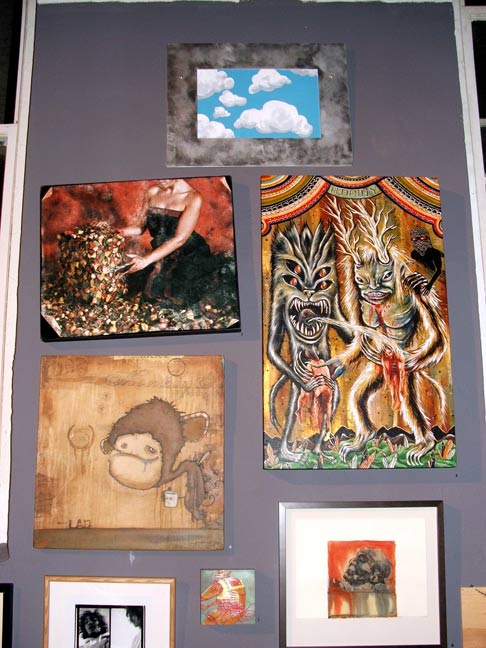 (Top to bottom - left to right) Lindsay Steffes - Seven Clouds, Dan Herrera/Ashley Harris - Untitled #14, Skinner - Humanity, F**k You Twice, Johan Potma - Rise and Shine.


Maya Haiku - And I Will Always Love You (not quite 20x20).


(Left to Right) Byron Brown - City Love, Henry Lewis - Untitled.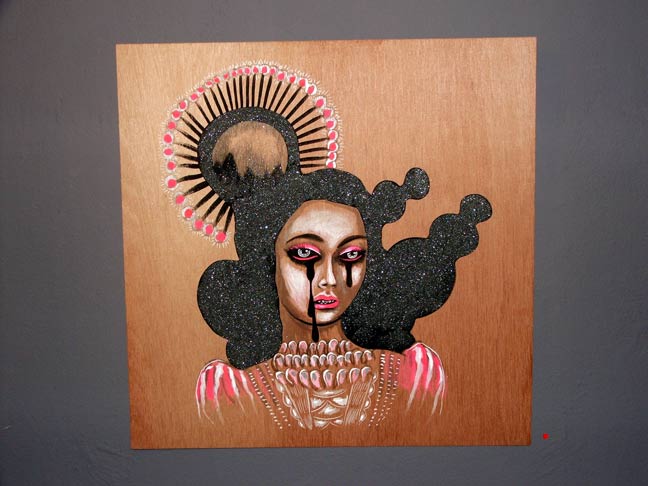 Christine Shields - Model Dreams of Escape.


Telopa - Pentagon Tampon.


Hugh Leeman - Study for Free Palestine.


Guy Colwell - Woman and Impala.


The Rockin Band.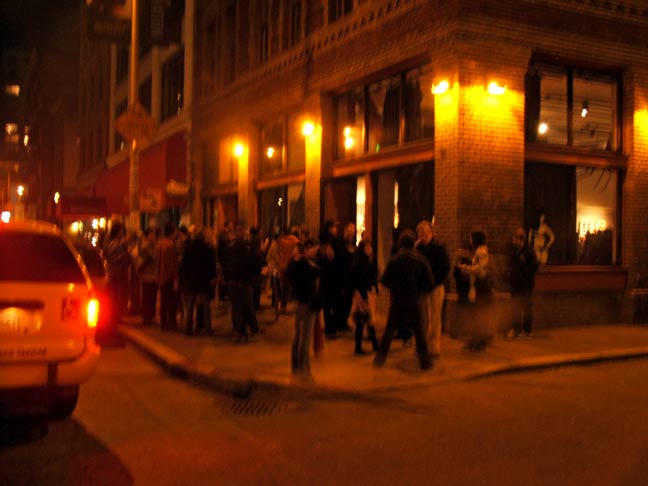 The Scene Outside.


***