SAN FRANCISCO ART GALLERIES - OPENINGS
M1 - SPORTS BASEMENT - RED CAKE - BLUESPACE
MOLLUSK - RARE DEVICE - HAYES VALLEY MARKET
EDO SALON
12.07.07
M1 Gallery, 208 Utah St., San Francisco, CA 9410: Misk 1 (Sandro Tchikovani).
Comment: Those who question the validity (or even the existence) of graffiti and graffiti-based "art" might check out this show. Graffiti invariably and inexorably forges its way into the mainstream to the point where you can rest assured that sooner or later, its stylistic descendents will be typical decor in homes, offices, businesses, corporate lobbies, and public buildings everywhere. Believe it.
Art.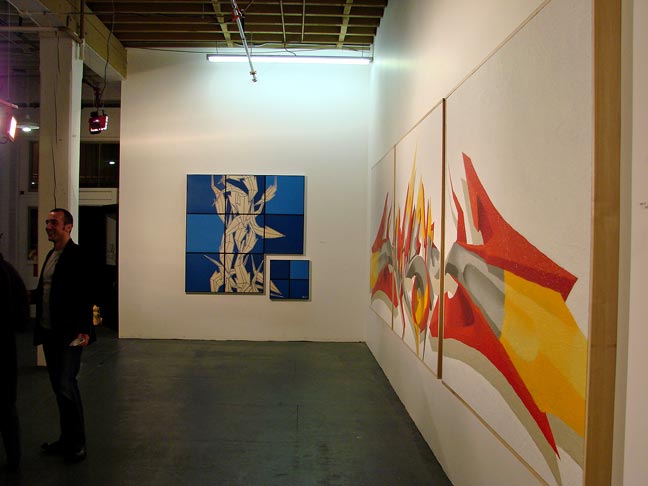 Art.


Sandro Tchikovani - art.


Art.


Art.


Art.


***
Sports Basement: Kellyann Gilson Lyman - New Work - Winter Grotto Art Party.
Comment: The Sports Basement on Bryant Street is reaching out to the local artist community and will be having art regular shows in-- you guessed it-- their basement. The venue is a good-sized room with plenty of wall space. This time around we have upbeat abstract escapades by Kellyann Gilson Lyman
Art.


Kellyann Gilson Lyman - art.


Art.


Tunes.


***
Red Cake Gallery at Michelle O'Connor Gallery, 2111 Mission St., San Francisco, CA 94110: Launch Party.
Artists: Allen Stickel, Anli Liu, Anomaly Jewelry, Brenna Burns, Elide Endreson, Jennie Ottinger, Joseph Rizzo, Kirk Stoller, Kristina Lewis, Lori Bode, Richard Barlow, Daniel Ross, Sherry Koyama.
Comment: Bricks and mortar inaugural for Red Cake, an online art gallery featuring a variety of art by a variety of artists at affordable prices. Nothing over $350 here tonight.
Art.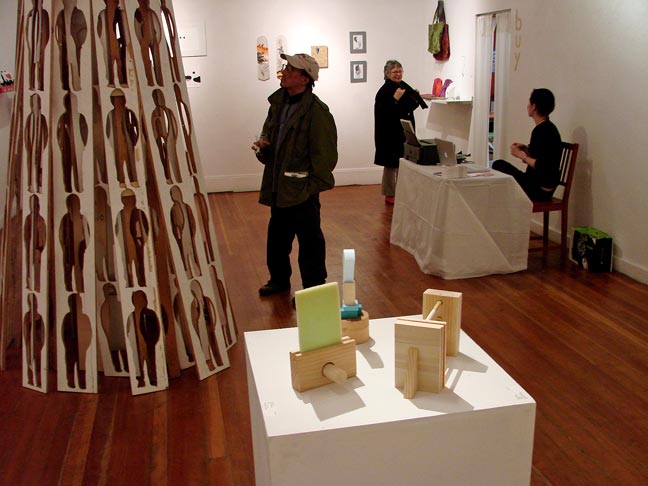 Art.


Art.


Art.


Art.


***
Bluespace Gallery: Alicia DeBrincat and Laura McHugh - Art from the Naughty List.
Comment: According to the dossier, "Alicia DeBrincat and Laura McHugh examine female identity without worrying about being 'nice'," and from the looks of things, I'd say mission accomplished.
Art.


Art.


Art.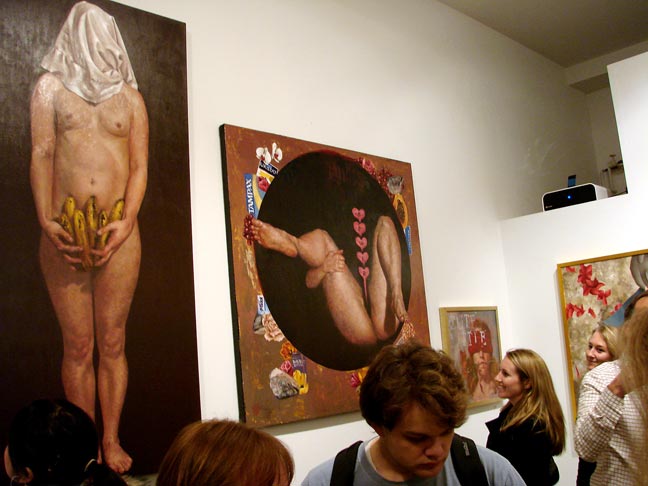 Art.


Ambience.


***
Rare Device: Kate Bingaman-Burt - Obsessive Consumption.
Comment: Kate Bingaman-Burt makes art about rampant consumerism, particularly the perverse and addictive act of acquiring material possessions whether or not you have any money to pay for them. She's actually turned the concept into her own brand which includes fashion, greeting cards, decorative accessories, and more-- embellished with images of all that crap you just have to have. Bingaman-Burt, a former credit card junkie, has since abandoned the vice and is, as part of her penance, paints watercolors of her monthly credit card statements (several of which are offered for sale here) until the outstanding balances are paid down to zero.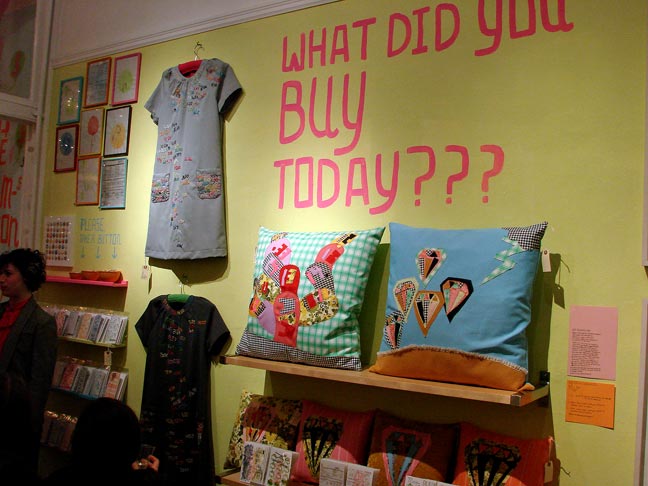 Debt art.


Kate Bingaman-Burt - debt art.


Debt art.


Debt art.


***
Mollusk Surf Shop: Thomas Campbell - KOOK OUT.
Comment: The official party line on this one is "surfcentric doodles,sculpture, photos and sewn stuff" by Thomas Campbell. And there's plenty of it and it's all good. I'm particularly partial to the painted sewn works-- exceptionally competent. Worth a visit, and perhaps even a purchase.
Art.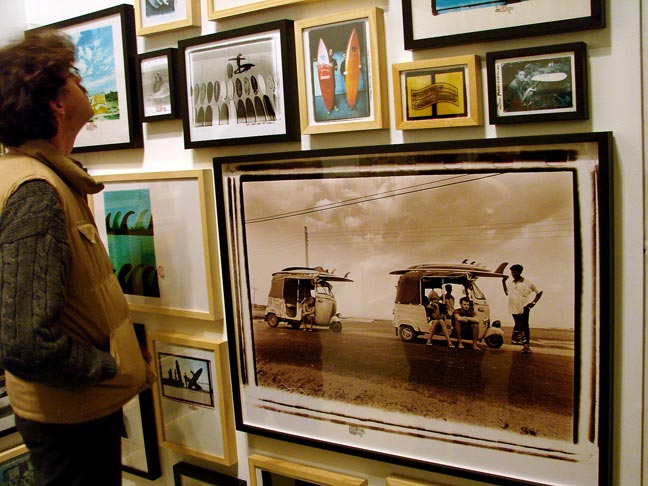 Art.


Art.


Art.


Art.


Art.


***
Hayes Valley Market, 580 Hayes Street, San Francisco, CA 94102: The First Hunters Point Shipyard Group Show.
Artists: Ivy Jacobsen, Kim Smith, John Arbuckle, April Hankins, Paula Clark, Celeste Chin, Marc Ellen Hamel, Carol Jessen, Jane Wolverton, Marian Forman, Harriet Santroch, Lawrence Ferlinghetti, Joesam, John Arbuckle, Carolyn Crampton, Maeve Croghan, David Dion, Steve Falbo, Paul Gibson, Harriet Golfos-Santroch, Rebecca Haseltine, Irene Hendrick, Indu Krishan, Dimitri Kourouniotis, Nyya Lark, Derek Lynch, Leslie Terzian Markoff, Carole R. Moore, Zannah Noe, Veronica Orozco, Dennis Parlante, Rhonel Roberts, Michael Rodman, Sawyer Rose, Kristiana Spaulding, Zabrina Tipton, David Trachtenberg, Jess Wainer, Audrey Welch, Jane Woolverton.
Comment: Rollicking free-for-all rocks the Hayes Valley Market, the players consisting of mainly Hunters Point artists, but also Public Glass artists with cameo participation by Lawrence Ferlinghetti and Joesam. The VIP lounge is a circa 1967 Airstream trailer parked out front. These Hunters Pointers know how to party. Yo!
Entrance (art - Lawrence Ferlinghetti).


Art (Joesam).


Art.


Art.


Art.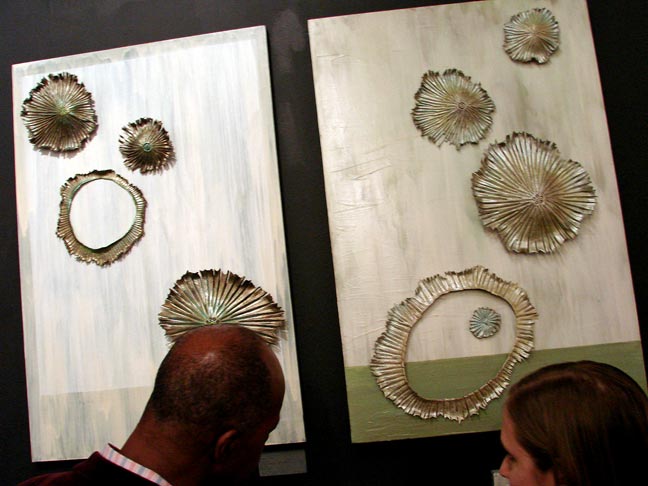 Art.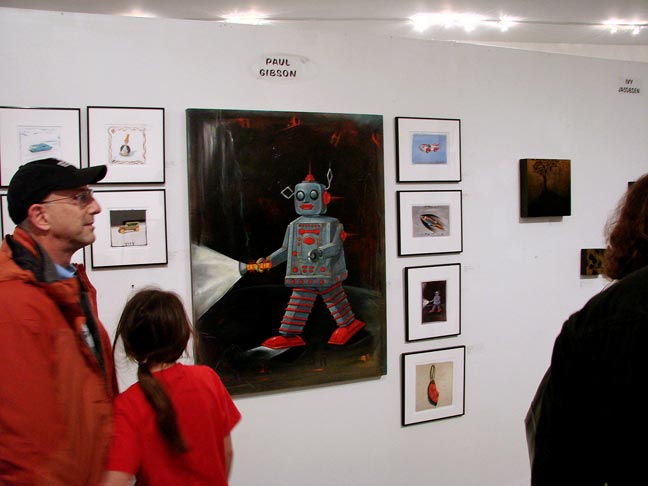 Art.


Art.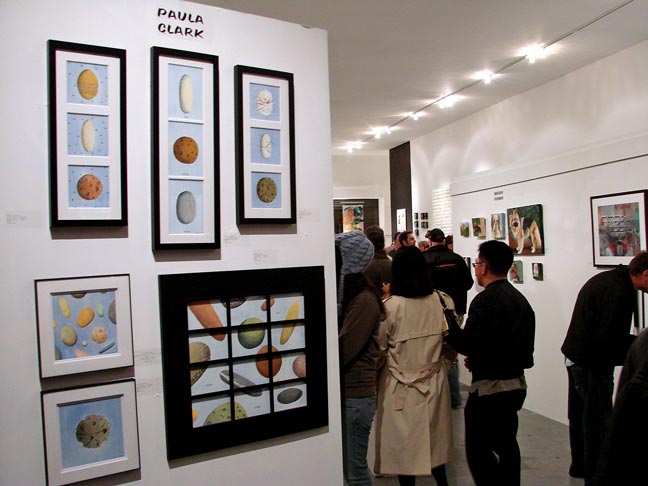 Art.


Art.


Art.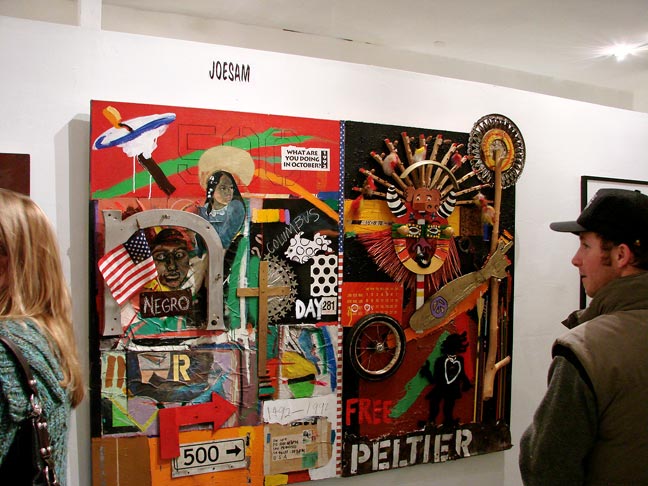 Art.


VIP lounge outer.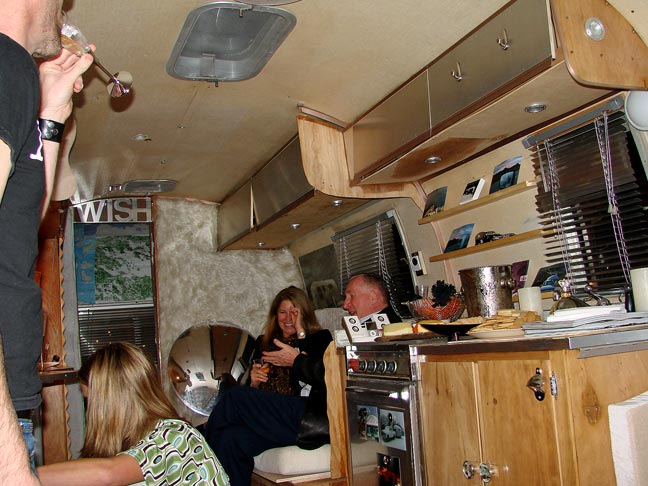 VIP lounge inner.


***
Addendum:
Adrian Landon Brooks art at Edo Salon.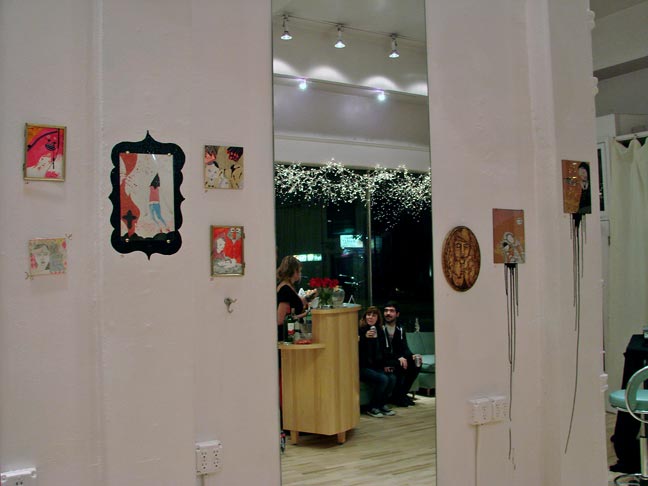 One more from Adrian Landon Brooks at Edo Salon.


***