SAN FRANCISCO ART GALLERIES - OPENINGS
SF CAMERAWORK - RENA BRANSTEN GALLERY - SEVENTH HEART
GOLDWASSER RARE BOOKS - BAXTER CHANG PATRI FINE ART - WHITE WALLS
THE SHOOTING GALLERY - FOCUS - PIGMAN - PASQUALE IANNETTI GALLERY
12.7-8.05
SF Camerawork: San Francisco Camerawork's 2005 Auction Benefit.
Comment: San Francisco Camerawork "encourages emerging and mid-career artists to explore new directions in photography and related media by fostering creative forms of expression that push existing boundaries." They also publish the magazine, Camerawork: A Journal of Photographic Arts. Gallery Manager Cassie Riger tells me that SF Camerawork will soon be operating from its new digs, just above the Cartoon Art Museum on San Francisco's Museum Row (Mission between New Montgomery and Third Street). Tonight's auction is well stocked with appealing images. I see a dealer or two scoping the scene which means basically one thing-- BARGAINS.
Art.


Art.


Art.


Art.


Panorama.


***
The Seventh Heart, 1592 Market St., San Francisco, CA 94102; 415.431.1755: XXBOYS - Kael T. Block.
Comment: Well, every once in a while art becomes education-- like here. Apologies in advance for any terminological gaffs, but as far as I can tell, Kael T. Block's raw confrontational portrait photography documents physiological manifestations of the transformation, acknowledgement, and expression of one's true identity, celebrating the beauty and sexuality of the "trans" lifestyle. Block's images of "transmen" or "xxboys," as he refers to them pretty much stopped me in my tracks-- not something I know anything about-- so I went to Block's websites when I got home and did me some reading. Now I understand-- and thanks for letting me photograph the show. This is a video documentary waiting to happen, by the way, and Kael T. Block seems very accessible.
Kael Block - photography.


Photographs.


Photos.


Photographs.


Photography.


Location.


***
Rena Bransten Gallery: Ruth Asawa - Knit Together; Paul Henry Ramirez - Frothy. Flirty. Feely.
Comment: Ruth Asawa is one of my favorite artists. Her hanging wire mesh weavings are delicate, magical, enchanting, balanced, infused with peace and calm, and just plain remarkable. In fact, I'm gonna give her the rare and highly coveted How-Do-Dey-Do-Dat Award while I'm on the marvel here-- she probably has a bunch already, but so what? Many Asawa fans are familiar with her larger sculptures like those hanging in the tower elevator lobby at the new de Young Museum, however this show spotlights a number of smaller pieces, equally as riveting as the bigguns, perhaps even more so, when you consider the painstakingly intricate ramifications of metalworking in miniature (even the venerable Charles Campbell was amazed). This is the best. Wow.
Paul Henry Ramirez large flourescent-esque abstracts consist of periodic skootches and glurps of paint applied to smooth hermetic white surfaces. They're pristine now but that finicky Father Time is buggin' me again with his mandates. "Adequate protection is required to keep shiny things shiny and crisp things crisp," he tells me. Yes, Father Time, I know, but I'm liking this-- why don't you go make some crowsfeet or something?
Art (Ruth Asawa).


Art (Ruth Asawa).


Art (Ruth Asawa).


Ruth Asawa (center, seated).


Art (Ruth Asawa).


Art (Ruth Asawa) - Charles Campbell (right).


Art (Ruth Asawa).


Art (Ruth Asawa).


Art (Ruth Asawa).


Art (Paul Henry Ramirez).


Art (Paul Henry Ramirez).


Art (Paul Henry Ramirez - like 'em).


Art (Paul Henry Ramirez).


***
Goldwasser Rare Books: Book Sculptures of Barbara Alexandra Szerlip.
Comment: Barbara Alexandra Szerlip reconstitutes languishing used books by folding, patterning, and fanning out their pages, then firming their bindings, then adding various sculptural flourishes, often relating to the titles of the newly invigorated tomes. She also makes shadow boxes and assemblages, mostly for wall hanging. This is pretty good stuff-- verging on antique in appearance-- fanciful, imaginative, uplifting, satisfying. Store owner Thomas Goldwasser tells me, if I recall correctly, that this is Szerlip's first significant solo show. Prices are reasonable-- you can get a nice book sculpture for $300-$400, and that fact is not going unnoticed. Top price for the large shadow box is $2500. I'd keep an eye on this artist.
Art.


Art.


Thomas Goldwasser (proprietor) - art.


Art.


Art.


Establishment.


***
Baxter Chang Patri Fine Art: The Contemporary Landscape - Group Photography Exhibition.
Artists: Lisa Blatt, Matthias Geiger, Bill Jacobson, Stephen Joseph, Kim Keever, Richard Lohmann, Chris McCaw, Denny Moers, Robert Stivers.
Comment: Good show all the way around, but I gotta go with the breathtaking Kim Keever wildland amalgamations. I thought they were digital and initially described them as such, but I have since been graciously informed that the artist actually creates them in a 100 gallon fish tank in his studio with plaster mountains, tree branches, Bonsai plants, and atmospherics courtesy of paint dispersed through water. No digital acrobatics here. So now I like 'em even more-- or maybe respect 'em even more-- or maybe both-- yeh, both. Anyway, they look tornadic and otherworldly, but appear to reference two major Hudson River School grandeur standouts, Albert Bierstadt more so, and Thomas Moran somewhat so. Priced approximately $5K-$9K.
Photography (Kim Keever).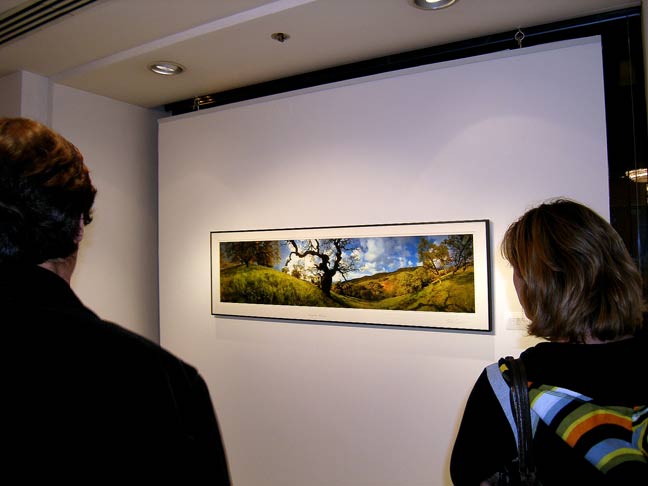 Photo.


Photos.


Photograph (Kim Keever).


Photos.


Photography (Kim Keever).


Photos.


***
Pigman Gallery: Juxtaposed - Group Show.
Artists: Nils Krueger, Claudia Cohen, Edward Woods, Abbas Modjabi, Joel Marin, Rene Fressola, Michelle Knox, Larry Wayne Cockerill, Dela Erickson, Samanta Tello, more.
Comment: A smattering of this and a dash of that is what pops out of the eclectic hat. Prices $300-$6000.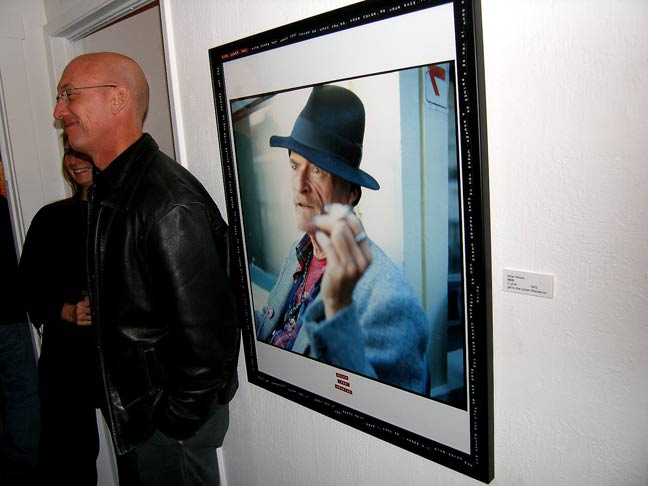 Art.


Art (Claudia Cohen sculpture, foreground).


Photogrphy (Edward Woods).


Art (paintings - Joel Marin; foreground sculpture - Claudia Cohen).


Photography (Edward Woods). Hi Chet!


Formidable pointy sculpture art.


Art (painting - Rene Fressola; sculpture - Nils Krueger).
***
Focus Gallery, 2423 Polk St., San Francisco, CA 94109; 415.567.9067: Bay Area Photographers Collective - Group Show - Abstracts.
Artists: Eric Larson, Art Levit, Angelika Schilli, Kime Smith.
Comment: Nice space, nice work, nice people, good cheese.
Photography.


Photograph (Eric Larson).


Photo (Algelika Schilli).


Photographs (Kime Smith).


Deportment.


Veranda.


***
The Shooting Gallery: Anne Faith Nicholls - Unusuelle - A Solo Exhibition of Paintings, Drawings and Installations.
Comment: Diverse versatile substantial thoughtfully presented array of sizes, subject matters, and mediums. A number of works are painted on found materials like an old folding card table or pieces of scrap wood which, in combination with Nicholls's finishing techniques, impart vintage or period feels.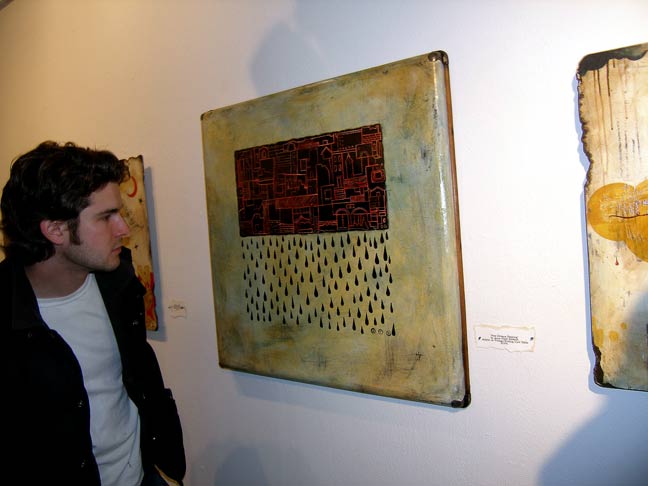 Art.


Art.


Anne Faith Nicholls (left).


Installation art.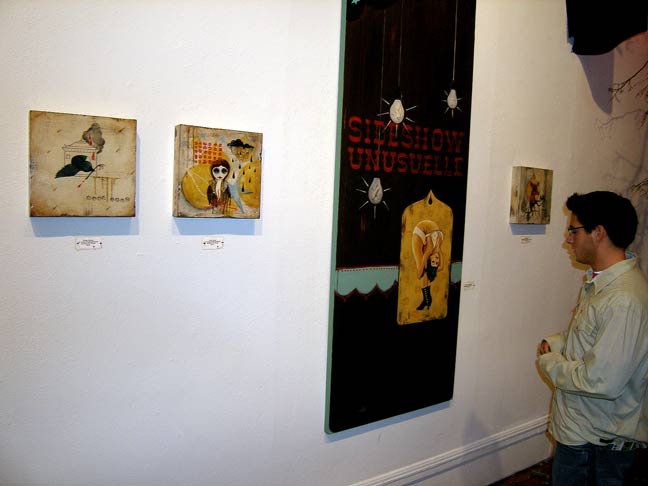 Art.


Art.


Art.


***
White Walls Gallery: Untitled.
Artists: Sylvia Ji, Ogi, Sage Vaughn, Caleb Neelon, Anthony Yankovic III.
Comment: Liked pretty much everything. Boston artist Caleb Neelon is back with another load of good lookin' reasonably priced brights. Sylvia Ji shows her smart seductive sirens. Anthony Yankovic III watercolors and draws at least one of everything. Sage Vaughn trots out some tweeters. And Ogi keeps it clean and minimal. Priced $100-$4K.
Art (Ogi).


Caleb Neelon - art.


Art (Anthony Yankovic III).


Art (Sylvia Ji).


Art (Sage Vaughn).


Art (Caleb Neelon).


Art (Sylvia Ji).


Art (Anthony Yankovic III).


Playing field (pylon art - Caleb Neelon).


***
Addendum: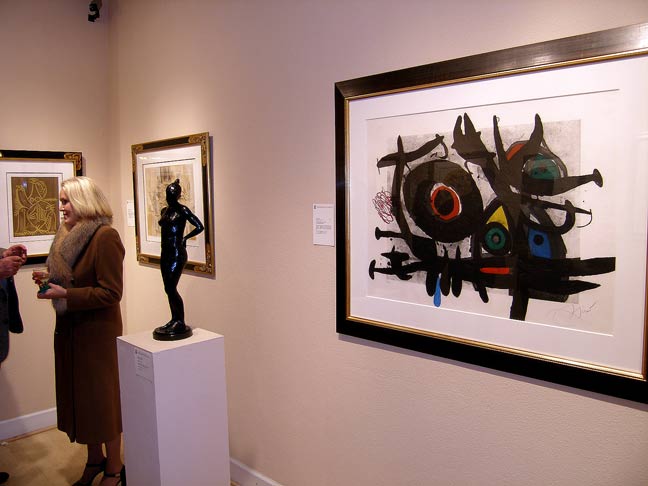 Holiday event at
at Pasquale Iannetti Art Galleries.


One more from Pasquale Iannetti Gallery.