SAN FRANCISCO ART GALLERIES - OPENINGS
NEEDLES AND PENS - CULTURE SKATE - ROOT DIVISION
RECEIVER - LIVE ART GALLERY
12.08.07
Needles and Pens: Tim Kerr + Rich Jacobs - So Are You an Outsider and Do You Like It Out There?
Comment: The walls are dense with art, raw collaborative portraits, mainly musicians (and other notables as well), by artist/musicians Tim Kerr and Rich Jacobs. The vibrant works exude no shortage of character plus most come with social and political commentary. Kerr and Jacobs are gonna play music at the opening and throngs are already gathering for that, but I'm on a tight schedule... you know the drill. Righteous show; go see.
Art.


Art.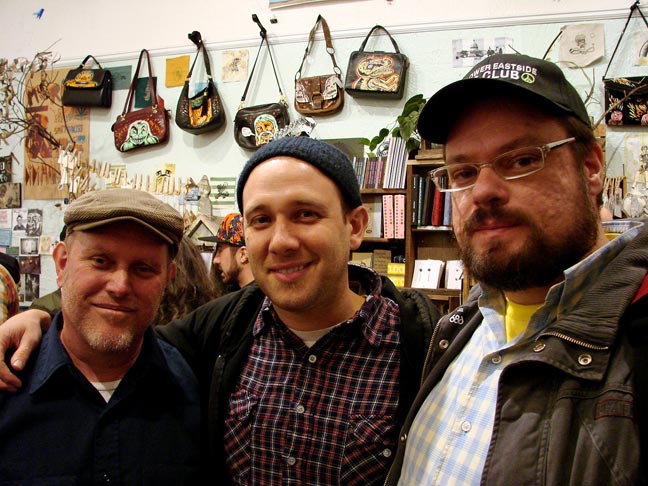 Tim Kerr - Andrew Scott (owner) - Rich Jacobs.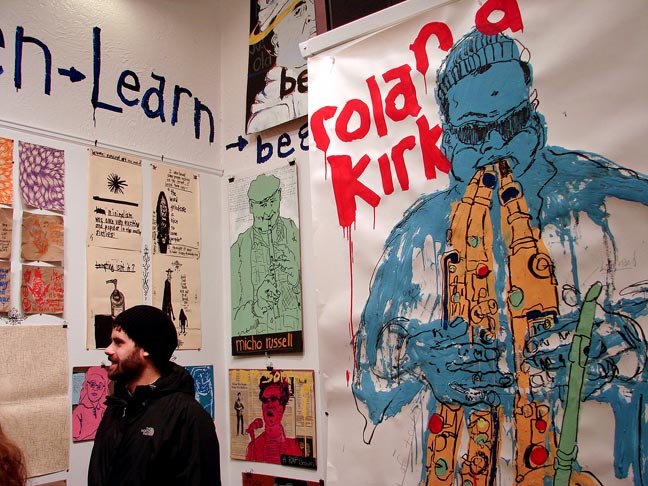 Roland Kirk art top.


Roland Kirk art bottom.


Art.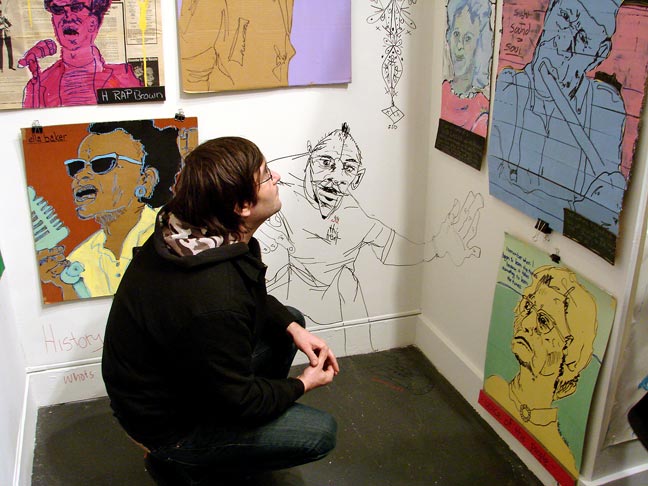 Art.


Art.


***
Culture Skate: Something Visionary.
Artists: Akayo, Todd Bratrud, Derek curry, Chris dyer, Nate Van Dyke, Esu, Megan Kimber, Danny King, Brandon Lomax, Philip Milic, Lucian Moon, Ras Terms, Toad, Kip westerfield.
Comment: Urban mix with a hint of mystical at this Culture Skate group show. The store looks like a skateboard shop at first glance, which it mainly is, but you take a look around and see that the essence represents more like a lifestyle. Worth a visit.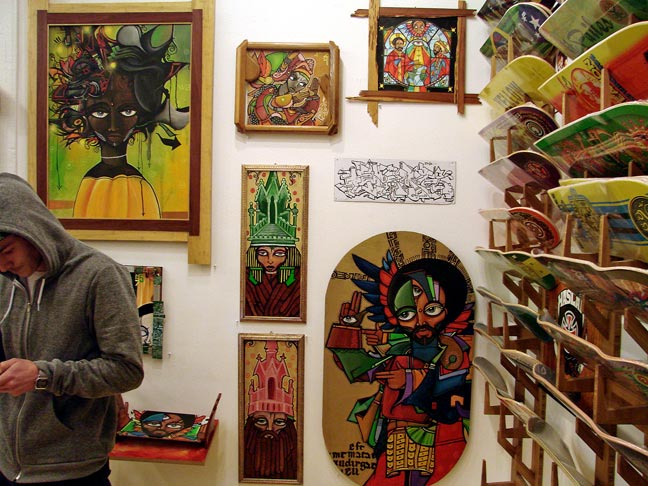 Art.


Art.


Art.


Art.


The basic idea.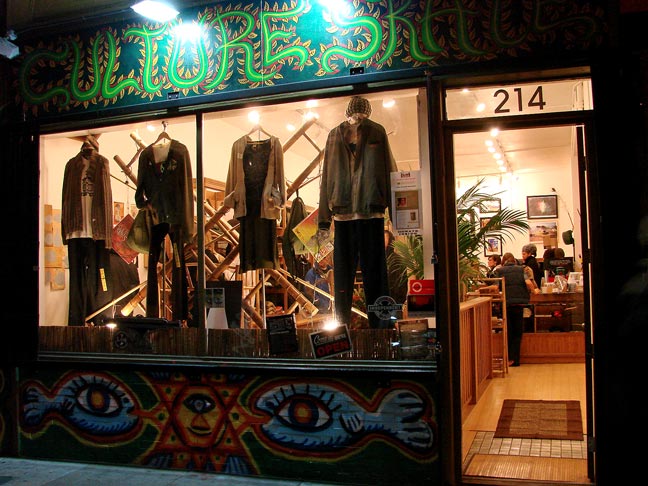 Frontal.


***
Root Division: 3rd Annual Holiday Art Sale.
Artists: 19 Moons, alicat clothes, Blue Ballad, Blue Wild Indigo, Elizabeth Bernstein, Leah Brawley, c+a letterpress, Amy Cancelmo, Stephanie Cunningham, Else Christianson, Ethan Cranke, Rebecca Drake, Lee Embrey, Tanna Hall, Feldspar Design/Selene Foster, Good on Paper, Hard Crack Candy, Rachael Jablo, KittinHawk, Kowloon Hepburn, mcg t-shirts & things, melbajulep, Mylie Clothing, Laurel Nathanson, Daniel Newman, Noir Jewelry Designs, Lollie Ortiz, Krista Peel, Petals, Micca Rivera, Alexander Schaffer-Czech, Eve Shen, Renetta Sitoy, Street Styles, Kevin E. Taylor, Turning Heads, Mr. Ben Venom, Camille Verboort, Hannah Pearl Walcott, Dave Warnke, Jessica Whiteside, Jasmin Zorlu .
Comment: A little bit of everything for The Holidays.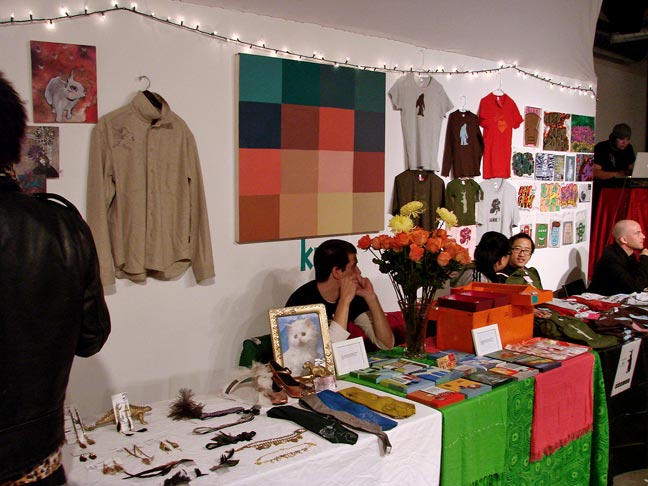 Art etc.


Art etc.


Jewelry.


Jessica Whiteside - art.


Art.


***
Receiver Gallery: I Do Adore.
Artists: Angela Boatwright, Abbey Drucker, Cheryl Dunn, Helena Kvarnstrom, Ye Rin Mok, Chrissy Piper, Zen Sekizawa, Emily Shur, Deanna Templeton, Claire Weiss, Andrea Longacre-White.
Comment: Group show presents an international selection of established women photographers. Prices range from $30-$2000.
Photography.


Photos.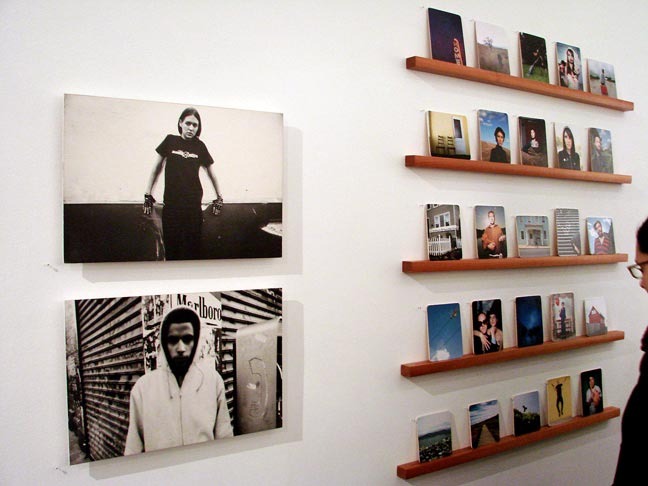 Photographs.


Images.


***
Live Art Gallery 151 Potrero Ave. San Francisco, CA 94103: Anita - Broken-Hearted Anatomy.
Comment: Symbol-laden paintings by Anita have a distinct folk art feel. She tells me she prefers going by her first name only. Good luck finding her on Google.
Art.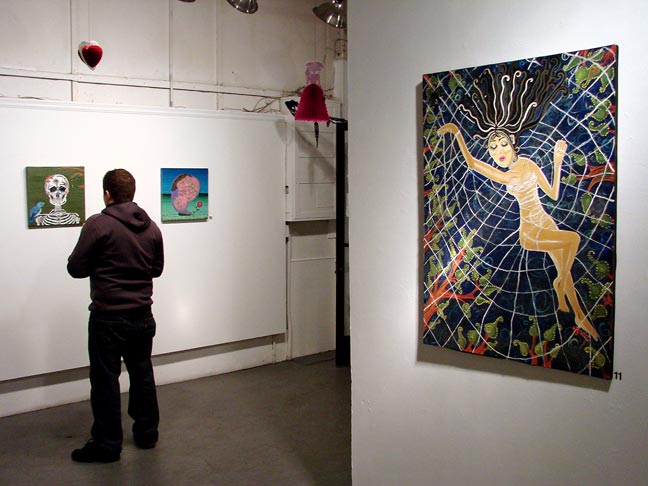 Art.


***