SAN FRANCISCO ART GALLERIES - OPENINGS
GRAY AREA - MARKET STREET GALLERY - SOUTHERN EXPOSURE
PACIFIC CENTER FOR THE BOOK ARTS - WAREHOUSE 1310
QUEENS NAILS ANNEX - WORKSPACE UNLIMITED - MAGNET
PRECITA EYES - RED INK STUDIOS
12.08-09.06
Market Street Gallery: Impressive Impressions - A Juried Exhibition of Bay Area Printmaking.   
Artists: Meri Brin, Stacy Frank, Edward Gould, Debra Jewell, Mike Kimball, Mary Ann Leff, Tatiana Lyskova, Marti McKee, Ronald Newman, Andreas Nottebohm, Andrew Ogus, Patricia Payne, Sandra Oseguera, Jenny Robinson, Andrey Semyonov, Sylvia Sussman, Othmar Tobisch.
Comment: Competent group affair includes blockprints, drypoints, etchings, monotypes, screenprints and more, the whole shootin' match assembled and overseen by Terry Chastain and John Gruenwald of Tinhorn Public Works (formerly Tinhorn Gallery).
Graphics.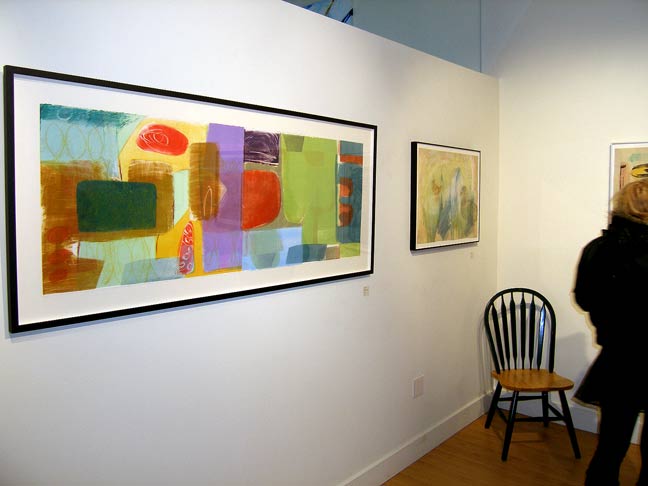 Prints.


Editions.


Prints.


Art.


Circumstance.


***
Gray Area Gallery: Sugar Sugar.
Artists: Katja Ollendorff, Relax 3:30, Kylea Borges, Hannah Stouffer, Steven MacDonald, Stephanie Choo, Scott Barry, Manuel Gonzalez aka Gonz One aka Gonz.
Comment: Urbanesque agglomeration purportedly themed on December's wintry spirit features a variety of art plus live cotton candy making, followed promptly by live cotton candy eating. Almost everything is under $500, some even under $50.
Art (Steven MacDonald).


Art (Stephanie Choo).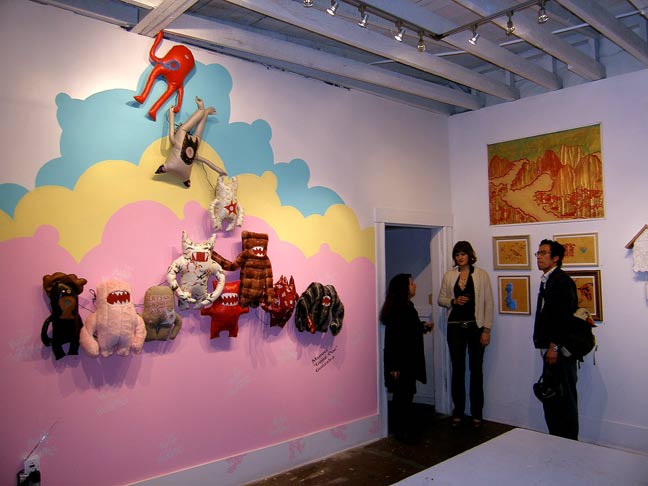 Art (Manuel "Gonz One" Gonzalez).


Weird hanging art (Kylea Borges, I think) + cotton candy trainees.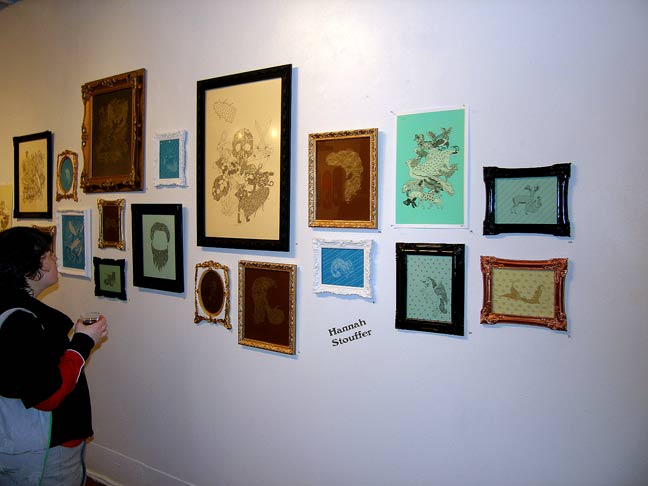 Art (Hannah Stouffer).


Tunes.


***
Pacific Center for the Book Arts at San Francisco Center for the Book: Calendar Show 2007.
Comment: Fifty book & letterpress artists make and display small edition calendars for the coming year. Prices range from $4 to $500, most under $50.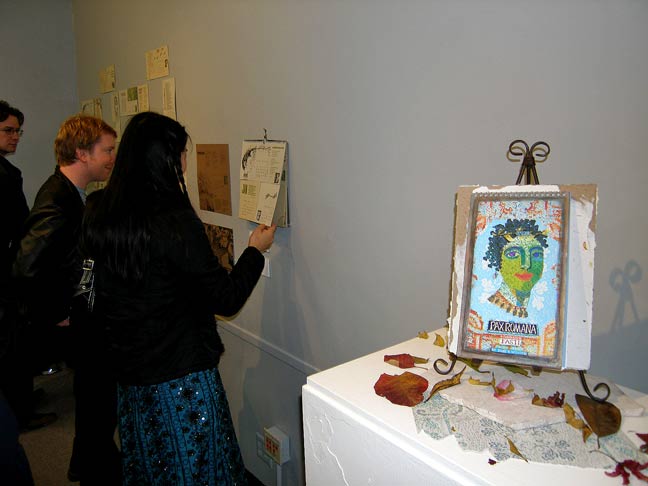 Calendar art.


Calendar art.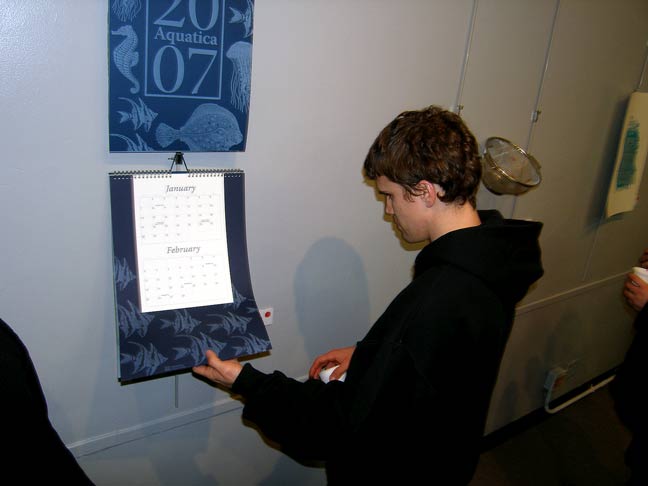 Calendar art.


Calendar art.


Dude's got a calendar on his head.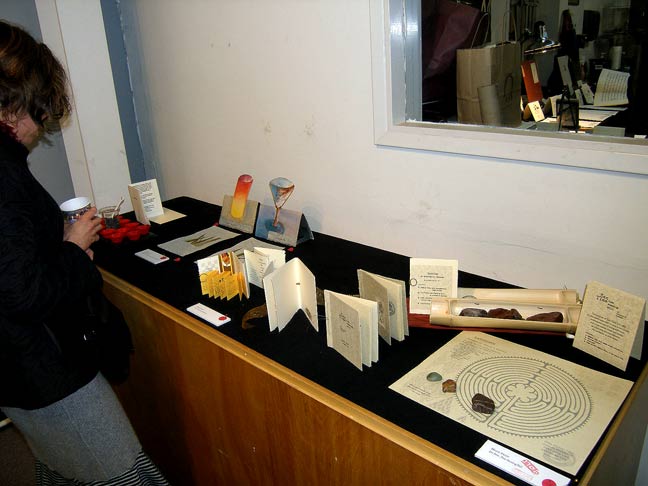 Calendar art.


Calendar art.


***
Southern Exposure: Packard Jennings - Lottery Tickets.
Comment: Packard Jennings designs sets of bogus lottery tickets and then has 'em printed at the official lottery ticket printing company (wherever that is). They look real and they're scratch-offs and you can win stuff except the stuff you win ain't $$. Then Jennings positions his tix in a smattering of corner stores in Oakland and SF, and collects, catalogues, and documents responses from various people who get 'em (they're gettable for free). The results of this escapade are on display at SoEx along with info on where you can find and acquire some of these tickets yourself. (SoEx Executive Director Courtney Fink tells me anyone can have lottery tickets printed like this. Live and learn.)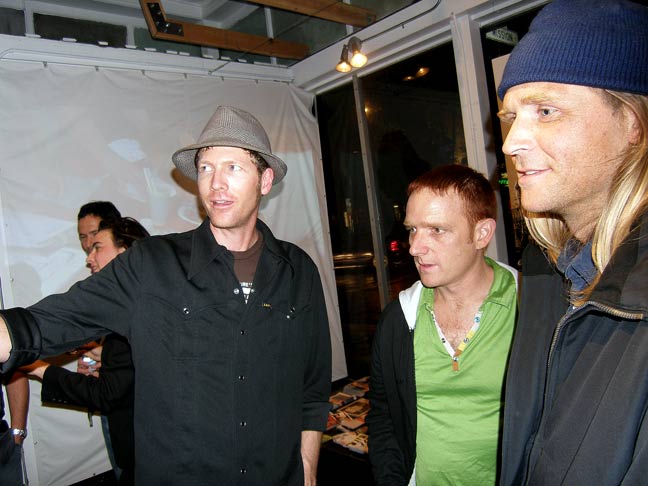 Packard Jennings explains methodology.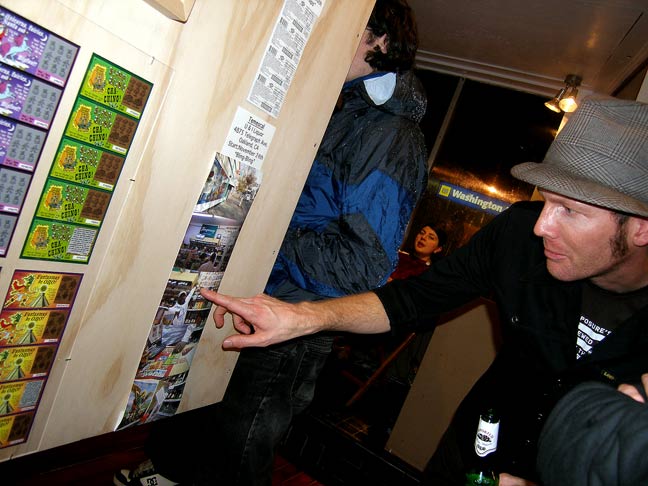 Packard Jennings explains methodology closer.


Lottery ticket art.


Courtney Fink touts SoEx fashion; perfect for Xmas.


***
Queens Nails Annex: Jason Jagel - Flesh of My Skin; Stella Lai - I Love My Foreigner Friends.
Comment: Stella Lai's paintings impersonate traditional Chinese art from structural and compositional perspectives, and that's where the similarities end. Lai tells me her current work is about the inexorable creep of Western culture and Western values into conventional Chinese society. According to Lai, progressive Chinese are currently engaged in everything from getting fit and losing weight to faking themselves up with funky synthetic shit like breast implants. I find Lai's presentation a perfect example of an eminently satisfying show. It's got a premise, a conclusion, a set of standout artworks to substantiate and support all contentions, and most importantly, the visual and cognitive chops to transport me-- simply, clearly, and directly-- from assumption straight on through to completion, every step along the way accounted for.
Jason Jagel's proficient gouaches, ink drawings, and sound recordings appear to be autobiographical from reading the show's choppy antecedent-riddled statement. So I'm gonna bag trying to decipher the modus and enjoy the upshot, some of which reminds me a bit of vintage George Grosz.
Art often requires progressive introductory-- transiting from elementary towards erudite-- to keep everyone in the game (which can, with skill, be whittled into a single press release or statement). Helpful artist hint #548b: Start easy; build easy. Some of us may request and require more hand holding than others, but it's only 'cuz we care enough about the art to wanna learn more about it so we can better understand and appreciate it.
Art (Jason Jagel - like it).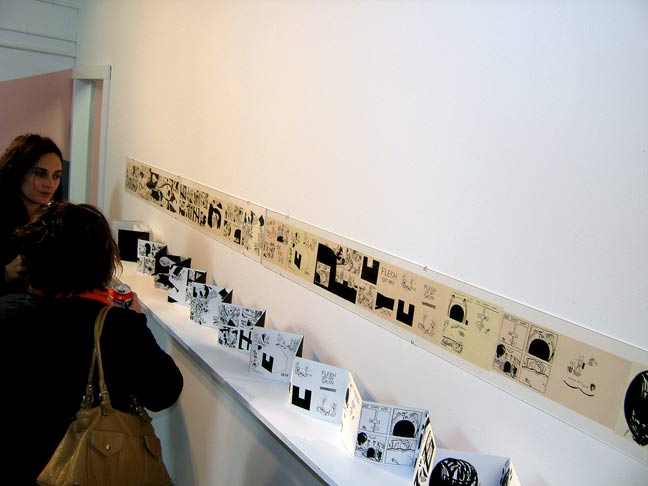 Art (Jason Jagel).


Curator in training; art (Jason Jagel).


Art (Jason Jagel).


Stella Lai - art (like it).


Art (Stella Lai).


Art (Stella Lai).


***
Warehouse 1310: Pacific Noise - Subvert.
Artists: Sarah Thibault, Hava Liberman, Bunnie Reiss, Matt Tinney, Dustin Rankin, Aidan Sellars, Stefanie Weyand, Gia Lee, David Chastain.
Comment: "A night of video art by local subversive artists for your interactive viewing enjoyment" plus music by Silian Rail. Pacific Noise is an online TV show about local music and art. I'm too early for the show, but as the videos play, Pacific Noise founder John Swanson primes me on the basics.
Video art.


Video art.


***
Workspace Unlimited, 2150 Folsom St., San Francisco, CA 94110: Nikolai Atanassov presented by Institute for Unpopular Culture.
Comment: Substantial exhibit of deep rich complicated colorific splattery speckly abstracts (some with representational elements) by Bulgarian artist Nikolai Atanassov.
Art.


Art.


Art.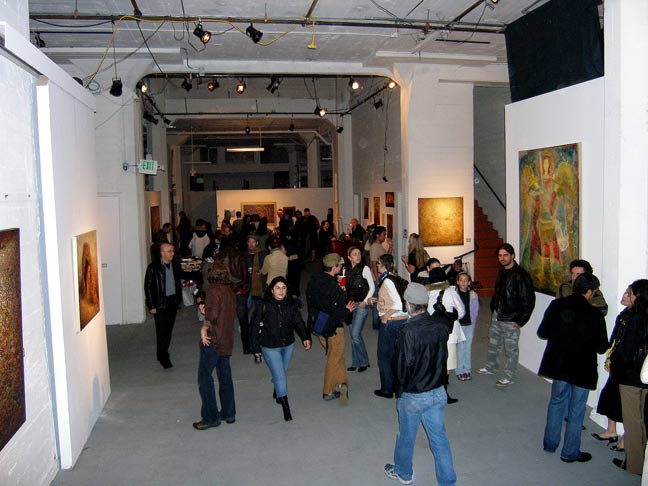 Attendance figures.


***
Magnet: Ron Travelletti - Readymades.
Comment: Ron Travelletti tells me he acquires many of the component parts for his bright kicky upbeat assemblages on eBay. "Where else can you find ten Matchbox ambulances all in one place?" he asks me. Special added bonus-- the art's very affordable too.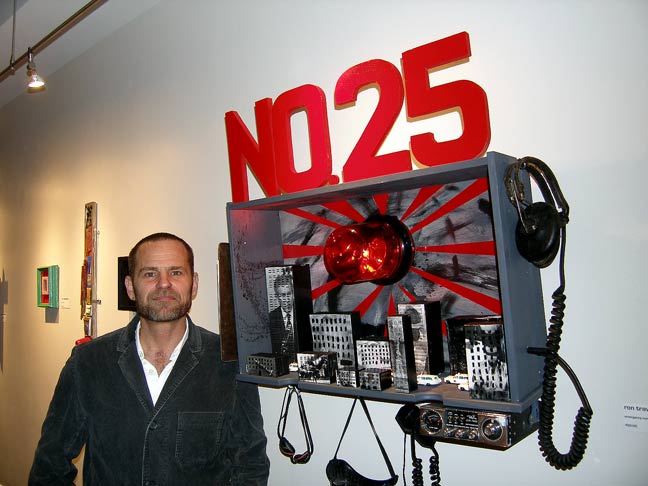 Ron Travelletti - art.


Art.


Art.


***
Precita Eyes: Susan Cervantes.
Comment: Founding Executive Director of Precita Eyes Mural Arts Center, Susan Cervantes, shows her visionary art for the first time in public, a good percentage of it firmly cached in the realm of rainbow mandalic psychedelia, harking me way way back to the salad days of Hippiedom. Cervantes founded Precita Eyes, an inner-city community-based mural arts organization, some thirty years ago, and has since focused mainly on teaching techniques of large-scale painting, but the show tonight is all about her, spanning over thirty years of her art. She tells me she's produced hundreds of works, pretty much all of which remain in her posession. Interesting.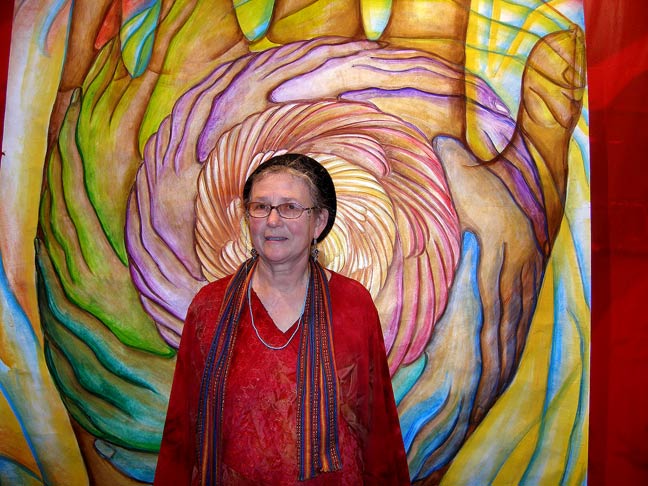 Susan Cervantes - art.


Art.


Susan Cervantes - art.


***
Red Ink Studios: Absence of Presence.
Artists: Audrey Jones, Patrick Stevenson, Perry Doane, Shannon Amidon, William Francis, Tim Gonzalez-Mena, Lauren Zahner, Anton Orlov, James Meidinger, Mike Stefanski, Alvin Gomez, Stuart Mahoney, Lisa Falk, Charlie Thayer, Todd Kobashi, Jaya King, Gustavo Venegas, Valerie Shagday, Fernando Amaro, Kimiyo Morimoto, Brandon Joesph Baker, James Erin de Jauregi, Shannon Amidon, Billy Scott.
Comment: A little bit of this and a little bit of that. Art, music, fashion, performance.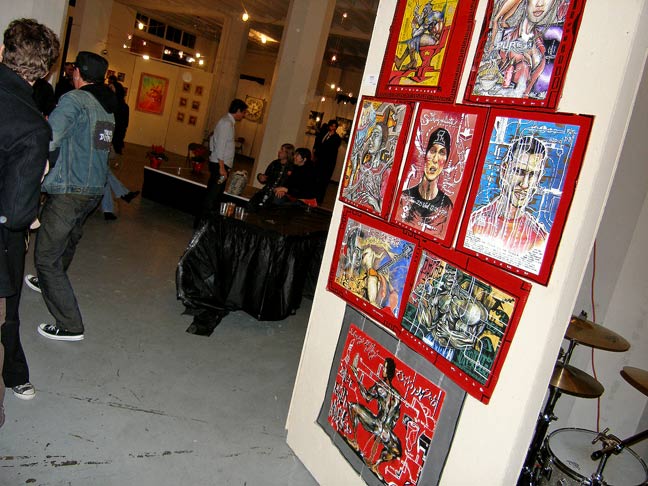 Art.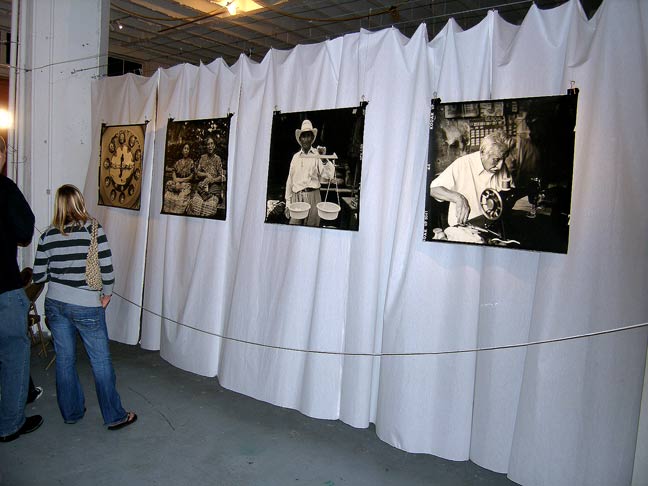 Art.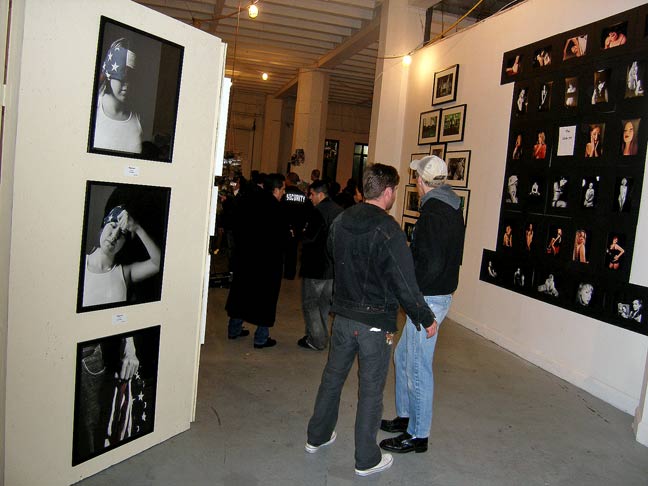 Art.


Art.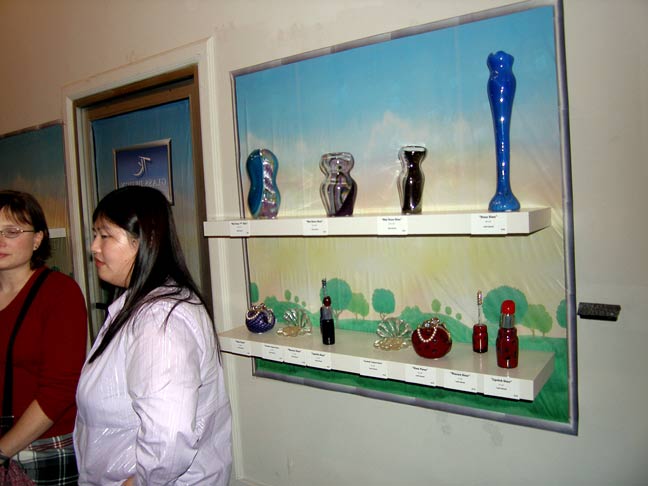 Art.


Art.


***