SAN FRANCISCO ART GALLERIES - OPENINGS
DOLBY CHADWICK - 238 STOCKTON - GHOST AND BREAD
PHOTO EPICENTER - FIFTY24SF - LOWER HATERS
OXENROSE SALON - ADOBE BOOKSHOP
12.13.07
Dolby Chadwick Gallery: Kirsten Stolle - Evolutionary Soup.
Comment: I'm not sure where the "Evolutionary Soup" part comes in 'cuz I can't find a scorecard, so let's just say Kirsten Stolle's 24 by 24 inch black, white and sepia gouache, oil, graphite and ink works on Asian paper and rag board are $2800 each, and at least some of 'em look like maybe handbags or satchels of one sort or another. Commendably cryptic.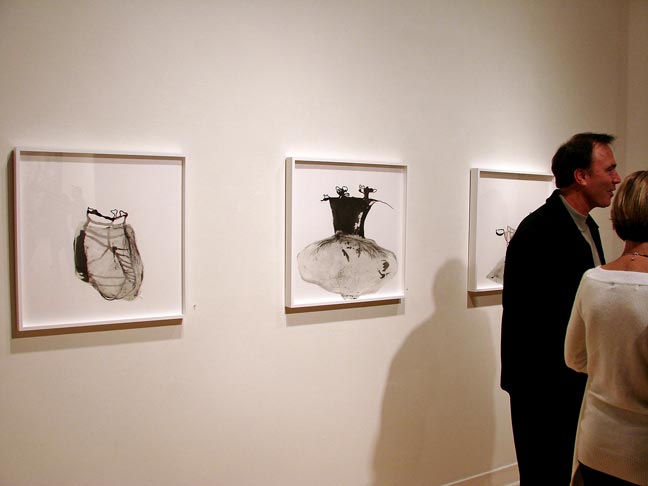 Art.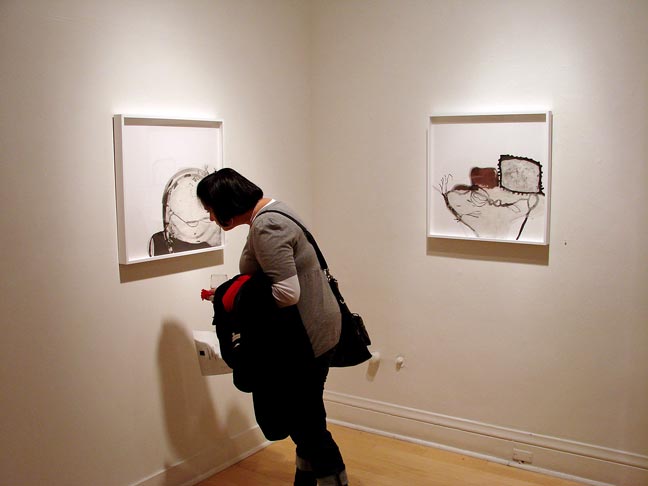 Art.


Art.


Ambience.


***
238 Stockton Street at Maiden Lane, San Francisco, CA 94108: Dominique Harrington, Pilar Woodman, Stephania Serena - Three Views.
Comment: One night only for this one. Basically, the deal is that one of the artists knows the owner of the building (located directly on Union Square at Maiden Lane, and the impending home to Gucci). But it's currently vacant so let's throw an art party. The essence is peppy, the art satisfies, there's all kinds of glam-glams and fashion plates running around, and that pretty much sums it up.
Art.


A little something for the breakfast nook.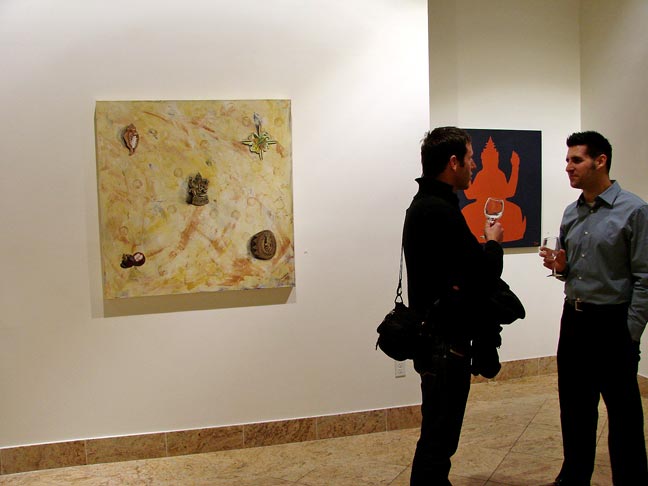 Art.


Art.


These are certainly curious.


Art.


Down looking up.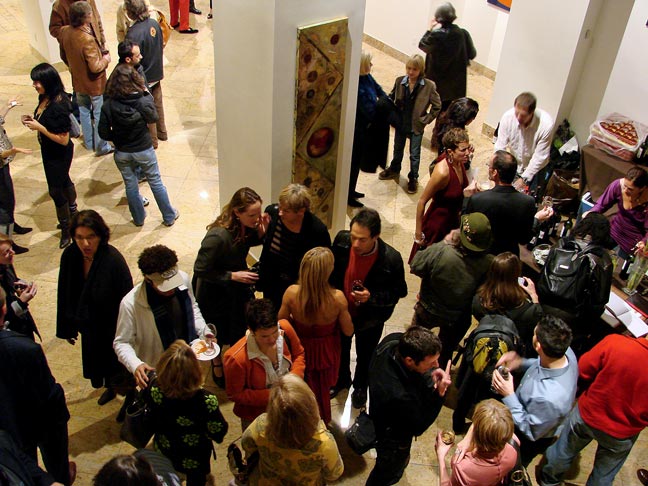 Up looking down.


***
Ghost and Bread Gallery: Magic and Fermentation.
Artists: Theophani Callozzo, Alexander Kori Girard, Rebecca Najdowski.
Comment: Woah! Yet another grand opening of yet another art gallery, this one down Cedar alley just off Polk Street-- a warm and inviting space, acutely suited to showing art. Alexander Kori Girard tells me the three artists in tonight's inaugural event are formerly from New Mexico (Santa Fe to be precise), and now reside in Oakland. The work's impressive on all counts and well worth a perusal. Price range $250-$1000, plenty under $500. Good value here.
Art (Alexander Kori Girard).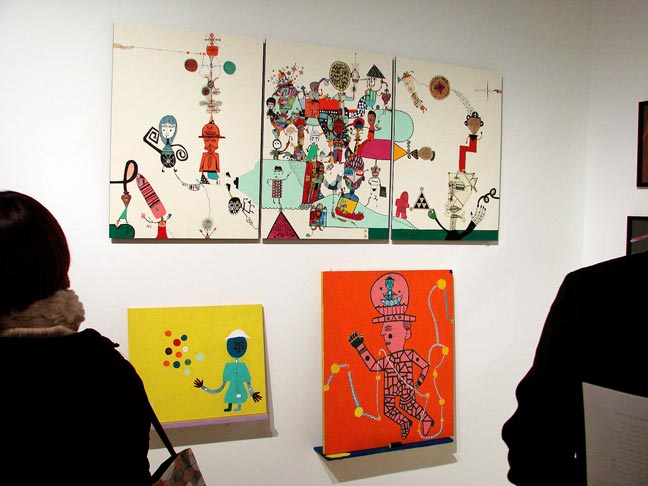 Art (Theophani Callozzo).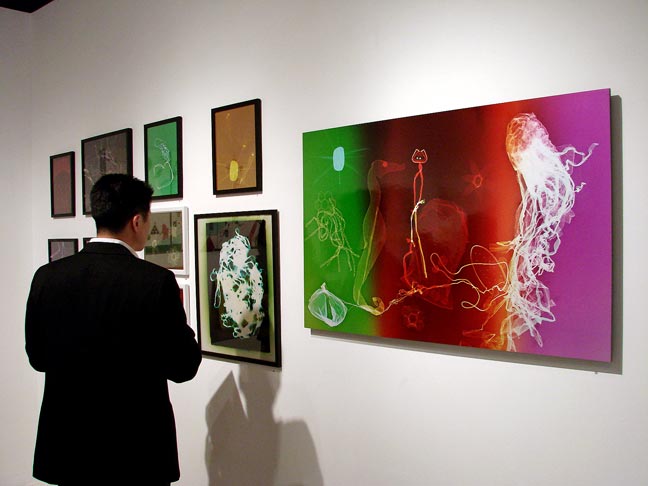 Photograms (Rebecca Najdowski).


Theophani Callozzo - Rebecca Najdowski - Alexander Kori Girard.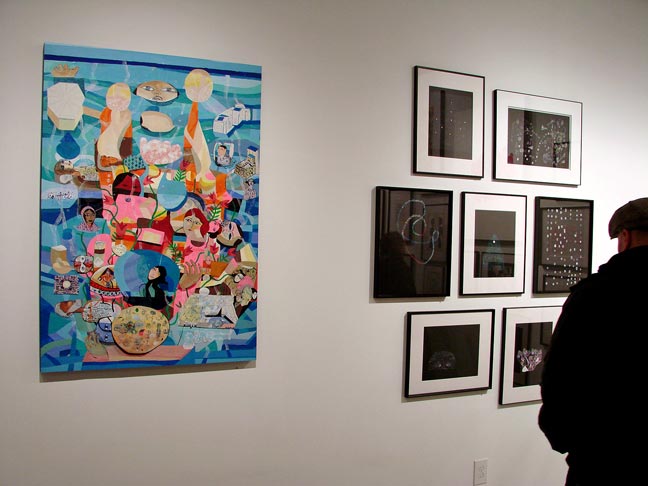 Art (Alexander Kori Girard).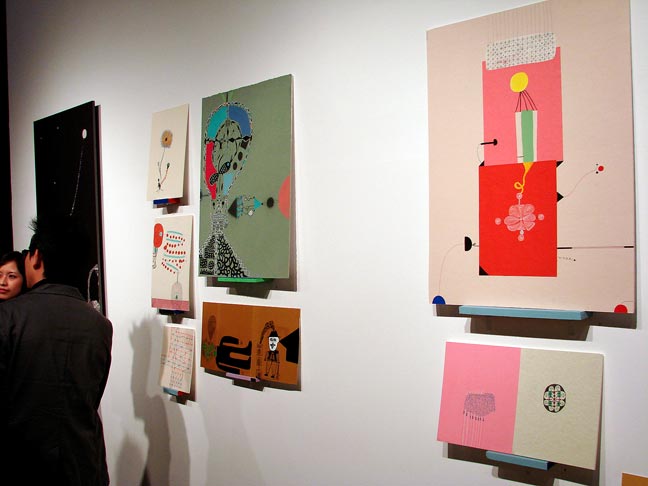 Art (Theophani Callozzo).


Photograms (Rebecca Najdowski).


Art (Alexander Kori Girard).


Art (Theophani Callozzo).


Floor plan.


Out front.


***
Photo Epicenter: David Fallis - Hey, What's Up? - A Collection of Linoleum Cuts.
Comment: It's walls of proficient pocket-sized linoleum cut head shots of local notables by David Fallis. I'm not sure what the qualifications are for notability and subsequent immortalization, but I do recognize several faces. Usually at a show like this, you get a print pressed from the block, but here you get the actual block-- framed and ready to hang. I suppose if you buy one, you could even take it out of the frame make your own prints. Either way, I like 'em.
Art.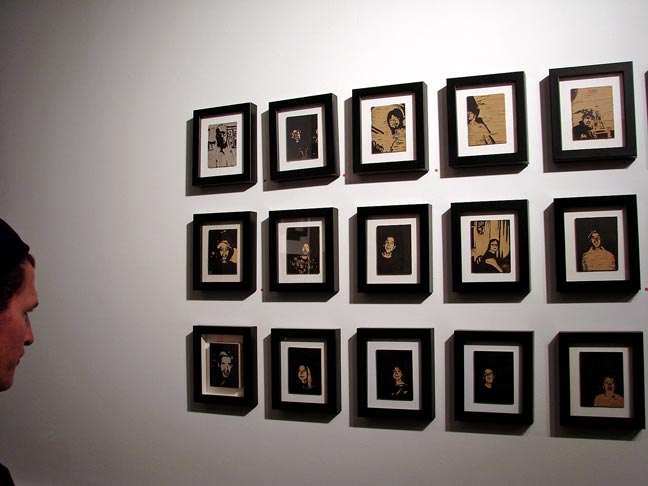 Art.


Detail.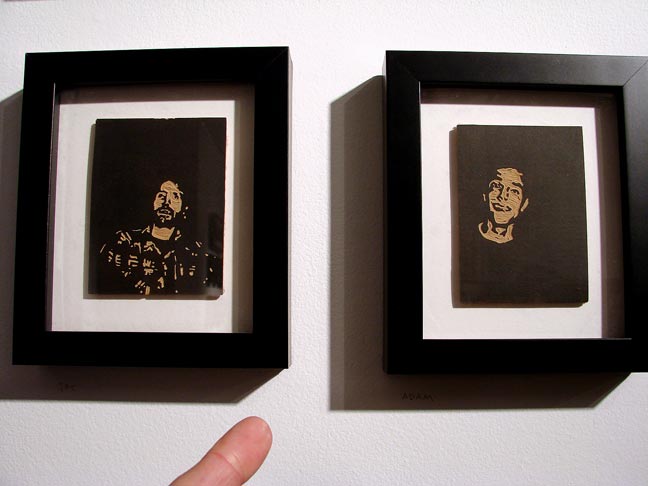 Detail (nice, don't you think?).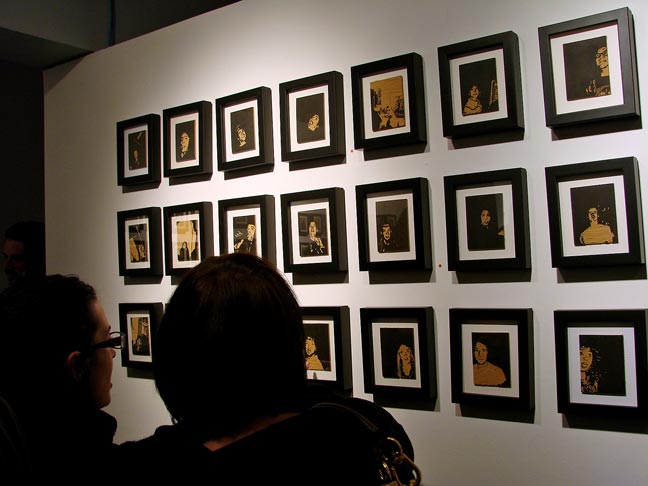 Ambience.


***
Fifty24SF: David Ellis and Doze Green - Rubicon Son.
Comment: Conspicuous collaborative show features a full-room subway installation consisting of an electric train on tracks running the circumference of the room, and a station that looks like a hollowed out meteorite. There's also a rather remarkable kinetic empty discard bottle sculpture with hooters, and the frosting, an internal mechanism that plays funky percussive on pots, pans, and bottles (my personal favorite). Truly an urban art high point. Plus there's plenty of collaborative and solo paintings, drawings, and works on paper. Nicely done and lots of it.
Kinetic bottle sculpture art (love it).


Bottle sculpture from the top.


Bottle sculpture mechanism.


Collaborative art.


Art (Doze Green).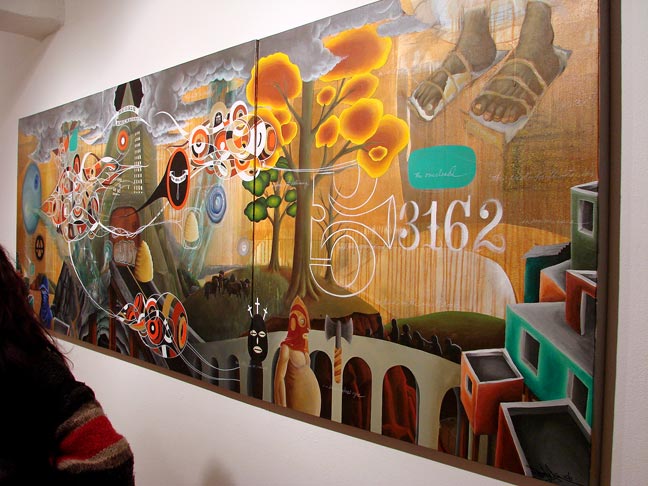 Art (Doze Green).


Collaborative art (like it).


Subway installation art.


Overview.


Atmosphere.


Exterial.


***
Lower Haters and FTC: Dirty Birds.
Artists: Ferris Plock, Kelly Tunstall, David Crosland, Evert Lee, David Choong Lee, Paul Hayes, Ursula X. Young, Vyal One, Andre Sibayan, Tony Alva, Henry Lewis, Johnny Roughneck, Graham James, Karine Leung, Greg "Pnut" Galinsky, Ben Collison, Mya Simone Galinsky, Jonathan "Wakoda" Fischer, Jim "Span" Howard, Phonetic Control, Ian Johnson, Jason Grace, Shonan Tentile, David Flores, Ian Scalzo, N8 Vandyke, ANDO, Brian Barneclo, Romanowski, Nate Hooper, Greg Rojas, Holly Ellis, Luke Francis, Ms. Teri, Ryan Malley, Sirron Norris, Jay Howell, Arlo Jamrog, Iggy Vans, Ryan Erdmann, Ronnie Buders, Justin May, Martin Olive.
Comment: Skateboard deckathon proffers painted (and sometimes sculpted) decks courtesy of numerous recognizable names.
Deck art.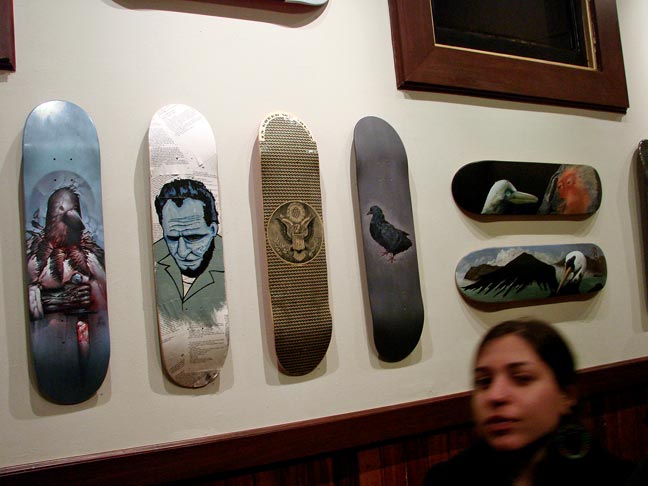 Deck art.


Deck art.


Deck art.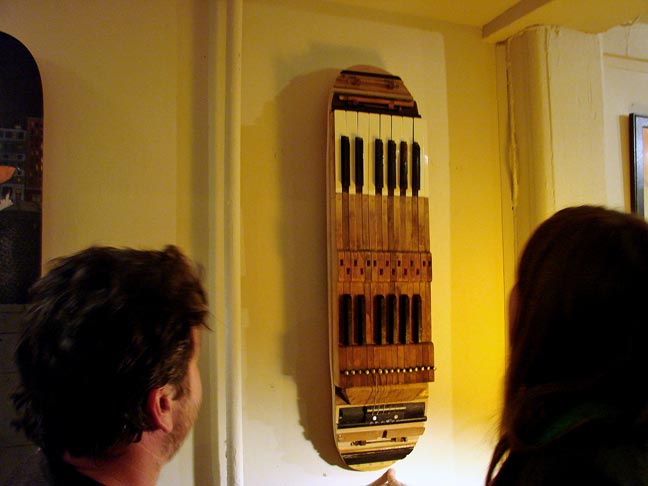 Like this one - I'm pretty sure it's Romanowski.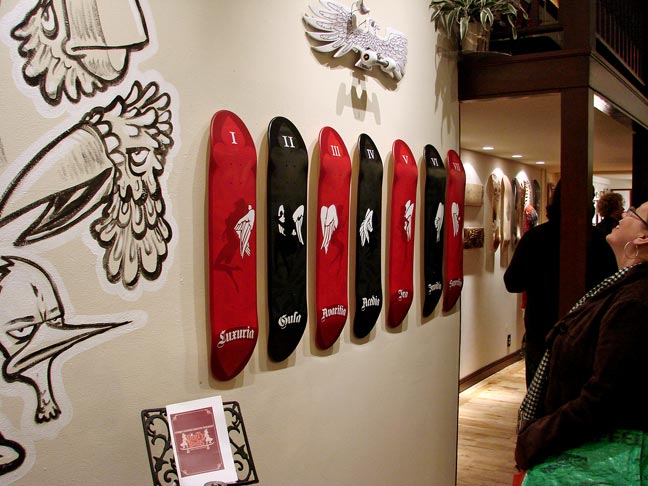 Deck art.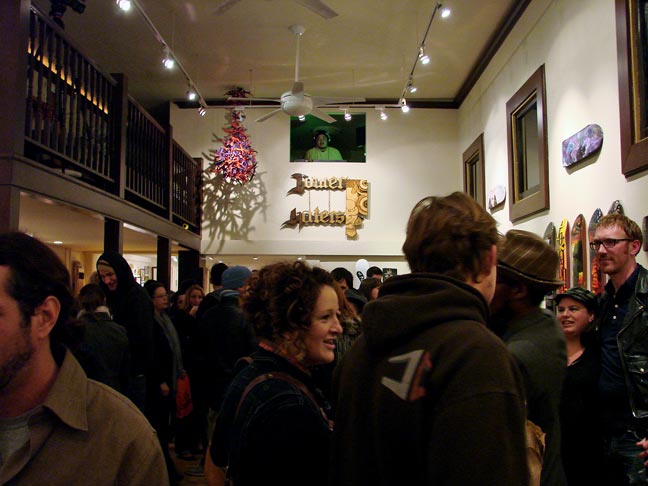 Looking toward the horizon.


***
Addendum:
Trevor Traynor photos at Oxenrose Salon.


Frankie Norstad photos at Oxenrose Salon.


Matt Gonzalez collages at Adobe Books.


***