SAN FRANCISCO ART GALLERIES - OPENINGS
GREGORY LIND - HESPE - HOSFELT
1870 ART CENTER - LIVE ART - RED INK
AZUL - WHITE WALLS
(WITH ASSISTANCE FROM DEWITT CHENG)
12.15.07
Gregory Lind Gallery: Jovi Schnell - Entwined With the Vine.
Comment: An enchanting escapade in gouache, superbly applied to paper, panel, collaged wood, and a marvelous mobile, all courtesy of Jovi Schnell. Y'all know how much I love (and respect) mastery of medium, and that's what you get here. Plus Schnell's palette is rapturous, and there's brain food too-- her compositions incorporate snippets of science, technology, spirituality, inner and outer self, and stuff like that for you to contemplate at your philosophical leisure. The work ain't cheap, but hey... it's good. Oh-- and a big shout out to Gregory Lind for crafting a one-paragraph intro to the show that even ordinary mortals can more or less comprehend.
Art.


Art.


Art.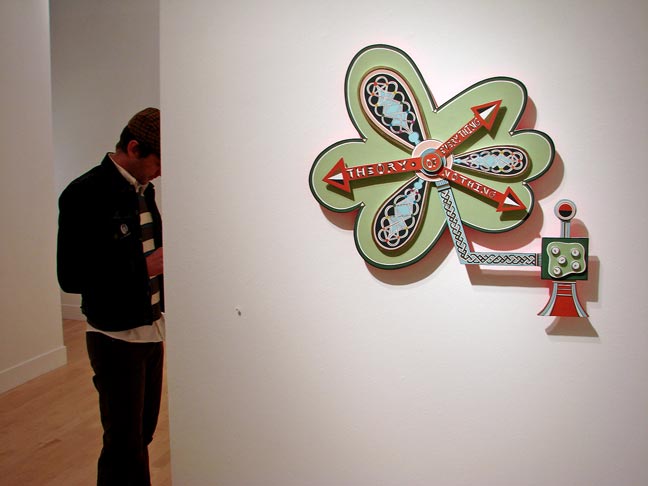 Art.


Art.


***
Hespe Gallery: Holiday Exhibition.
Artists: Steven Albert, Rob Harrell, Mimi Jensen, Marianne Kolb, Leslie Lusardi, Adrienne Sherman, Ian Strawn, Eric Zener.
Comment: Savory plate of gallery selections.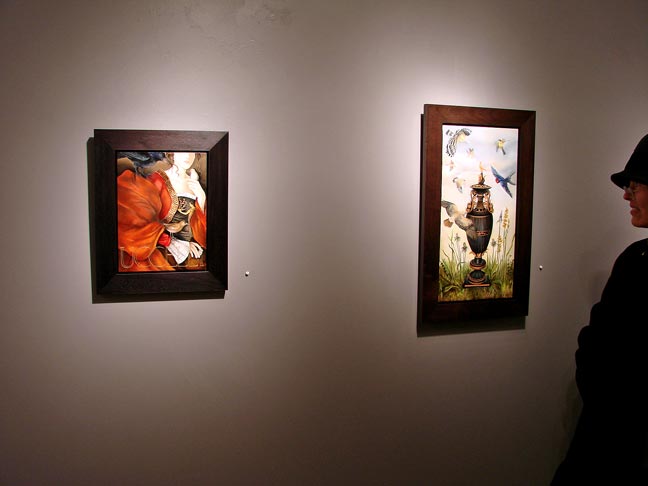 Art.


Art.


Art.


Art.


Art.


Art.


***
Hosfelt Gallery: Greg Rose - New Landscapes; Outside the Box - Group Show.
Outside the Box artists: Jim Campbell/Alan Rath, Marco Maggi, Byron Kim, Liliana Porter, Paul de Guzman, Gay Outlaw, Emil Lukas, Felipe Barbosa, Jonathan Brand, Rebecca Goldfarb.
Comment: Los Angeles artist Greg Rose combines traditional principles of Asian garden design, flower arrangement, and scholars' rocks (a relatively arcane Chinese collecting discipline) with eccentric elements of suburban LA landscaping to create curious commentaries on the anomalous underpinnings of life in The Southland. The "Outside the Box" group show derives from that nine-dot grid riddle where the object is to connect all nine dots in four straight lines without taking your pencil off the paper, the solution being that you have to go outside the grid to do it. I far prefer this type of lead-in to a show of progressive or boundary-pushing art over pretexts saturated with overblown implications.
Art (Greg Rose).


Art (Greg Rose).


Art (Greg Rose).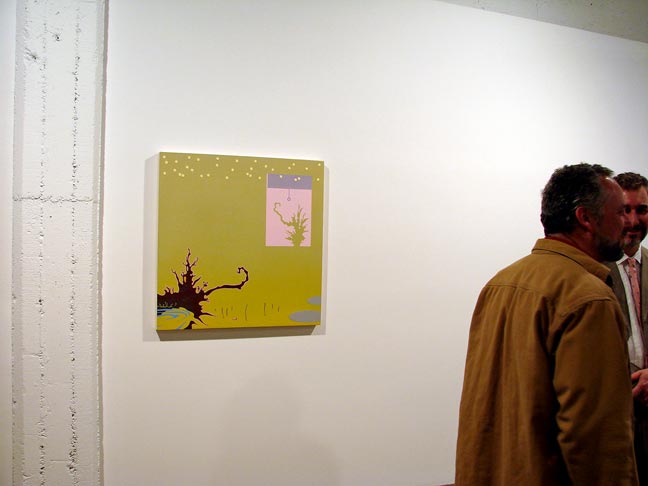 Art (Greg Rose).


Art (Greg Rose).


Reconfigured soccer ball art.


Art.


Art.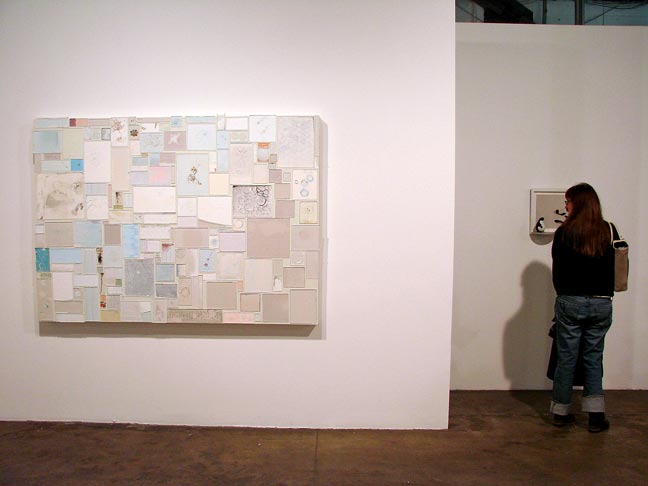 Art.


Art.


Art.


Art.


Art.


***
1870 Art Center: Debra Koppman - 13 Wishes for 13 Witches.
Review and photos by DeWitt Cheng: Debra Koppman is an Oakland-based sculptor, teacher, muralist, writer and editor (Reclaiming the Spiritual in Art), theater designer and book illustrator. Comprising this installation are floor-standing and wall-hung abstract mixed-media pieces employing recycled and found objects and pigmented or painted papier-maché/paper pulp. The anthropomorphic or ritual object forms, covered by geometric patterning and hieroglyphic shapes, blend the modern and the primitive. Also on display is a newly completed collaborative book project, with Koppman's cut-paper illustrations complementing her father's writing.
DeWitt Cheng writes for Artweek, Art Ltd., www.SanFranciscoArtMagazine.com and www.Shotgun-Review.com.
Installation shot.


Totemic figure sculpture.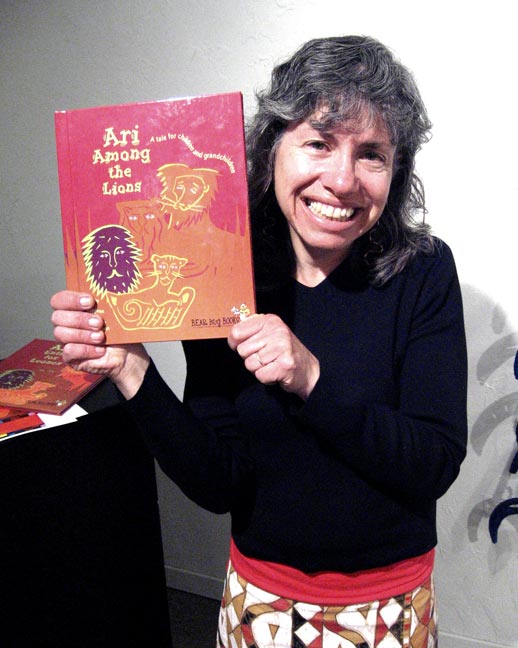 Debra Koppman - new book.


Wall hangings.


Wall hanging detail (pierced and burned papier-maché).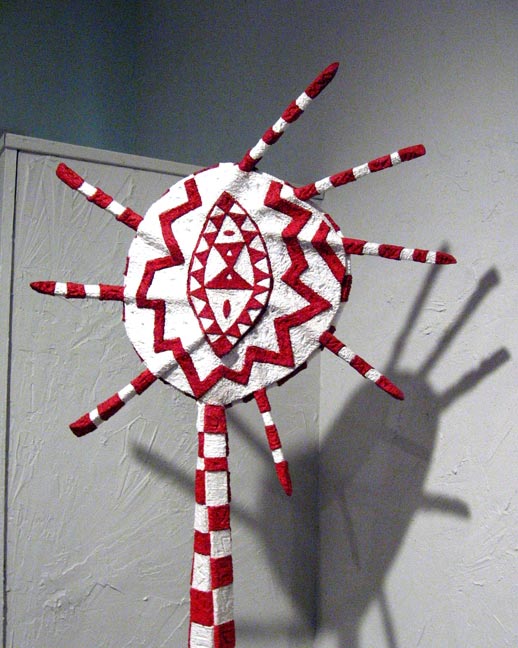 Detail of sculpture.


***
Live Art Studio, 151 Potrero Avenue, San Francisco, CA 94103: Alexandra Blum - Encaustic Dreams.
Comment: Adept agreeable encaustics weave fanciful organic forms with whimsical representational imagery.
Art.


Art.


Art.


Art.


Art.


***
Red Ink Studios: Big Tiny - Art Transcending Scale.
Artists: Matt Leunig, Amanda Jayne Kennedy, Andrea Land, Taylor Tschider, Cindy Imhoff, Tom Feucht-Haviar, Leah Rosenberg, Kari Marboe, Whitney Lynn, Hugh Leeman, Bridget Lanigan, Denise Laws, James Seevers, Anna Bunting, Lisa Mccutcheon, Linda Braz, Christine Monhan, Eland, Ward, Adam Swarcz, Raun Harris, Kaliisa Conlon, Jason Cros, Leslie Kulesh, The Small Gallery.
Comment: Group show curated by Paper Airplane Collective presents a capable cull of young talent, several of whom manifest palpable levels of promise. A portion of the proceeds from the event go to support The Prison Project at Intersection for the Arts, "a year-long series of events and programs exploring the California Prison System."
Wanna help identify artists? Please email me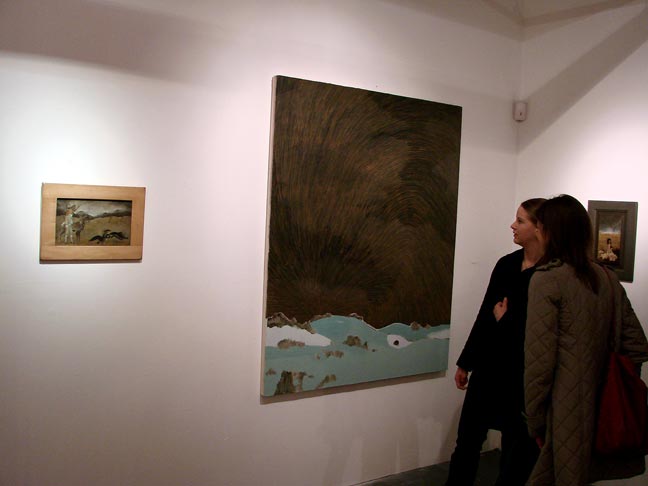 Art.


Art.


Art.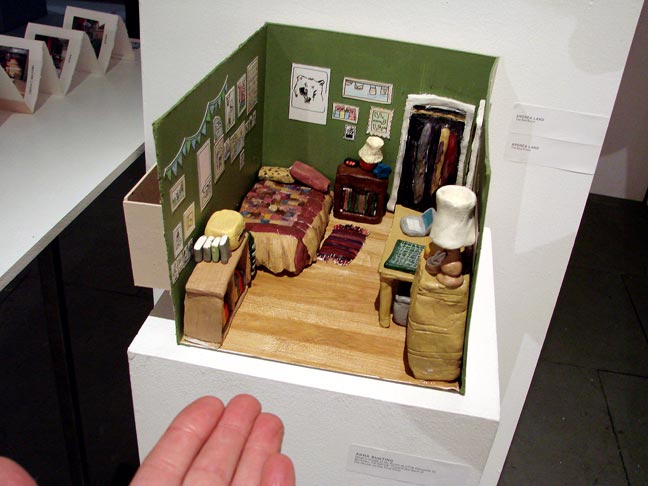 Miniature interior art.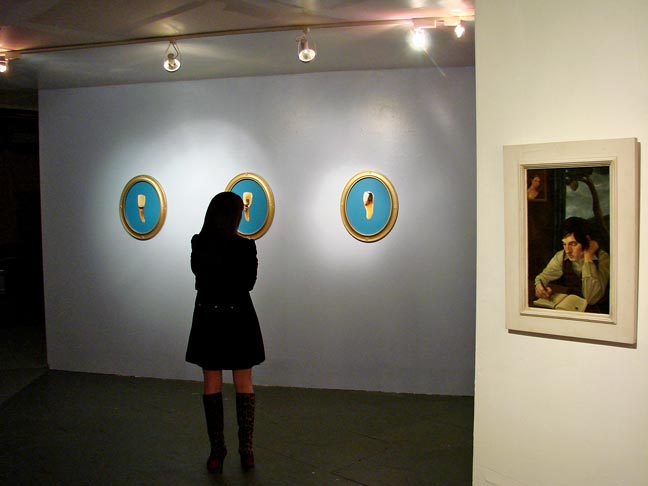 Art.


Art.


Art.


Art.


Art (kinda like it).


Art.


Art.


Art.


Art.


***
Azul Gallery: Victor Castillo - Abstractodromo.
Comment: Mesmerizing kaleidoscopic meta-dimensional abstracts by Peruvian-born Victor Castillo irrevocably beguile you into his phantasmagoric universe. They may be nonrepresentational, but when you look at 'em, you feel like you're experiencing a realm that actually exists. What I'm trying to say is this dude is good. Here's the astonishing part-- in spite of a relatively distinguished exhibition history, Castillo currently lives a pleasant unassuming life in Hayward with his wife and family, well outside the art mainstream, quietly painting away, and cleaning houses to make ends meet. I'm thinkin' maybe more art, more shows, less cleaning. Wouldn't you agree? Prices range $350-$15K; beauty for every budget.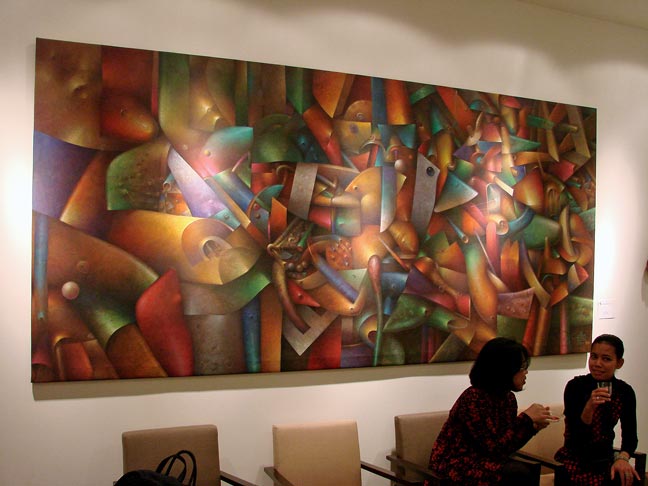 Art.


Art.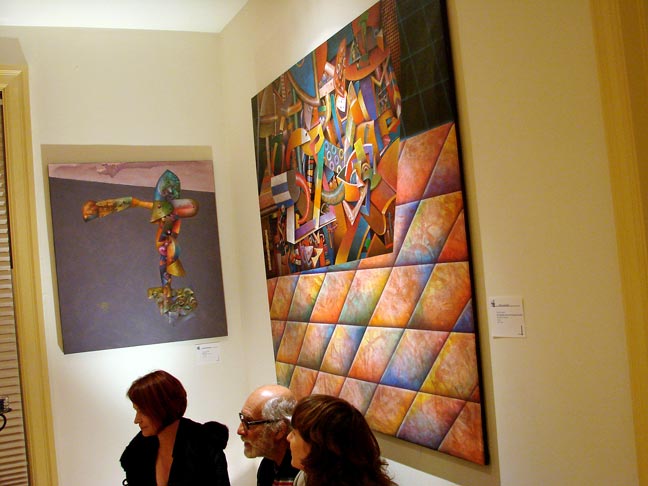 Art.


Victor Castillo - art.


Art.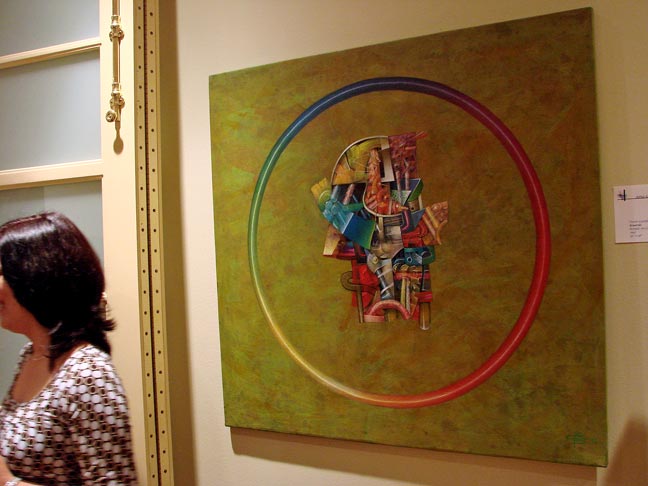 Art.


Under $500.


Under $500.


Art.


***
White Walls Gallery: All Star Hustlaz - 3rd Annual Group Show.
Artists: Rogelio Martinez, Adam 5100, Aj Fosik, Alexis Mackenzie, Amir H. Fallah, Ben Frost, Ben Horton, Ben Woodward, Charming Baker, Dalek, Damon Soule, Diet, Gregory Euclide, Henry Lewis, Katy Horan, Kelsey Brookes, Kill Pixie, Matthew Palladino, Caleb Neelon, Sylvia Ji, Ryan Shaffer, Maxwell Loren Holyoke-Hirsch, Ronald Kuniawan, Michael Genovese, Mitsy Avila Ovalles.
Comment: I guess you might call this one White Walls Greatest Hits as they skim the cream once again. And you would be right. In other news, the Upstairs Gallery is now open, their debut event comprising a two-person show of works by Jesse Reno and James Kirkpatrick. Worth a visit; loads to like. Price range $50-$4500; most under $1000.
Wanna help ID artists? Kindly email me
Art (Sylvia Ji).


Polychromed wood art (like it).


Stencil art (Adam 5100 - like it).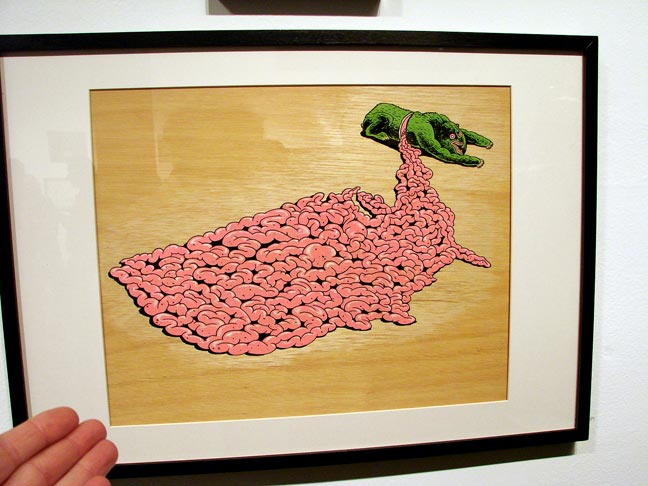 Amusing intestinal art (nicely done).


Art.


Art.


Art.


Art.


Art.


Art.


Art.


General impression.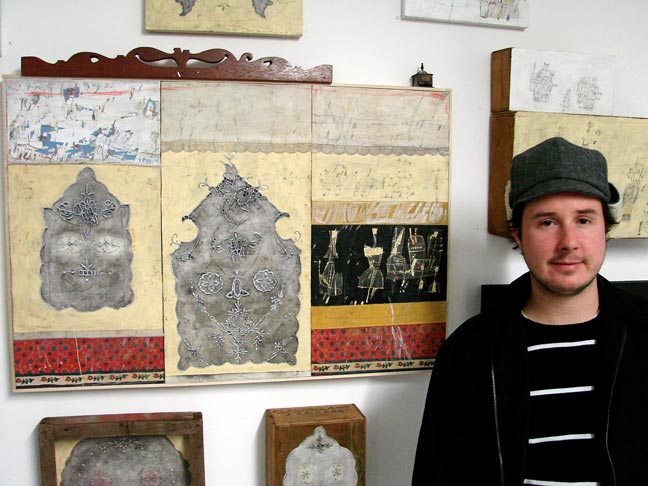 James Kirkpatrick - art (upstairs).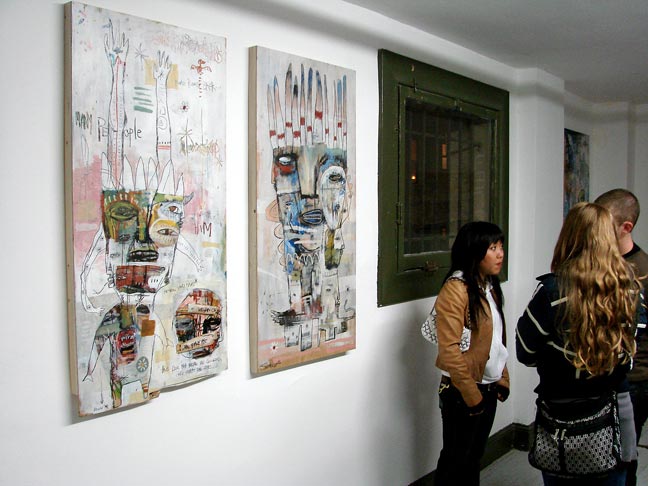 Upstairs art (Jesse Reno).


***