SAN FRANCISCO ART GALLERIES - OPENINGS
A.MUSE GALLERY - SUPERVISOR ROSS MIRKARIMI
SAN FRANCISCO ZEN CENTER - MOLLUSK SURF SHOP
JACK HANLEY GALLERY - VARNISH FINE ART
GIANT ROBOT - STUSSY SF - FIFTY24SF
12.14-16.06
a.Muse Gallery: Waxwing & Kite - Felix Macnee, Paintings; Matt Gonzalez, Collages.
Comment: I'm not sure which one's Waxwing and which one's Kite, but Matt Gonzalez now devotes a significant percentage of his unencumbered hiatuses to making collages, tallying about 250 to date, he tells me. And it's working; they sell. As little as a few hundred bucks'll get you into a nice one-- framed and ready to hang. Felix Macnee, meanwhile, has got to be one of the best San Francisco artists that no dealer can quite figure out how to package for public consumption. Sure, the dude's a bit of an enigma, but hey-- take up the challenge, crack the quandary, and distinguish yourself from those myriad coddlers frittering their epitaphs away selling easy pleasy happy fluffy peppy perky bouncy art.
In other news, this is one of the duckier inside-the-artway clambakes I've been to in a while, turning out a variety of quirky personages from all sectors of our inbred creative anomolousphere including Luggage Store legend Laurie Lazer, Adobe mogul Andrew McKinley, crackerjack cultural arthropologist Packard Jennings, critical conceptualist Jonathon Keats, Halibut Girl Ashley Phelps, the art critic from the Chicago Sun Times (kidding), Linc contessa Hope Bryson, people painter Lynn Rubenzer, North Beach nabobs Ronald Sauer and Rebecca Peters, and more more more. a.Muse continues to slither and twist its way through the tastemaking maze, resolved to stake a claim.
Collage art (Matt Gonzalez).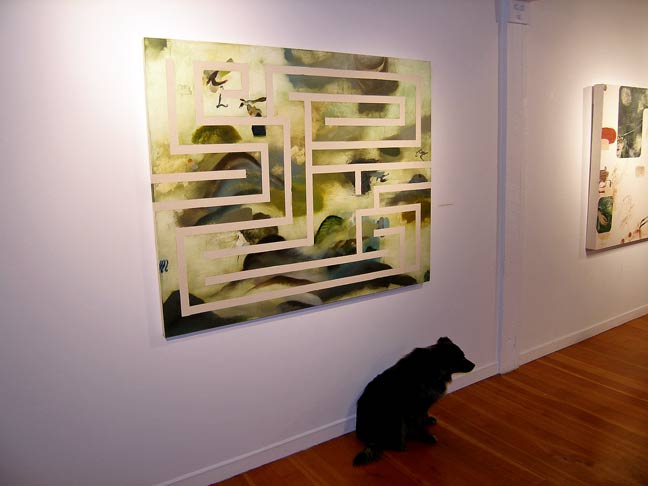 Art (Felix Macnee).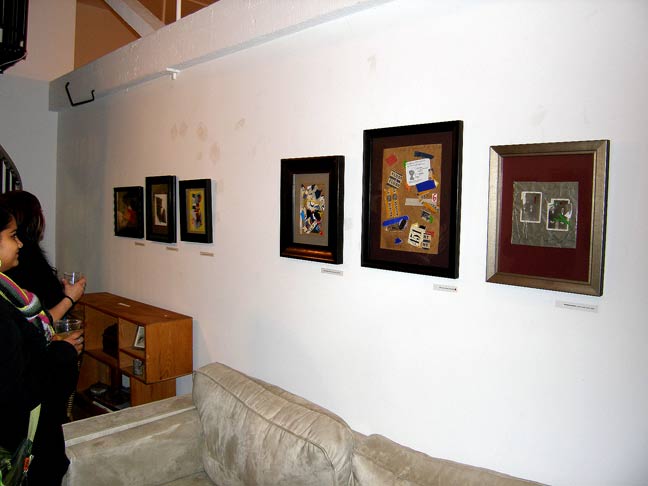 Collage art (Matt Gonzalez).


Felix Macnee - art.


Lori Shantzis (a.Muse owner) - Matt Gonzalez.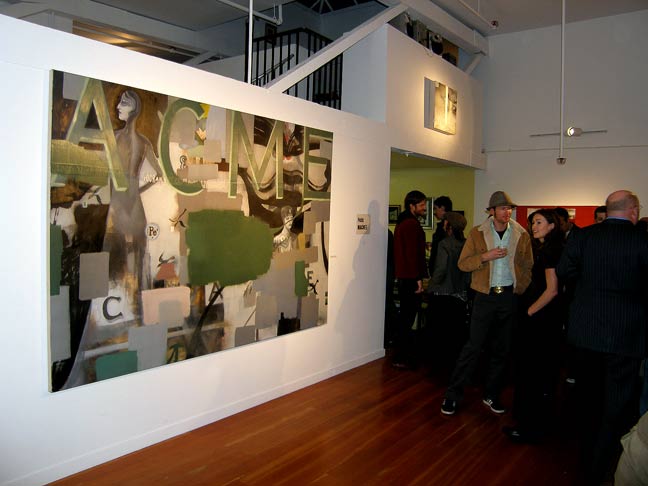 Art (Felix Macnee).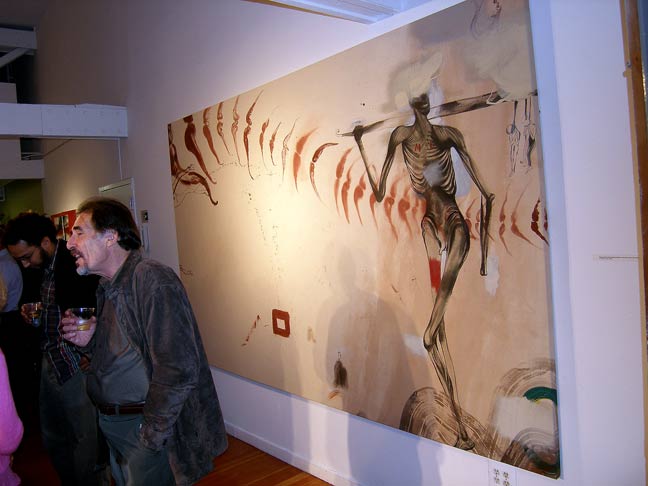 Art (Felix Macnee).


Playing field.


Collage art (Matt Gonzalez).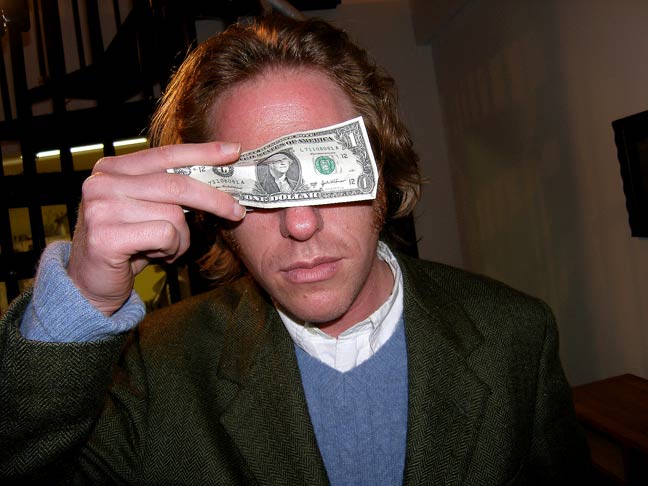 Parlour trix.


Dude fresh-picks himself a Matt Gonzalez collage.


Art (Felix Macnee).


Tunes.


One more from the floor.


***
Supervisor Ross Mirkarimi: Daniele Erville and Jessica Dacher.
Comment: Spontaneous naive color-rich compositions by Jessica Dacher; muted abstractions by Daniele Erville. This is one of these deals where I read the briefings on each of the two artists and have trouble cyphering which art belongs to which one. Erk.
Art (Jessica Dacher).


Art (Daniele Erville).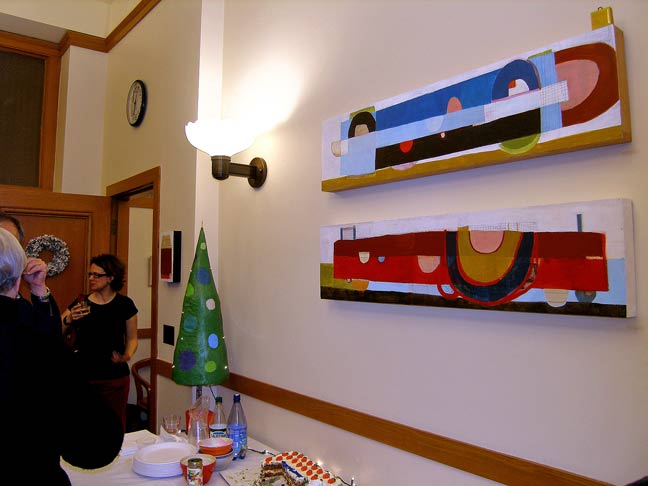 Art (Jessica Dacher).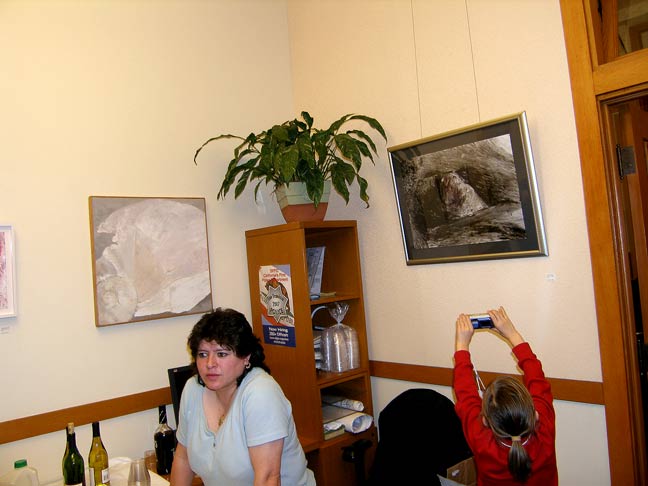 Art (Daniele Erville).


Art (Jessica Dacher).


Art (Daniele Erville).


Art (Jessica Dacher).


***
San Francisco Zen Center: Geoffrey Kington - Recent Work on Paper and Panel.
Comment: Soft abstracted landscape paintings and black and white portrait drawings. In case you care, and I know you don't, I spent a month at the Zen Center way back the seventies (my search for meaning precluded perusing the art scene at that time).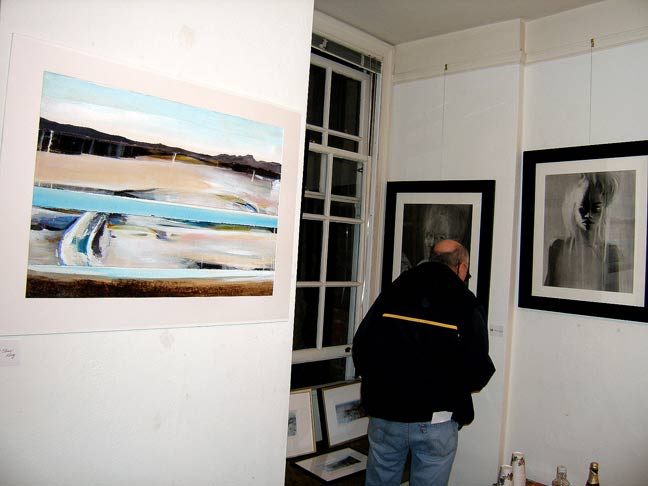 Art.


Art.


Art.


Art.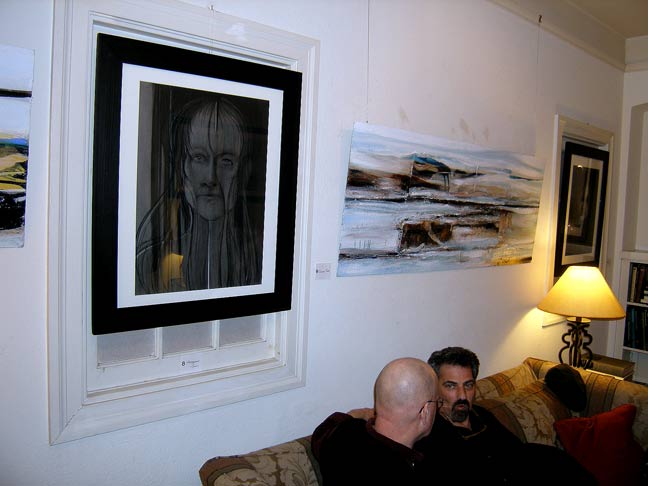 Art.


***
Jack Hanley Gallery: SUPERFLEX - FREE BEER and Counter Game Strategies.
Comment: Here's a conundrum for you. Jack Hanley Gallery ALWAYS serves free beer at its openings, but tonight the beer costs 3 bucks because it's not free beer-- it's FREE BEER. Cogitate on that. In other news, this here festivity ain't really an art opening in the technical sense; it's more of a combination art opening / art party, the gallery all buffed and primped with happy colors and instructional posters on the walls to explain the gaming. The gaming part is you get a rubber mallet and stand in front of a table and wait for someone you either know or don't know to either drop or roll a potato through a piece of plastic PVC pipe. Your job is to figure out exactly when the l'il tater's gonna come out the other end, at which point you let loose with the mallet in a brazen and unprovoked attempt to smash the living smithereens out of the poor innocent tuber who never did a damn thing to you and who sadly happens to be in the wrong place at the wrong time. Isn't that oodles of fun, my lovelies? Of course it is. And it's all for a great cause too-- everybody there.
Preliminary overview.


Dude prepares to kick some potato ass.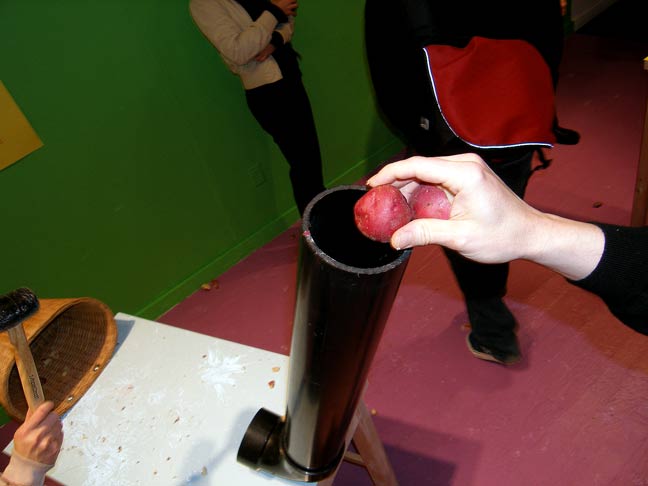 Potato prepares to get its ass kicked.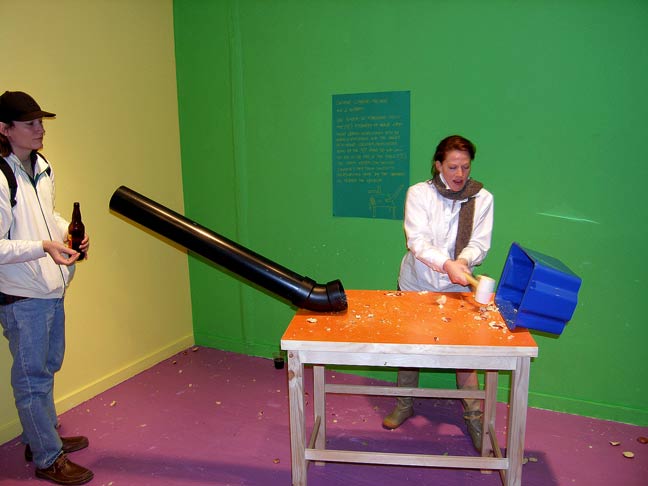 Kicking potato ass.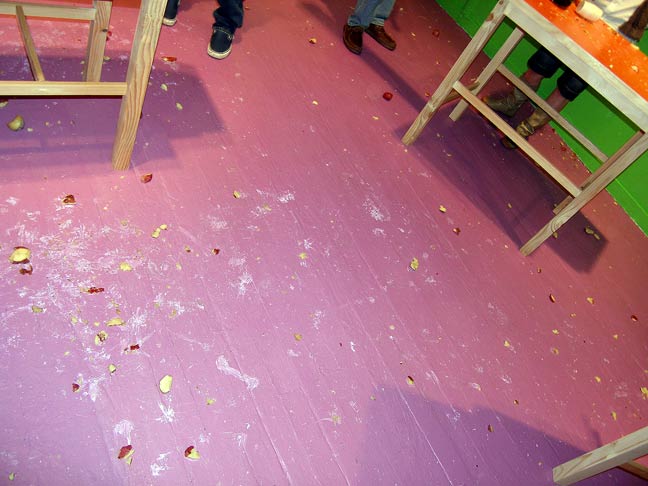 Potato ass carcasses.


Me preparing to kick a potato's ass (I missed).


FREE BEER quadrant.


Guess I'm goin' home sober...


***
Varnish Fine Art: Decker Studios Bronze.
Artists: Sanford Decker, Karen Mortillaro, Tanya Ragir, Ynez Johnston, Jose Ismael Fernandez
Comment: Sculptures cast at Decker Studios Hollywood, California foundry range from abstract to representational, power packed to fanciful. The one characteristic they share in common is that they're all notably competent from compositional as well as production standpoints. A portion of the show's proceeds go to the Ventana Wildlife Society. Prices range $2500-$70,000; something for everyone.
Sculpture.


Sculpture.


Sculpture.


Sculpture.


Sculpture.


Sculpture.


***
Mollusk Surf Shop: Mollusk Family Show.
Artists: Johanna St.Clair, Jeff Canham, Alex Kopps, Orion Shepherd, Laura Flippen, Thomas Campbell, Jay Nelson, John McCambridge, Dave Mueller, Nick Allen, Jeff Manson, Tyler Manson, Nat Russell.
Comment: Tight little group show of Mollusk favorites. Always worth the trek.
Train car art (like it).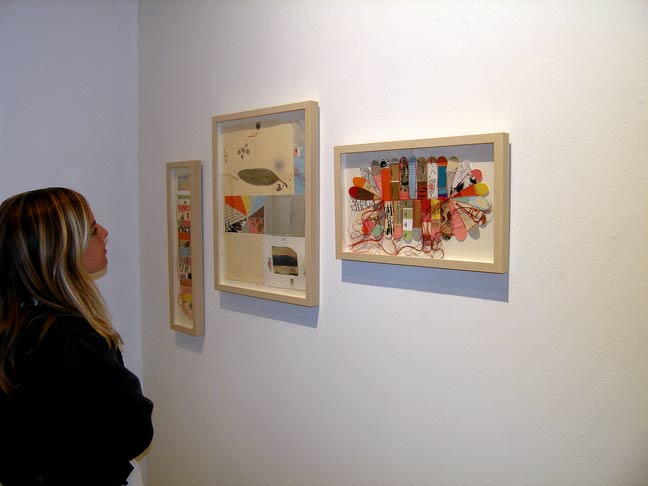 Sewn collaged art (like it).


Art.


Art.


Art.


***
Giant Robot: Printed Matter - A Group Print Show.
Artists: Albert Reyes, Alvin Buenaventura, Andrew Jeffrey Wright, Anne Bissett, Brendan Monroe, Bridget Henry, Bwana Spoons, Catia Chien, Daniel St. George, Daria Tessler, Eric Nakamura, Evah Fan, Hellen Jo, Hugh D'Andrade, Jay Ryan, Jesse Ledoux, Jesse Olanday, Kelsey Brookes, Leif Goldberg, Manny Silva, Little Friends of Printmaking, Mark Price, Maxwell Loren Holyoke-Hirsch, Nathalie Roland, PCP, Ron Rege, Jr., Saejean Oh, Saelee Oh, Steven Weissman, Zachary Rossman, more.
Comment: Lotsa good images at very very affordable prices. I'd buy now if I were you. Almost everything's under $100, many under $50, some as affordable as $8. Plenty to choose from-- all sizes and subject matters.
Art.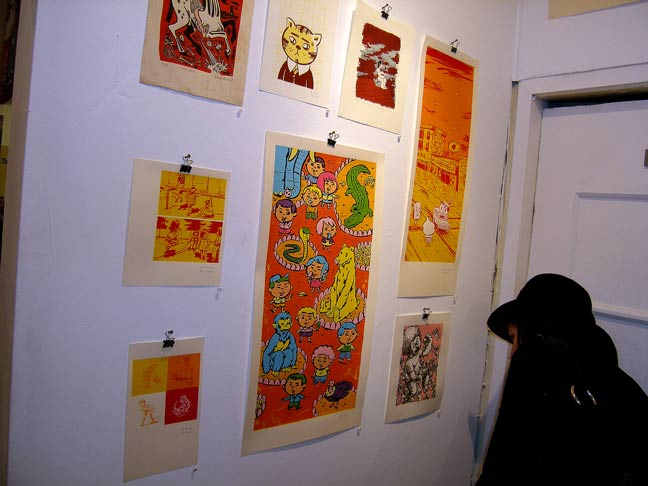 Art.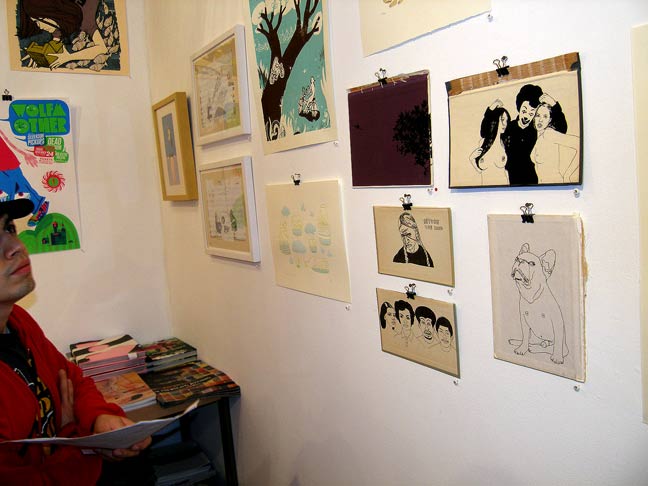 Art.


Art.


Art.


Art.


Art.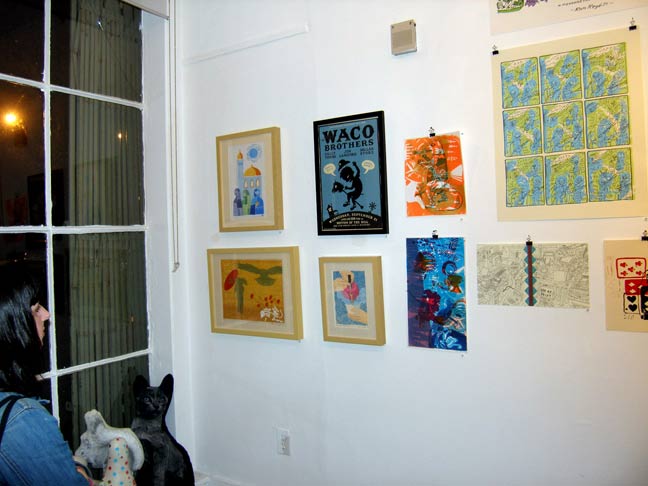 Art.


***
Stussy S.F.: Slick.
Comment: I think they call Slick Slick 'cuz his art's pretty slick-- like smooth glidey slidey slick-- almost like mainstream slick. You might call it grafitti pop. Kinda interesting, actually. By the way, Stussy est tres chic, mes petits bonbons.
Art.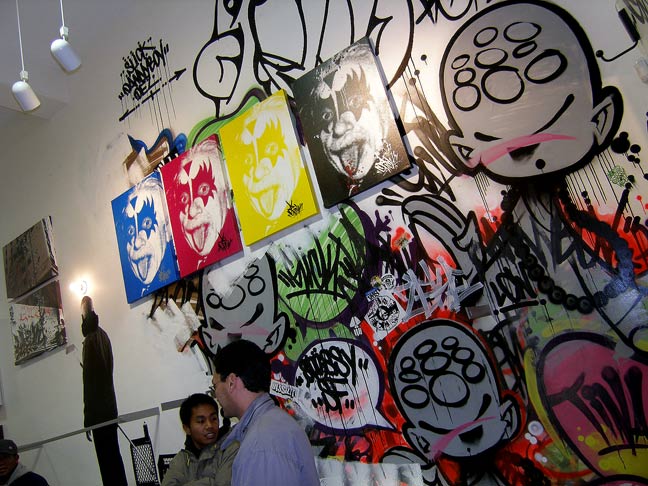 Art.


Slick - art.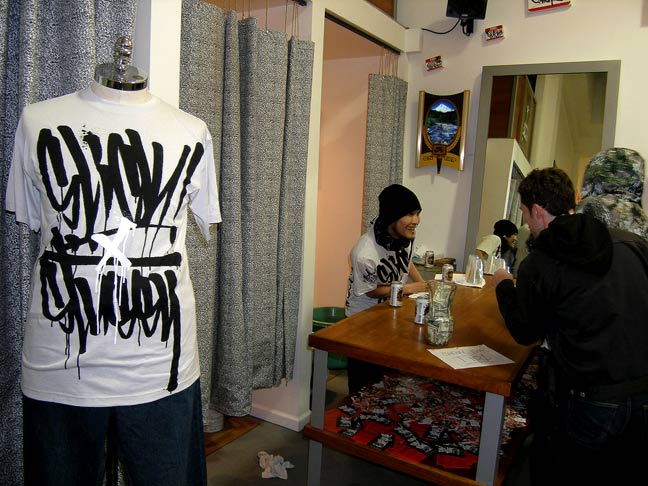 Art.


Art.


Art.


Ambience.


On the Ave.


***
Fifty24SF Gallery: Sam Flores Book Signing.
Comment: Sam Flores signs copies of his new 96-page hardcover monograph, Samuel Flores ($20, available at Fifty24SF and Upper Playground).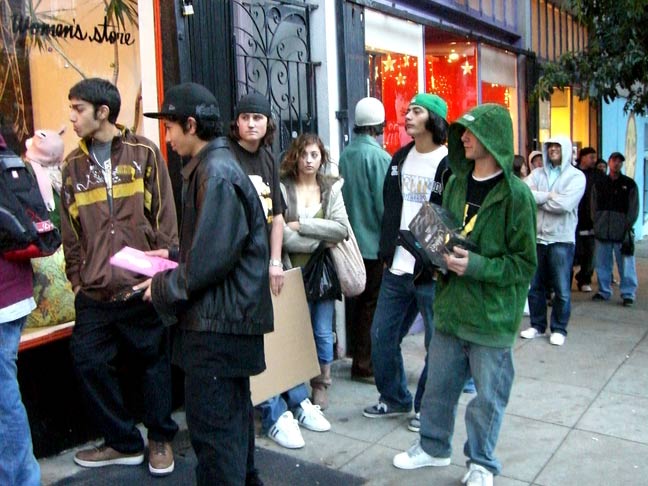 Waiting for the opening bell.


Book signing.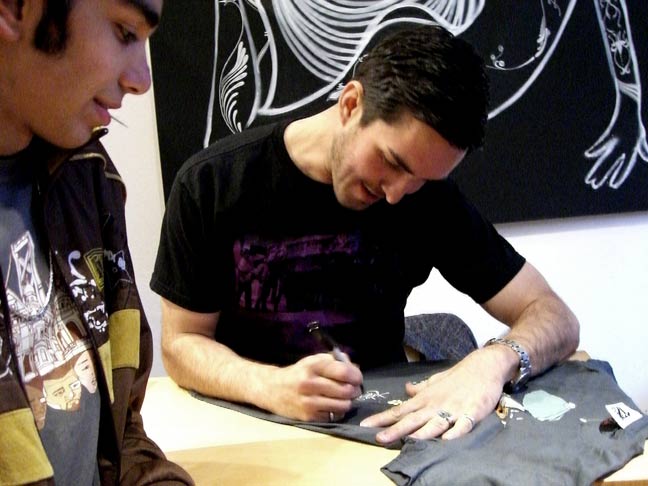 T signing.


***