SAN FRANCISCO ART GALLERIES - OPENINGS
HEATHER MARX GALLERY - BRIAN GROSS FINE ART - JOHN PENCE GALLERY
NEEDLES AND PENS - AMARU GALLERY - ARSPACE
JACK HANLEY GALLERY - SUPERVISOR ROSS MIRKARIMI
MAVERIX STUDIOS - ADOBE BOOKS - FORGE GALLERY
LAST GASP - SPLIT CULTURE - CELLSPACE
WORKSPACE LTD. - CHILLIN PRODUCTIONS
12.15-17.05
Heather Marx Gallery: Histories - Maki Tamura, Erik Sandberg, Michael Hall.
Comment: Polite cohesive three-person show, the unifying feature being art themed on historical imagery. Maki Tamura shows long slender Eastern-style scrolls, cascading with pastel imagery, starting at the ceiling, extending down the length of the wall, and continuing along the floor (watch your step-- I didn't). Rounding out the triumvirate are small-format surrealesque genric distortion paintings by Erik Sandberg and by Michael Hall, a large abstract composition interrupted with occasional realities, plus several smaller black background paintings.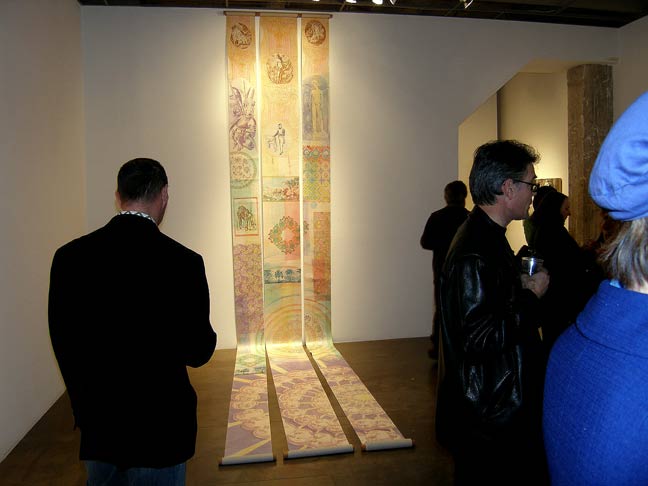 Art (Maki Tamura).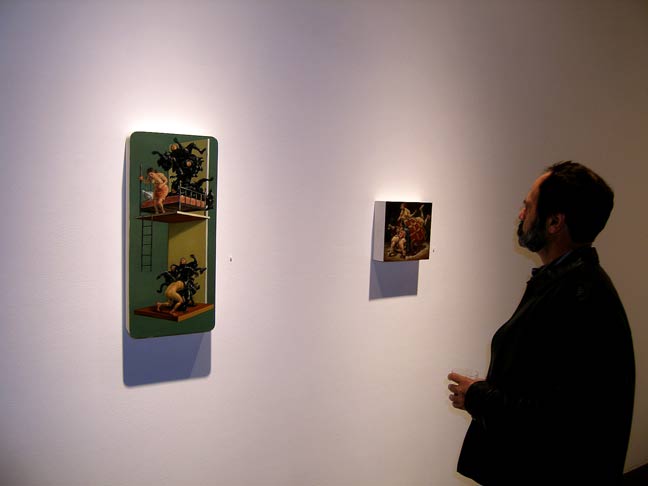 Erik Sandberg.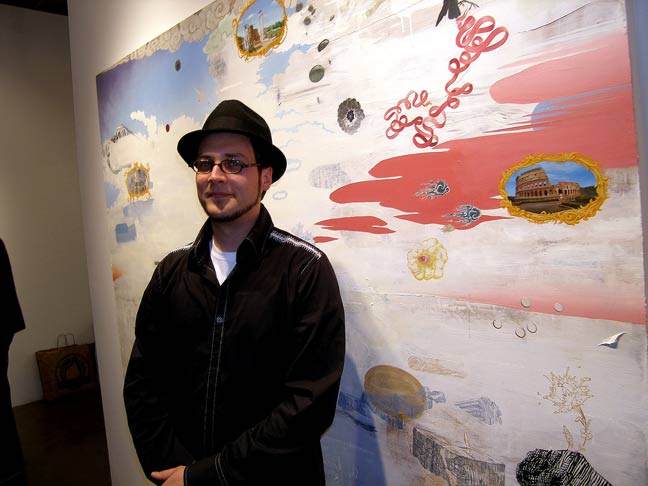 Michael Hall - art.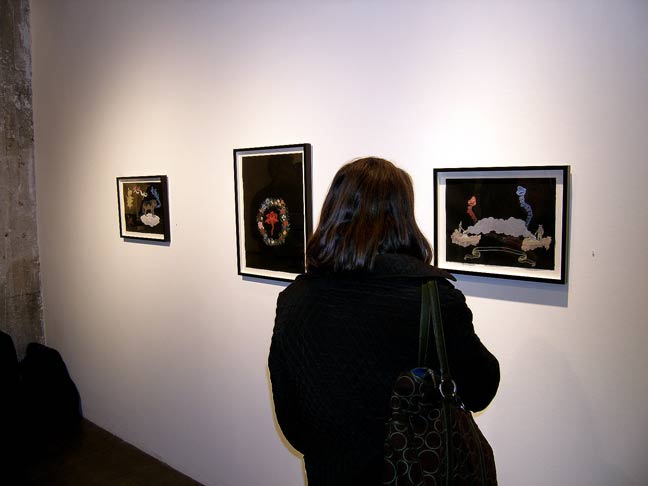 Art (Michael Hall).


Art (Maki Tamura) - artist Tom McKinley pose (thank you).


***
Brian Gross Fine Art: Andrea Way - Drawings.
Comment: According to the fact sheet, "Way presents her characteristically abstract drawings that deftly articulate complex organic patterning. Her compositions are comprised of intuitively structured layers, nuanced color, and playful geometries to create richly detailed, textural works on paper. The dynamic combination of linear and non-linear elements activates both foreground and background resulting in a powerful vocabulary constantly in flux."
According to me, Andrea Way uses ink, brushes, and pens to paint and draw macromicroscopic patterns on paper-- not so small you can't see 'em, certainly not large enough to think anyone can make 'em. If you ask her, she'll tell you how each pattern is structured and why it looks the way it does, or if she's not there, Brian Gross will tell you, so ask. But back to the patterns, their gossamer elegance requires you to don your magnification goggles and zone in deep to appreciate 'em. When you do that, you see that Way doesn't make mistakes, or if she does, you can't find 'em, which means if you buy her art, you get your money's worth. She tells me she sells most everything she makes, a fair indication I'm not alone in my assessments.
Art.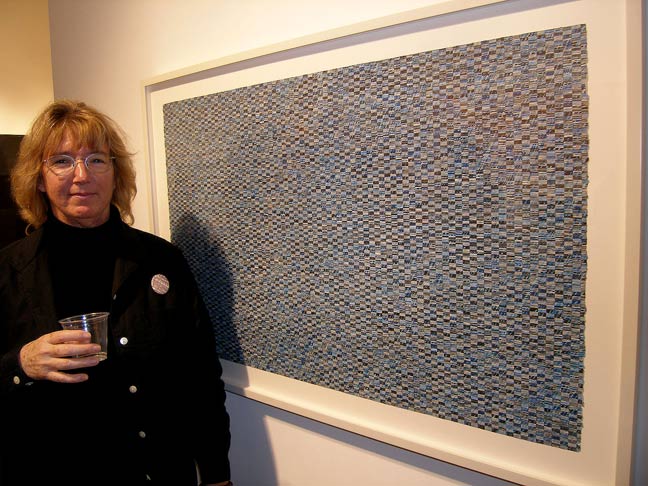 Andrea Way - art.


Art.


Andrea Way explains art.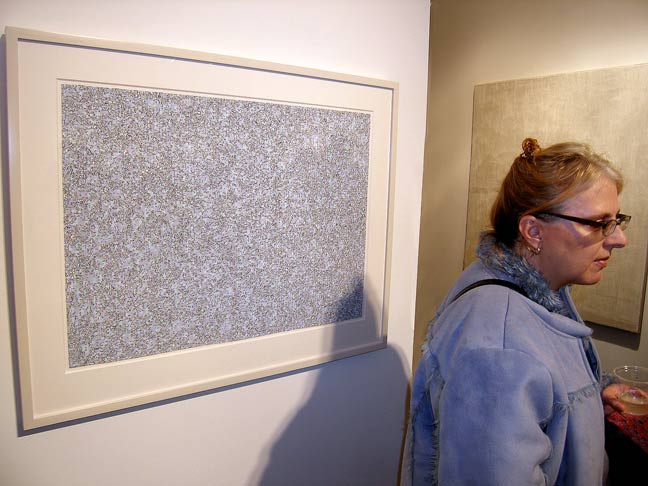 Art.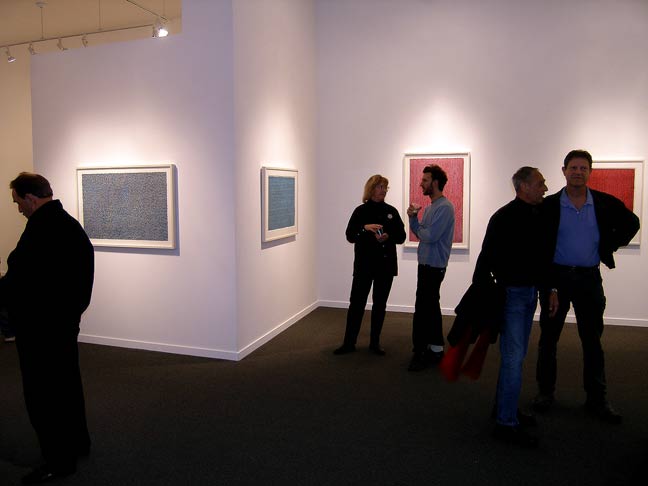 Partial.


***
John Pence Gallery: Seven Sculptors.
Sculptors: Steve Armstrong, Michael Bergt, Brian Craig-Wankiiri, Donald Davis, David Simon, John Sisko, Gary Weisman.
Comment: Two reasons to see this show-- first, the sculpture's outstanding. It's dramatic, convincing, and unabridgedly competent both technically and aesthetically. Why? Because these dudes know anatomy-- crucial if you're gonna sculpt figures or animals with any credibility whatsoever. The gruesome truth is that I see an abundance of sculptures by artists who either never studied anatomy, don't understand it, or do understand it, but can't convince their hands to go along with the program. If figural pieces aren't your thing, the show's got nonrepresentational work too. Second, the gallery space is unique to this city in terms of design, color scheme, and lighting, and that, in combination with how the sculpture is displayed, yields visual pleasure on multiple levels. It's a difficult space to photograph, by the way-- you really have to see it in person.
Sculpture.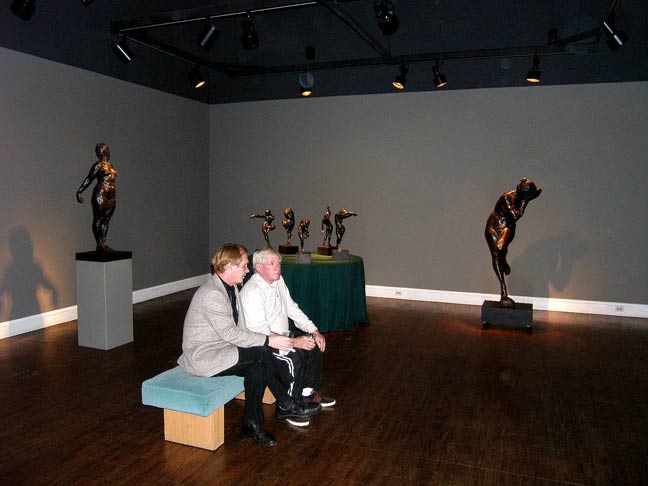 Sculpture.


Sculpture.


Sculpture.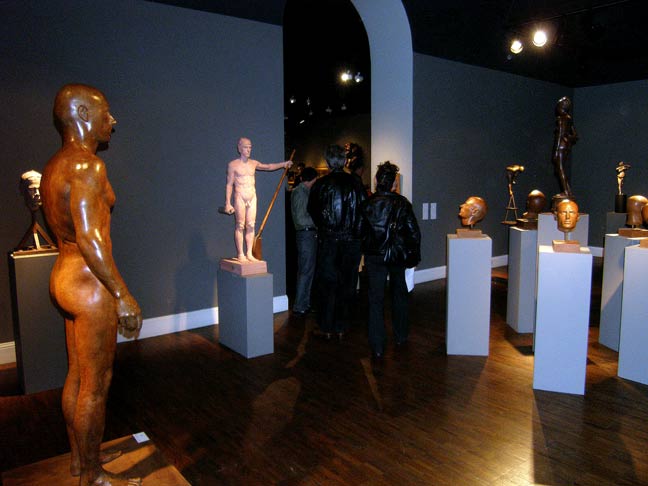 Sculpture.


Jacob Pfeiffer does me a favor. Thanks.


***
Needles and Pens: Sara Thustra - 2006 Calendar Release Celebration and Free Dinner.
Comment: Pop quiz time. Ready? Name all the artists who cook and serve free dinners at their openings. If you answered Sara Thustra, you are correct and you get a gold star on your forehead. So right off the top, we're in benificent territory. But wait; there's more. The 2006 Sara Thustra Calendar, consisting of two sock-rocking oversized collaborative silkscreen prints by Sara Thustra, Kiddy Kattle, Kyle Ranson, and Greg Scott-- suitable for framing and printed in a small edition-- is now available. Plus, inside the calendar, you get a classic Sara Thustra polemic on why the earth is so fucked up (he's right, you know). The best part? The whole shebang is ONLY TWENTY BUCKS. And y'all know what that means, don't you? Right again! Time to bulk up the hedge fund. First come; first served.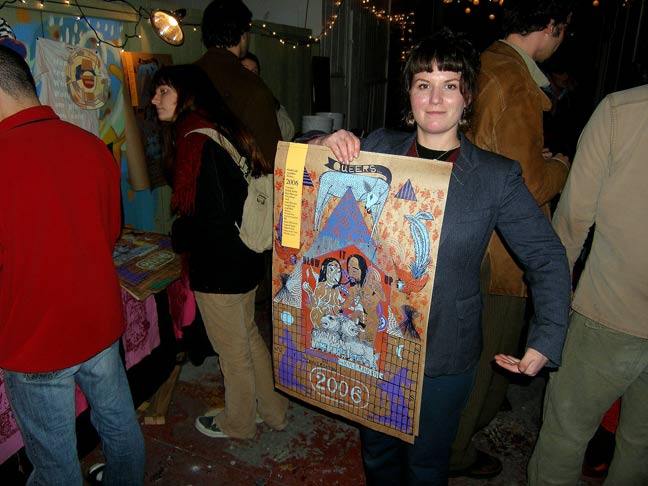 Spokesmodel Breezy Culbertson presents the plum.


The other side of the plum.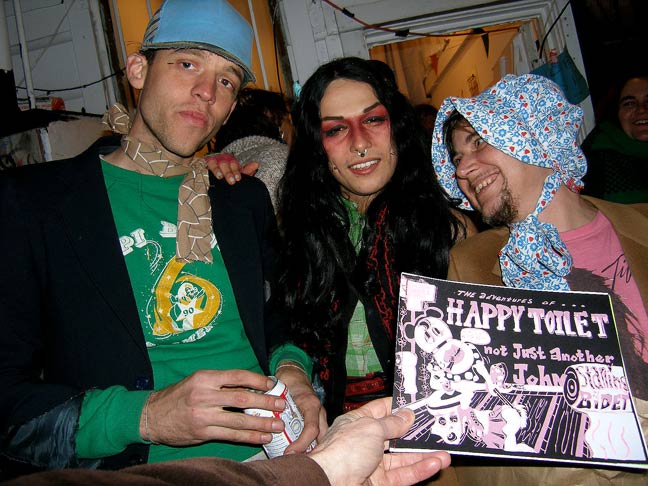 Sara Thustra, Kiddy Kattle, Frog Nuda (comic author/artist of Happy Toilet).


Sy - comic author/artist of Exxxtinction.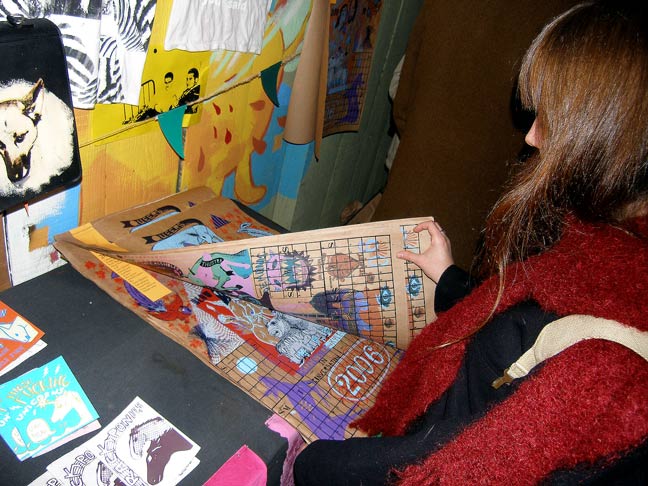 2006 Sara Thustra Calendar again.


Free dinner.


***
Amaru Gallery: Winter Solstice Art Show & Anniversary Celebration.
Artists: Tino Rodriguez, Virgo Paraiso, Keith Gaspari, Jose Antonio Contreras.
Comment: Another satisfying selection of Latin flavor plus a dash of erotica to make it all tingly. In addition to gallery art, you'll also find folk and contemporary ceramics from Michoacan Mexico, furniture from Nicaragua, leather goods from Brazil, sterling silver jewelery from Taxco, Mexico, textiles from Cuzco, Peru, and more. Favorites this time around-- Tino Rodriguez detailed delicacies and Virgo Paraiso's seductive symbologies. I like Amaru-- stop in and find out why.
Art (Virgo Paraiso).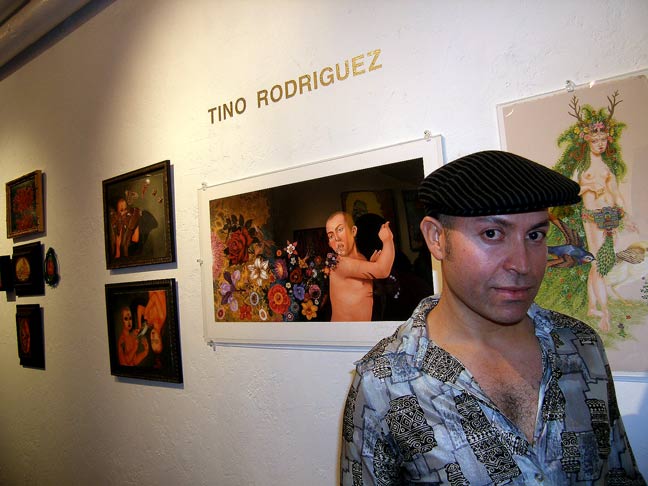 Tino Rodriguez - art.


Art.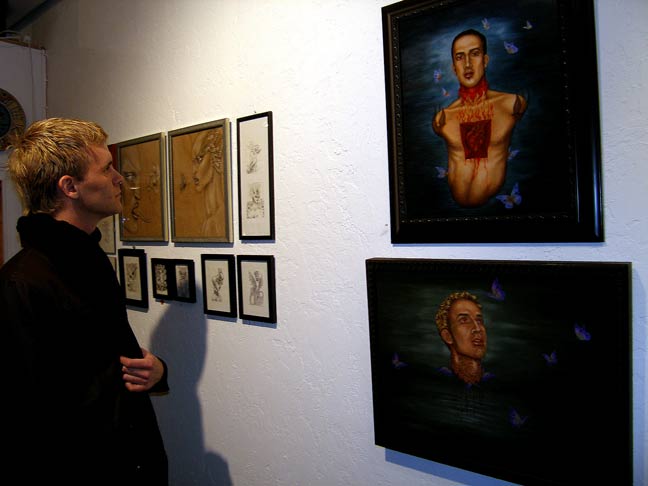 Art (Virgo Paraiso).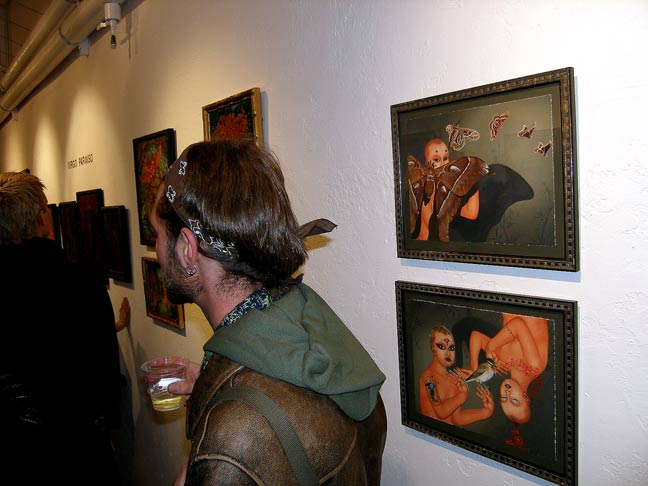 Art (Tino Rodriguez).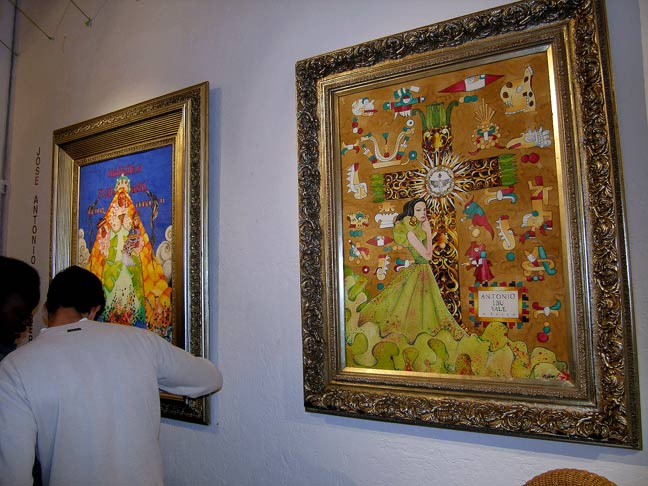 Art.


Art (Virgo Paraiso).


Hippodrome.


***
Arspace Gallery: Solaborate - Solo and Collaborative Work by Brian Barneclo, Helen Bayly, Julia Petho, Rob Racine, Zenaida Sengo, Abe Tostado.
Comment: The plot-- six artists take turns, one after the other, no particular order, no firm rules, to produce collaborative works; the finale-- unruly. This is why symphony orchestras have conductors. To clarify the confusion, there's solo work by each artist on display which you can use to help sort out the collaborative chaos.
Separate.


Together.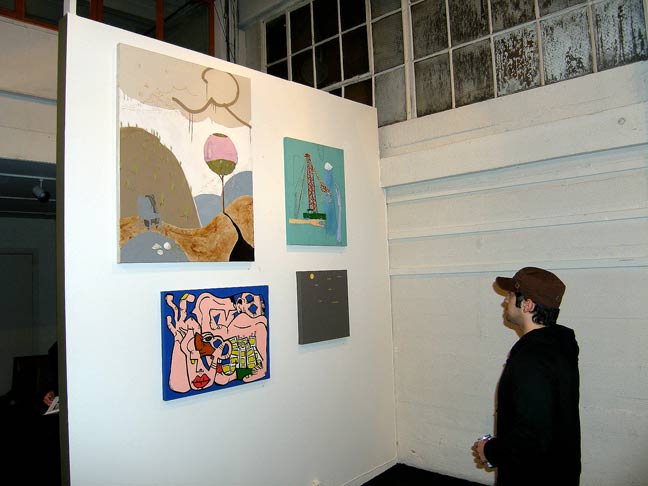 Separate.


Together.


***
Maverix Studios: Holiday Event and Relief Art Auction.
Artists: Philippe Ames, Patrick Awa, Carlus Baena, James S. Baker, Ed Bell, Jennifer C. Chang, Enrico Casarosa, Ben Collison, Paul Conte, Josh Cooley, Tim Cordell, Mike and Mark Davis, Ronnie del Carmen, Michael "Rusty" Drake, Ralph Eggleston, Ian Frazier, Matt Gaser, Rob Gibbs, Claudine Gossett, C.J. Guzman, Cecile Hokes, Casey Holtz, Anthony Hon, Rachel Hospodar, Eric Joyner, Toshiko Kamiyama, John Kleber, Misha Klein, Noah Klocek, Denise Laws, Nica Lorber, Albert Lozano, Luis L. Lundgren (aka L3), Larissa Martin, Dan McHale, Rhode Montijo, Scott Morse, Dana Muise, Sho Murase, Bosco Ng, Jerome Opena, Sergio Paez, Mary Patterson, Chris Petrocchi, Branston Pickle, Jeff Pidgeon, Bill Presing, Steve Purcell, J.R., Vaughn Ross, Tom Rubalcava, Wes Takahashi, Derek Thompson, Robert Valley, Lyla Warren, David Yee.
Comment: Yet another fundraiser auction courtesy of the generous folks at Maverix Studios. Proceeds will benefit Pakistan Red Crescent Society and Doctors Without Borders. Seems like all they do over there at Maverix is give it away-- and you can't do better than that. Special added bonus-- the art's excellent overall, mainly of the fantasy illustration variety. Minimum bids are very very low (like $20), so bargains shall be had. I ran for cover right after the final ten minute bell when bidding goes ballistic.
If we all give more than we take, we'll all have everything we need, and there'll still be plenty of stuff left over. I know it ain't gonna happen, but it's nice to think about.
Art.


Art.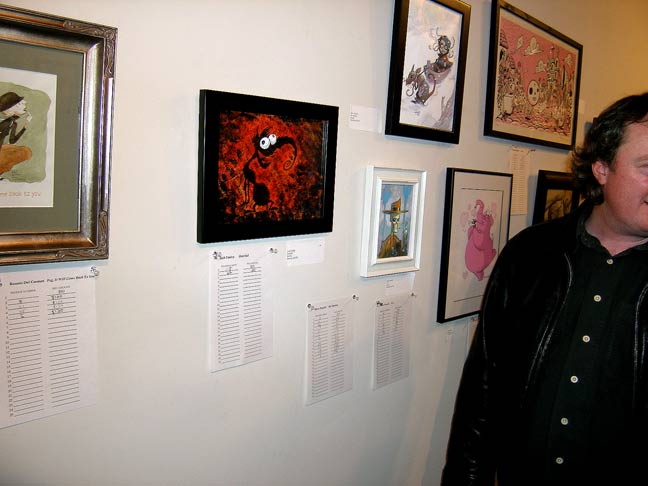 Art.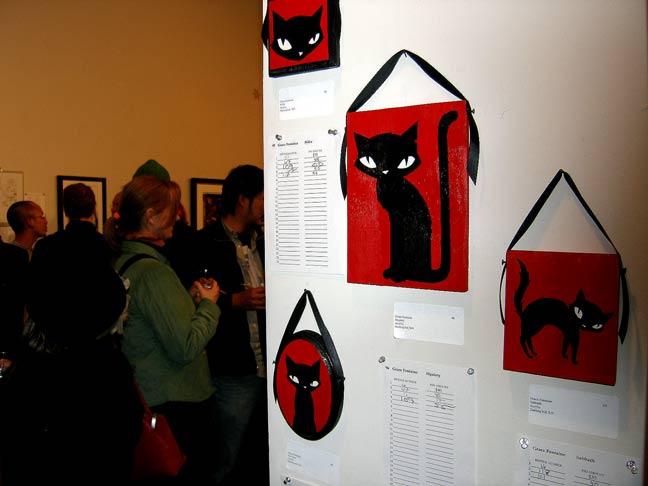 Art.


Art.


Art.


Spectators.


***
Supervisor Ross Mirkarimi: Work of the Children of District 5.
Comment: Participating organizations include Raising the Standard, African American Art and Culture Complex, Schools of the Sacred Heart, Rhema Word Church, Fulton Street Neighborhood Fair, Third Baptist Church, Alamo Square Neighborhood Association, John Muir Elementary School.
Art.


Art.


Art.


Turnout.


***
Last Gasp: Annual Burritos, Beer & Cheer.
Comment: Legendary Last Gasp Press hosts its unparalleled annual Holiday wingding, this year to benefit the Martin de Porres House of Hospitality. Here's how it works-- your $20 donation gets you a free Last Gasp press publication and burritos, beer, wine, soda, sparkling water, candy, cookies, comradery, countercultural copiousity, hippies, hipsters, hepcats, freewheelers, brummels, tarts, beatniks, dissenters, vapors, jostling, spillage, a complimentary self-guided tour of the famed Last Gasp weird fantastic eclectic memorabilia extravaganza, and much much more. Yo!!
Party.


Party.


Party.


Ron Turner - Last Gasp proprietor (second from left).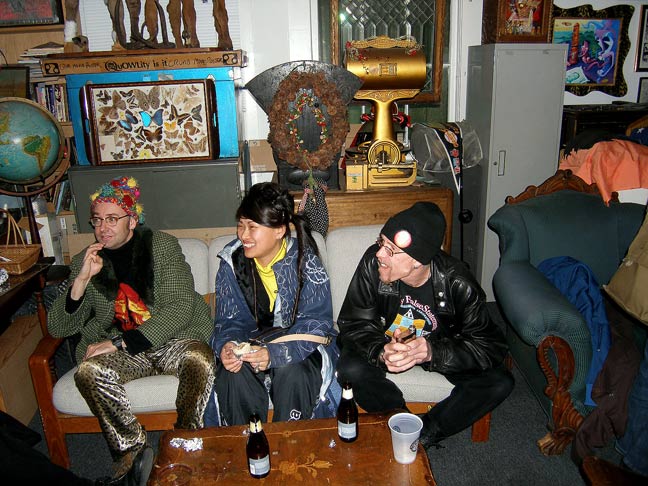 Party.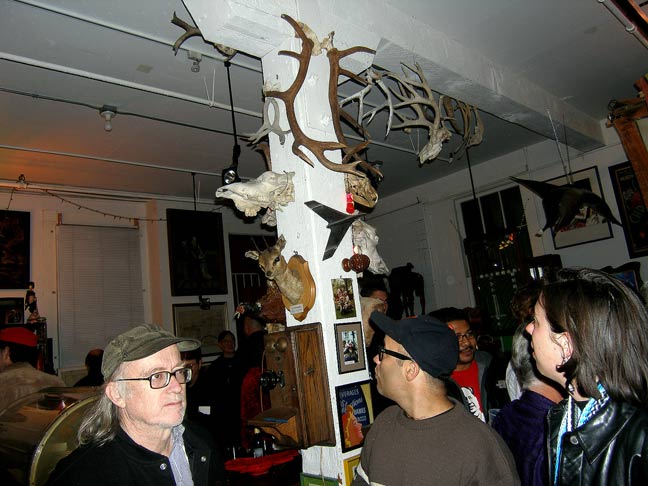 Party.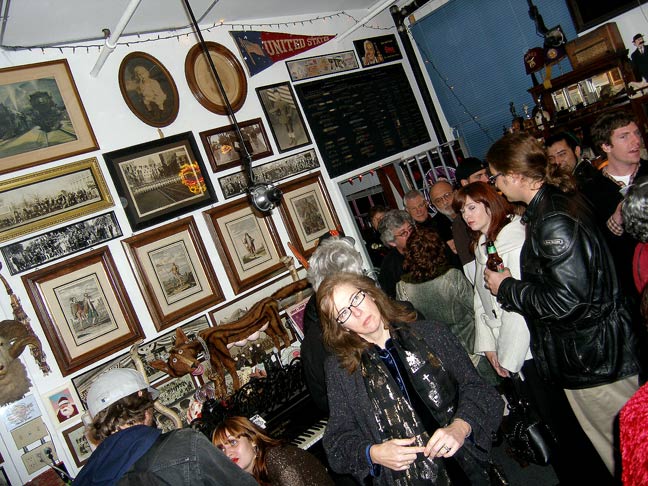 Party.


More stuff.


More stuff-- only the beginning.


***
Jack Hanley Gallery: Saskia Leek; Points of Vanishing (at 395 Valencia St. gallery) - Holiday Benefit Show (at 389 Valencia St. gallery).
Gallery 389 artists: Chris Johanson, Xylor Jane, Ed Loftus, Harrell Fletcher, Keegan McHargue, Sean McFarland, Will Rogan, Emily Prince, Shaun O'Dell, Alicia McCarthy, Tauba Auerbach, Camilla Low, Shane Aslan Selzer, Leslie Shwos, Scott Hewicker.
Comment: The first paragraph of the dossier on New Zealand artist Saskia Leek's conspicuously unassuming yet intelligently atmospheric hushed pale white-framed paintings reads almost like an apology, pinnacled with a reference to Leek as an artist who's willing to "question accepted principles of 'good painting'" (and I thought I'd heard everyting). So lemme get this straight... does that mean she can't paint, but it's OK? I thought making and/or showing good art means never having to say you're sorry. Myself, I'd can the contrition and play the positive. If some people don't get Leek's improbable predominant white-yellow-blue palette, screw 'em. Leek's art startles with simplicity, and that's a special effect you don't see in many movies.
Over at 389 Valencia, Jack Hanley's portion of the group show proceeds goes to benefit the Seva Foundation, School on Wheels, and Walls of Hope. Prices $250-$1200.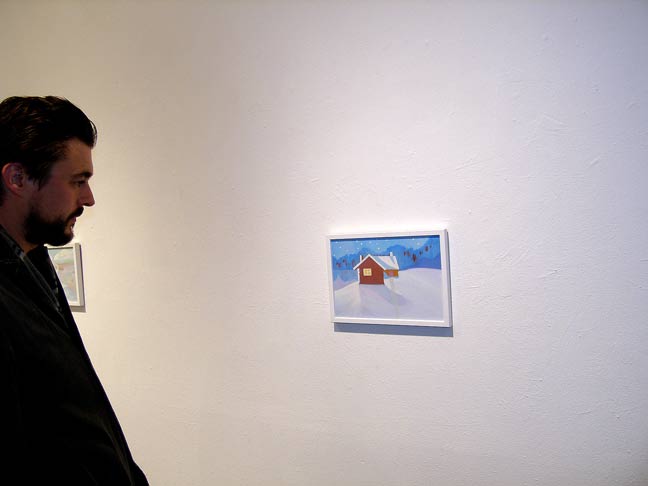 Art (Saskia Leek).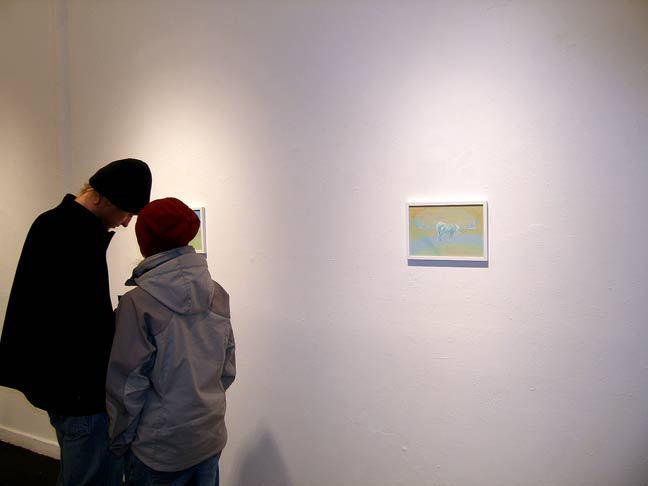 Art (Saskia Leek).


Saskia Leek - art.


Art (Saskia Leek).


Art (Saskia Leek).


395 Valencia St., December 17, 2005; approximately 7:44 PM.


389 Valencia St. Gallery - group show fundraiser.


389 Valencia St. Gallery - group show fundraiser.


389 Valencia - group show fundraiser + Keegan McHargue.


389 Valencia St. Gallery - group show fundraiser.


389 Valencia St. Gallery - group show fundraiser.


***
Adobe Books and the Backroom Gallery: Lands End - New Work by John Chiara and Liz Walsh.
Comment: John Chiara is the owner/builder of a giant pinhole camera that he hauls around on the back of a flatbed truck, sets up, and uses to take 4-hour positives on oversized sheets of photosensitive paper. When he's not taking pictures with it, he stores it in a boatyard under a tarp. That's right-- he's not your everyday artist, and he's got the loot to prove it-- mysterious marvelous mood-rich ghostly brooding Barbizon throwback one-of-a-kind photographic images. A big YES on this one. Go see-- best viewed in person.
Chiara's just starting out and has a modest exhibition history (but that's gonna change), so I'm a mildly throttled at the $3K pricetag per image, even though they seem like they're worth it, but then again, they're tacked to the walls, and that's not how you treat $3000 art. If you're gonna price like an art dealer, you gotta show like one too.
Incidentally, and apropos of nothing in particular, I'll tell you how my brain works (and yes, I have one). When I appraise art for IRS purposes, like for a tax donation, I have to come up with values that I can defend before an IRS expert review panel. So whenever I look at art prices, I always ask myself, "Would I feel comfortable defending these before the IRS?" Meanwhile, back at Adobe, I can certainly defend $2000-$2500 in Chiara's case, maybe even the full $3000 on a good day, so I suppose it's not that big a deal after all-- just me thinkin' out loud.
Liz Walsh presents a participatory video installation in the Backroom Gallery. She's also got a really strange website. Check it out.
Photographs (John Chiara).


Photography (John Chiara).


John Chiara - photos.


Photography (John Chiara).


Art (Liz Walsh).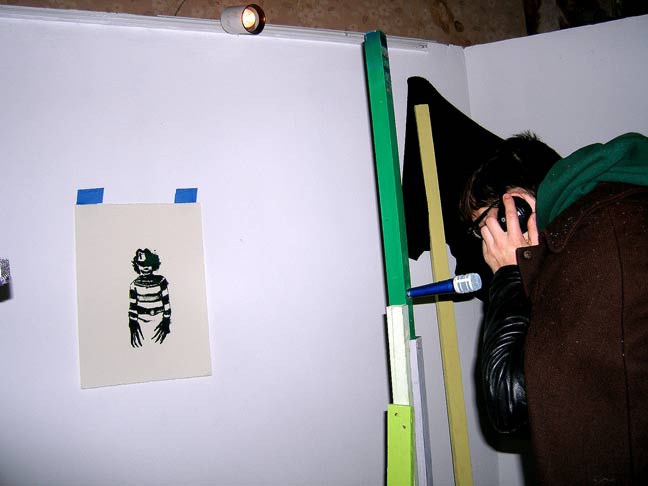 Art (Liz Walsh).


***
Forge Gallery, 1077 Post St., San Francisco, CA 94109; 415.756.7550: The Wet Party - Grand Opening.
Artists: Lee Harvey Roswell, Jason Webster, James Nichols, Kitty, Lisa Perrott, Suzanne Deisine, Erno "tattoo" Szababy.
Comment: The gallery space doubles as the studio of sculptor James Nichols. With the addition of Forge Gallery, the several block area around Polk, Post, and Larkin is now home to four galleries-- San Francisco's vortex of Urban art. Good luck, Forge!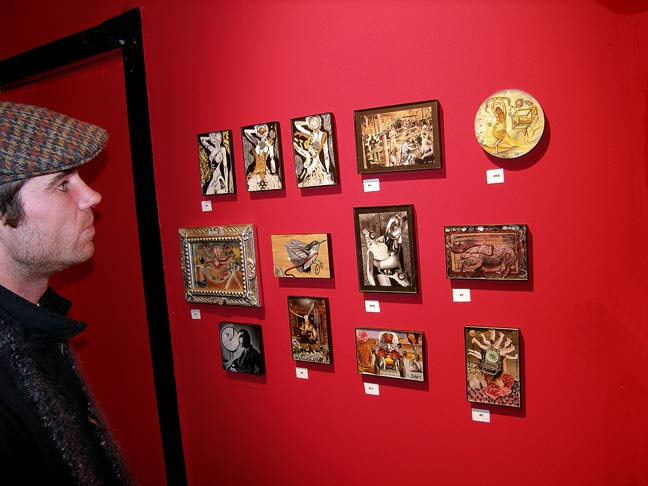 Art.


Art.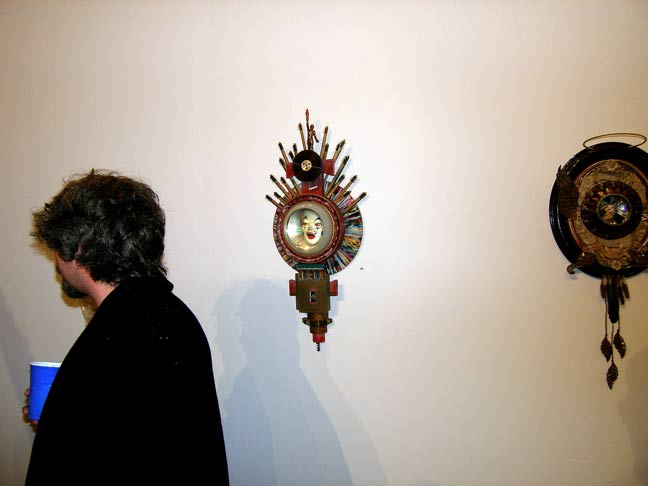 Art.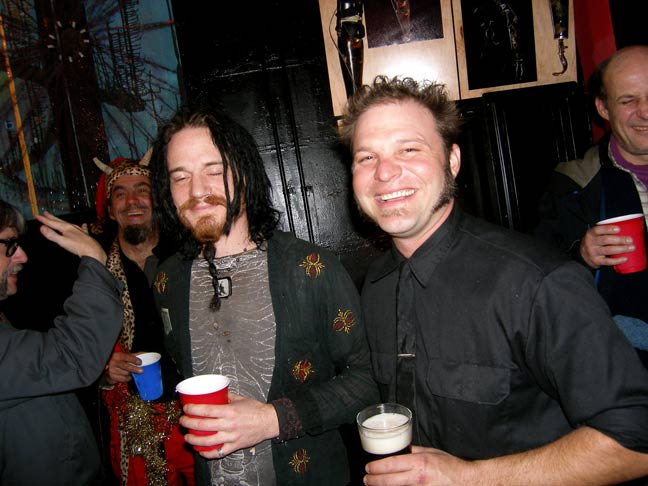 Lee Harvey Roswell (left center) - James Nichols (right center).


She thought I wanted to take her pitcher.
But I wanted her to move so that I could shoot the art.
But then I felt bad, so I tooked her pitcher anyway.


Art.


Venue.


***
Addendum: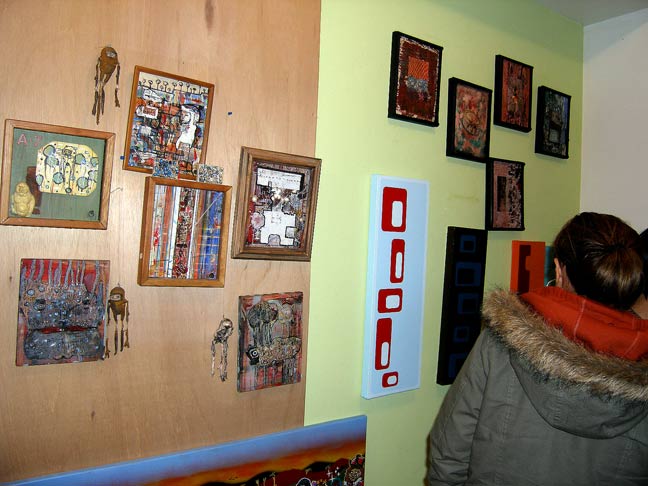 Group show at Split Culture. Very affordable.


Split Culture owner Fredric Scott.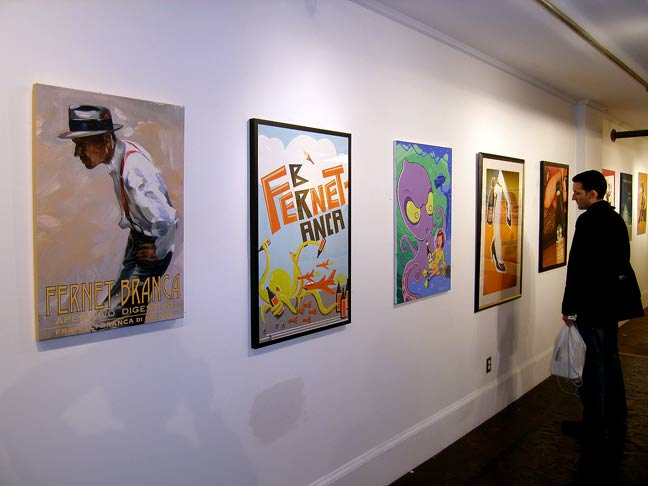 Fernet-Branca poster contest finalists at White Walls.


Fernet-Branca posters at White Walls Gallery again.


Fernet-Branca White Walls show in conjunction with Juxtapoz.


One more Fernet-Branca - "New Art for a New Era."


Group show of art by CELLspace metalshop artists.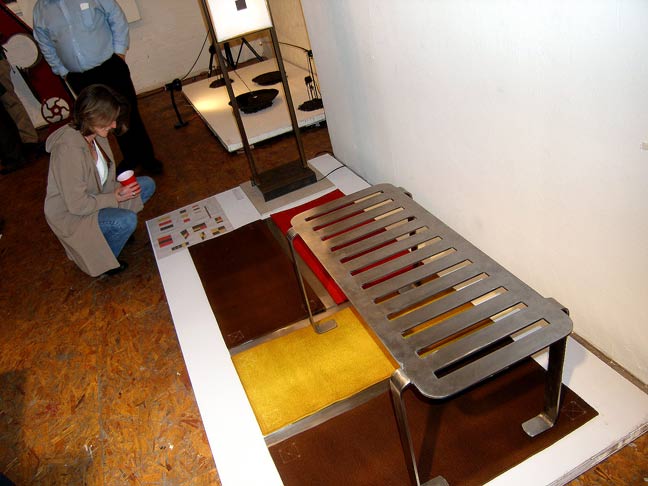 One more from CELLspace Gallery.


CELLspace Gallery planar.


CCA furniture art graduate show at Workspace Ltd.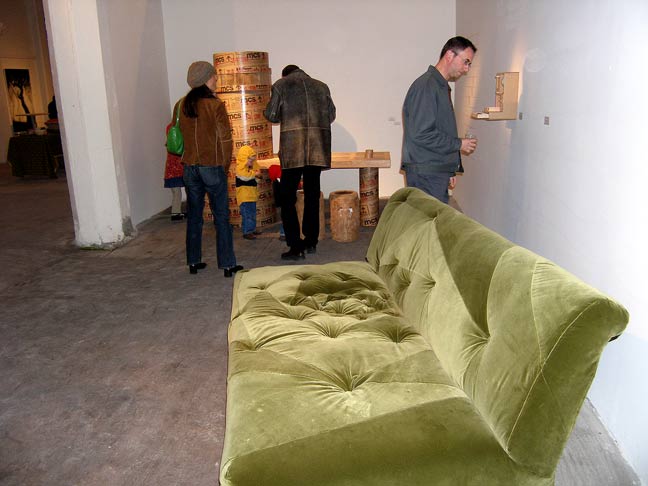 Alexis Moran, Miles Epstein, Jennifer Colliau - CCA grads at Workspace Ltd.


Chillin Productions and Jaffe Events benefit at Mezzanine.


Mezzanine benefit - PEANUT BUTTER AND JAM Music Sessions For Kids.
(Artist David DeRosa, center, and art.)


HAPPY HOLIDAYS Y'ALL. SEE YA IN 2006!!!