GALLERY SIX - 1:AM - GALLERY 16 - BELLJAR - LAST GASP

12.18.09

(with assistance from RWM and Pilar Vree)



Gallery Six: Every Single Where - New works by Pakayla Biehn.
Review by RWM: Fascinating art work about seeing double, but the works also evoke memory and personal history. Things have changed, people have moved on, as we look upon the multiple images depicted. Change is certain, Heraclitus wrote.
Comment by AB: A combination of paintings, drawings and hand enhanced digital works by Pakayla Biehn are all about a congenital vision condition she has, called Strabismus, which causes each eye to see a different image. The multiple images in her paintings represent her continuing efforts to make visual sense of her environment. Challenging task well met; worth a look.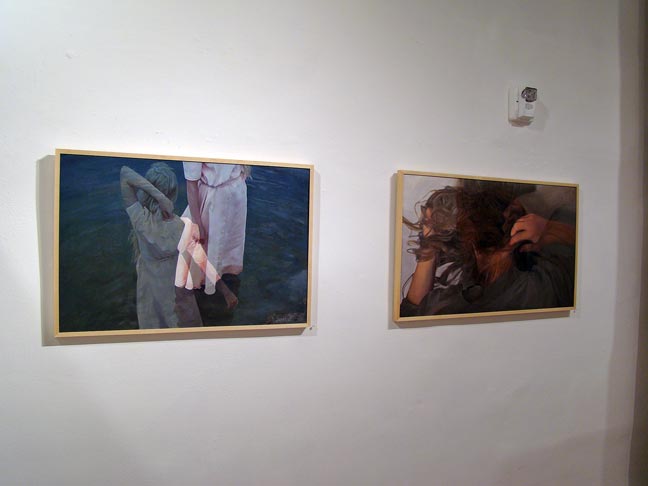 Art by Pakayla Biehn.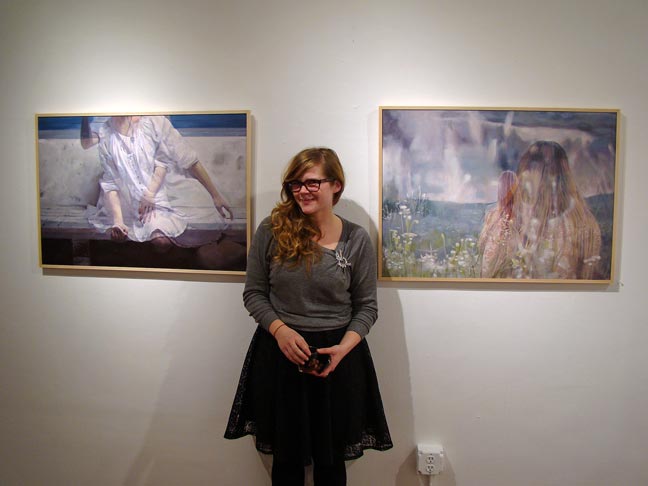 Pakayla Biehn and her art.


Art by Pakayla Biehn and a selection of her corrective lenses.


Gallery Six.


***
1:AM Gallery: Circle of Life.
Artists: Apex, ARMOgedon2057, John Stuart Berger, Oliver Black, Wythe Bowart, Chor Boogie, Conor Burns, Luke Brown, Julia Craig, Kris D, Joey Deruy, Tulula Deville, Disposable Hero, Ezra Ellis, Milan, Carly Ivan Garcia, Katie Gutierrez, Devin Harris, Mike Kjolhaug, Henry Lewis, Mei Lin, Lopan, Nakona MacDonald, Karissa McHurd, Seth McMahon, Matt McQuaid, Stephanie Mufson, Meghan OOna, Quake, Jordan Quintero, Ian Ross, Jaime Salazar, Skinner, Adriana Sparkuhl, Sorrow, Nate Valensky, Ricky Watts, Jeremiah Allen Welch, Xavi, Sonik Um, Saree Robinson.
Comment by AB: Paintings on wood circles remind us of the connectedness of all life during this Season of Giving. A portion of the proceeds go to Friends of the Children, Opportunity Impact, and My Own Two Hands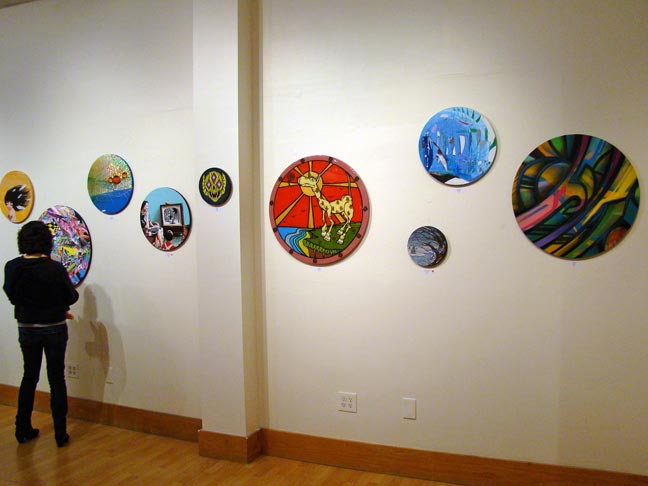 Art.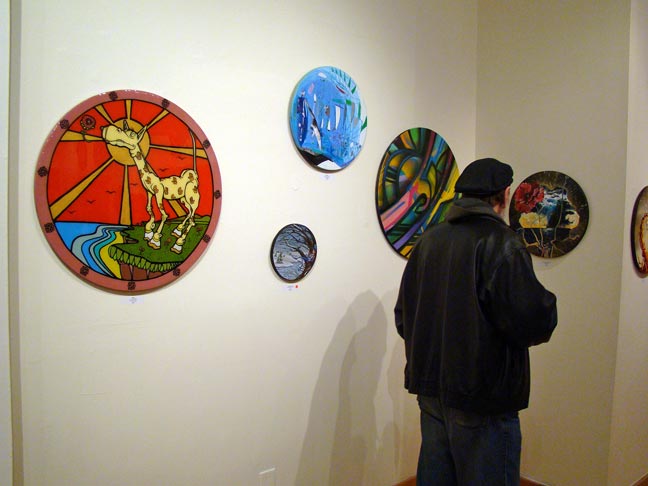 Art in above image closer.


Art from top image closer.


Art.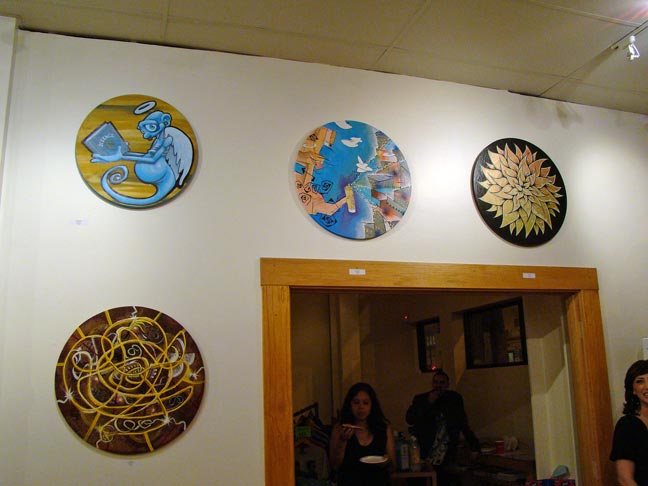 Art.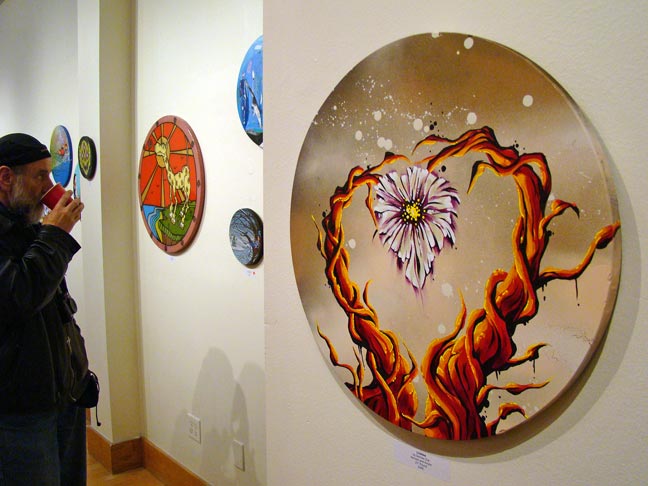 Art.


***
Gallery 16: Rudy VanderLans - Emigre.
Review by RWM: Startling work with bold colors. These graphics will keep one reading the magazine Emigre which, like San Francisco Frontlines, sought to explain the American Dream and ameliorate the American Nightmare. The Rudy VanderLans decidedly enlivened the magazine with large color schemes and bold contrasts.
Comment by AB: Fine 25-year retrospective of the graphics, design, typography and photography of influential innovator Rudy VanderLans, and the primary vehicle for his creative self-expression, Emigre magazine (co-founded with his wife Zuzana Licko in 1984)-- an evolutionary escapade which ran roughly parallel to the evolution of the Macintosh. I know a little about the collectible poster business and what makes a poster artist great... and I'll wager a diamond to a donut that the vintage works on display here are destined for centerpiece status when icons of American graphic design of the latter 20th century eventually shake out. If you're a fan, don't miss this. Superb.
Graphic art by Rudy VanderLans.


Rudy VanderLans graphic design and typography.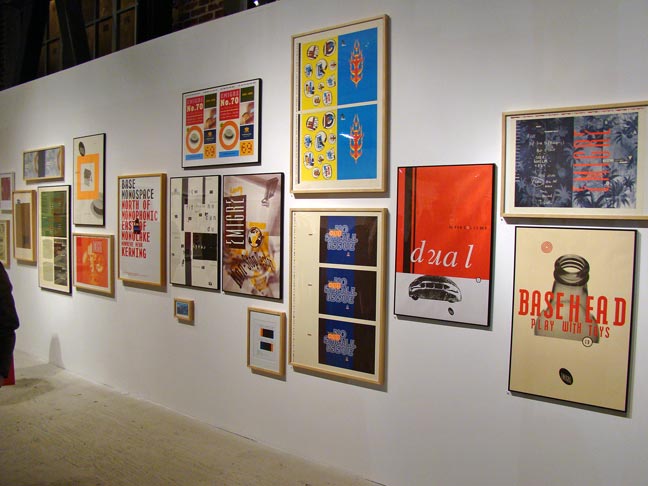 Graphic art and design by Rudy VanderLans.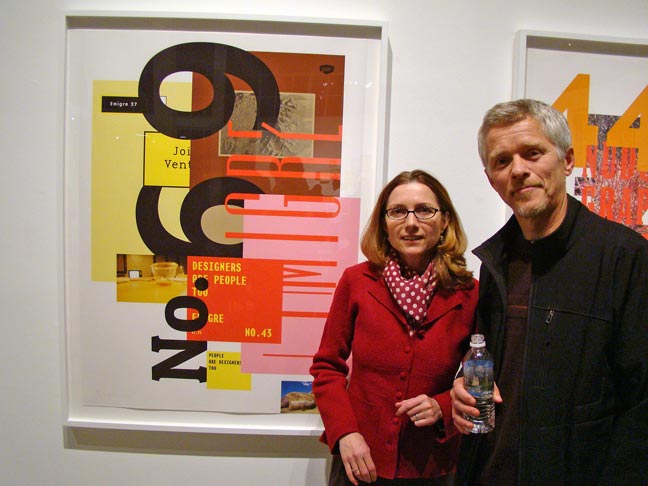 Rudy VanderLans and his wife Zuzana Licko.


Rudy VanderLans literature - photography, left - Emigre survey, right.


Graphic art and design by Rudy VanderLans.


Early Rudy VanderLans memorabilia.


Rudy VanderLans photography.


Pinkie cam detail of photography in above image by Rudy VanderLans.


Joshua Tree photography by Rudy VanderLans.


Attendance figures.


***
BellJar: Softly Falling - Bella Bigsby.
Review and images by Pilar Vree: This aptly titled show is filled with fragile texture and crisp, clean painting. It evokes the chill of a windy afternoon and leaves the viewer pining for autumn days and falling leaves.
Review by RWM: Individualistic animals presented as iconography and totems. One finds them silhouetted by the neutral backgrounds. They are friends, a few foes, and "vermin." One will find otters, foxes, rabbits, bugs, birds, lovely birds, and flora. Many are softly falling to the wayside as a result of urbanization and suburbization. Our wild neighbors are here presented with soul and solitude. Soft, cuddly, and vulnerable.
Art by Bella Bigsby.


Bella Bigsby art.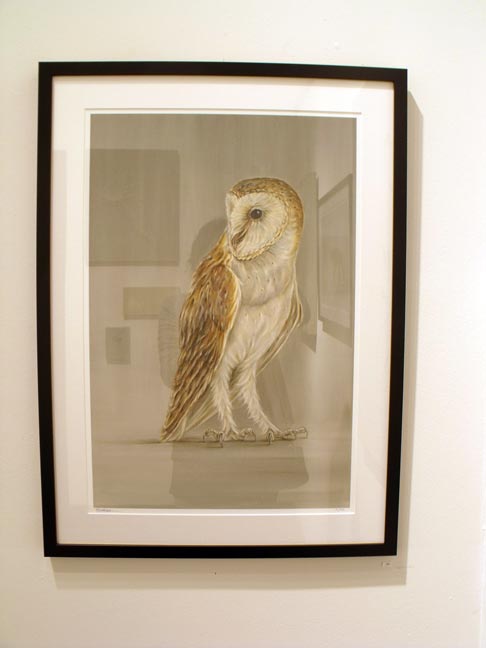 Art by Bella Bigsby.


Bella Bigsby art.


***
Last Gasp: Burritos, Beer and Cheer.
Comment by AB: This here shindig constitutes one of the premier tickets in town, mainly 'cuz it's the most mungo kick-ass, prodigious, bodacious, gargantuan, and last but not least, scintillating Christmas convocations in town. Our gracious host is none other than Ron Turner and his famed Last Gasp publishing company. Special added bonus-- luminaries too numerous to mention, and of course, Turner's most mega art and memorabilia collection... starting with his vintage circus freak posters and early South Seas black velvet paintings and rocketing upward from there.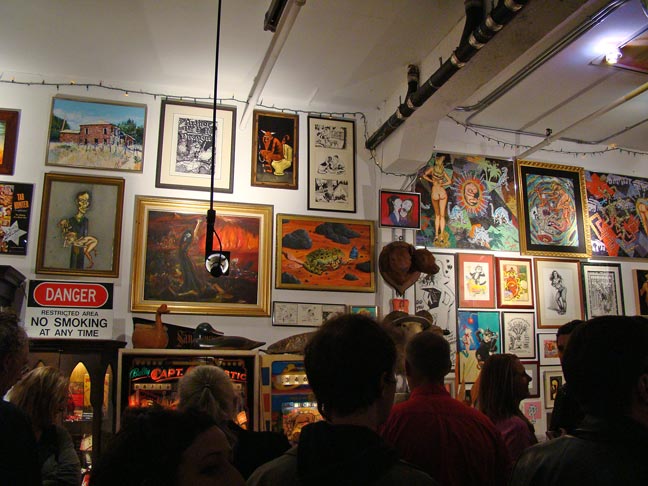 Burritos, Beer and Cheer at Last Gasp 2009.


Burritos, Beer and Cheer at Last Gasp 2009.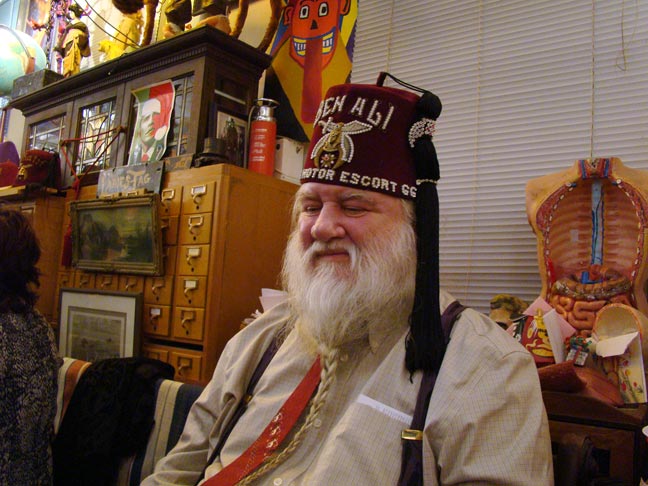 The Grand Poobah, His Royal Highness, and Host with the Most - Ron Turner.


Major black velvet alert - upper right.


Burritos, Beer and Cheer at Last Gasp 2009.


MATS!? in da house giving away free art samples.


Burrito Parlour.


Libation Central.


Even the ceiling looks great.


***