SAN FRANCISCO ART GALLERIES - OPENINGS
STUSSY SF
12.29.07
Stussy SF: Ferris Plock and Kelly Tunstall.
Comment: Well my lovelies, another artful year dwindles to a sweet sweet end. And what better way to toast that culmination than with a memorable meld courtesy of collaborative dyad Kelly Tunstall and Ferris Plock, two of the more delightful denizens one might perchance encounter while meandering Ess Eff's copious creative circuit. Tonight, Tunstall's winsome damsels meet Plock's amusing brutes and we all live happily ever after. Price range, $350-$3500; something for everyone.
As for the big picture, I wish you Happy Holidays, the best for the impending New Year, and all that marvelous stuff we dream and dream and dream may one day come to pass. Peace. Love. Joy. Unity. Compassion. It seems pretty near impossible sometimes, doesn't it? Perhaps. But why let that stop you? To commit to those ends is the ultimate act of selflessness-- to improving the general well-being, advancing the greater good, and making life more livable for everyone. These are endgames worth working for, and one big reason we have artists-- to help lead the way. So never ever compromise your vision. And remember-- MORE ART EVERYWHERE IS GOOD.
Well, now that I've coughed that hairball up, I guess all that's left to do is say, "See you in 2008."
Art.


Art.


Art.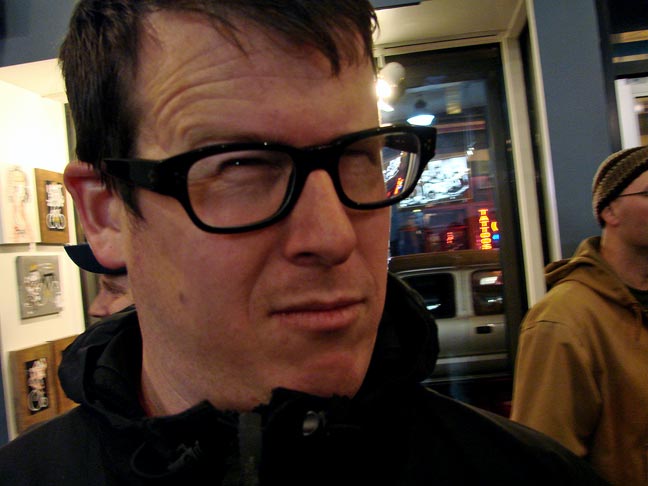 Ferris Plock XXL.


Romanowski - Gabe Scott of 111 Minna - Kelly Tunstall.


Art.


Art.


Venue.


***