SAN FRANCISCO GALLERY OPENINGS
MODERNISM - LISA DENT - FIFTY24SF
PAWNBROKERS - SHOOTING GALLERY - BLUE CUBE
03.10.05
General comment: Everything was good tonight....
***
Modernism Gallery: Mel Ramos; Recent Works.
Comment: Mel Ramos has been painting for over 40 years, establishing himself as a bonafide first tier American Pop Art papa by the mid 1960's. He basically makes the same art today that he did way back then, still every bit as fresh, painting sensuous tasteful nudes in unlikely circumstances such as popping out of candy bars, lying on hunks of Velveeta, or standing in half-full glasses of Coke. In addition to paintings, he's also showing several intricate tapestry-like computer generated petit-point lovelies, produced directly from his art. If you like Hooters, you'll love Ramos.
For you art market junkies, I didn't check prices at the show, but the Ramos auction top-out is $170,000 for a major 1965 painting, Catsup Queen, sold at Christies in 2003. That should give you some idea of the current buy-in. Continuing with the market analysis, Ramos iconic early to mid-1960's paintings transcend the artist, and are collected as much, if not moreso, for their significance as early Pop documents as they are for being prime examples of the artist's formative work.
Tapestry, cheesecake sur cheese.


Art.


Mel Ramos - art.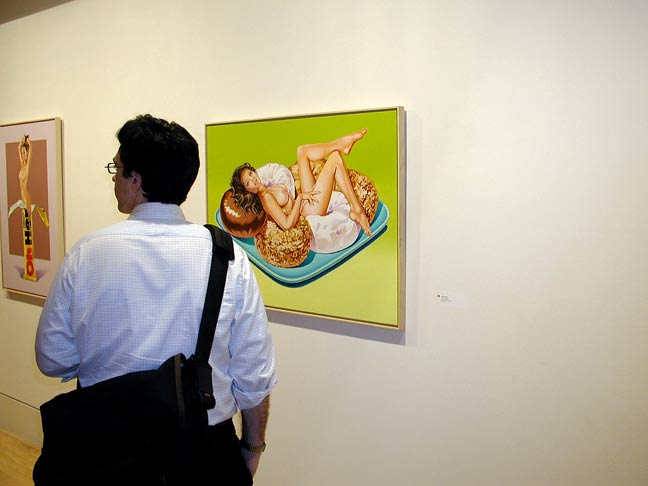 Art.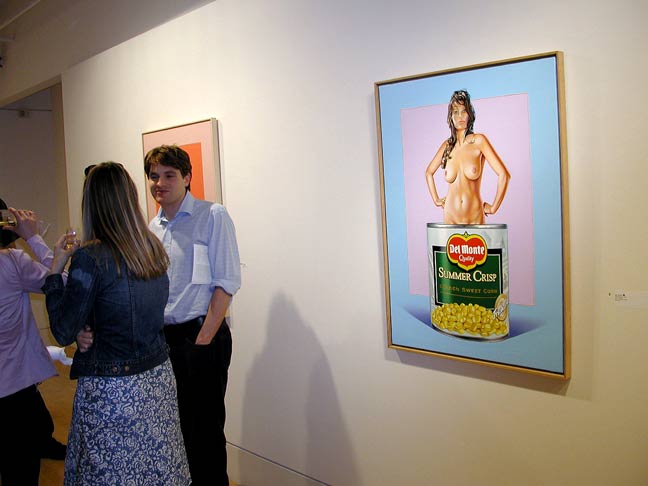 Art.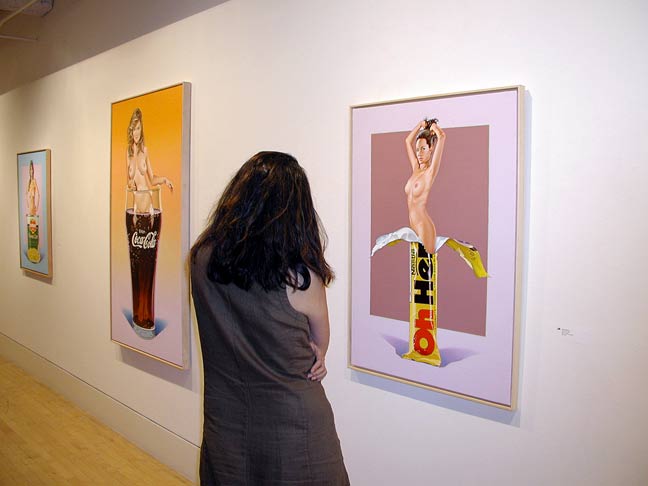 Art.


***
Lisa Dent Gallery: Matthew Cusick.
Comment: Matthew Cusick collages old maps into car culture compositions, the most compelling being a complicated freeway on-off-over-under ramp labyrinth, something we Californios know way too well. Cusick embraces the idea of recycling-- buying many of his maps on eBay or getting them free from people who know his art-- and reconfiguring them in ways that, in a sense, evolve them into new yet similar purposefulness. And he's an interesting chat, and he's a very nice person. And he's from New York, and so too, appear to be his prices, which will likely blanch parsimonious Friscans who consider augmenting their domicilic essences with these expertly crafted roadworks. Angelinos, however, may see things di$$erently. Regardless, Cusick's got skill and vision, and the show's worth seeing.
Art.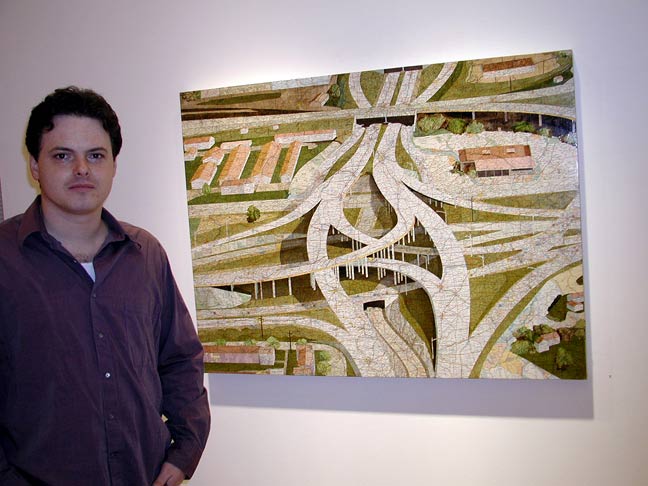 Matthew Cusick - art.


Art.


Lisa Dent (green sweater).


***
Fifty24SF Gallery, a Division of Upper Playground: Weapons of Mass Destruction.
Artists: Iz the Wiz, Stan 153, Ghost, Blade, Cope 2.
Comment: Sultans of scrawl, hall of famers, all the way from Nee Okk City, who have made their historic marks in the following evolutionary order-- Iz the Wiz and Blade representing the founding father subway contingent, then Stan 153, then Ghost, then Cope 2-- that heirarchy according to gallery owner Matt Revelli. As with most graffiti, this, of course, being cream, the art's riotous, charged, electric, and brimming with color-- action painting NOW. Something for everybody; priced from $40 to $5000.
So here I go again with my street art 2¢: Graffiti gets as much, if not more, mass media coverage than basically any kind of art out there, except maybe art by PR genius Christo, some of that coverage laudatory, some not. But it's coverage, and that means people care. Graffiti is here for good; it's bought, sold, and traded like any other art. People collect it, magazines are dedicated to it, it's got its stars (like those here tonight), it's got galleries, progressive museums show it, and there's legions of talented nozzle jockeys out there just waiting to rennovate your walls, your office, your baby's bedroom, your baby, or whatever other neglected surfaces in your life need a little TLC. Wake up and smell the Rusto, kiddies.
Art.


Art.


Blade (left) - Cope 2 (right).


Art.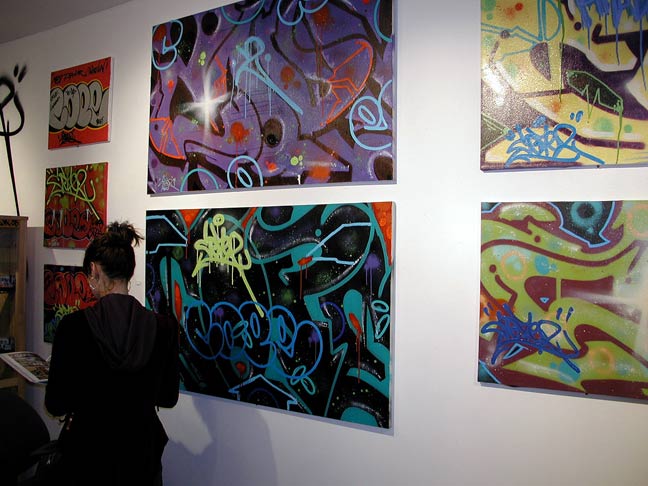 Art.


Art.


Art.


***
The Shooting Gallery: Surreal Populism; New Works by Anthony Ausgang and Van Arno.
Comment: Two Los Angeles low art aces venture North for a creative stroll. Van Arno paintings look like a Jeffrey Dahmer All-You-Can-Eat Buffet-- I mean there's limbs and gravy flying everywhere. Oh... so you're thinking, "Eeeewwww, that's gross!" are you? Well, you know what's gross? Chopping up Iraq. I'll never understand how some people get so upset over a little harmless art, and then turn around and gut the world in the name of freedom.
Meanwhile, Anthony Ausgang paints cool cats in streamline stretch, like a stoked Tex Avery, making motion look easy with a glide-through style. You can use Ausgang's art to perk up, trance down, or chase your tail-- the many moods of smooth.
Art (Anthony Ausgang).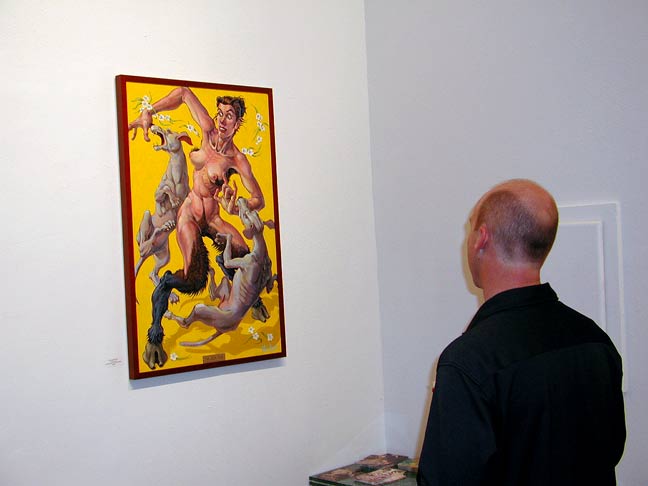 Art (Van Arno).


Anthony Ausgang - art.


Van Arno - art.


Art (Anthony Ausgang).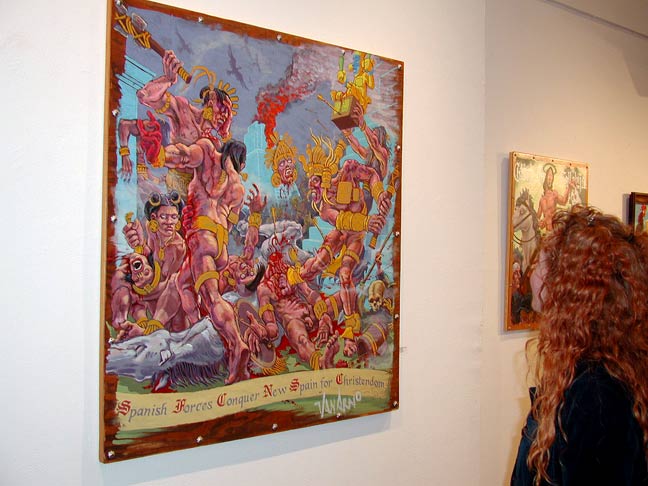 Art (Van Arno).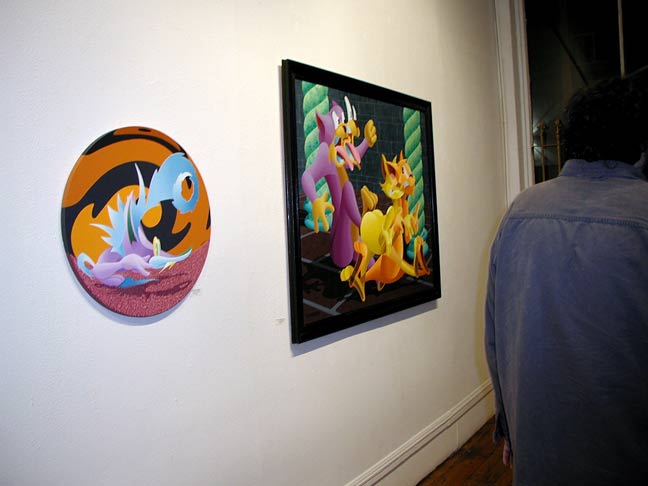 Art (Anthony Ausgang).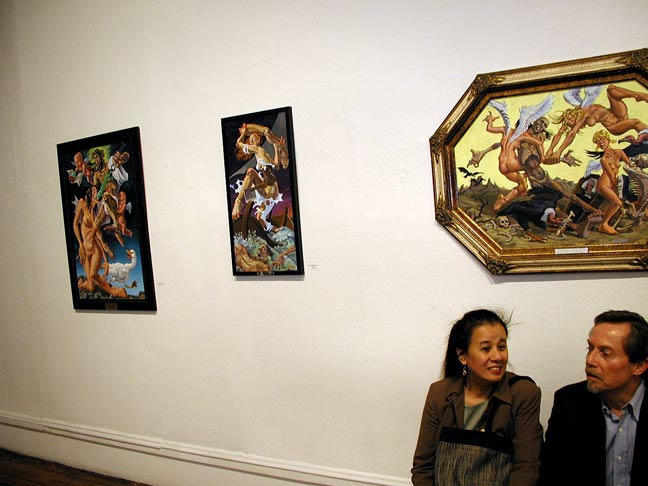 Art (Van Arno).


***
Pawnbrokers Gallery, 835 Larkin St., SF, 94109; 999.2051: Red Motives; Andrea Tucker, Jennybird Alcantara.
Comment: From the boys at Shooting Gallery to the girls at Pawnbrokers-- one sumptuous show to another. Andrea Tucker migrates South from East Vancouver, British Columbia, Canada to share her spooky, slicey, dicey, fuzzy tattoo-toned fantasies. In her bio, she says she "tends to be somewhat reclusive." I'm not sure whether that means she's currently reclusive, but may become less reclusive, or whether she's not currently reclusive, but may become more reclusive. Life is so confusing sometimes...
Well, enough cogitating on that one. San Francisco artist Jennybird Alcantara's brand of fantasy is bright and pretty on the outside, but look a little deeper and there's disquiet going on. And you can look deeper, and you can look deeper. Plenty to chow down on here, and I suspect more delectible complexities to come, 'cause when I see her art, I get that cosmic third eye twitch.
Art (Jennybird Alcantara).


Art (Andrea Tucker).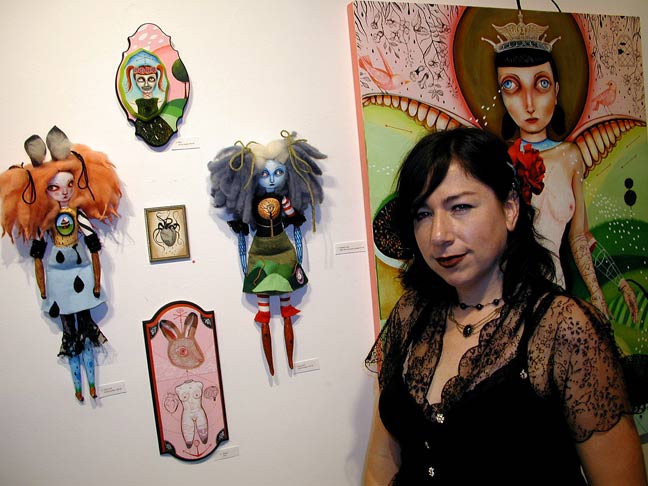 Jennybird Alcantara - art.


Andrea Tucker - art.


Art (Jennybird Alcantara).


Art (Andrea Tucker).


Art (Jennybird Alcantara).


***
The Blue Cube in association with Start SOMA: Video Game Art Show.
Artists: Mars-1, Tim Gaskin, David DeRosa, Misk, Aidan Hughes, Kelly Tunstall, Jimmy Soat, NoMe, Retna, Brad Istrab, Eric Orr, Plasticfucker, The Vinyl Killers, more
Comment: Art show in conjunction with the Game Developers Conference 2005. Two floors of entertainment plus special video game area on floor two plus art all over the place. The Blue Cube third floor, not open to the public, is a combination think tank and educational resource for upstart entertainment industry moguls and mogulettes, focusing on video, music, performance and visaul arts. The Cube's worth keeping an eye on.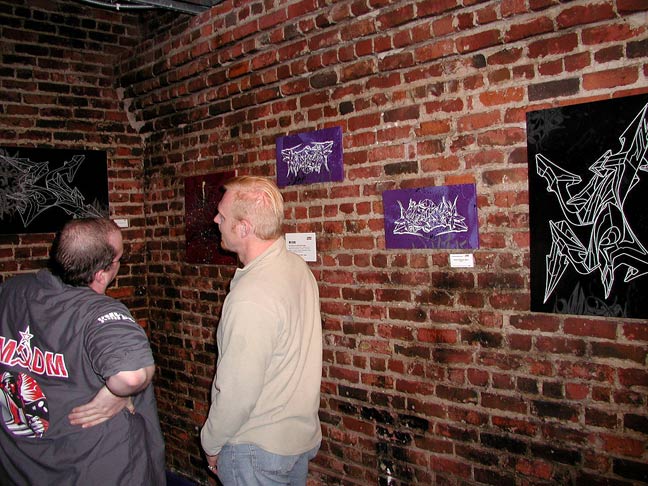 Art (Misk, I think).


Art (NoMe).


Art (Kelly Tunstall, fore; Mars-1, aft).


Stefan Go, creative director; Terrance Alan, Blue Cube owner.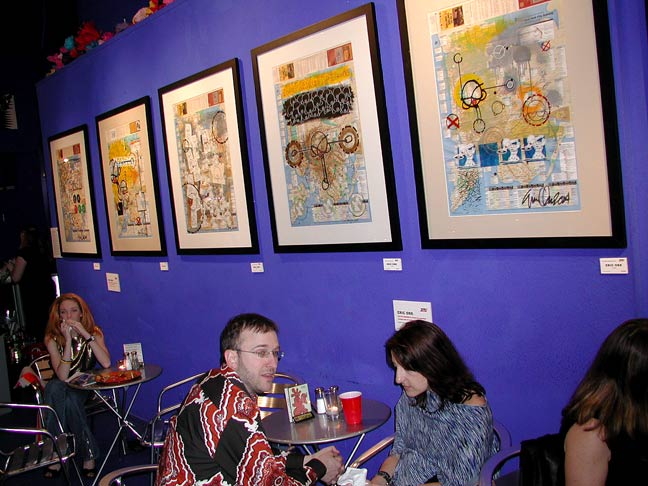 Art.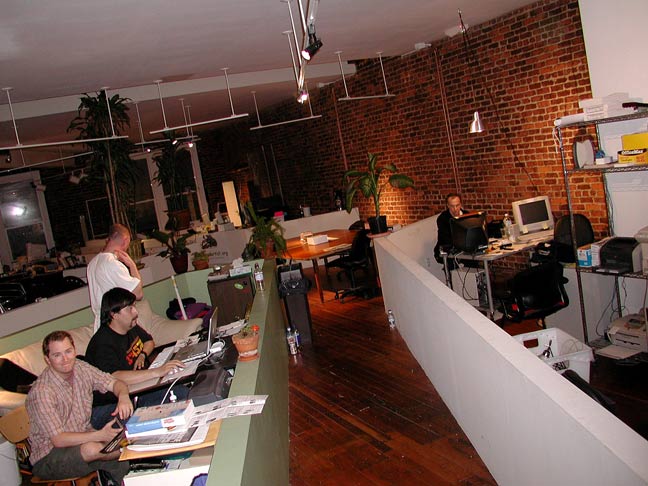 Third floor brain trust.


Art (Plasticfucker).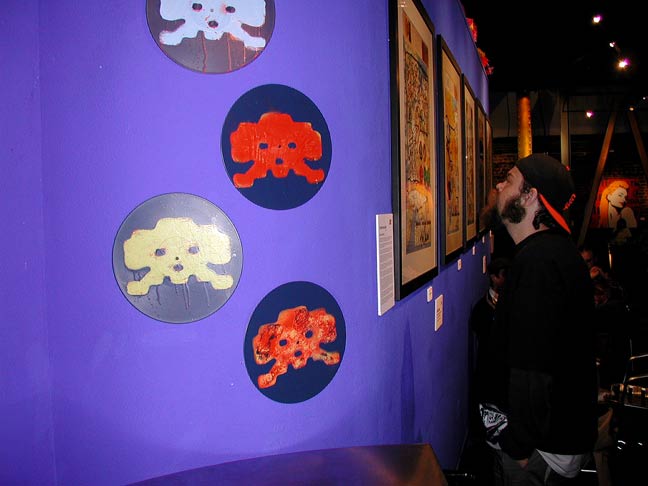 Art.